"When any great moral challenge is ultimately resolved into a binary choice between what is right and what is wrong, the outcome is foreordained because of who we are as human beings."
– Former Vice President Al Gore
From his 2017 book An Inconvenient Sequel: Truth to Power.
This is the toughest blog for me to write. In fact, I have devoted the last year to blogging and writing about my life story and blogging for years before that. This was the blog I knew it was vital for me to write, but I dreaded writing this blog. For the past 23 years, I have not felt that environmentalists, climate advocates, progressives and Democratic leaning voters were smart about electing Presidential, state level, and local candidates who would protect our environment, planet, and our democracy.
This is going to be a very painful blog to write, but I feel like I have no choice to share but to share my story. Hopefully, someone can learn from my disappointment and letdown I felt from environmental and climate Democratic voters who allowed awful candidates for President and other elected offices win.
The first post in this blog series, focused on My 1980s childhood in Missouri to witnessing 2000 Presidential Election in Florida. Part 2, focused on my story from 2001 to 2007.
For Part 3, this post is about my life in 2007. I was not focused on politics or Presidential elections. Instead, I achieved the peak life experience of skydiving twice and enjoyed my park ranger interpretation job at Crater Lake while I lost a close friend from that same year.
Part 3: Loss of a friend, Leaving the Everglades, and finding my passion for climate action
My peak experience of skydiving and enjoying a new summer ranger job at Crater Lake
In the summer of 2006, I transferred an entrance station ranger to an interpretative ranger at Crater Lake National Park. After many years of working other jobs there, I felt triumphant leading a lodge talk about the park founder William Gladstone Steel, giving a geology talk, and narrating the boat tours. In late August, I debuted a junior ranger program and an evening campfire program when other rangers left for the season to return to their teaching jobs.
I really stretched my boundaries in 2007 by going tandem skydiving twice. The first time I did it was in the south Florida in April 2007, at a small airport near Everglades National Park. This was a life goal that I have been itching to do for a few years. The Everglades is extremely flat with no hills or mountains. This would be my opportunity to finally get a bird's eye view of south Florida.
My friend and fellow Everglades ranger, Jackie Dostourian, joined me for moral support that day. She decided that day that she was not going to skydive, and I was fine with that. I was determined to do it. It was great having her at the facility as I was very nervous before this experience, and she immediately saw me after I completed my jump.
This would be a tandem skydive, attached to a professional who does this for a living. After I paid the hefty fee, the other customers and I watched a 20-minute video to prepare for our tandem sky dive. The narrator on the video explained how he designed the tandem skydiving equipment for maximum safety. Oddly, he had a very long hair and beard. His piercing eyes spoke right into the camera and right into you. He was wearing a suit and tie. His hair and beard were so long that they covered up his shirt and suit collars, as well as his tie knot.
The narrator looked like a cult leader, not a businessman selling people on skydiving. I was very nervous to complete this life goal. My mind was committed, but my body thought it was a terrible idea to want to jump out of a perfectly good airplane. Thus, I was scared this narrator was going to say towards the end of this video, 'And if you find that you enjoyed your skydive, I hope you will join us to live in our community forever.'
My body was waiting for a message like this on this video so we could go screaming out of there. After watching the video with the others committing themselves to skydiving that day, I met the person I would be attached to for this tandem skydive. He was a friendly guy in a profession where everyone needs to be super chill to relax nervous folks like me. Yet, he was confident and very detail oriented to help relax and calm down nervous folks like me.
For me, getting ready to go skydiving felt the same feeling as going to the dentist. My mind was totally set to do this, but my body wanted no part of it!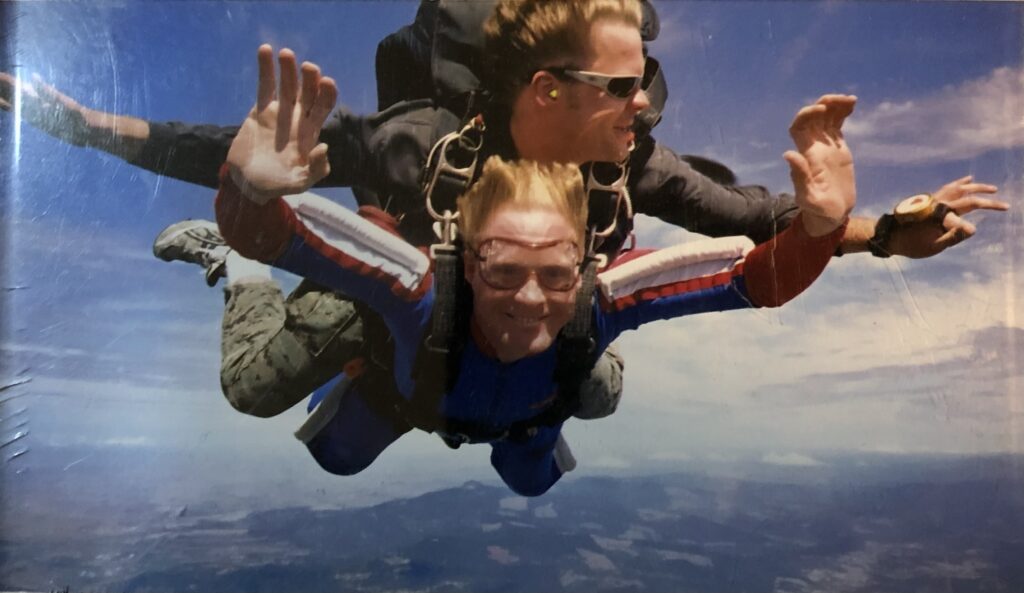 The weather was a typical Florida partly cloudy day. There were enough clouds rolling in that the professional skydivers had to wait until the last minute to decide if it was safe to jump out of the plane. They made this decision after the plane took off and we were 10,000 feet above the ground. The person making the decision was the lead skydiver, who was attached to me. The door was open on the side of the plane to make the decision. Each time he leaned of the plane to make the final call, I was leaning out of the plane with him. It was freaky looking out 10,000 feet below me with nothing between me and the ground. It's not natural to be looking down on clouds thousands of feet below me. This was one scariest parts was when he leaned over the side several times to make his final call.
To the joy of my mind and the horror of my body, he determined it was safe for all of us to jump out of the airplane. Before we knew it, I was outside of a perfectly good airplane falling 110 miles per hour. It sounded so damn loud, like driving your car at 110 mph with the windows down. The Everglades looked huge and flat from high up in the sky, not much different than the ground. We just needed to aim for the landing zone, which was right next to Everglades National Park. I did not want to end up in the Everglades with all the alligators, venomous snakes, etc.
The experience was over in just a few minutes. I was thrilled that I accomplished it. It was great that Jackie was there to greet me when it was over to share this experience with her. I called up my parents and sisters that evening to let them know I skydived that day. None of them seemed impressed. My dad remarked, "Don't ever do that again!"
I always had a rebellious streak in me. After my dad said that, I was determined to do it again.
I decided to do it again in Oregon when I returned to work at Crater Lake for the summer. I found co-workers at Crater Lake who were interested in joining me. We made our reservation to skydive in early August.
For this second time, I wanted to skydive to see the mountains of Oregon from 10,000 feet. This time, I decided to pay extra to have a video made of this skydive and pictures taken to remember this experience. Later on, I uploaded the video to YouTube.
In 2007, along with the skydiving experience, I had a terrific summer as an interpretative ranger at Crater Lake. I worked hard the previous summer to create all my ranger programs. Thus, I could enjoy my free time more in early July knowing that my ranger talks were ready from the previous summer. I just had to review my notes for all these programs. I felt like I improved each time I gave these ranger programs. It was a fabulous summer, but then tragedy struck.
The tragedy of losing my Everglades and Crater Lake mentor, Steve Robinson
In August 2007, we received news that fellow Crater Lake ranger Steve Robinson had pancreatic cancer. It was stage 4 and incurable. I knew Steve since I attended his ranger evening program in Flamingo in Everglades National Park in February 1993. When I returned to Crater Lake National Park for the summer, he narrated the boat tour I traveled on as a passenger in July 1993. I discovered that Steve and his wife Amelia Bruno were seasonal park rangers like me that spent their winters in Flamingo and their summers at Crater Lake.
In the years that followed, I stuck up a friendship with Steve and Amelia. He became a mentor to me how to be a good ranger, human being, and a man. When I worked in Flamingo and Crater Lake, I came to Steve and Amelia's house to spend hours with Steve to learn his wisdom.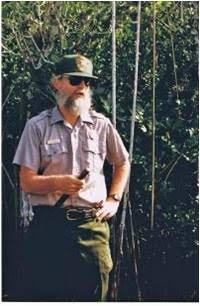 I learned a lot from Steve trying to absorb his wisdom. At that time, I wrote down inspiration quotes from to pin on my bedroom bulletin board. Steve was an optimist who would respond to cynicism, "Just because it has not happened yet does not mean it can never happen."
Steve was a fourth generation Floridian who had a deep love for the Everglades and natural world. For 25 years, he worked as a seasonal park ranger in Everglades National Park. Steve had the good fortunate to meet the 'Mother of the Everglades' Marjory Stoneman Douglas one time when he worked as a ranger. He happened to see her at one of the scenic overlooks in the park and struck up a brief conversation with her when they were both admiring a scenery. Steve loved to quote Marjory and share her stories.
Steve had the gift of connecting with park visitors and people caught up in momentary short term, knee jerk, superficial thinking. One time, Steve told me, "My goal in life is to remove the rocks that other people's paths."
One of the pearls of wisdom that Steve gave to me was, "Every single person makes the world every single day."
Steve and I saw eye to eye that the best way to protect our environment and planet is by speaking out every day. Even more, it was vital to vote in elections for Democratic candidates such as Al Gore who made those issues a top priority. Steve, his wife Amelia, and I were big fans of Al Gore. We watched the election results together and we all had a difficult time processing what happened in Florida.
In August 2007, I assumed I had years to absorb Steve's knowledge. It shocked me when I learned he had stage 4 pancreatic cancer, one of the deadliest and aggressive forms of cancer. I visited Steve often in the hospital as his health deteriorated. During my hospital visits, he was too weak and on too many medications to talk. Sadly, Steve passed away on October 1, 2007.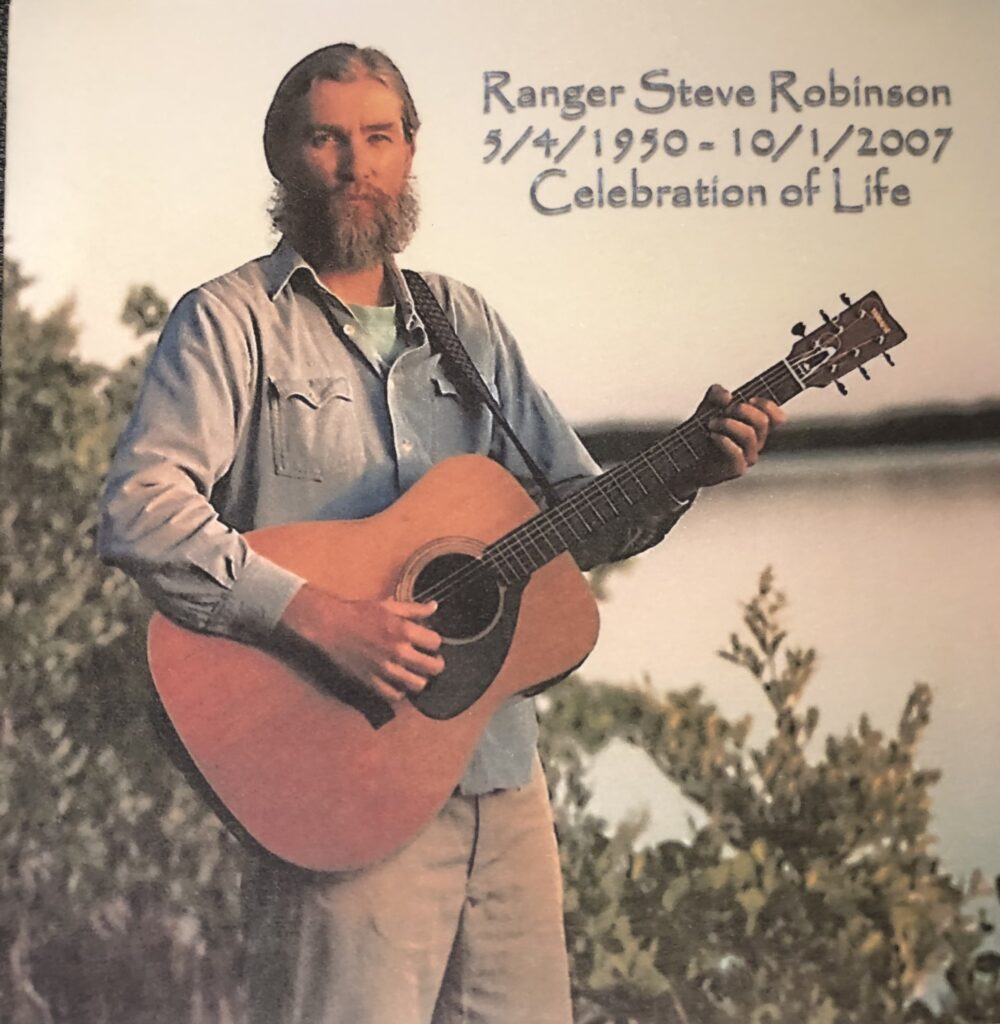 I was in a daze for a year after Steve's death. His mortality made me re-exam my own life.
Steve's quick passing at the age of 57 years old showed me that tomorrow and a long life is not guaranteed. Steve made the most of his life as a park ranger, musician, husband, father, friend to many, someone who loved all people, and a mentor to me. He loved life and lived everyday like it was a gift to be alive. After Steve's death, I felt lost no longer having my mentor around. I needed to do something different with my life to overcome the loss and to make the most of my life. I wanted somehow to be beneficial to the world as Steve was when he was alive.
Transitioning away from spending my winters in Everglades National Park 2007-08
In early September, around the same time that my mentor Steve was tragically losing his battle to pancreatic cancer, I received an email from my Everglades City District Supervisor Sue Reece. She told me that she would be happy for me to return to Everglades City for the winter. However, she had an opening for a winter seasonal ranger in the Shark Valley area in Everglades National Park. She thought I could be a good fit to work there. The Supervisor Ranger at Shark Valley at that time, Maria Thomson told Sue,
'I want a good seasonal interpretative ranger to work at Shark Valley this winter. Someone who cares about the Everglades and can relay that to visitors. Someone like Brian Ettling.'
With Steve's prospects of recovering from pancreatic cancer looking dim in September 2007, I needed some good news. It was heartwarming to hear that I was needed in Shark Valley. Therefore, I decided to work at that location in Everglades National Park for the winter. I would be narrating the tram tours, giving a short ranger talk, leading bicycle tours, and possibly providing a guided bird walk. This looked like a good opportunity to try a new location in the Everglades. Maria hoped I would work there. I had an opportunity to make a difference there.
When I arrived in Shark Valley in November 2007, it did not feel like a good fit for me. I had a housemate with a very surly personality. I missed my friends in Everglades City and other parts of the park. I felt like I was living in the middle of nowhere off Hwy 41, the Tamaimi Trail. The park housing was just a few miles west of Shark Valley, but it felt very isolating there. I could not sleep at night, and I fell into a very bad depression. I wanted to leave the Everglades, but I did not know where I wanted to go.
In my sleeplessness, depression, and restlessness, I found my life's purpose. I wanted to carry forth my mentor Steve's message of protecting our Earth and environment since he could no longer share that vision with others.
I recalled 1998 when I started giving ranger talks in Everglades National Park. Visitors then asked me about this global warming thing. Visitors hate when park rangers tell you, "I don't know." Visitors expect park rangers to know everything. Don't you?
Soon afterwards, I rushed to the nearest Miami bookstore and to the park library to read all I the scientific books I could find on climate change.
The information I learned really scared me, specifically sea level rise along our mangrove coastline in Everglades National Park. Sea level rose 8 inches in the 20th century, four times more than it had risen in previous centuries for the past three thousand years. Because of climate change, sea level is now expected to rise at least three feet in Everglades National Park by the end of the 21st century. The sea would swallow up most of the park and nearby Miami since the highest point of the park road is three feet above sea level.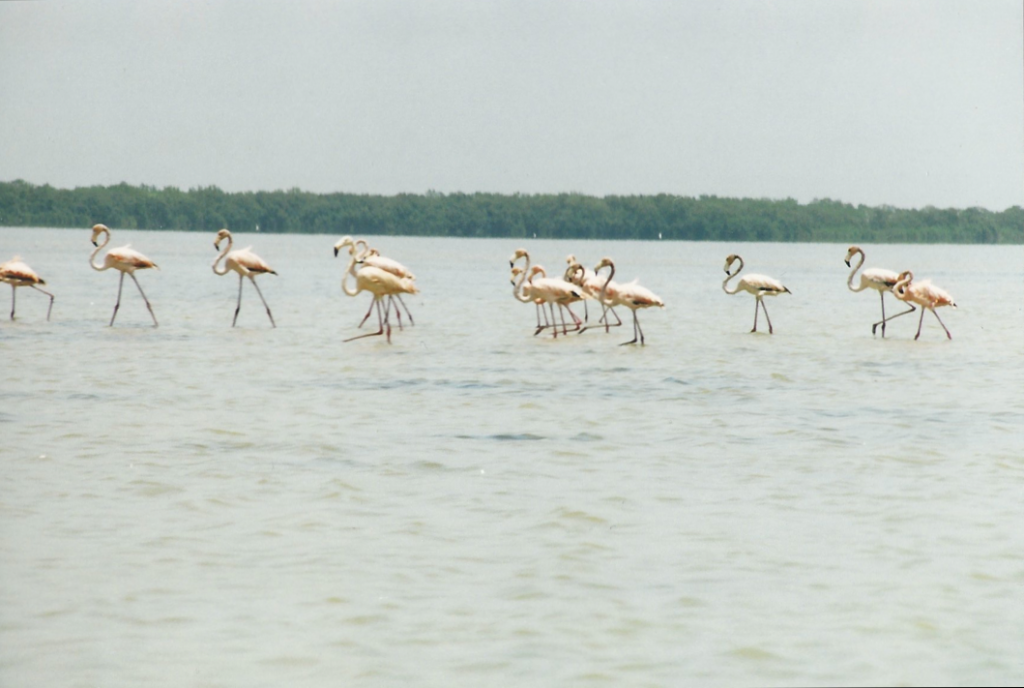 It shocked me that crocodiles, alligators, and Flamingos I enjoyed seeing in the Everglades could all lose this ideal coastal habitat because of sea level rinse enhanced by climate change.
By the winter of 2007-08, I read several books on climate change. Al Gore's film, An Inconvenient Truth and his companion book, as well as the HBO documentary Too Hot Not to Handle, dominated my thoughts. I knew I needed to do something on climate change, but I did not know what. I was very clear though that I would not find the answer by continuing to work winters in the Everglades. It was time for me to move on with my life. By the winter of 2007-08, I was burned out of the south Florida climate, the very flat terrain, and the long cross-country drive to spend the winter in the Everglades. Even worse, as a single man, it seemed like I would not find a wife there.
I said goodbye to the Everglades at the end of April 2008. I decided I would spend my winters in my hometown of St. Louis Missouri to organize for climate action. I had no idea how I was going to do that, but I was excited I found my life's purpose.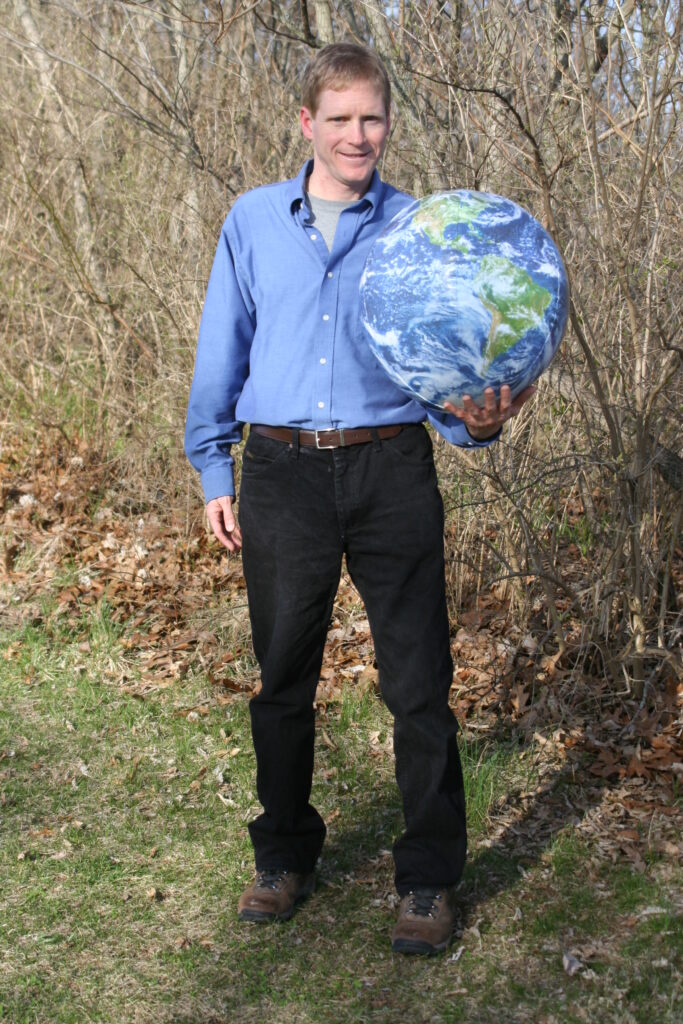 End of Part 2 of For Climate Action, let's protect our democracy
In part 3, of this blog series, I will cover Healing from grieve and Taking climate action in Oregon and St. Louis, MO 2009-2016. Stay tuned!