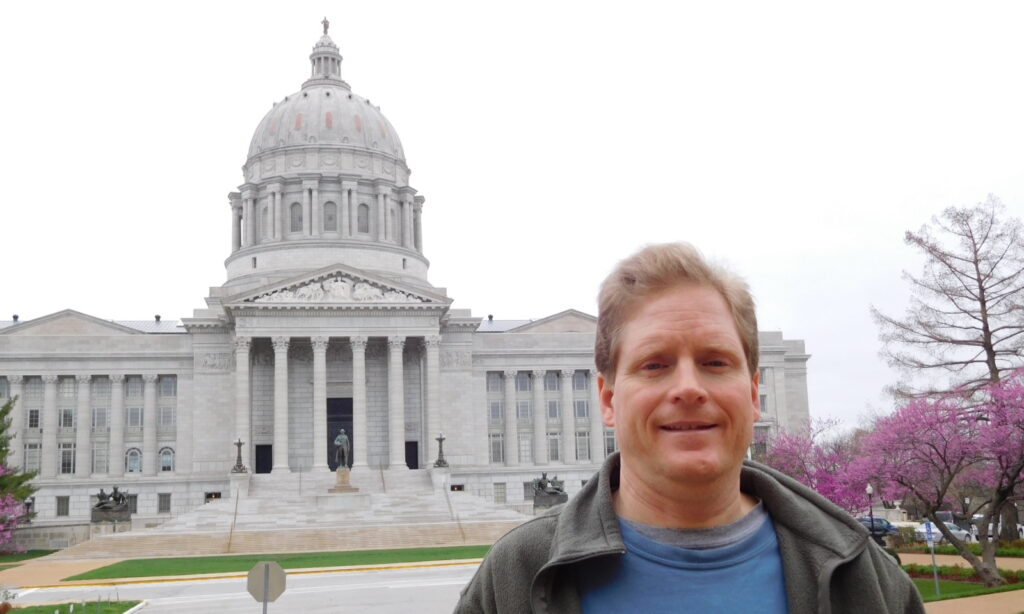 'Do not go where the path may lead. Go instead where there is no path and a leave trail.'
– attributed to the 1903 poem "Wind-Wafted Wild Flowers" by Muriel Strode
In 2016, I had a dream to travel around my home state of Missouri to give presentations for climate change. I was inspired by friends and volunteers with Citizens' Climate Lobby (CCL) who conducted state speaking tours in the previous years.
In 2015, CCL friends such as Peter Bryn, Ricky Bradley, Larry Kremer, and Brett Cease completed the 'Texas Energy Freedom Tour!' This group held 71 events: 25 public presentations primarily to identify new CCL group leaders, and 46 meetings with various community leaders including Chambers of Commerce, county Farm Bureaus, mayors, newspapers, faith leaders, and Republican County Chairs. The goal was to promote climate action, recruit new volunteers for CCL, and create support for CCL's policy solution of carbon fee and dividend.
The 2015 Texas Energy Freedom Tour inspired other U.S. CCL volunteers to organize state tours in 2016 such as in Georgia. Peter Bryn's team followed up with the '2016 Southern Energy Freedom Tour.' They drove 2,751 miles to visit 22 cities, giving 17 public presentations and 7 media interviews. They had 35 meetings with businesses, political leaders, NGOs and other groups. They hosted 4 CCL group start workshops and a CCL regional conference. Even more, they met with members of Congress 13 times, and generated 245 letters to U.S. representatives.
As a climate organizer, these state speaking tours looked like a fun adventure to make a difference for climate action. I wanted to do something similar in my home state of Missouri. In addition, I spent the summers working as a seasonal park ranger at Crater Lake National Park. Thus, Oregon intrigued me to undertake a climate change speaking tour.
My struggle to pitch a MO climate speaking tour at a CCL Midwest Regional Conference
As I wrote on a previous blog, I attended the CCL Midwest, officially known as the "Tornadoes Region," conference on November 12 and 13, 2016. Donald Trump won the Presidential election on November 8th, just days before in that same week. Climate advocates were on edge trying to determine the actions we should take to counter the incoming Trump Administration. There was no doubt they would try everything possible to roll back any progress to address climate change during the Obama Administration. Personally, I wanted to up my game for climate action by pitching the idea of a CCL speaking tour across Missouri, just like CCL volunteers did in Texas in 2015 and 2016. I had no idea about the resistance I would receive.
During a brainstorming breakout session of Missouri CCL volunteers during the conference, we determined that the best way to get more people involved was to organize a state tour across Missouri. It would be composed of speaking events to expose the public to CCL and its preferred climate solution, carbon fee and dividend. A leader was needed to speak at these different cities. I volunteered myself since I had the time and passion to do it. At that time, I was a seasonal park ranger at Crater Lake National Park. It was in between seasons from my summer job, so I had the availability and enthusiasm to lead this tour. After I volunteered myself to lead this tour, I immediately got some pushback from the local Kansas City volunteers.
They were concerned about the finances needed to complete this tour. That part didn't bother me. I figured the money would work itself out, one way or another. As we brainstormed, they wouldn't let this issue go. It got more contentious. They kept hammering how I was going to pay for this tour. I was annoyed they weren't supportive and trying to think outside the box how we were going to grow CCL to get more people involved. To get them from stop dwelling on this sticking point, I finally said: "I will do my own fund raising to make this tour happen."
That seemed to silence the critics, at least I naively thought at the time. However, two weeks later, I received a phone call out of the blue from the Vice President of CCL, Madeleine Para, who attended the conference in Kansas City. Madeleine started off the conversation cordial asking me how I was doing. In that moment, I was very excited talking about an upcoming trip I was planning to Ottawa Canada. I was invited to be a guest speaker and lobby members of the Canadian parliament for a Citizens' Climate Lobby Canada conference. She sounded rather cold and calculated when she said: "Well, I am going to have to burst your bubble."
She went on to say: "I was just talking to the Executive Director, Mark Reynolds, and we agreed that you can't do your own fund raising for a state tour. We feel like any fund raising that you would do would interfere with the organization's fund raising. We can't let you do that."
It felt like I had been kicked in the stomach. I didn't have the words to respond, so I hung up the phone. I did email her to apologize, but I felt deeply hurt. She did seem to understand that in a responding email and relaying a comment days later to a mutual friend. That was it though. There was no other action taken to reach out to me to try to heal the breach. Immediately after Madeleine's call, I called a few CCL friends across the country, and they didn't know what to say. They still advised me to do this tour if I wanted to do it.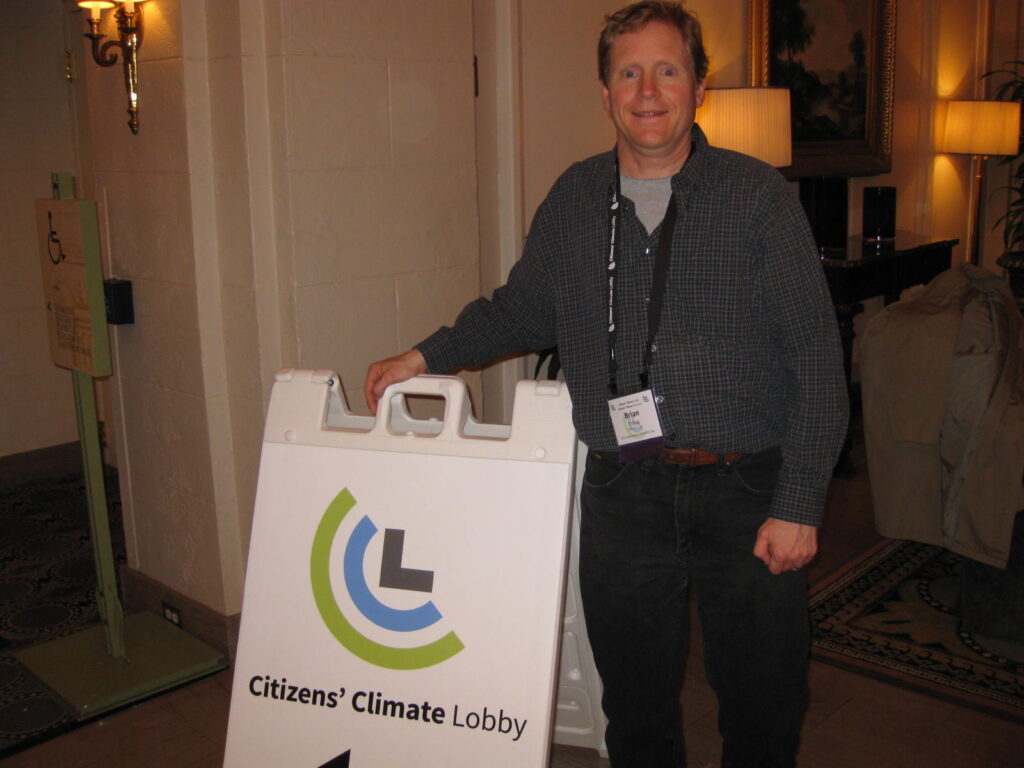 During that phone call with Madeleine, I had no words to dig deeper into her reasoning. From my interactions with her, I felt an underlying jealousy. She didn't seem to like my enthusiasm and energy to accomplish big things as a climate organizer. It felt like my plans to organize around Missouri were somehow a threat to her position. Therefore, she had to find a way to get the Executive Director on her side to stop my plans. Her phone call made no logical sense. If I had the words to say in that moment, I would have responded: 'What was the point of that regional conference? I somehow had the impression it was to think outside our comfort zone to grow our organization to make a difference for climate action. I don't see your logic how my own fund raising for a tour would compete with fund raising of the national organization.'
I saw for the first time that people involved in the climate movement don't always have the best intentions to effectively act on climate. They don't always want to help volunteers like me reach for their full potential to make a difference for climate action. Sadly, I discovered as a climate organizer that others' politics, power, and jealousy can get in the way of my yearning to make difference. Unfortunately, it was a lesson that I would have to learn repeatedly.
Planning for the 2017 CCL Missouri speaking and lobbying tour
The good news is that I didn't let Madeleine stop me. In the fall of 2016, the CCL regional coordinator for the Tornados, Carol Braford, invited me to be the CCL Missouri state co-coordinator. I would work closely with the other co-coordinator, George Laur, a retired engineer who lived in Jefferson City, Missouri. George and I met months earlier and we became friends. We looked forward to collaborate as CCL co-coordinators for Missouri. We had regular phone calls after the November 2016 CCL Tornados Regional Conference. George liked my idea of a CCL speaking tour across Missouri. He started making some inquiries about me giving climate change talks in Jefferson City, Kirksville in northeastern Missouri, and elsewhere.
In late January 2017, my wife Tanya had a job offer in Portland, Oregon. We decided we would move to Portland in the first week of February 2017. After our decision, I called climate friends in Missouri, such as George Laur, to inform them we were moving. Thus, I would not be organizing events in Missouri anymore. George was happy for Tanya and me, but he was sad because we enjoyed working with each other. George then said to me: 'Looks like you will have to fly back to Missouri in March because I plan for you to speak in Jefferson City and Kirksville, MO.'
After Tanya and I moved to Oregon in February 2017, I realized it would be expensive to fly back to Missouri in March to give talks there. I love to travel, especially to give climate change talks. However, I was nervous to pay for this round-trip plane ticket. When I expressed this to George, He generously asked CCL volunteers in Jefferson City and Columbia Missouri to raise money to pay for my airline ticket. They easily raised the funds for my airplane fare. The generosity of George Laur and his CCL friends in central Missouri touched me. This motivated me to take this trip back home to Missouri to give quality climate change presentations. Even more, this gesture of kindness inspired me to see what other climate actions I could bundle into this trip.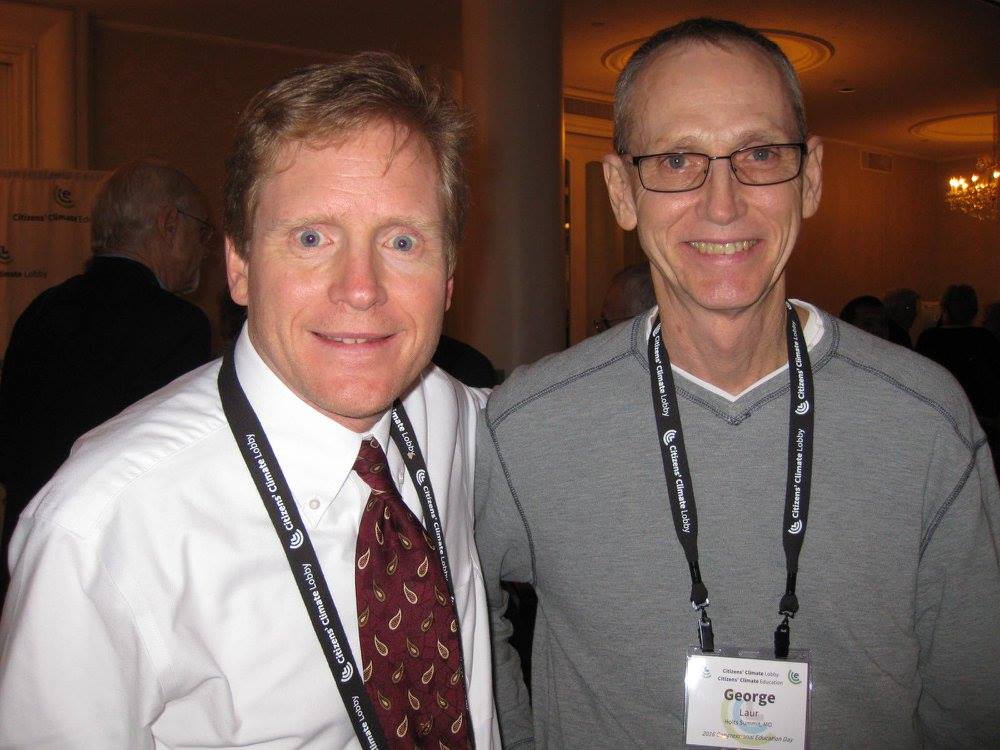 In early March, I bought my airline tickets to fly from Portland, Oregon to St. Louis, Missouri on Monday, March 27th. I bought my return ticket from St. Louis to Portland on Monday, April 3rd. George planned for me to speak in Jefferson City on Wednesday, March 29th at 7 pm. In addition, George and the new CCL Missouri co-coordinator, Sharon Bagatell, booked me to speak at Truman State University in Kirksville, MO on Friday, March 31st at 7 pm.
Besides those two events, I hoped to bundle in more climate related events to make the most of this trip. For several years, CCL encouraged its volunteers to do spring in district lobby meetings with their local Congressional offices. In between the speaking engagements in Jefferson City and Kirksville, George arranged a meeting with staff of U.S. Senator Roy Blunt at his district office in Columbia, Missouri on Thursday, March 30th. This inspired me to reach out to the Congressional offices of U.S. Representative Ann Wagner to have a meeting with her staff on Tuesday morning, March 28th. St. Louis CCL volunteer David Henry scheduled a meeting with staff of U.S. Senator Claire McCaskill at her St. Louis district office on Tuesday afternoon, March 28th.
I was excited that while I was still in Oregon in mid-March, I coordinated a trip to Missouri to give two climate presentations and three lobby meetings. In addition, I would have a chance to visit family. I would stay with my in-laws while in St. Louis. On Monday evening, March 27th, I would have dinner with my in-laws and parents.
As I planned this trip in March while living in Portland, something serendipitous happened. On February 28, 2017, I got an e-mail from Ian Mason, a senior at Ladue High School, located in west St. Louis County. Today Ian Mason is a Weekend Anchor/Meteorologist in North Platte, Nebraska for NBC Channel 2 in Nebraska since April 2022. In that February 2017 email, Ian wrote:
"Dear Brian,
I'm not sure if you remember me or not, but I was a high school student and I attended your class on Climate Change at St. Louis Community College a couple years ago. I'm currently working with a student organization called Global Student Square and I'm doing a video on the Trump administrations Gag orders to scientists, specifically in the climatology field. I think I remember you saying that you were a Park Ranger at some point so I was interested in your point of view.
I would love to meet up at some point and talk if that is okay with you. Thank you so much!"
I responded to Ian that I would be lobbying Congressional Offices in St. Louis and giving climate change talks in Jefferson City and Kirksville in the last week of March. He was welcome to shadow me for any of these events. Ian was very enthusiastic about this. After I would fly into St. Louis on March 27th, I planned to have lobby preparation meetings with local CCL volunteers who would join me at a local Starbucks. I suggested to Ian that he could join our lobby prep meetings and even the lobby meetings. Ian jumped at the opportunities to attend our lobby prep meetings and attend one of the lobby meetings on March 28th.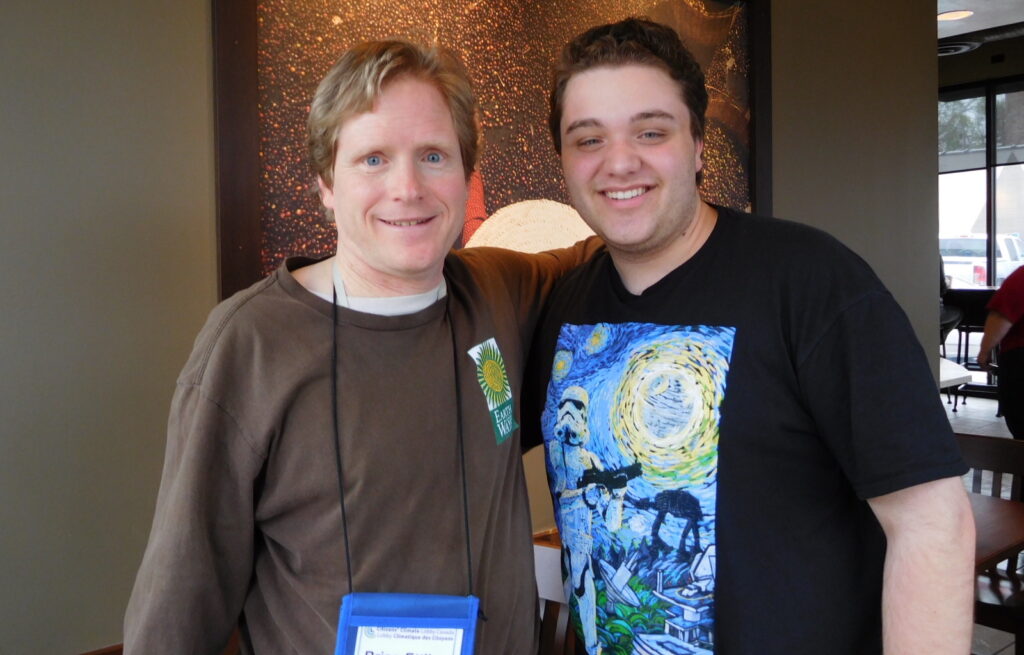 On top of all this planning, I booked an Amtrak train ticket from St. Louis to Jefferson City on Wednesday morning, March 29th. I would take the train to Jefferson City to rendezvous with George and his wife Kathy Laur before our event in Jefferson City on the evening of March 29th. I loved taking trains, as well as flying. Therefore, this was shaping up to be a great trip to Missouri to promote climate action and CCL.
First Day of the 2017 CCL MO Climate Speaking and Lobbying Tour, Monday, March 27th
Earlier that month, I booked an early morning direct flight from Portland, Oregon to St. Louis, Missouri to arrive early in the afternoon to attend my lobby prep meetings with local CCL volunteers. As I always do on Southwest Airlines, I try to board as early as I can to get a window seat. I love to grab a window seat to get a great view of the scenery as the plane flies. I can't imagine flying without a window seat.
As I made a beeline for an available window seat towards the back of the plane, a pleasant 30 something couple sat in the seats next to me. At first, we did not make conversation because I focused on looking out the plane window. I was enjoying the silence before I would be talking a lot during this trip to CCL friends, Congressional staff, family, public presentations, etc. Not long into the flight, the man sitting next to me remarked: "I think that I know you."
His name was Nicholas Bentley and he remembered we are Facebook friends. He attended a Climate Reality Training and admired my climate organizing. He was flying with his partner Kristen Lavelle, who took our photo. This was a great start to my trip. It was great to hear that he liked following on Facebook what I was doing to act on climate. Since this trip to Missouri was all about climate action, this started my trip on a good note.
I forgot why Nicholas and Kristen were flying to St. Louis. According to his Facebook page, Nicholas was a former New Media and Online Resources Officer at Greater Yellowstone Coalition and a former Organizer at Reclaim Democracy. When we chatted, he designed board games as a career. I always loved board games. Nicholas and Kristen live in Madison, Wisconsin. I hope our paths cross again at some point so we can play some board games.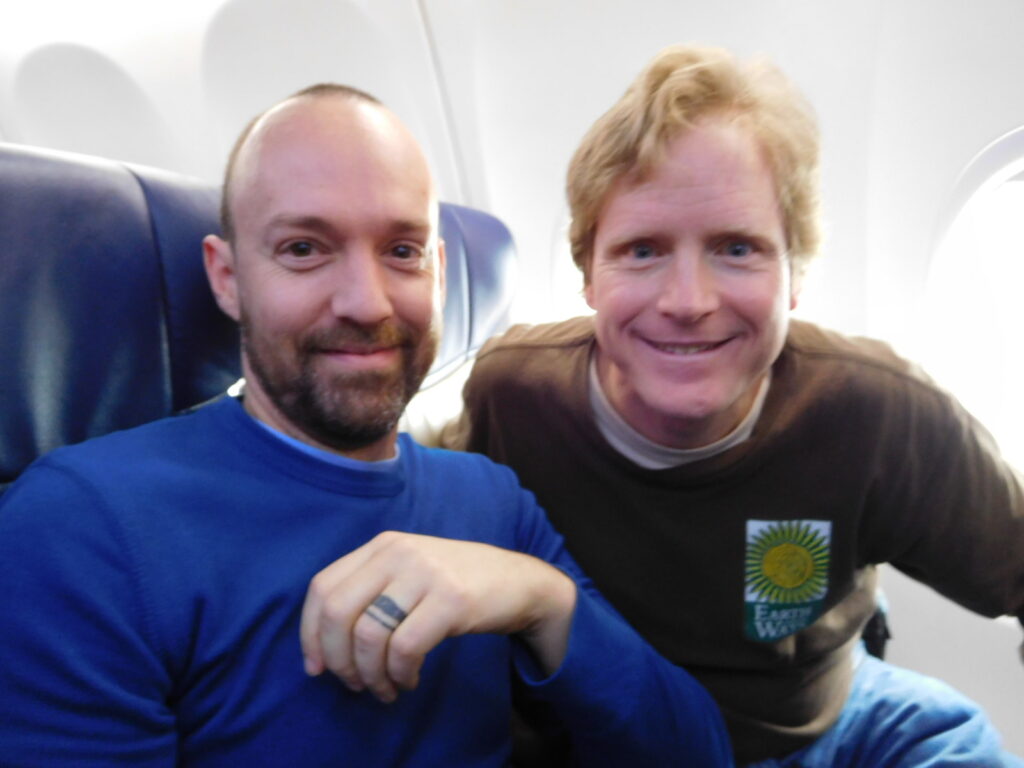 My in-laws, Rex and Nancy Couture happily picked me up at the airport and then dropped me off at Starbucks for my lobby prep meetings. It was great to see them. My lobby preparation meetings went well. I met at a local Starbucks with St. Louis area residents Sue Bell, Liz de Laperouse, Jim Rhodes, and Ian Mason. Congresswoman Ann Wagner is a conservative Republican and U.S. Senator Claire McCaskill is a moderate Democrat, so the planning for these meetings was very different. After we chatted about these meetings, I made time for Ian to see if he had any questions for me with his video project that focused on my climate organizing.
That evening, my in-laws Nancy and Rex Couture had a lovely dinner at their home for my parents and me. I wish that my wife Tanya could have been there. I enjoy traveling and visiting family with her. I did call her on Facetime so that she felt included.
Second Day of this 2017 CCL MO Climate Speaking & Lobbying Tour, Tuesday, March 28th
The meeting with Congresswoman Ann Wagner's staff was at 9 pm. This district office was in Ballwin, Missouri, just a few miles from where my in-laws lived in west St. Louis County. My in-laws generously allowed me to use their 2002 Toyota Corolla during my St. Louis trip. Before this meeting, I had an 8:30 am meeting with Steve O'Rourke at a local Starbucks in Ballwin close to the district office. Steve was the only participate who was not able to meet with me the day before to prepare for this lobby meeting.
I first met with staff at Rep. Ann Wagner's district office on February 14, 2014, as part of CCL's spring in district Congressional lobby meetings. In the spring of 2013, I volunteered to be the volunteer CCL liaison for Rep. Ann Wagner. This role involved being the point of contact person between CCL and this Congressional office. According to the CCL Community website, "CCL liaisons build relationships with their assigned members of Congress and their staff through regular personal contact, scheduling lobby meetings, and other communications with that office."
With my role as CCL liaison to Rep. Ann Wagner, this would be my fourth in-district meeting with staff. I also lobbied the Ballwin office in 2015 and 2016. I enjoyed meeting with her Ballwin district staff, as well as her Washington D.C. staff when I lobbied there for CCL in November 2015 and 2016. I consider myself to be a moderate to progressive leaning Democrat. Rep. Wagner, plus her staff are rock solid conservative Republicans. I enjoyed adhering to CCL's Core Values that we lobby Congressional offices with "respect, appreciation, and gratitude."
In addition, CCL coaches it's volunteers to be great listeners during these lobby meeting. It has offered trainings on motivational interviewing to be a more engaged and effective listener. CCL emphasizes motivational interviewing to be a superb listener so that the Congressional staff feels heard. They encourage us to be more "interested than interesting."
CCL insists its volunteers to start every Congressional lobby meeting with a sincere appreciation for action the member of Congress took to benefit constituents in the district or state. This can be hard if the person lobbying has an opposite political philosophy of the member of Congress or staff whom they are meeting. One might object to nearly everything that member does. However, if one looks at the member of Congress' website or does a Google search, you can find something to applaud nearly all members of Congress. Maybe it's their efforts to get funding for veterans, seniors, disaster relief, or a job creating policy for the district. I always sincerely thanked Rep. Wagner's office for her efforts to stop sex trafficking, a high priority for her.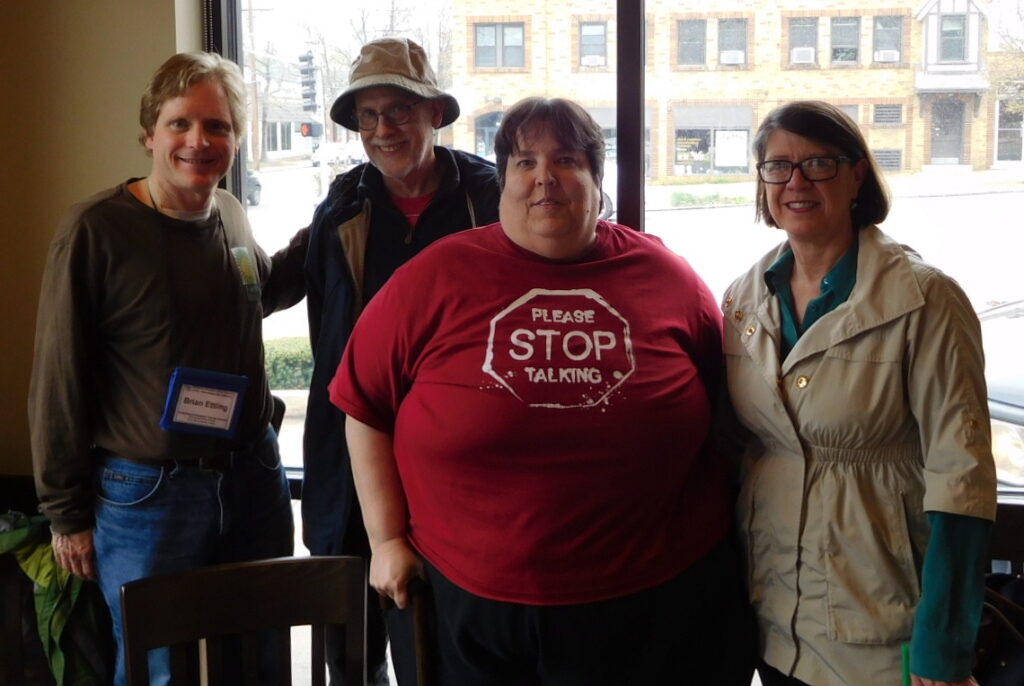 Congressional offices genuinely appreciates that we start the meeting applauding a specific action of the member of Congress. It helps them let down their guard that we are not there to protest, lecture, yell, and belittle them on areas where we strongly disagree. In fact, as CCL volunteers, we strive to find common ground with these offices. We don't back down that we are there to promote climate action, specifically a carbon fee and dividend solution. At the same time, we aspire to carefully listen to find what is their objections and sticking points to supporting climate policies, especially carbon fee & dividend. When we find a sticking point or objection where we disagree, we strive not to counter with facts why we think they are wrong. Instead, we attempt use motivational interviewing to drill down further in their objections to find common ground. In those areas of disagreement, we seek to find areas where we can work together.
I followed CCL's lobbying philosophy for years with meeting with Rep. Ann Wagner's Baldwin and Washington D.C. staff and I found success with their methods for lobbying. Rep. Wagner's staff liked meeting with me, and I developed a good rapport with them over the years. Unlike other environmental and climate groups, we don't shame them for their climate and environmental positions. For instance, Wagner's staff told me that they felt annoyed when the Sierra Club and other groups would drop off "Worst Polluter" awards or protest in front of their Ballwin Office. It did not shift their thinking on issues. CCL believes "there is a place for protest, but our approach is to build consensus, which we believe will bring enduring change."
Having said that, my goal for this lobby meeting was to meet with the District Director, which is the highest position in this office. They generally pick up the member of Congress from the airport and are with them for in-town events. Yes, the member of Congress listens to the junior members of the district staff. However, the District Director generally has the ear of the member of Congress for what's happening in the District and where that member of Congress should put their priorities. A good meeting with a District Director and developing a great relationship with them is very beneficial for trying to influence that member of Congress.
In early March, I learned Rep. Wagner's District Director, Miriam Stonebraker, would join our lobby meeting. This felt like a breakthrough for me after years of lobbying her office. Since this was a meeting with senior staff, I wanted this meeting to be a success. Previous meetings, I brought in volunteers that were strong climate advocates and local CCL volunteers. The advantage of lobbying with CCL volunteers is that they generally understand the CCL mode of lobbying of appreciation, motivated interviewing, and looking for common ground. The disadvantage is that a conservative Republican member of Congress might dismiss these constituents as not their most loyal voters that they aim to serve their district in Congress. If one reads about Rep. Ann Wagner, you discover she is Catholic, a strong supporter of the U.S. military – her son Raymond is an Army Captain, and an avid supporter of small businesses in the St. Louis area.
Therefore, for this lobby meeting, I networked hard to try to find someone who served in the U.S. Armed Forces, a local businessperson – preferably someone who worked in the solar industry, and a devout Catholic. I failed with my contacts to find someone Catholic who could attend this meeting. Through my Sierra Club contacts, they recommended Sue Bell, who was a Missouri Sierra Club Intern and spent her career in the U.S. Army. Through other climate contacts, I found Steve O'Rourke, who was then VP Business Development with Microgrid Solar, which was rebranded as Pivot Energy in 2018.
The other person joining us was Liz de Laperouse. She was not a Catholic, veteran, and a solar businessperson. However, Liz had an impressive background as a champion of the environment in the St. Louis area. Liz was the Volunteer Chair at the Whitney R. Harris World Ecology Center. It is known locally as the Harris Center, which is a premier financial supporter of education and research ecology and biodiversity conservation at UMSL (University of Missouri St. Louis), the Missouri Botanical Garden, and Saint Louis Zoo. These are very respected institutions in the St. Louis area. With her work at the Harris Center, Liz was very well connected in the St. Louis.
Even more, I moved from St. Louis to Portland, Oregon one month earlier. Thus, I was no longer a constituent of Rep. Ann Wagner. It was time for me to pass the baton to constituent Liz de Laperouse so she could be the CCL Liaison to Rep. Wagner. From my interactions with Liz in 2017, I found her to be excellent to be my replacement. Having her in this lobby meeting would provide continuity for the positive relationship between CCL and Rep. Wagner's office.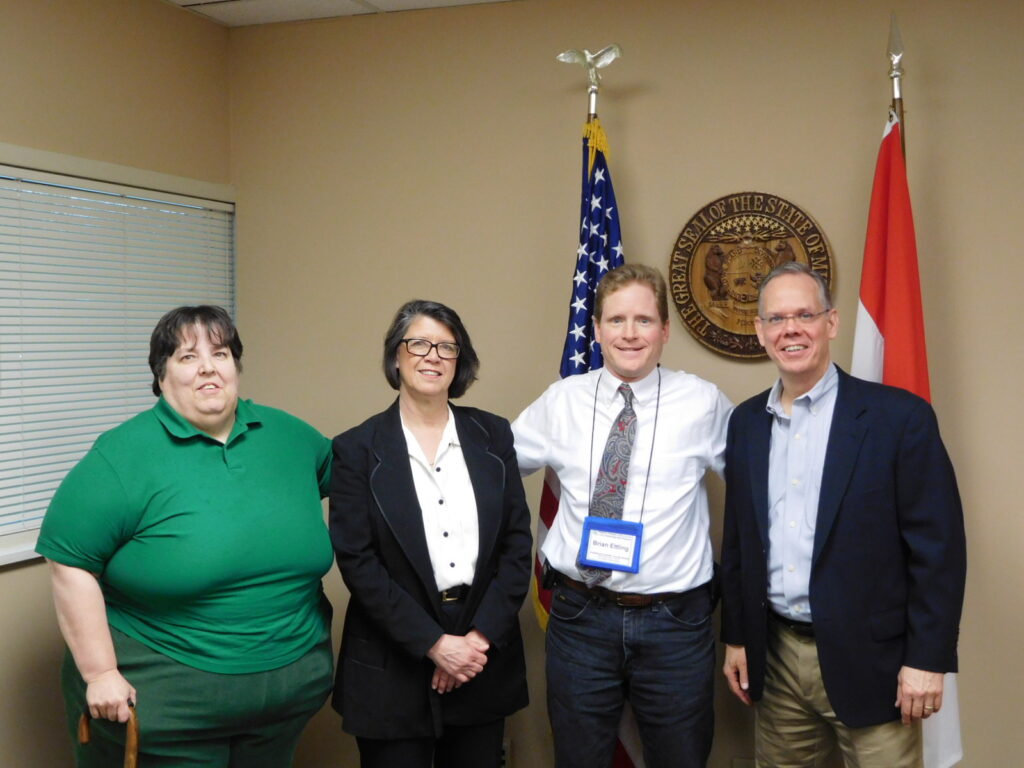 I felt like I had my lobby dream team assembled. Before the meeting, I just wanted to make sure I had them on the same page as far as CCL's lobbying methodology. Even more, my priority to make sure that they knew we were lobbying for "the long game." We were not going to persuade Rep. Ann Wagner in a single lobby meeting with her staff to become a climate champion that supported CCL's carbon fee and dividend. Rather, my goal was to build a positive rapport with her staff over years to help guide her to shift her position on climate change. I had a great meeting with Liz de Laperouse and Sue Bell the day before to emphasize my lobby plan. They were totally on board and enthusiastic for this meeting.
On the morning of March 28th, I had a positive meeting with Steve O'Rourke. We hit it off immediately. If I had continued living in St. Louis, I would have liked to have become good friends with him. I found him to be very energetic, a great storyteller, passionate about solar, and a fun person to be around. After my meetings with Sue, Liz, and Steve, I felt pumped up we were going to have a terrific lobby meeting.
I was very happy with everything that happened with this lobby meeting. Miriam gave us a full hour for this meeting. In Washington D.C lobby meetings, Congressional staff often only schedules lobby meetings for 15 minutes due to their busy schedules. If they have time or feel like your lobby meeting is important, they will schedule 30 minutes. It was very gracious of Miriam to schedule a full hour for us.
CCL insists that our lobby meetings are confidential to maintain our trust with Congressional staff and members of Congress. Thus, I will limit what share what happened in this lobby meeting regarding discussions about climate change, their positions on climate policies, and their candid assessments of what is happening with Congress.
However, I will share a couple of items that stood out from the lobby meeting.
First, towards the end of the meeting, District Director Miriam Stonebraker said something unexpected to me that I will never forget. She looked right at me and commented,
"By the way I am really impressed with (Citizens' Climate Lobby's) website, I went on there it is very clearly laid out. It is very easy to follow. It shows that you know how to get things down. You have clear goals, and you reach them. I am very impressed because lobbying is not easy. Is it Brian?"
The comment left me feeling speechless. Miriam strongly indicated during the meeting Rep. Wagner is NOT interested in supporting any climate action in Congress. Yet, it felt like Miriam admired my tenacity with climate lobbying and she was cheering me on.
After a moment of trying to process her admiration for my climate efforts, I smiled back and quickly responded, "'No, lobbying is not easy, but is it so rewarding."
It felt in that moment and afterwards that she understands how hard it is to lobby. It can be just down right totally frustrating at times. Miriam's comment inspired me to write a blog two months later, "Climate Lobbying is very hard, but it is so rewarding."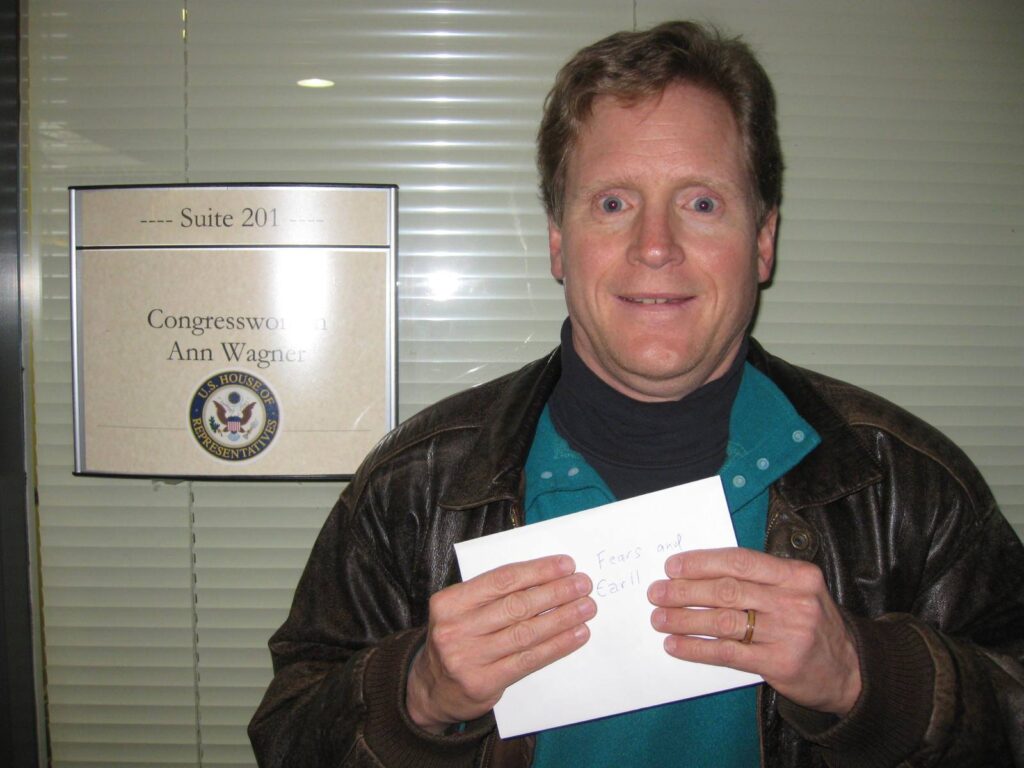 Second, during the introductions, Steve O'Rourke introduced himself as a businessman with Microgrid Solar. Miriam responded: 'I bet things are not going well for solar these days.'
Steve quickly responded, 'Actually things are going well these days.' Steve then explained the good developments happening in St. Louis at that time. Miriam and the other Wagner staff person in this meeting listened intently on what Steve had to say.
As we were wrapping up the meeting, I asked Miriam directly, 'Who in our district you like to hear more from when it comes to climate change and solutions like clean energy?'
Miriam pointed right at Steve O'Rourke. Miriam indicated she and Rep. Wagner want to hear more from businesspeople like Steve as they consider policies related to clean energy and climate change. That felt like a victory to me that I succeeded in getting Steve, a solar businessman, in this lobby meeting. Even more, it felt like a good roadmap how to approach for future lobby meetings with Rep. Wagner's office.
To develop more rapport with Rep. Wagner's staff, I brought in a large plate of my mother-in-law Nancy Couture's delicious chocolate chip cookies. My in-laws are proud Democratic voters who don't like Ann Wagner. It was very generous of Nancy to make these cookies. Nancy has always been very supportive of my climate organizing. When I presented the large plate of cookies, Miriam and the Wagner staff did not want to touch them with a 10-foot pole.
"Are these cookies store bought?" she asked with hesitation looking at the cookies. She was leery of anything perceived as a bribe or an unethical lobbying gift over $10.
"No!" I replied. "My mother-in-law made them for you! they are delicious."
Finally, Miriam and other members of the staff decided they could bravely accept the cookies.
After the meeting was completed, I had a good debriefing with Liz, Sue and Steve outside and around the corner from Rep. Wagner's office. I wanted to make sure our lobby team could talk frankly without Wagner's office hearing us. Everyone was very happy how the meeting went, including the photos we got from the meeting. I then had everyone sign a thank you card to Miriam. After Sue, Liz, and Steve left. I dropped off the note inside Rep. Wagner's office. The hilarious part was that the plate of mother-in-law chocolate chip cookies that Miriam and the staff were initially afraid to accept was nearly devoid of cookies. Apparently, they loved the cookies.

Later that same day, I joined David Henry, Jim Rhodes, Ian Mason and others for a great meeting with staff of U.S. Senator Claire McCaskill at her regional office in St. Louis. David Henry was the CCL liaison for U.S. Senator McCaskill. After I the work I put into the meeting with Rep. Ann Wagner's staff, it was fun for me to be a general participant in this meeting. Unlike Rep. Ann Wagner, Senator Claire McCaskill is more firm on her position that climate change is real, human caused, and a priority for action.

At the same time, Senator McCaskill was a very moderate Senator who tried to take positions that she felt reflected her Missouri constituents. In past meetings with the Senator or her staff, she was reluctant to support CCL's carbon fee and dividend. She was afraid it would increase costs on seniors with fixed incomes. I don't remember much about this lobby meeting, except that it did go very smoothly. I remembered McCaskill's staff asking about how a carbon fee and dividend would impact rural and primarily low-income school districts looking to transition their gasoline burning school buses to electric buses.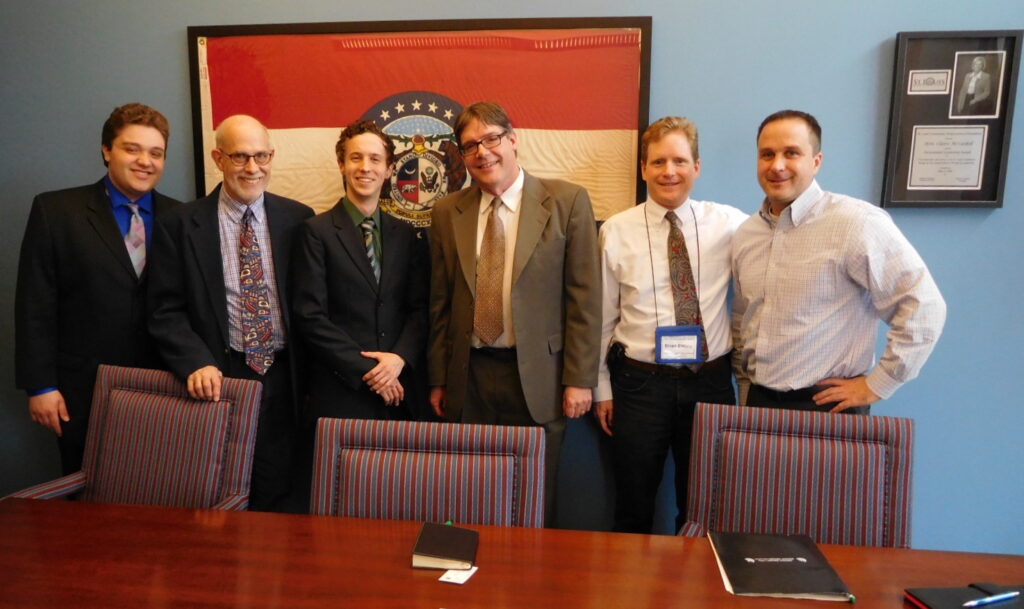 For me, one of the best parts of lobbying meetings are the questions that I cannot answer on the spot. I use those questions posed to me in the lobby meetings as homework to follow up with answers for the Congressional staff. In the days after this meeting, I emailed CCL staff to ask them how they would respond how a carbon fee and dividend would impact rural communities switching their gas burning school buses to electric buses.

After the lobby meeting, I met with Ian Mason for a short interview about the lobby meeting to provide any help he needed for his video project. I left this lobby meeting feeling tired and very happy from a productive day of lobbying for climate action in my home state of Missouri.

Third Day of the 2017 CCL MO Climate Speaking & Lobbying Tour, Wednesday, March 29th
The day started off well with a beautiful Amtrak train ride from the Kirkwood Train Station in west St. Louis County to Jefferson City, Missouri. It was a lovely overcast spring day in Missouri. My in-laws kindly dropped me off at the train station for this two-hour train travel. I tried to get some work done with my climate organizing using the internet on the train. At the same time, it was enjoyable to watch the scenery go by on the train.
The train went through Castlewood state Park along the Meramec River, where I proposed to Tanya on Christmas Eve over two years before. It was fun to spot Six Flags Amusement Park in Eureka, MO where we went as a family when I was a child. West of Eureka, there's a tunnel that seems like it is a couple miles long going through the Ozark Mountains. The train emerges from the tunnel paralleling the Missouri River for the rest of the trip, stopping in the historic towns of Washington and Herman, Missouri before dropping me off in Jefferson City.
My friends George and Kathy Laur picked me up at the train station, located just a block from the majestic state capitol building in Jefferson City. We were happy to see each other. In my excitement, I commented: "the Missouri state Capitol sure is a beautiful building."
George wryly replied: "Yes, beautiful building on the outside. Horrible things happen on the inside."
Ironically, we noticed small Missouri utilities lobbyists were having a barbecue cookout for legislators at the front of the Capitol building to urge them to oppose any clean energy policies and allow them to continue burning dirty fossil fuels. Point was taken, George! For a healthy planet, it looked like horrible things were happening on the outside of the building that day.
George and Kathy took me to a nearby country diner for a delicious Missouri fried catfish lunch. Yummy! I loved Missouri catfish since I was a child. We then went to their splendid home on the other side of the Missouri River from Jefferson City. Their house sits high on a bluff with a glorious view of the state Capitol and the Missouri River. We spent the afternoon chatting in their comfortable home and working on last minute details for my climate talk that evening.
After dinner, we headed to the venue where I would present my climate talk. It was the auditorium at the Runge Conservation Nature Center just west of Jefferson City. We briefly walked through an impressive nature museum about Missouri on our way to the auditorium towards the back of the building. When we reached the auditorium around 6:30 pm, we made sure that my PowerPoint slides worked, my microphone functioned properly, the projector was properly showing my PowerPoint slides, and other logistics. Everything went fluently.
This auditorium seated well over 100 people. It looked very empty when we arrived. I always had that fear if anyone would show up. George assured me that we would get a big size crowd. He was not sure how many. However, it was well advertised by the River Bluffs Audubon Society, the Osage Group of the Missouri Sierra Club, the Jefferson City/Columbia Chapter of CCL, the Runge Conservation Nature Center, and in the Jefferson City News Tribune newspaper.
It turned out over 100 people did show up for this event. The auditorium looked almost full, yet not overly crowded. My presentation was called "Is Climate Change Affecting Our National Parks?" It was fun to tie in my background of growing up in Missouri and then working in the national parks. Then sharing how I saw climate change in Everglades and Crater Lake National Parks. That observation led me to organize on climate change solutions, such as CCL's carbon fee and dividend (CF&D). This was an enthusiastic audience that laughed at my jokes.
At the end of my presentation, I asked the audience to fill out and sign CCL constituent comment forms. These forms had the signees urge their members of Congress to act on climate and asked the members of Congress to support climate solutions, such as CF&D. We would then make sure that their filled out copies would go to all three of their members of Congress, U.S. Senator Roy Blunt, U.S. Senator Claire McCaskill, Rep. Blaine Luetkemeyer or Rep. Vicky Hartzler. The good news was that 52 people wrote comment forms to their MO members of Congress asking climate action. Sadly, we ran out of forms or more people would have filled them out. It was a very empowering evening.
I was delighted Ian Mason and his mom, Gina Kratky, came to this talk. Gina drove Ian from St. Louis to Jefferson City to attend my presentation, which is around a two-hour drive one way. Even more, this was on a school night because Ian was a senior in high school at the time. Ian asked me before my event if he could video tape my presentation for his video project. I happily agreed that he could video my talk. He generously shared the video with me afterwards, which I uploaded to YouTube. I was pleased that Ian shot a good video to document this occasion.
After the event, Gina and Ian drove back to St. Louis so he could attend school the next morning and she could go to work. When George and Kathy drove me back from the Nature Center to their house, it rained hard that evening. Thank goodness we had a short drive of a few miles. When we returned to their house, George turned on the TV local news. It turned out the heavy rains caused some standing water on the roads and flash flooding. I thought about Gina and Ian. I emailed Ian to see if they made it back to St. Louis safely. He responded later that they did make it back to St. Louis. However, the heavy rains did really slow them down that they made it home much later than they would have liked, especially on a school and work night.
This was a great public speaking experience for me. Thanks to George and Kathy Laur, this a highlight among many of the over 200 climate change talks I have given over the years.
Fourth Day of the 2017 CCL MO Climate Speaking & Lobbying Tour, Thursday, March 30th
The next morning, I woke up to see the Jefferson City News Tribune had an article about my talk the previous evening, "Climate change threatens park, ranger says." It gave a good synopsis of my presentation, especially my emphasis to the audience to contact our Missouri members of Congress, especially the Republicans, to urge them to prioritize climate action.
That talk must have made quite an impression. Besides their article, the News Tribune printed a cartoon from their conservative cartoonist Jim Dyke aimed at me. He had the wrong colors for the ranger uniform, and it did not look much like me. The statements in the cartoon looked like a real head scratcher that did not make any scientific sense. Having said that, I was flattered and honored to have inspired this political cartoon. The cartoonist tried to mock me. However, I thought the joke was on him since he seemed to have a lack of scientific understanding.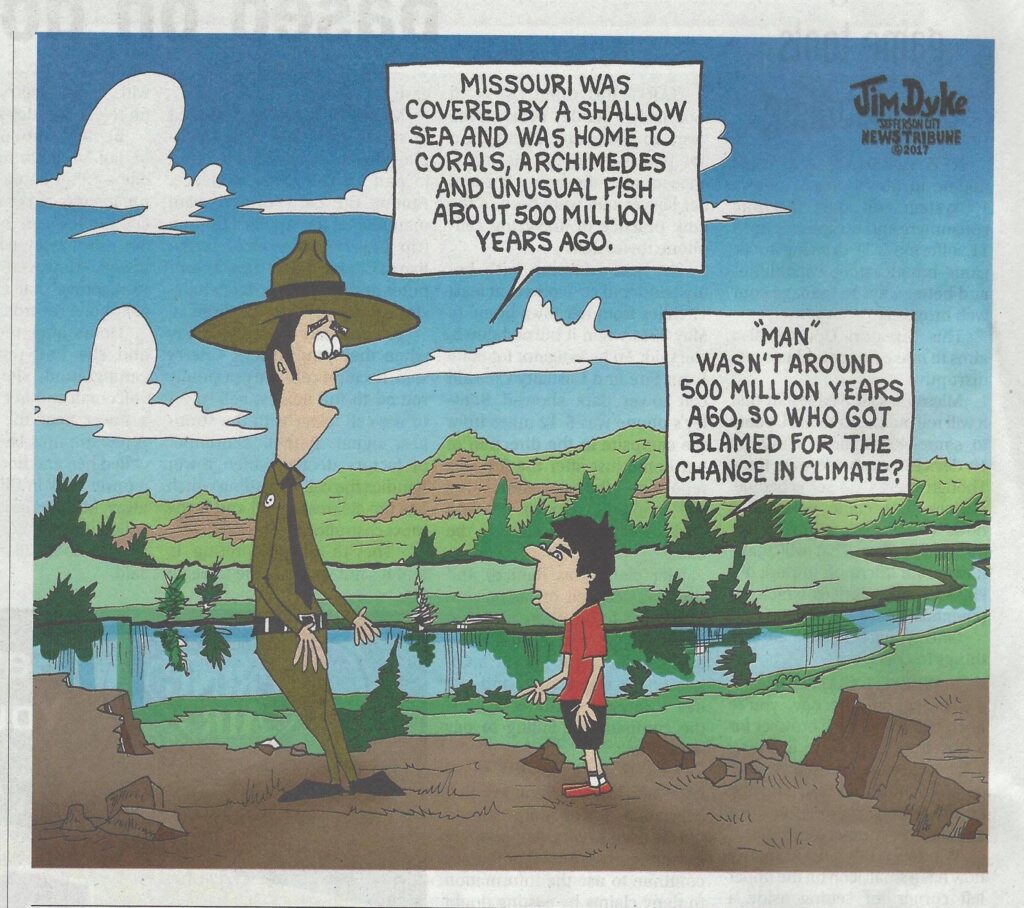 George and I then drove from Jefferson City to Columbia, Missouri, which is about a 30-minute drive. We arrived in Columbia late in the morning to attend a meeting with staff of U.S. Senator Roy Blunt at his regional office in Columbia, MO. George arranged for this meeting with Senator Blunt's staff. Local CCL volunteer Jack Meinzenbach joined us for this meeting. George was the CCL liaison to Senator Blunt. Because George had met with this office several times, he a good relationship with them. Unlike the lobby meeting I led with Rep. Ann Wagner's staff on Tuesday, I don't remember any details about this lobby meeting, except that it was pleasant.
After this lobby meeting, George and I then drove to Dancing Rabbit Ecovillage in Rutledge, Missouri. This was over a two-hour drive from Columbia, Missouri. It was located due north of Columbia, MO in northern Missouri. We were meeting up with Sharon Bagatell. She was the new CCL Missouri co-coordinator, replacing me when I moved to Oregon the previous month. Sharon lived at Dancing Rabbit. She scheduled the climate presentation for me to give at Truman State University in Kirksville, Missouri the next day.
Dancing Rabbit was a communal living sustainable community. As their website says, "We build our homes using alternative techniques such as straw bale and cob, powering them with renewable energy from the Sun and wind. Vehicles at DR are owned cooperatively and powered by electricity and biodiesel. Overall, we eat an ever-increasing amount of local, organic, and in-season foods including many home-grown vegetables."
This community was different from anything I had experienced before in my life. Actually, I like the conveniences of modern living, so it was an adjustment spending time there. Sharon arranged for me to stay in one of the vacant houses where one of the village members was traveling off site during my visit. George spent the night in a nearby motel.
I met Sharon at the eco village café. We had dinner there that evening. Sharon was a kind, soft spoken person that you would want as a friend. After dinner, I needed a place with power and internet access to use my laptop. Sharon suggested I use their community center. I wanted look over my talk the next day for Truman State University, make edits to the PowerPoint, catch up on other emails relating to my climate organizing, and touch base with my wife Tanya. In addition, this community building had showers, and lighting in the bathroom to brush my teeth.
Dancing Rabbit had no streetlights, porch lights or any kind of lighting at night. The houses were haphazardly laid out with no street signs, addresses on the homes, etc. The houses were all loosely thrown together and constructed uniquely with scrap wood, straw bale, and cob. No two houses looked the same, yet they all looked like the same hippie abstract art in the dark. I stayed way too long at the community building working on emails, updating my PowerPoint, and connecting with Tanya. By the time I finished all my tasks, it was late in the evening.
A big challenge was feeling home my way in the dark. My headlamp in my backpack did not work and my flip phone (yes, I still used a flip phone in 2017) did not give off much light. I worked 25 years in the national parks, and this eco village was one of the dark places I had seen. That night was overcast with no moon, making it more like total darkness. I was sober. I had no alcohol that day. Yet, it felt like I was drunk going home stumbling into uneven ruts on the dirt road, obstacles on the side of the road and unsure what street I was walking.
I deeply missed Tanya and our well-lit apartment in Portland. As I walked backed and forth by the houses, I could not find the house I was suppose to be sleeping. In my frustration, I became angry. I wondered what I was doing there. I questioned if I was making any difference for climate action. I was uncertain why I was in that situation. Finally, with luck and perseverance, I found the house where my suitcase was located and where I would be sleeping.
Dancing Rabbit did not connect with me, except for making friends with Sharon. The truth was Sharon wanted to leave Dancing Rabbit. She recently lost her life partner there. She was still grieving with daily memories of her partner everywhere at Dancing Rabbit. She wanted to start a new life for herself far away from there. I felt like an outsider visiting an outsider there.
Sharon explained to me that most people living there thought they were doing their part for the planet by living a simple life, "off the grid," in a more sustainable way. She had a hard time convincing her fellow community members on the importance of contacting their elected officials and lobbying for climate action. Their attitude was "I am already doing my part."
I have always felt frustrated by climate advocates who solely took individual actions by going vegan, not flying, not owning a car, not having kids, putting solar panels on their homes, living off the grid, buying an electric car, etc. Yes, do those things. I applaud those doing that. They set a good example and they do make a difference. At the same time, it's not enough. As climate scientist Dr. Michael Mann wrote in USA Today op-ed in June 2019, "You can't save the climate by going vegan. Corporate polluters must be held accountable."
As the protest signs at climate marches and protests say, 'We needs systems change, not climate change.'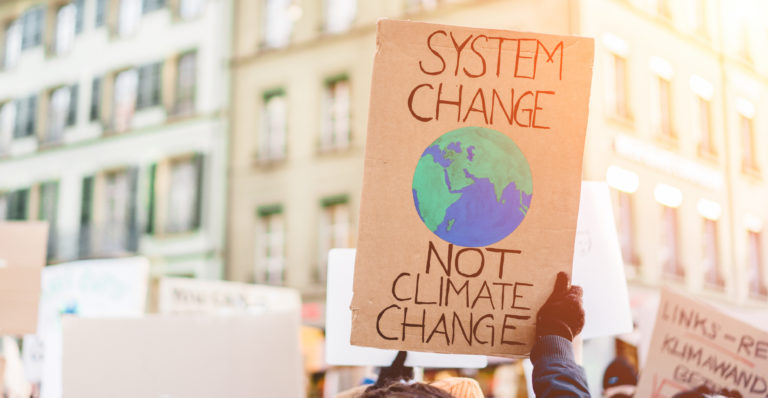 In addition to doing those individual actions, we need climate advocates contacting their members of Congress, state legislators and local elected officials. I consistently had Congressional staff of Republican members of Congress tell me in lobby meetings that they don't hear much from their constituents about climate change. Members of Congress need to hear regularly from more climate advocates to make climate change a top priority. Thus, just living sustainably in an eco village sounded to me like a stifling and ineffective way to address climate change.
Sharon's perspective shaped my opinion about Dancing Rabbit that it felt cut off from the rest of the world. It was too isolated for me. Sadly, nor George or anyone else briefed me much on Dancing Rabbit before I went there to approach it with an open mind. I went to bed that night in the very dark guest house exhausted and eager to sleep. Yet, I was anxious to leave the next day to give my climate talk and to return to a modern world much more familiar to me.
Fifth Day of the 2017 CCL MO Climate Speaking & Lobbying Tour, Friday, March 31st
I set my alarm before I went to bed to meet Sharon for breakfast at her Dancing Rabbit residence. Waking up to the natural morning light felt like I had been camping the previous night. Yet, I woke up in this strange hippie like commune in Missouri. I had always thought of Missouri as a square Midwestern state. Yes, Missouri has its share of Ozark Hillbillies and low-income white rural residents struggling to make ends meet. However, I never thought of Missouri having hippies living in an eco-commune. This seemed more West Coast Oregon where I spent my summers than Missouri. Dancing Rabbit kind of seemed like an experiment gone wrong to try Burning Man, Woodstock, or the Oregon Country Fair in the conservative Show Me state.
Sharon had some tea and some nourishing food for me for breakfast. I heard wonderful things about her from George Laur and Carol Braford, the CCL Midwest Regional Coordinator. For months Carol indicated to me that she wanted to get Sharon more involved with CCL in a leadership position. Sharon shared with Carol that she wanted to be more active. However, she needed time to grieve while slowly committing to CCL or other interests.
Carol Bradford had great foresight for Sharon Bagatell's potential. Sharon accepted Carol's offer to step into my role as CCL co-coordinator for Missouri after I moved to Oregon in February, 2017. Sharon did a wonderful job of organizing my speaking event at Truman State in Kirksville that day, as well as other meetings she scheduled that day with the City's mayor, business community, students on campus, and a reporter with the local newspaper. Sharon then became CCL's current Youth Action Team Coordinator.
It was a great conversation with Sharon that morning. This was just my second conversation with her after having dinner with her the previous day. I found her to have a very kind heart, gentle spirit, a calming and centered presence, a great listener, fun sense of humor, and a big smile that she was not bashful to share. I asked her about her life at Dancing Rabbit and her loss. She opened to me how difficult it was to lose her partner.
Sharon had good memories living in Dancing Rabbit, but it was no longer a fit for her. She wanted to move to North Carolina to be with her family and work more with youth. We were not chatting in the public café in Dancing Rabbit like we were the previous day when many of the residents know her. Thus, it was great to have a more natural conversation with her.
We then gathered our belongings for the day. Around 8:45 am, Sharon drove us to Kirksville and Truman State University where we would spend the day. We met up with George Laur in the campus cafeteria to start planning our full day of meetings, capped off with my speaking event that evening. At 9 am, Sharon, George, and I met with the Mayor of Kirksville to see if Kirksville was taking action to address climate change. We then introduced him to CCL and the carbon fee and dividend policy. He was interested and polite with our climate organizing, but not very committal.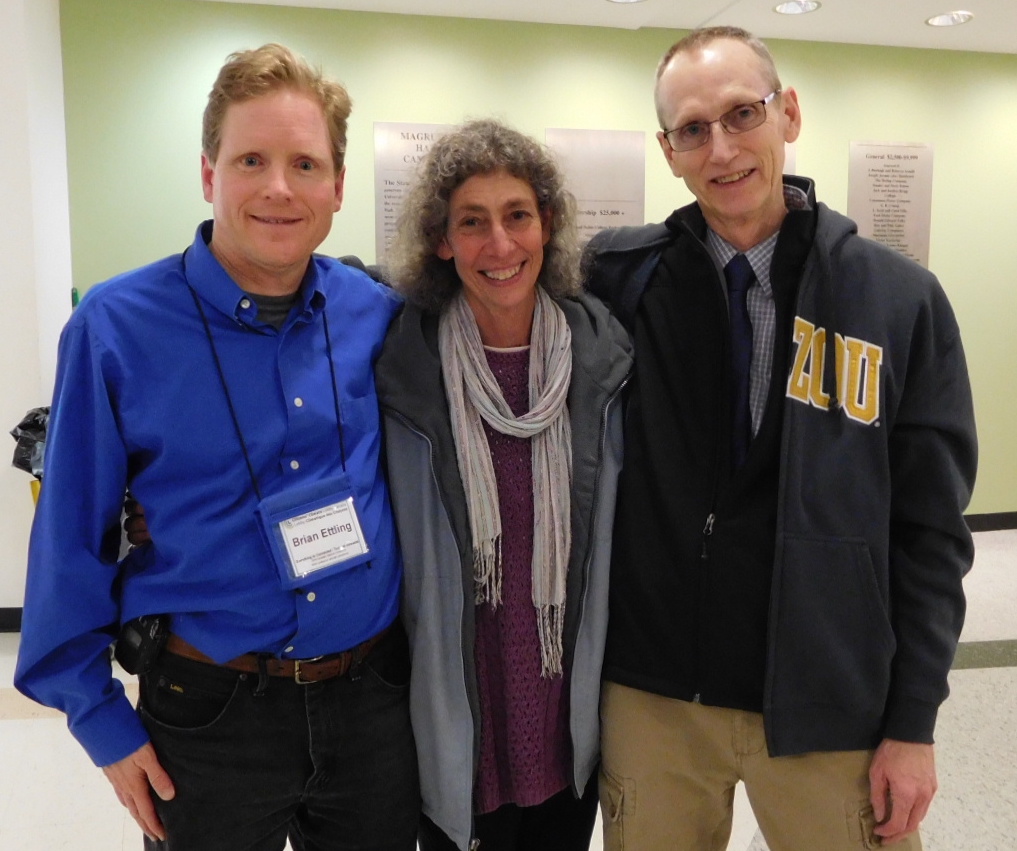 Around 10 am, the three of us met with one of the leading businessmen of Kirksville. Just like the 9 am meeting with the mayor, the meeting went smoothly. We were interested in his take on climate change, and he listened carefully about our involvement with CCL. Like the meeting with the mayor, the meeting was a good exchange of information. He was gracious but said he would have to think more about CCL and the carbon fee and dividend.
Around lunch time, Sharon scheduled me to meet with a group of 6 to 8 of science students interested in ecology and climate change. We met at the cafeteria during lunch. I quickly discovered they were interested in astronomy. I talked about the fabulous night sky I saw when working the summers at Crater Lake National Park as a park ranger. They were planning a spring break trip to a western national park to do their astronomy. The national parks are known for their "dark skies" generally away from city lights and air pollution to see the Milky Way and do more astronomy. They acknowledged that the night sky was good when you drive several miles away from Kirksville by the open fields. However, it gets better further out west from Missouri to see more stars and to see more stars clearer with their telescopes.
These Truman State students and I did not talk much about climate change, which was fine. I was interested in what they had to say about astronomy. They indicated that they might come to my talk that evening, but they were not sure. My talk was on a Friday evening. Some had plans with friends, some went home of the weekend, and some had a lot of homework to do complete. They were mildly interested. I mentioned I hoped to see them there, but I did not oversell the event.
During the day, Dr. Peter Goldman, a biology professor at Truman State University joined us periodically, in between his classes and teaching schedule. He did a fabulous job of creating publicity posters for my speaking event that was posted around the University and Kirksville. He sent me a PFD of the poster promoting the event with a mountain pine beetle at the top and a photo of a dead white bark tree at Crater Lake National Park at the bottom. It was so beautifully created that I was speechless when I first saw the 5.5 x 17-inch poster. That evening, I asked Peter for extra copies, and he generously obliged. I gave copies of the poster to my parents, in-laws and kept a few for myself. My parents and I both had these posters professionally framed and hung in our homes. My in-laws proudly displayed their poster on their refrigerator.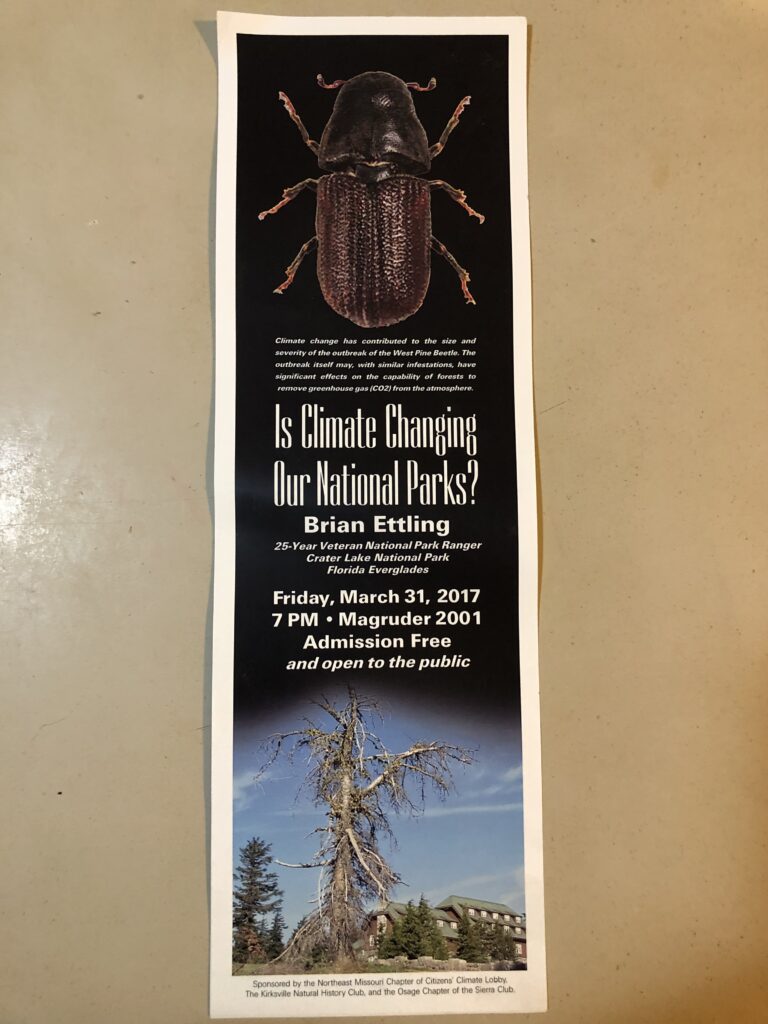 Early in the afternoon, Dr. Goldman arranged a meeting with George, Kathy and I with Truman State University's economics professor and one of his peers from the science department. This was a good meeting as they absorbed the information we gave them about CCL and carbon fee and dividend. They assured us that they planned to attend my presentation that evening.
Later that afternoon, George, Sharon, and I went to the Kirksville Daily Express newspaper office to meet with newspaper reporter Jason Hunsicker to chat about my climate change talk that evening and our involvement with CCL. I remember we awkwardly all stood in the newspaper lobby with Jason while he asked us questions. Later, Jason took us to a newspaper office where a gathering had just ended to ask us a few remaining questions before we wrapped up our meeting. Sharon, George, and I then had dinner at a western looking café in town.
My presentation that evening went great. We had over 60 people in attendance, nearly filling up the classroom where I spoke. It felt like a more subdued audience than when I presented in Jefferson City two days before. I don't remember who introduced me or the questions from the audience. With two big presentations, three lobby meetings, and a day filled with meetings with a mayor, business leader, students, professors, and a newspaper reporter, I was tired. Sharon, George, and I got a picture of the three of us before we said goodbye to Sharon. George and I then departed to return to Jefferson City. We left close to 10 pm and we returned to George's home well after midnight. We felt exhausted from our schedule from the last few days.
A week after I returned to Portland on April 10th, Jason Hunsicker from the Kirksville Daily Express wrote an article profiling me included a lovely picture of me at Crater Lake. The newspaper had a scenic picture of Crater Lake on the front page with a small photo of Sharon Bagatell in the lower left side. The article printed in the newspaper was titled, "Citizens' Climate Lobby tries to make a difference." The article summarized my presentation at Truman State University in Kirksville on March 31st. The bad news is that there is no online link available. The good news is that Sharon Bagatell, mailed a hard copy of the newspaper to me.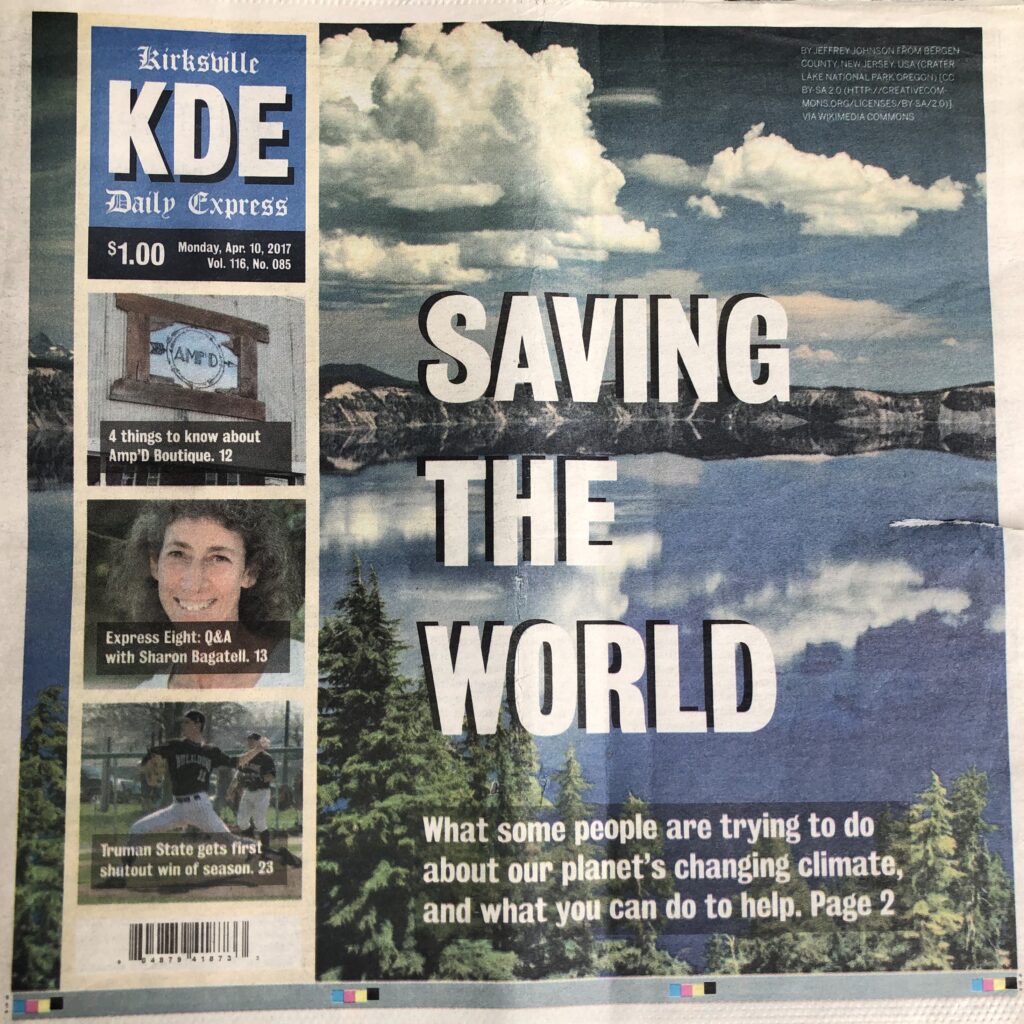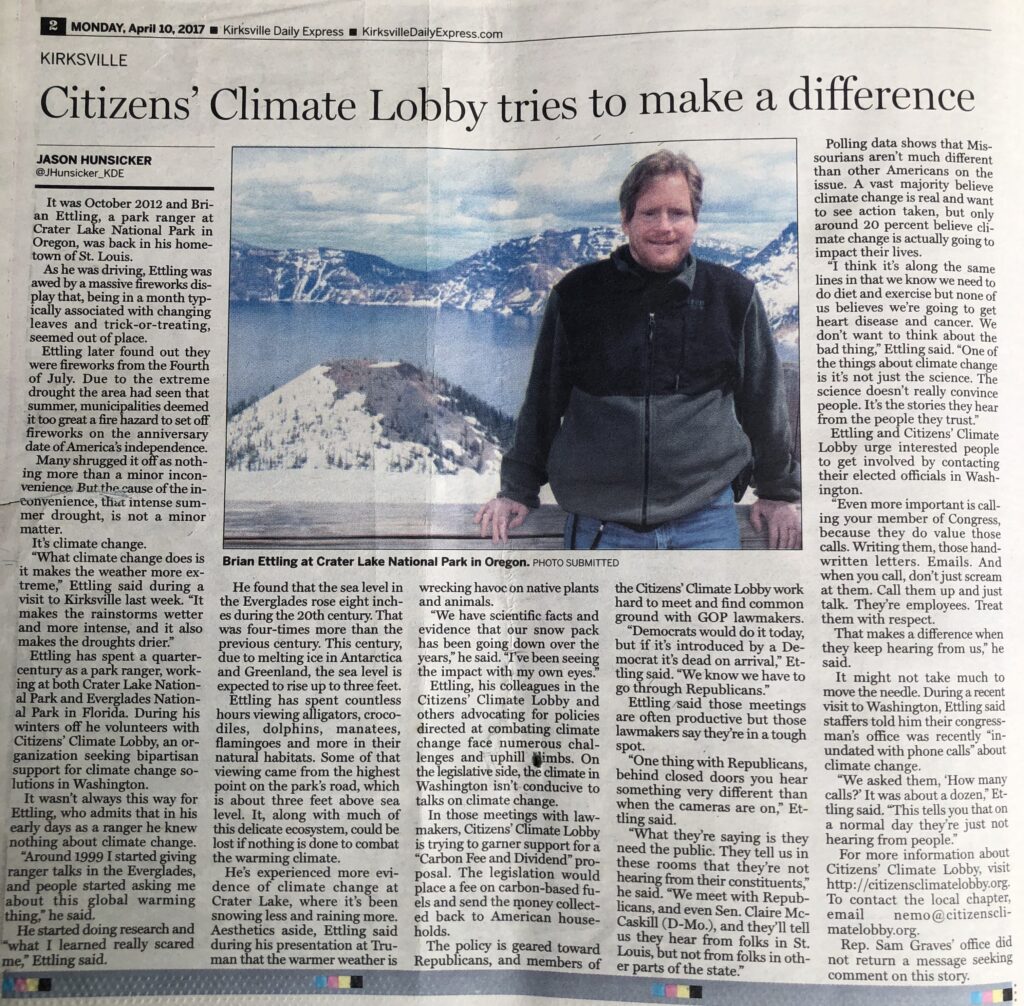 Final Days of the 2017 CCL MO Climate Speaking & Lobbying Tour, April 1st to April 3rd
In planning this trip, George stated that he would drive me back to St. Louis from Jefferson City on Saturday, April 1st. I was happy to take the train, but George insisted that he would drive me back to St. Louis. As we drove back from Kirksville to Jefferson City, George asked me if I could take the train back to St. Louis instead. I love traveling by train, so that was no problem for me. Fortunately, I was able to buy a ticket very late that night after we returned to his home.
Late Saturday morning, George drove me to the Jefferson City Amtrak Station. Before the train arrived, George took photos of me with my camera in front of the Missouri state Capitol Building to help document this trip. I enjoyed spending George and Katy over the last several days.
I arrived at the Kirkwood, MO train station in midafternoon. My parents picked me up. I spent Saturday evening with them and most of Sunday at their home in south St. Louis County. They dropped me off at my in-laws' house in west St. Louis County late Sunday afternoon. My in-laws live closer to Lambert International Airport. They took me to the airport around noon on Monday so I could catch the 2 pm direct flight from St. Louis to Portland, OR. I missed my wife, so I could not wait to fly back to Portland to be with her. My flight was scheduled to land in Portland around 4 pm and she would then pick me up at the airport as she was getting off work.
Passengers crowded at the gate waiting to board this airplane. In fact, it was too crowded with waiting passengers. This flight was overbooked. The ticket agents announced they needed volunteers to get bumped from this flight to take other Southwest flights to Portland. I ignored the first couple of announcements because I was anxious to see my wife. However, each announcement they increased the number of free credits offered on future Southwest flights.
When they announced $525 credits on future Southwest flights for the next 12 months, I jumped at the offer. I did not have to go to work early the next morning, so it did not matter how late I arrived. The Southwest ticket agents booked me on a flight to Oakland, California.
It was a good flight from St. Louis to Oakland. As always, I grabbed the first available window seat and had a great view flying across the United States. In California, no clouds were below us as the plane flew right over Mono Lake, the Sierra Nevada Mountains, and Yosemite National Park. The mountains were glistening white with the robust snow pack they received that winter. I recognized Half Dome from the airpIane window and even took a picture of it. From visiting Yosemite numerous times, it was fun to spot this iconic feature during the flight.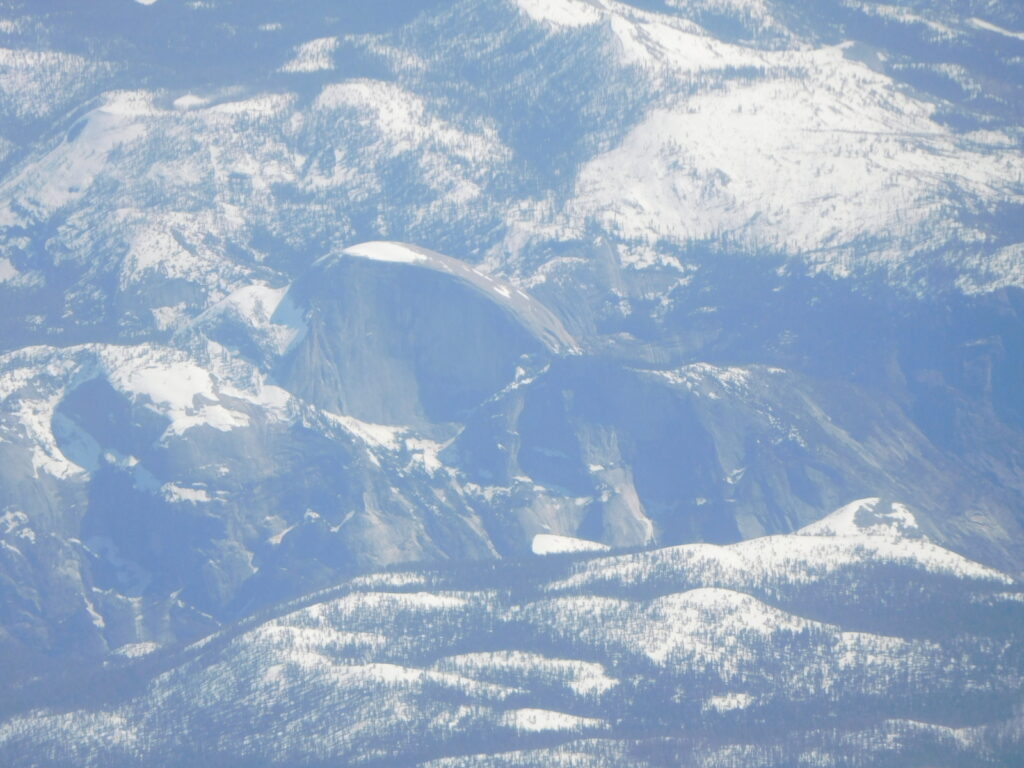 I then had a 6-hour layover, arriving in Portland at 11 pm that evening. I called Tanya in St. Louis earlier in the day to tell her about the change of plans. She found it to be humorous that I jumped at this deal. I figured we would be flying again soon, so these airline credits would come in handy. We were thrilled to see each other when she picked me up at the airport.
I used my free credits to fly to Washington D.C. in June to attend the CCL Conference and Lobby Day. Thus, I spent these airline credits for more climate organizing. Even more, George Laur pooled donations from the Jefferson City/Columbia CCL chapter and others to pay for my airfare to St. Louis for this tour. Thus, I was adept at this trip of turning free airline tickets into more free airline tickets for me. I felt like a shrewd businessman, but hopefully making a difference for the planet.
On April 17th, Ian Mason informed me that the Global Student Square published the article he wrote about me. For that article, Ian created a video report which he then uploaded to YouTube. I was honored to be the subject and to be interviewed by Ian for this project.
Final Thoughts
This tour happened because of George and Kathy Laur. George and Kathy were determined that I returned to Missouri after I moved to Oregon one month previously to speak in Jefferson City and Kirksville, Missouri. I will always be grateful to them for this fun trip back to Missouri.
In addition to George and Kathy Laur, this tour succeeded because of the Jefferson City/Columbia Chapter of Citizens Climate Lobby (CCL), River Bluffs Audubon Society, the Osage Group of the Missouri Sierra Club, Runge Conservation Nature Center, Sharon Bagatell, Dr. Peter Goldaman, Ian Mason, Gina Kratky, Sue Bell, Liz de Laperouse, Steve O'Rourke, David Henry, Jim Rhodes, Miriam Stonebraker and Congresswoman Ann Wagner's staff, Jack Meinzenbach, Dancing Rabbit Ecovillage, cartoonist Jim Dyke of the Jefferson City News Tribune, my in-laws Nancy & Rex Couture, my parents Frances & LeRoy Ettling, and others I wish I could remember.
Thank goodness George Laur and I did not listen to Madeleine Para, Vice President of Citizens' Climate Lobby, when she called to say, "You can't do your own fund raising for a state tour."
If you want to make a difference in the world on a serious threat like climate change, don't listen to the naysayers, critics, and people in leadership positions like Madeleine who will try to hold you back. Act boldly! Find friends like I did like George Laur and the others I mentioned above who will support you. You can do it!
This March 2017 Missouri tour led to two other state climate change speaking tours. In October 2017, I traveled across Oregon for the CCL Oregon Stewardship Tour. In October 2018, my wife Tanya and I traveled across Missouri for another climate change speaking tour. I spoke at my alma mater William Jewell College, just outside of Kansas City, MO. I then spoke at Missouri University in Columbia, MO. Then Tanya and I traveled to St. Louis where I gave a talk at my alma mater Oakville High School, taught a climate change continuing adult education class at St. Louis Community College, and gave a presentation at St. Louis University.
I love to travel to give climate change talks. In my previous talk, I wrote how I gave over 200 climate change talks in 12 U.S. states, plus Washington D.C. and Ottawa, Canada over the past 13 years. I hope to give more climate change talks in the future in more locations.
Please consider inviting me to give a climate change talk to a group or school in your area.