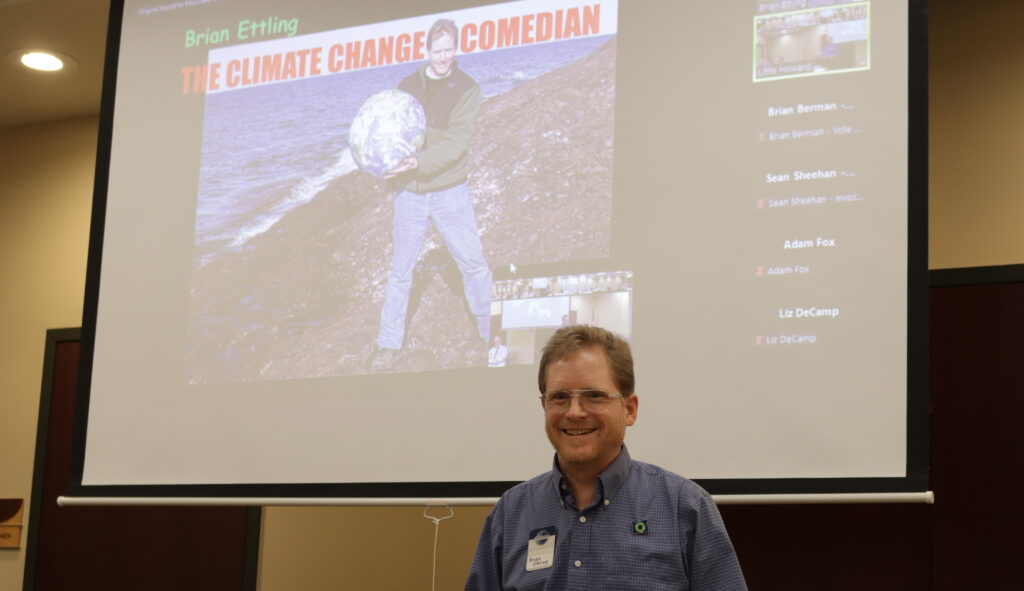 Below is the text of the speech I gave to the South County Toastmasters Club, where I was a member from 2011-2017. South County Toastmasters meets weekly at the Sunset Hills Community Center, located in south St. Louis County, Missouri.
"How many people here have a dream, a goal, a target that you want to accomplish? Raise your hand.
Here's my story how I did that as an entertaining and inspiring public speaker.
'Fine!' I said, 'If I could be anything, I would like to be the "Climate Change Comedian"!'
My friend Naomi nearly fell out of her hear laughing and responded: 'That great! I would like you to go home and grab that website domain right now!' I went home immediately and bought the domain, www.climatechangecomedian.com.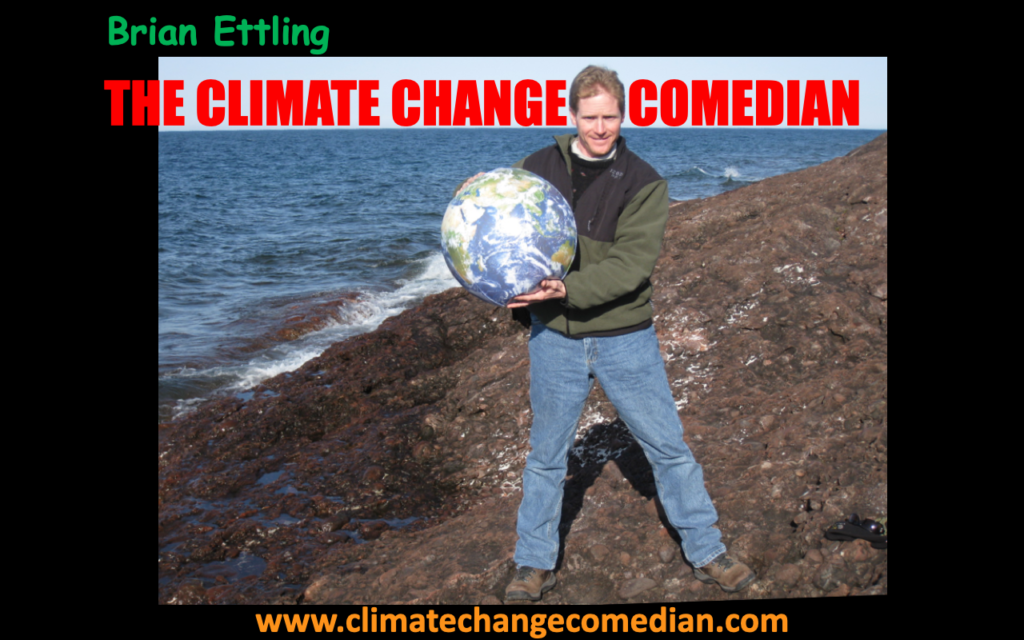 This event happened in Ashland, Oregon in the fall of 2009. At that time, I was housesitting for a friend and unsure what to do with my life. At that point, for seventeen years, I worked as a seasonal park ranger at Crater Lake National Park, Oregon in the summers and Everglades National Park, Florida in the winters. I absolutely loved every minute of standing in front of an audience giving ranger talks in these iconic places sharing about nature.
In 1998, I started giving ranger talks in Everglades National Park. Visitors then asked me about this global warming thing. Visitors hate when park rangers tell you, "I don't know." Visitors expect park rangers to know everything. Don't you?
Soon afterwards, I rushed to the nearest Miami bookstore and to the park library to read all I the scientific books I could find on climate change.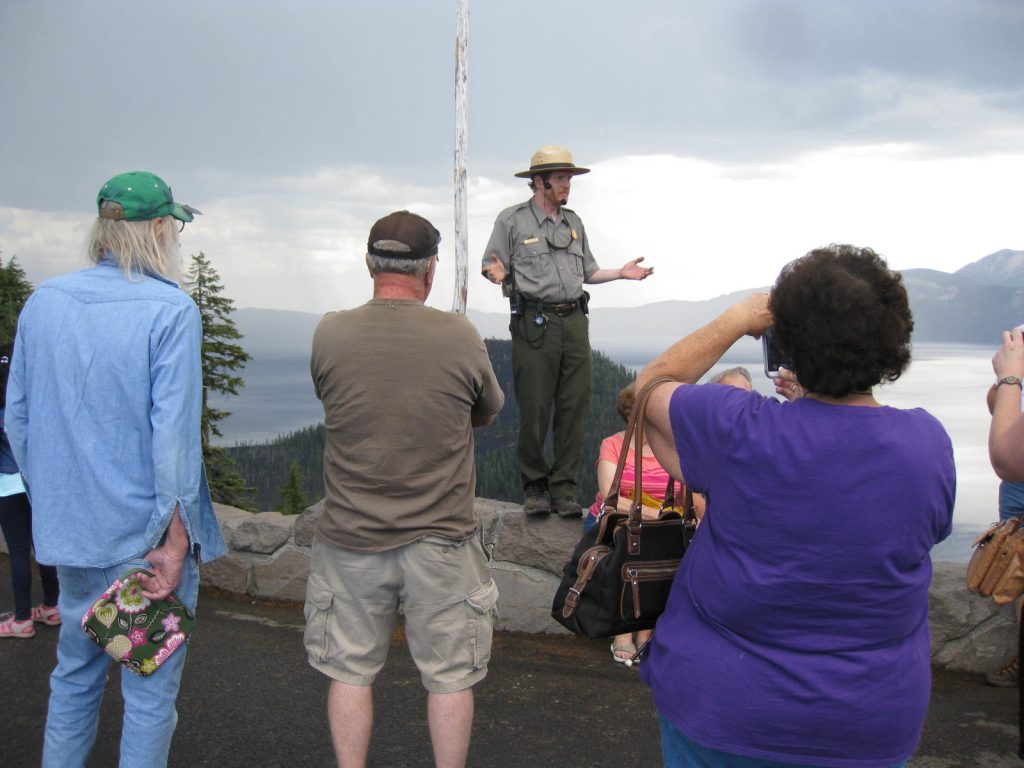 The information I learned really scared me, specifically sea level rise along our mangrove coastline in Everglades National Park. Sea level rose 8 inches in the 20th century, four times more than it had risen in previous centuries for the past three thousand years. Because of climate change, sea level is now expected to rise at least three feet in Everglades National Park by the end of the 21st century. The sea would swallow up most of the park and nearby Miami since the highest point of the park road less than three feet above sea level.
It really shocked me that crocodiles, alligators, and beautiful Flamingos I enjoyed seeing in the Everglades could all lose this ideal coastal habitat because of sea level rinse enhanced by climate change.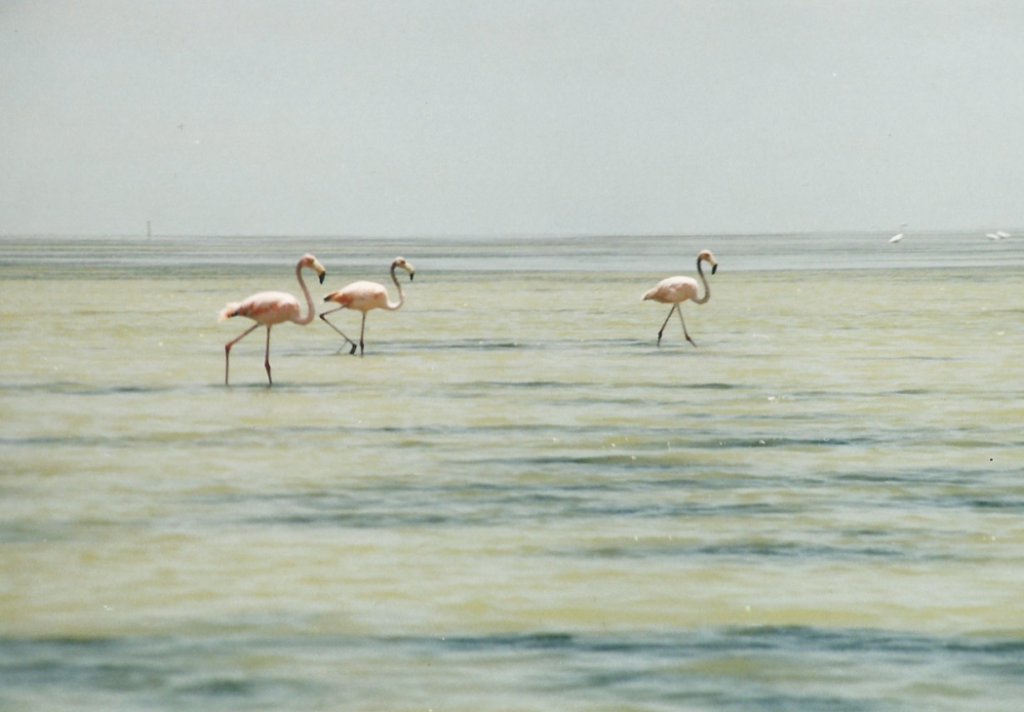 However, climate change is not just bad for wildlife. It's also bad for people.
Over the past 10 years, the evidence is mounting for what is now called 'sunny day flooding.' This is flooding from ocean water showing up on Miami streets during the highest tides or what's called 'king tides' of the year.
I shared this image in my last South County Toastmasters speech in January 2017. Highlighted in yellow are all the coastal counties in the United States. On the west coast, you can see the coastal counties of Washington state, Oregon, including Multnomah County where my wife Tanya and I live. You also have the coastal counties of Texas and Louisiana, which is highlighted in red because of a very high danger there. Then you have Florida. And on the east coast, just to name a couple of states you have North Carolina, New York, and Maine. National Geographic projects up to a 6-foot sea level rise by the end of this century. I am only 5 feet and 8 inches tall, so this would be higher than me. A 6-foot sea level rise would displace up to tens of millions of Americans who live in these coastal counties.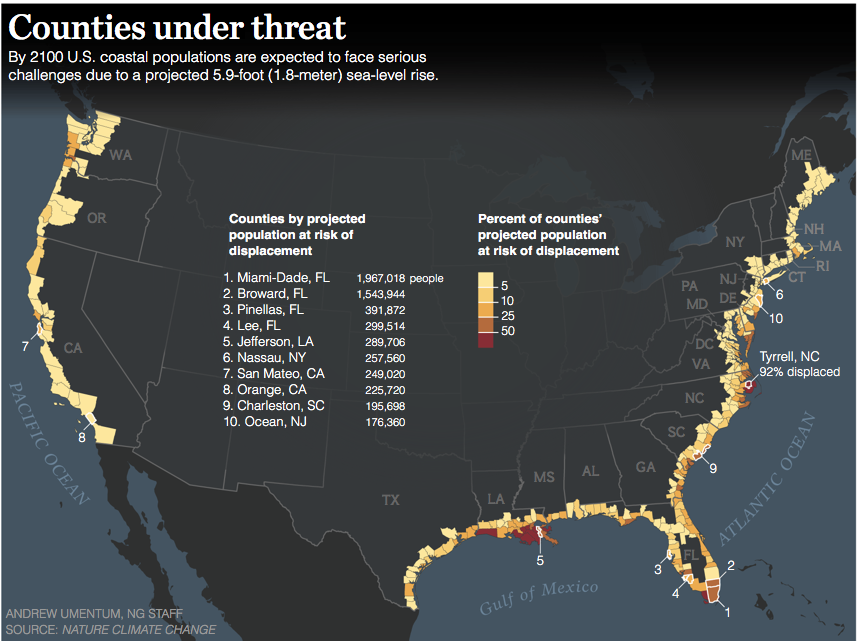 I became so worried about climate change that I quit my winter job in Everglades National Park in 2008. I moved back to St. Louis in the winters to give speeches and organized about climate change. However, up until 2017, I still worked my summer job Crater Lake National Park. I loved the incredible beauty there and wearing the ranger uniform with pride while engaging with park visitors.
As I was in the process of making the transition from park ranger to climate change organizer, I leaned upon my experience as a park ranger. As a park ranger, I learned two lessons with engaging with audiences.
First, as I shared before, people expect park rangers to know everything.
The second lesson I learned is that visitors want a sense of humor. They don't want rangers to take ourselves too seriously. They want us to have fun.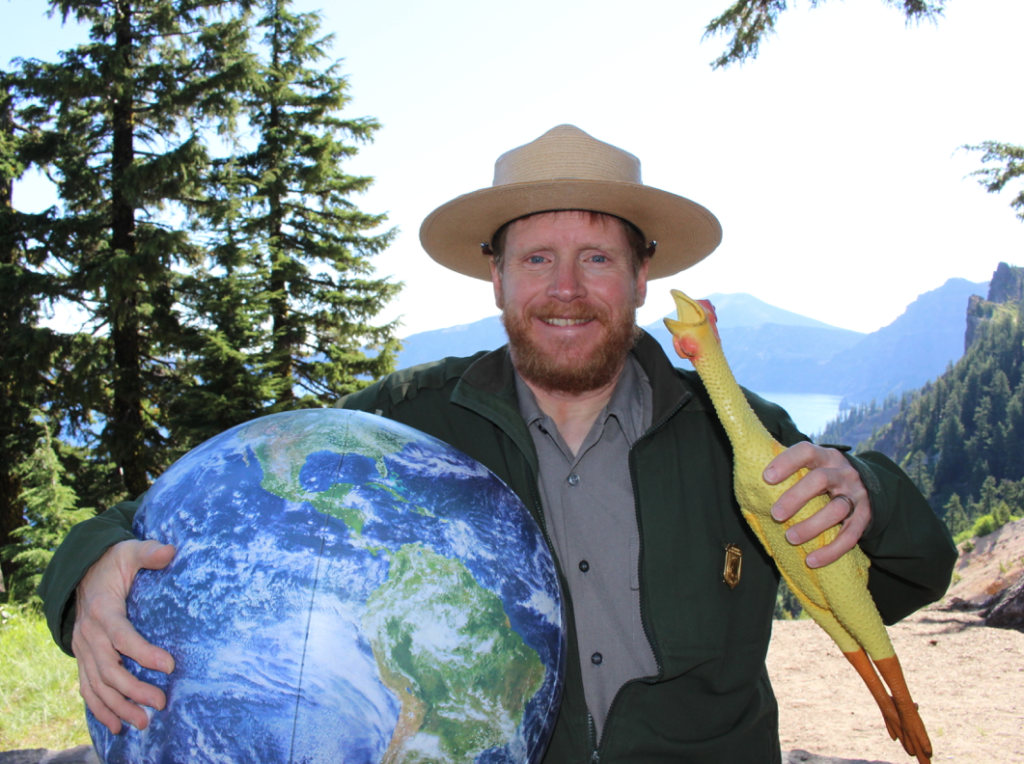 As a result, I had to create some of my own jokes as a park ranger, such as:
'What did one continental plate say to the other after the Earthquake?'
Any guesses?
'It's not my fault!'
Yes, I will admit that joke is a bad dad joke groaner.
So, recently my friend and fellow Toastmaster Susan McConnell asked me: 'Brian, why the title of "Climate Change Comedian?"'
The answer, Susan, honestly comes from Toastmasters.
I once heard a story in Toastmasters that one Toastmaster turned to another Toastmaster to ask: 'Do I need to be funny to be a professional speaker?'
And the answer is: 'Only if you want to get paid!'
Seriously, does anyone know where this picture was taken?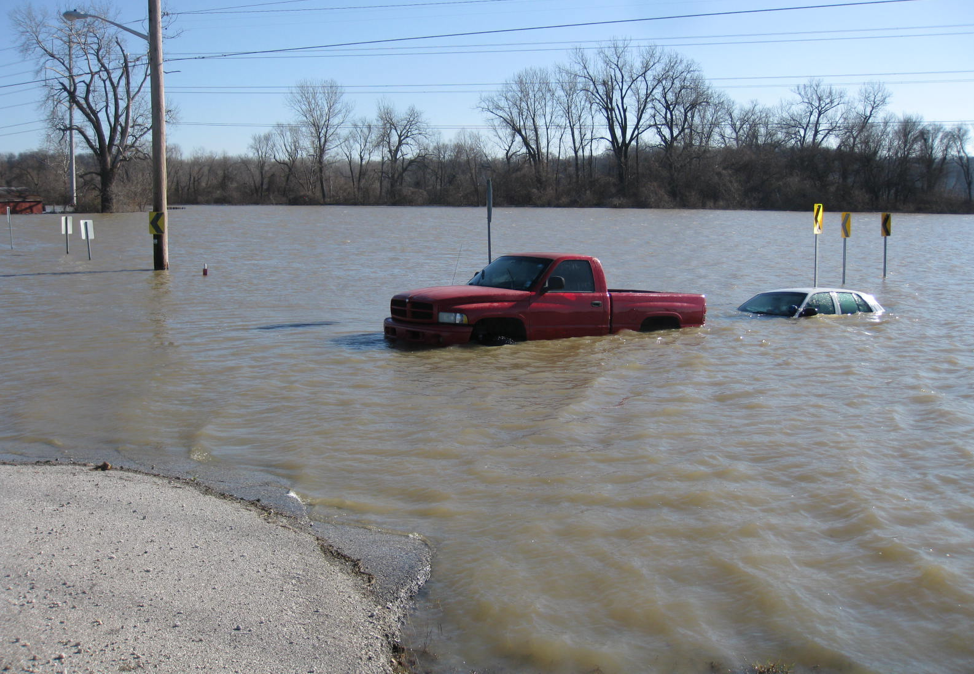 This photo was taken on January 1, 2016, New Year's Day, at Creve Coeur Park, less than two miles from where my in-laws live. It is where my wife, my in-laws, and I like to go hiking a lot, but not that day.
Does anyone know where this picture was taken?
This was taken just west of Lambert International Airport (in the St. Louis area) on June 7, 2019, when the St. Louis Blues hockey team were in the Stanley Cup Finals. Believe it or not, I was not visiting St. Louis at that time. I was flying across country from Portland, Oregon to Washington D.C. and I just had a layover in St. Louis. As we were coming into Lambert, I could not believe the water everywhere from the flooding that was happening at the time. The white dots you are seeing in the picture is actually farmhouses. It really shocked me to see this.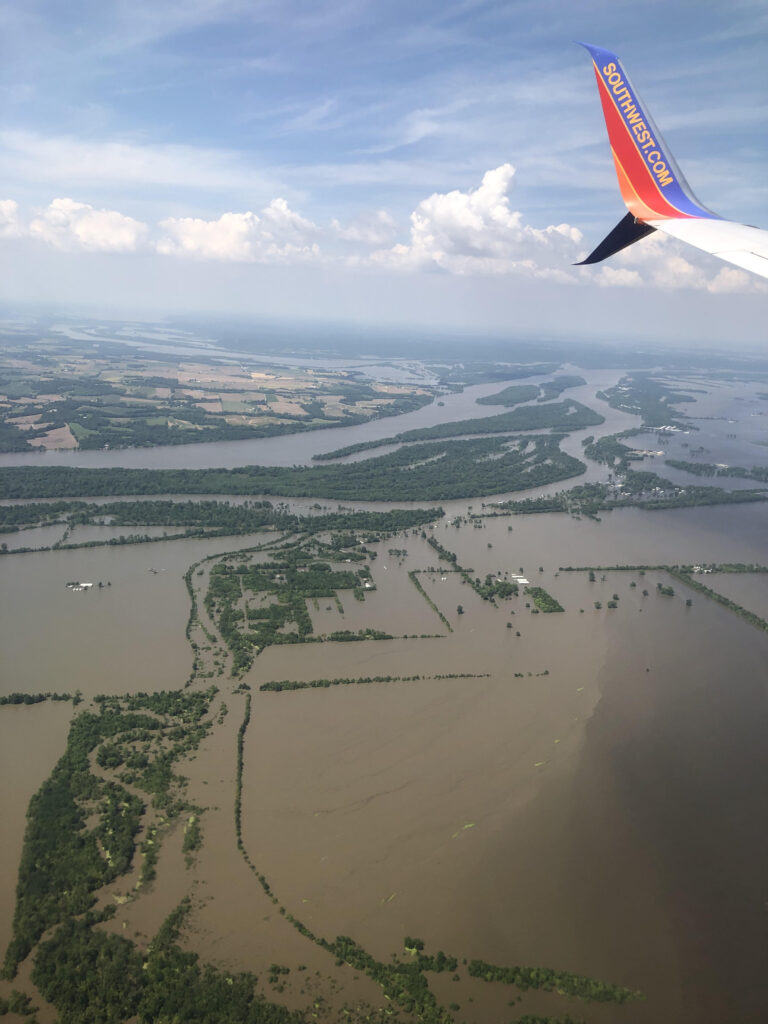 From my experience of seeing climate change in the Florida Everglades, my hometown of St. Louis Missouri, and in my adopted home of Crater Lake, Oregon, I wanted to educate people about the threat and solutions to climate change using my plethora of experience as a park ranger to educate, entertain, and inspire an audience.
In the spring of 2010, a family friend named John helped me create the website, www.climatechangecomedian.com, which is still an active website to this day.
I started giving climate change talks locally in my hometown St. Louis area in 2011 when I joined South County Toastmasters. However, I felt I was not getting notoriety to make a name for myself nationally. To up my exposure, I created a YouTube video in February 2014, with my mom, Fran Ettling, titled, "Climate Change Comedian and the Pianist!"
In April 2016, Comedy Central's TV show Tosh.o noticed this YouTube video. They flew my mom and me out to Los Angeles to appear on a videotaping to be interviewed by the host Daniel Tosh. The TV show aired nationally on the Comedy Channel on August 2, 2016. Do some of you Toastmasters remember that?
To this day, appearing on Comedy Central's Tosh.o was one of the highlights of my life. It was a dream come true for me to talk about climate change using humor on national TV to be seen by millions of people.
As the Climate Change Comedian, I did not know how I would top that appearance on the show, nor did I have ambition to top that appearance. The Tosh.o appearance and the title of Climate Change comedian felt like it opened some doors for me. As a with my background as a park ranger, Toastmaster, and Climate Change Comedian, I was was able to reach my dreams to give over 200 climate change talks in 12 U.S. states, Ottawa Canada and Washington D.C. over the past 12 years. Tosh.o even invited me to be back on this show on November 10, 2020.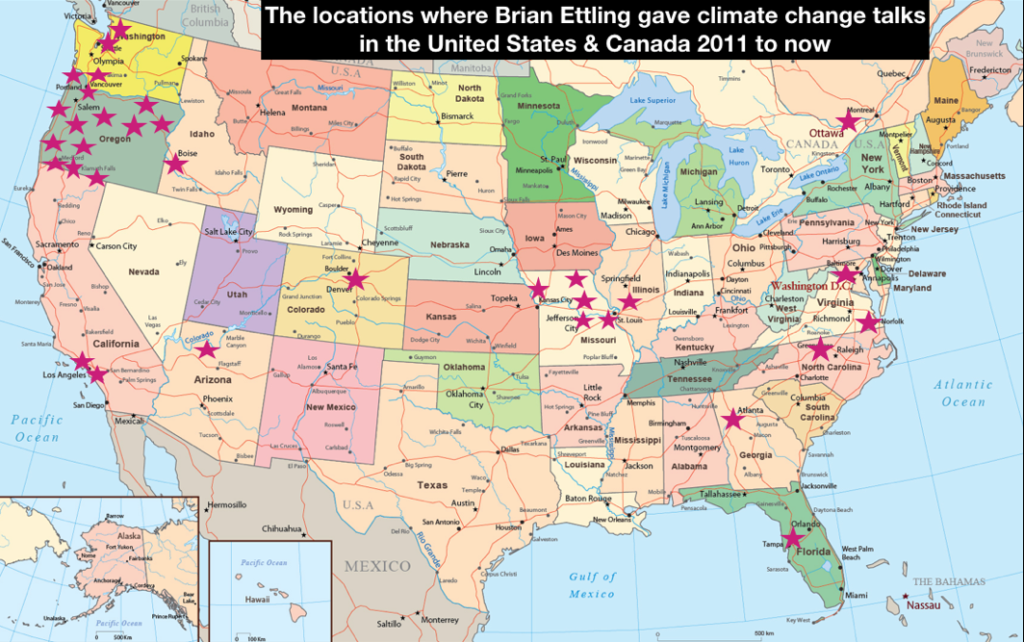 However, during 2020-21 COVID Pandemic, I did not feel like doing Climate Change Comedy. It was heavy times we were living in. So, the last three years, I switched to political organizing.
However, Robin Riddlebarger, Park Superintendent of Hanging Rock State Park, North Carolina sent me an email in May 2022.
Robin wrote: "Howdy! Stumbled upon your (ClimateChangeComedian.com) website as I was searching for inspiration about a guest for our annual conference of superintendents for North Carolina State Parks. I am organizing this year's conference.…We want this conference to be inspiring and refreshing instead of depressing like it usually is. I'd love to find out (if you could give) an in-person presentation to a bunch of crusty superintendents."
This looked like a good opportunity to jump on, so I immediately emailed Robin back. I expressed an interest to speak to her group. In that email, I asked why they were interested in me as a speaker. Why me?
Robin's response: "Myself and three other superintendents are brainstorming guest speakers that will inspire us. We found that we usually leave the conference feeling more burnt out than we were when we arrived. (We) are determined that this year will be different. We will at least learn something. Instead of listening to boring HR polices that could have been handled in an email."
As a professional speaker and former park ranger, it seemed like a perfect fit for me. I then spent the next five months preparing for this talk. I flew out to North Carolina in November 2022.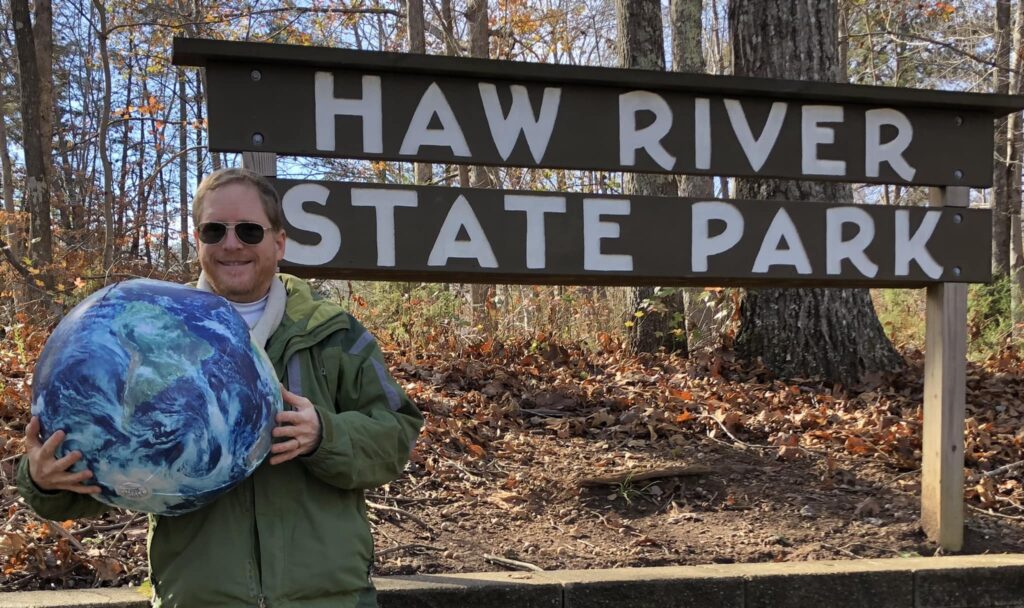 The North Carolina State Parks Superintendents Conference scheduled me to speak on November 14, 2022. My title for this talk: Our Parks: Places of fun, healing, and inspiration to change the world.
With her approval, I included Robin's email to me in my PowerPoint why she thought I would be ideal to speak at this conference, 'Instead of listening to boring HR polices that could have been handled in an email.'
When I shared Robin's HR comment, it received the biggest laugh from the audience. The organizers of this conference joked about that line afterwards. They were still making jokes about dry HR presentations the next day.
It felt like I got my groove back with this talk. I was back to my old self before the pandemic of traveling to other states once or twice a year to give educational, entertaining, and inspiring climate change talks. I hope I will get more invitations like this in the future since I am a big step up from talks on "boring HR policies."
I hope my story of how I became "The Climate Change Comedian" will inspire you to have fun saving the planet.
My involvement with South County Toastmasters from 2011-17, with help from folks in this room, enabled me to become a coast-to-coast paid speaker, giving talks from the Oregon Coast to the Outer Banks of North Carolina. In closing, there's a classic expression in this club that 'If Steve Winheim can do it …………anybody can do it.'
Well, I'm here to say that if Brian Ettling can get paid to be a climate change comedian, you can reach your dreams."