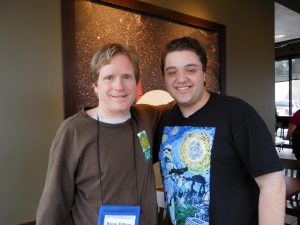 Over the years, I have been astonished by all of the people who flatly turned me down when I asked for them their help to mentor me to be a more effective climate organizer and advocate.
The disappointment of getting turned away when seeking advice for climate action
Yes, sometimes people are way too busy, impending deadlines, personal and family issues, etc. that prevented them from saying yes to my request. It has stunned and frustrated me over the years though how many people flatly turned me down without a reason in a way that felt rather rude. The situations have been numerous for me, even if I just give a couple of examples here.
A year ago, I invited a guest speaker at the Climate Reality St. Louis Meet Up that I co-founded six years ago. He is a successful author and organizer on climate change and other social justice issues. His talk was wonderful. A couple days after his talk, I e-mailed him to thank him for his participation and advice for our group.
I asked him if could advise me more sometime as a mentor. I shared, "I really do want to take advantage of this life opportunity to do all I can to make a difference on climate change."
His response was a bit of a letdown. "It'll be hard for me to take on one-on-one time. Just moving beyond your comfort zone with (climate) coaching should do the trick. If you want to organize a one or two session book group by Skype on (my book) just let me know."
This year, I have really tried to put my intention out there that I want to be the Climate Solution Lobbyist. I would love to work full time, year around and all of the time organizing and lobbying GOP members of Congress to join the bipartisan Climate Solutions Caucus and co-sponsor House Resolution 195 calling for GOP action on climate. Even more, I would love for them to support Citizens' Climate Lobby's carbon fee and dividend proposal.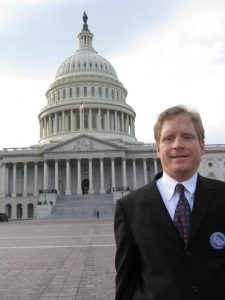 A friend, my wife and I got the idea that I should contact one of the top volunteer climate lobbyists in the country, Jay Butera,  to see if I could shadow him and learn how he lobbies. Jay and I had exchanged e-mails in the past, so he knew who I was. Because he is so busy lobbying and organizing, I was having a really hard time getting a response from him. Thus, I asked a mutual friend, Danny Richter, the Legislative Director at Citizens' Climate Lobby if he could approach Jay with my request.
The response felt like a kick in the stomach. Danny wrote:
"While I am very much sympathetic to your interest in learning from him, I am unwilling to make this request of him. (His) meetings are, like any meeting with an member of Congress, highly confidential, and he is very good at keeping constituents informed. To start a precedent of non-constituent volunteers lobbying with him, even if they are as wonderful and dedicated as yourself, is not a practice I want to start.
Further, as someone who works with interns and knows the time it takes to mentor someone well, I would not ask him to take on such a responsibility when he needs every sliver of focus and time he can to move our agenda forward."
Ouch. I really do want to be more effective with my climate action, but it felt like I had hit a brick wall. The climate lobbyist did eventually e-mail me back. However, it still felt like a disappointment. He responded to me:
"I applaud your initiative in ramping up the intensity of your climate work (and you are already doing a lot) Unfortunately I am not able to directly train people at this time due to time constraints."
It felt really sad for me because it still feels like we have a long way to go to successfully lobby members of Congress to act on climate change and time is running short. I do think that those who are making successful inroads lobbying members of Congress do need to teach their methods and find ways to replicate and duplicate their efforts. We need more people doing this at a higher level of intensity.
I love business writer Tom Peters' quote : "Leaders don't create more followers, they create more leaders."
As much as I can, I try to make myself available to students, young adults, and climate advocates seeking advice or needing information for a school project. My track record is not 100%. Probably a few requests fell between the cracks over the years. However, I really do try to make an effort to be a mentor and available to others seeking advice and help on climate advocacy.
Even more, I am very proud to be a mentor at four Climate Reality Leadership Trainings. After these trainings, I strived to make myself available to all of these new Climate Reality Leaders attempting to complete their actions of leadership.
Carl Sagan and Neil DeGrasse Tyson as wonderful mentors and role models
A great example of being their as a mentor is the story of how astrophysicist and renowned science communicator, Carl Sagan befriended a young Neil deGrasse Tyson. This was decades before Tyson became the famous astrophysicist and science communicator that he is today.
Neil deGrasse Tyson was a 17-year-old kid from the Bronx who intended to be an astronomer. After Carl Sagan saw Tyson's application to attend Cornell University, Sagan had invited Neil to spend a Saturday with him in Ithaca at the university, .
Sagan gave DeGrasse Tyson a tour of the lab and a copy of his book, The Cosmic Connection. He wrote on the inside "to a future astronomer"
DeGrasse Tyson recalled:
"At the end of the day, he drove me back to the bus station. The snow was falling harder. He wrote his phone number, his home phone number, on a scrap of paper. And he said, "If the bus can't get through, call me. Spend the night at my home, with my family."
I already knew I wanted to become a scientist, but that afternoon I learned from Carl the kind of person I wanted to become. He reached out to me and to countless others. Inspiring so many of us to study, teach, and do science. Science is a cooperative enterprise, spanning the generations."
DeGrasse Tyson chose Harvard for undergrad. The life lesson for him:
"To this day I have this duty to respond to students who are inquiring about the universe as a career path, to respond to them in the way that Carl Sagan had responded to me."
It has been demoralizing to me that I have not been able to find someone as I want to take my climate advocacy work up to the next level and be more effective. I have not forgotten my own frustration or Neil DeGrasse Tyson when people approach me for help.
Even St. Louis high school student Ian Mason
On February 28, 2017, I got this e-mail from Ladue, Missouri high school senior Ian Mason:
"Dear Brian,
I'm not sure if you remember me or not, but I was a high school student and I attended your class on Climate Change at St. Louis Community College a couple years ago. I'm currently working with a student organization called Global Student Square and I'm doing a video on the Trump administrations Gag orders to scientists, specifically in the climatology field. I think I remember you saying that you were a Park Ranger at some point so I was interested in your point of view.
I would love to meet up at some point and talk if that is okay with you. Thank you so much!"
To be honest, I barely remembered Ian, but I still responded immediately.
"Hey Ian!
Yes, that would be fun to chat with you. Just to let you know: my wife and I moved to Portland, Oregon recently. 
I will be at the Climate Reality Training in Denver Colorado March 1 to 5. Thus, if we want to chat by video or phone, we will have to do it sometime after that." 
Let's keep in touch!
Ian was very eager to meet with me for his story. I suggested this to him:
"I will be flying back to St. Louis Monday March 27th to Monday April 3rd.
I will be meeting with staff and the District Director of Rep. Ann Wagner on Tuesday March 28th at 9 am at her Ballwin Office to lobby for climate action. Would you be able to join me then?
My flight gets in on Monday March 27th at 2:30 pm. We could meet that afternoon or evening. I might be available Tuesday afternoon or evening March 28th to meet.
I leave Wednesday morning to go Jeff City and Kirksville for climate talks. It would be a long drive but you are more than welcome to join us.
My flight leaves Monday April 3rd at 1:30 pm if you want to get together that morning."
Ian jumped at this opportunity to meet up with me when I came back to Missouri from Portland, Oregon for a week. He met up with me when I had a meeting with the local team I had assembled to lobby Rep. Ann Wagner's staff. He filmed part of this meeting for his project.
His patience and flexibility was amazing. Weeks before, I asked if he wanted to join me for the meeting. Then, I had to bump him off the team because I did get a response from others that I really wanted in that meeting with me. Ian was so gracious and understanding.
Ian was able to join me for the meeting with staff of Senator Claire McCaskill. I was so happy to have him in this meeting. He really seemed to relish the experience.
Ian astounded me when his mother and a family friend drove him from St. Louis to Jefferson City to see my climate change talk. That was over a 2 hour drive, 120 miles. Ian then filmed my entire climate change talk in Jefferson City. This was such a gift to me because over 100 people came to this talk. They gave me a very positive response and even laughed heartily at all of my jokes. Afterwards, Ian uploaded this talk on YouTube. It was a thrill to have a video of this talk since it was such a fabulous experience.
Afterwards, Ian wanted to interview me and I gave him all of the time that he needed to answer all of his questions fully. When he felt he had obtained all of the quotes he needed from me, I made sure to thank his Mom and family friend for driving Ian there. Later that evening, I stayed with my friends Kathy and George Laur, who had organized this event. The rain started pounding super heavy outside of their window. Ian, his mom and family friend probably had to drive through that nasty weather on their way back to St. Louis.
It took Ian over a week to get the story together and submit it to the student organization, Global Student Square. I was anxious to see the final product, so I tried to give Ian plenty of space to meet his deadline.
The final product on Global Student Square was terrific. It was a fabulous short narration of my short trip back to Missouri to lobby Congressional offices and give presentations for climate action.
In mentoring, you can receive far more than you give. 
Naturalist John Muir observed, "In every walk with nature one receives far more than he seeks." 
I think the same thing can be said for mentoring and being there for students and young adults seeking your help: you might receive far more benefits that what you give by helping them.
You might argue that this was not an ongoing mentor experience. However, I tried to do all I could to give Ian everything he wanted for his story. With his deep interest in climate change, I have tried to stay in touch with him to encourage him to get involved with my favorite groups: Citizens' Climate Lobby and the Climate Reality Project.
Right now, Ian is considered my suggestion to apply for the next Climate Reality Leadership Training in Bellevue, Washington June 27-29.
As much as I can, I will continue to make myself available to students, young adults, and you looking for advice and help for climate action. Hopefully, I will still find that mentor to help me take it to the next level to be more effective as a climate change organizer and lobbyist.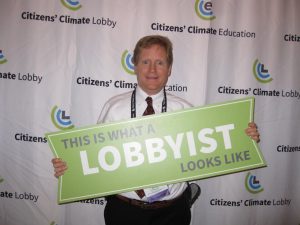 Thank you Ian Mason for reaching out to me to help you with your project. It was so much fun!
Let me know if I can help you again in the future.