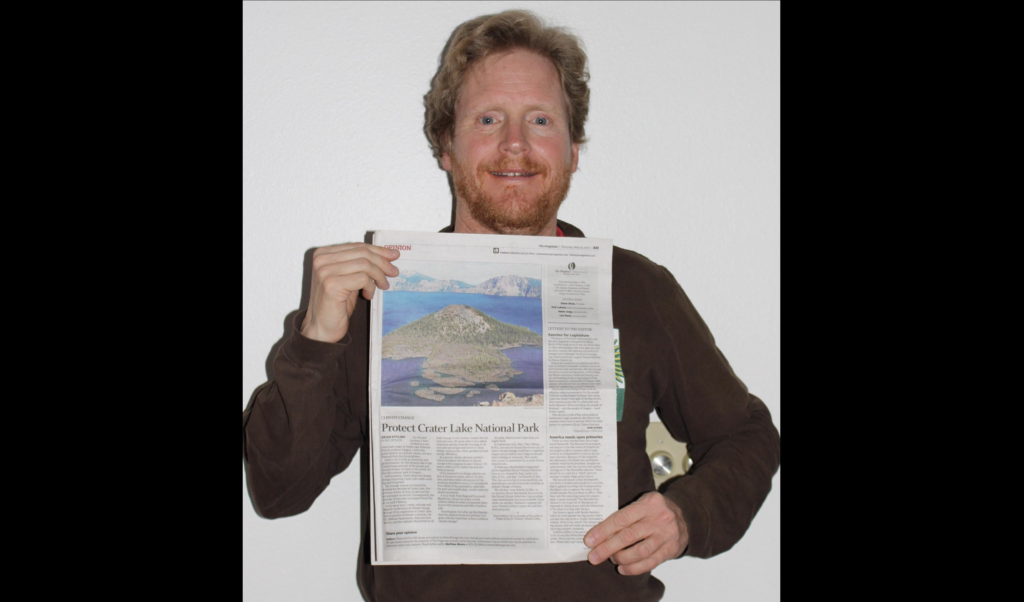 Growing up in St. Louis, Missouri in the 1970s and 80s, our family enjoyed getting the daily newspaper delivered each morning to our front lawn. Yes, we also watched the news on TV. However, our daily subscription to the St. Louis Post-Dispatch was how we primarily received our local and national news. Whoever woke up first in the morning was then asked by the second person, "Did you bring in the newspaper this morning?"
I remember my dad and older sister enjoying reading the daily newspaper from cover to cover, from the headlines to the comics on the last page. We enjoyed reading the newspaper's analysis of the previous day's local, national, and international events. Our family felt like we had a better grasp of what was happening in the world and could discuss it in a more meaningful way by reading the newspaper. Even more, it felt like the people who truly made a difference in the world, somehow got their name in the newspaper.
As a kid, I somehow wanted to get my name in the newspaper. I did not know how, but I was going to find some way to make it happen. Since my parents loved reading the newspaper, I knew it would make them proud if I could get my name in the newspaper in a positive way.
I kept a low-key life not drawing any media attention to myself graduating from Oakville High School in St. Louis in 1987. I then graduated from William Jewell College in Kansas City, Missouri with a degree in Business Administration in 1992. I then started working seasonally in the national parks, spending my summers working at Crater Lake National Park, Oregon and my winters in Everglades National Park, Florida.
Getting my name in nationally known newspapers as an Everglades Park Ranger
In 1998, I became a naturalist guide narrating the concession boat tours at the Flamingo Outpost in Everglades National Park. Flamingo and the Everglades would attract travel writers looking to write stories about what saw and their recommendations for visiting the Everglades. On February 27, 2000, Chicago Tribune staff writer Robert Cross wrote about his experience visiting the Everglades. He was a passenger on an Everglades boat tour that I narrated.
Writing about my boat narration, Cross observed: "Everything about the park filled (Brian) Ettling with excitement. His energy compensated for the lack of snowcapped mountains."
He went on to report: "Out of the Buttonwood Canal, Brian Ettling began rattling off the names of birds and animals that were nesting, wading or soaring overhead. He saw a lot, and so he had to speak so fast that he ended up sounding like a tobacco auctioneer."
I enjoyed that description of me talking so fast like a 'tobacco auctioneer' because that did describe me to a T. I did talk very fast then. Partially because this was my first job narrating tours in a national park and I wanted to share all my knowledge and love for the area. If I could go back in time, I would encourage myself to speak slower so the park visitors could understand me better. Even with my very fast talking, Robert Cross described me as "alert and energetic."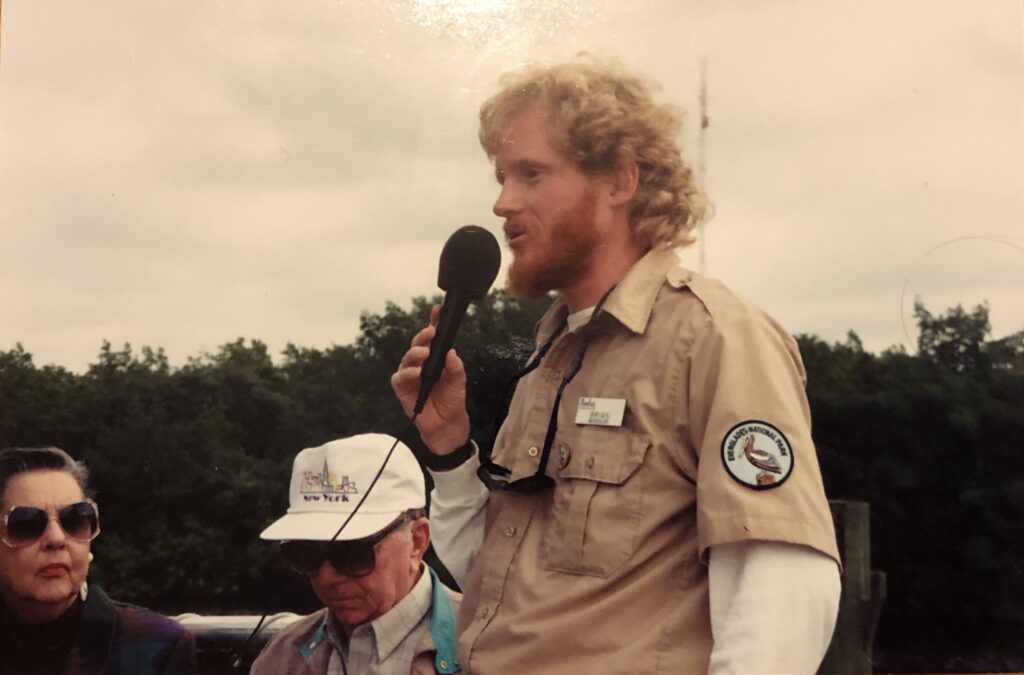 This was the first time I had recalled getting my name in any publication. I have kept a hard copy of that article to this day. In 2003, I landed a winter job as an interpretative/naturalist ranger at the Everglades City Visitor Center in Everglades National Park. At this location, I regularly led ranger guided canoe trips into the Ten Thousand Islands area on the Everglades on weekends. On one of those trips was New York Times travel writer Beth Greenfield.
I was told in an advance by my supervisor that she would be on my canoe trip. Even more, we ended up sharing the canoe with her in the front rowing. I was in the back steering and narrating for her and the other visitors in canoes who signed up for this ranger led canoe trip. Beth Greenfield quoted me several times for this NY Times article, "Slipping Slowly Into South Florida's Grassy Water." She wrote:
"(Beginner paddlers) are best off joining the short, organized trips on more navigable creeks, led by park naturalists like (Brian) Ettling, 38.
'I never get tired of this area,' he said one day this winter as he led canoeists paddling single file beneath a cathedral of arching mangrove branches. He excitedly pointed out blue herons, jumping mullet fish and skittish tree crabs."
She then reported how I pointed out and described of other Everglades wildlife. I will never forget when I and the other Everglades Park rangers saw that we were quoted in this article in the travel section of the New York Times. It felt at that time like we had accomplished something big to be quoted in the New York Times. I still have hard copies of that newspaper article to this day.
Looking back at it now, nearly all the rangers I encountered working in the national parks were extremely knowledgeable and very enthusiastic about sharing their vast knowledge with park visitors. In some ways, it is a matter of luck for a ranger or naturalist guide to be at the right place and at the right time to be quoted for one of these articles. It had little to do with us as individuals. These travel writers just needed good quotes and names for their travel articles.
I loved being a park ranger. Every day was lovely wearing that park ranger uniform while working in magnificent national parks. Being a park ranger was the best job I ever had, but it started to feel like a theme park mascot after a while. Visitors are really enthralled with the ranger uniform. They wanted to get their pictures with a ranger, ask a ranger questions, and attend a ranger program. They were not as interested in the individual wearing the uniform.
Many visitors did ask me the same monotonous questions such as 'Where did you come from?' 'How did you get this ranger job?' and 'What other national parks have you worked?' Those questions still seemed superficial to me. The visitors asked those questions because they really wanted to be a park ranger. They asked about my background to see if their background could lead to a job like that. Or they loved national parks and park rangers, so they wanted to compare my story with other park rangers they encountered.
As the years went by working in the national parks, I wanted to be known more as Brian Ettling. Not just Park Ranger Brian Ettling interacting with visitors at their national parks vacations.
In my desire to learn all I could about the Everglades to answer visitor questions and give nifty quotes to travel writers, I discovered my lifelong passion that eventually led me away from the national parks. This journey led me to get my name in newspapers for the pressing issue of our times, climate change.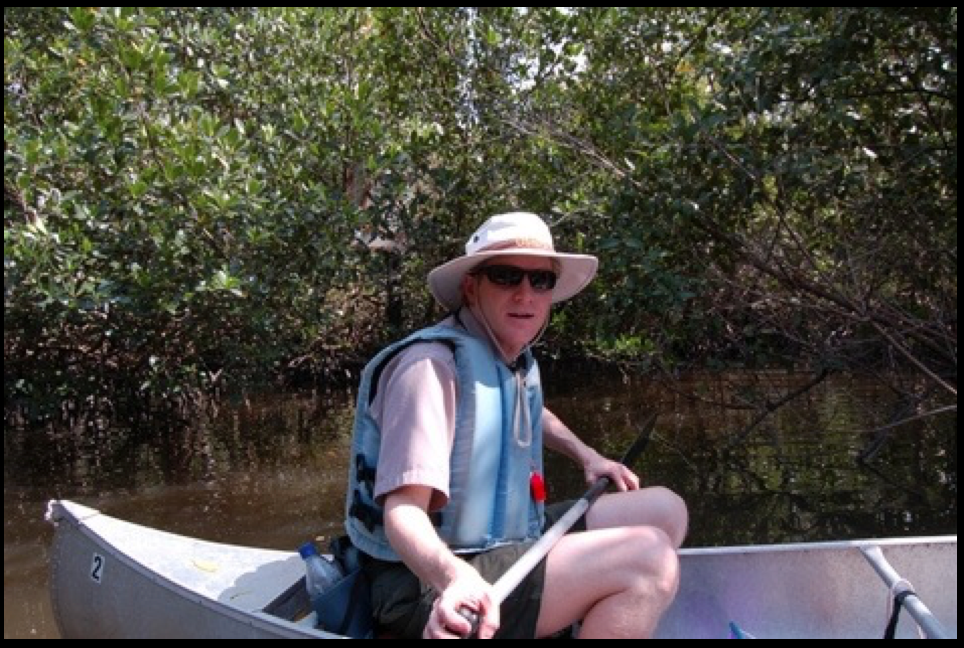 Discovering Climate Change while working in the national parks
In 1998, I started giving ranger talks in Everglades National Park. Visitors then asked me about this global warming thing. Visitors hate when park rangers tell you, "I don't know." Soon afterwards, I rushed to the nearest Miami bookstore and to the park library to read all I the scientific books I could find on climate change.
The information I learned really scared me, specifically sea level rise along our mangrove coastline in Everglades National Park. Sea level rose 8 inches in the 20th century, four times more than it had risen in previous centuries for the past three thousand years. Because of climate change, sea level is now expected to rise at least three feet in Everglades National Park by the end of the 21st century. The sea would swallow up most of the park and nearby Miami since the highest point of the park road less than three feet above sea level.
It shocked me that crocodiles, alligators, and beautiful Flamingos I saw in the Everglades could all lose this ideal coastal habitat because of sea level rinse enhanced by climate change.
I became so worried about climate change that I quit my winter job in Everglades National Park the year in 2008. I started spending my winters in St. Louis Missouri to find some way to organize for climate action. I started giving climate change talks at my nieces and nephews grade schools in the spring of 2010. In the winter of 2011, I joined South County Toastmasters to become a better climate change communicator. That same winter, I worked at the St. Louis Science Center at their temporary climate change exhibit from March to May 2011.
Up until 2017, I still worked my summer job Crater Lake National Park. While working there for many years, the impacts of climate change became apparent with the average annual snowpack diminishing. I noticed more mild winters with below average snowpacks. The summer wildfire seasons became more longer, hotter, dryer and more intense. By August 2011, I had gathered enough information to start giving a climate change ranger evening program at the campground amphitheater to the park visitors.
Getting involved with Citizens Climate Lobby and The Climate Reality Project
While attending a St. Louis Science Center lecture about how climate change is impacting the weather in April 2011, I met and became friends with St. Louis businessman Larry Lazar. We had a mutual longing to do something about climate change. Thus, Larry and I co-founded the St. Louis Climate Reality Meet Up group in November 2011 (now called Climate Meetup-St. Louis) to organize regular meetings and promote events to create more awareness about climate change in the St. Louis area.
Larry and I had our first meeting at Cafe Ventana in St. Louis on December 11, 2011. Larry organized the meeting around all of us getting to know each other and our concerns about climate change. We had about 16 people attend the meeting, including Tom and Carol Braford. Larry did a great job making our initial Meet Up meeting a success. After the meeting, I will never forget Carol personally inviting me to a Citizens Climate Lobby (CCL) conference call meeting.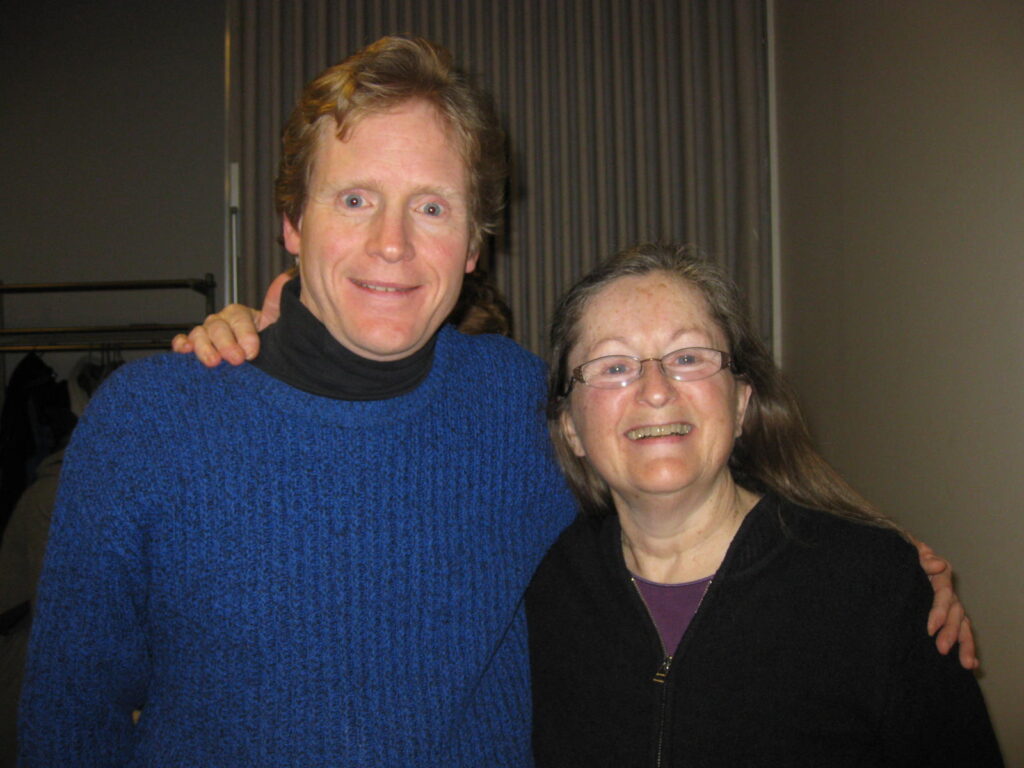 She had an enticing way to describe the group. She mentioned conference calls on the first Saturday of each month listening to national experts on climate change. Then the group plans actions to lobby Congress to pass effective laws to protect us from climate change. I was interested. One big problem: I just took a job at the St. Louis Science Center where I agreed I would be working weekends. Thus, it would be really hard for me to attend these meetings.
Over that winter of 2011-12, Larry Lazar and I kept leading our Climate Reality Meet Up meeting on the third Sunday of each month. Up to 20 people attended our meetings, including Tom & Carol Braford. Carol kept mentioning CCL. I felt in a bind because attending their meetings intrigued me, but my job schedule made it hard.
Finally, the timing was right when my winter seasonal job ended at the Science Center at the end of April. I had a free Saturday, May 5th. I arrived at Tom & Carol's house around 11:30 am. She had a lot of delicious and healthy snacks for us to eat, especially wonderful cheese, crackers, fruit, and amazing homemade bread. There was 5 of us in attendance. Then Carol connected us to the conference call, and I was blown away.
All these groups from North America were calling into the conference call: Atlanta, New York, Chicago, San Diego, San Francisco, Toronto, Phoenix, Minneapolis, Albuquerque, Madison, Seattle, and new groups in Portland and Eugene, Oregon. The Executive Director of CCL, Mark Reynolds began this call with a quote from Dr. Peter Joseph: "Action is the antidote for despair."
This amazed me because I first met Peter in San Francisco just 5 months before at a party while I was attending the American Geophysical Union Fall Meeting. We happened to attend a Union of Concerned Scientists reception and we struck up a conversation. Peter mentioned that he was a Climate Reality Leader, trained by Al Gore. I told Peter that I wanted to be a Climate Reality Leader, so we exchanged business cards and we kept in touch. I was blown away that Peter was mentioned by CCL Executive Director Mark Reynolds on that May 2012 CCL monthly call.
Even more, during that May 2012 CCL conference call, I connected with the elegant and effective solution that CCL championed to reduce the threat of climate change, a carbon fee and dividend. At that time, I was thinking: 'Where has this group been my whole life?'
At the close of the meeting, I boldly told Carol that I was going to establish a CCL group in southern Oregon when I returned to Crater Lake National Park to work as a park ranger that summer. It took all summer, but I eventually helped establish the southern Oregon CCL chapter that regularly meets in Ashland, Oregon.
Thanks to the help of Peter Joseph putting in a good word for me, I attended a Climate Reality Training in San Francisco, August 2-4, 2012. The training is a great way to network and help participants become more effective taking action to reduce the threat of climate change. At that training, I met Dr. Lucas Sabalka. His name tag stated he was from St. Louis. At the time, he was an Assistant Professor of mathematics at Saint Louis University. I encouraged Lucas to get involved with the St. Louis group of Citizens' Climate Lobby (CCL). When Lucas returned to St. Louis, he immediately attended the local St. Louis CCL group meeting.
A St. Louis Post-Dispatch editorial leads to my first op-ed published for climate action
When I was finished with my seasonal job at Crater Lake National Park, I returned to St. Louis in late October. It was a thrill to be involved with the St. Louis CCL group when they made a huge accomplishment this winter. Steve Valk, Director of Communications of CCL at that time, came to visit the St. Louis CCL chapter in early December. Carol and Tom Braford arranged for a group meeting that included Steve Valk, Lucas Salbalka, and me. Carol then scheduled our group to have a meeting with Kevin Horrigan, the Managing Editor of the St. Louis Post Dispatch.
We persuaded Kevin for the Post-Dispatch to write a supportive editorial about the danger of climate change. Even more, the newspaper strongly affirmed need for Congress to pass a carbon fee and dividend, which is the priority of CCL. On December 27, 2012, The Post-Dispatch published the editorial, "Save the Planet. Save Social Security, Save Medicaid, Tax Carbon."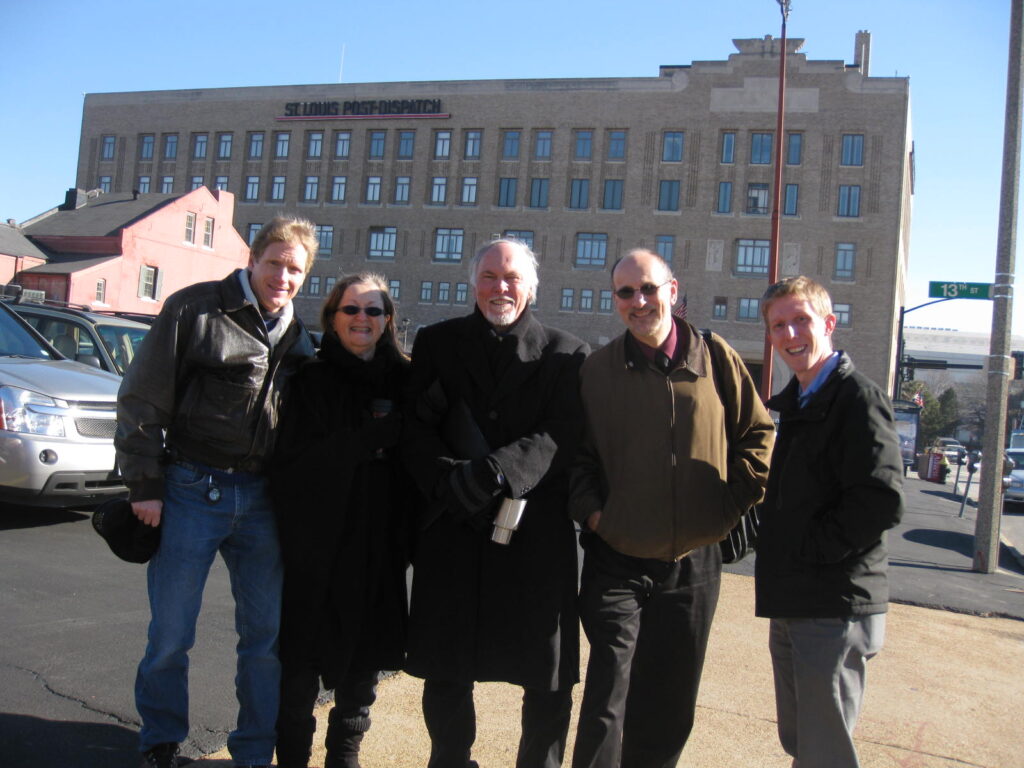 Kevin Horrigan gave each of us his business card at that meeting. He told us that if we ever wanted to write an opinion editorial (op-ed) for the Post-Dispatch about CCL and carbon fee & dividend, he would make room to publish our op-ed. This really intrigued me because I grew up reading the St. Louis Post-Dispatch. I had always wanted to get my name in the newspaper. After that editorial board meeting and the December 2012 Post-Dispatch editorial endorsing CCL's carbon fee and dividend, I was determined to an op-ed for the Post-Dispatch to publish.
After that Post-Dispatch editorial meeting, I talked with CCL friends for months about writing and submitting an op-ed to the newspaper for climate action. On the Saturday, April 6, 2013, monthly meeting, CCL Executive Director Mark Reynolds urged the volunteers on the national call to submit LTEs and op-eds around the time of Earth Day. He pointed out that there is a heightened sense of awareness in the media with environmental and climate issues that makes it more likely that newspapers would publish submitted LTEs and op-eds focused on those issues. That certainly intrigued me to try to write and submit something.
When I mentioned this to Lucas at the CCL meeting, he said in an exasperated tone: 'Brian, you have talked about writing something for months. I think it is time for you to just do it.'
I had a lot of respect for Lucas. I didn't want to let him down. He was correct that I had talked about it, but had procrastinated about it for months. I loved that Lucas pushed and challenged me to step out of my comfort zone to write an op-ed for the St. Louis Post-Dispatch. That Saturday evening, I stayed up super late and wrote the op-ed. I immediately took up his challenge, wrote out the op-ed and submitted it by email to the Post-Dispatch that night.
The Post-Dispatch published this op-ed on April 19, 2013, close to Earth Day:
"For Earth Day, a GOP free-market solution to climate change."
I will never forget waking up that morning to retrieve the newspaper from the front lawn. When I brought the newspaper inside, opened, and went to the opinion section, I noticed that my op-ed was published in the Post-Dispatch. It was a feeling of joint elation, since I was staying with my parents at their home for the winter. My dad's cousin from Los Angeles was visiting, plus two of my parents' good friends from Anaheim, California. It was a house full of people to celebrate my parents' 50th wedding anniversary party that was happening the next day. I fulfilled a childhood dream to get my name in the newspaper in a positive way!
Everyone was very proud of me for getting this op-ed published in the newspaper. My parents responded like I gave them the perfect 50th wedding anniversary gift. It certainly added to the joy of the party. I felt elated getting published in the newspaper for an op-ed promoting climate action. Even more, it was great to weave into the article support for CCL, their carbon fee and dividend solution, and urging by name the local members of Congress to support this policy.
It felt like a very sweet accomplishment. I wanted to find ways to duplicate that success again to get published in more newspapers to elevate climate action.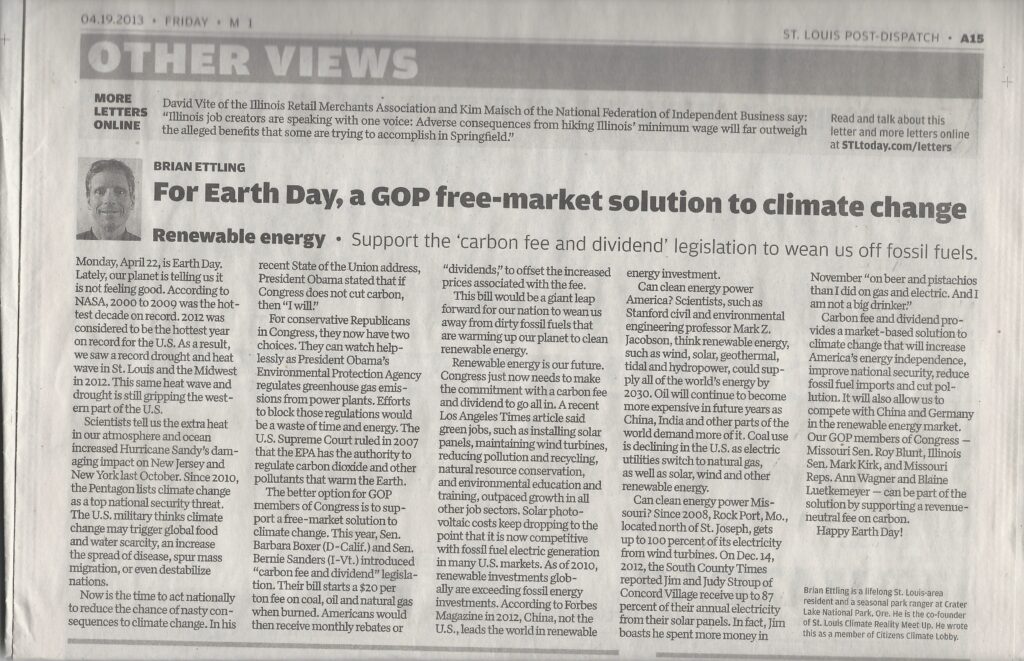 My second published St. Louis Post-Dispatch op-ed kept me up late at night in July 2013
With the success of my first published op-ed, I wanted to get a second one published. I waited a few months so the Post-Dispatch would not become tired of me. For my second op-ed submission, I decided to talk about a different subject besides CCL and carbon fee & dividend.
Besides my involvement CCL, during the winter of 2012-13, I also volunteered for the Missouri Sierra Club and the Sierra Club's Beyond Coal Campaign. With the climate organizing that Larry, Lucas, and I did during the winter of 2012-13, I met Sara Edgar, an organizer with the Missouri Sierra Club's Beyond Coal campaign. I then stumbled across a news article that I learned how dependent St. Louis was on burning coal for electricity.
On December 31, 2012, the headline for St. Louis Post-Dispatch grabbed my attention: "One in five kids in parts of St. Louis area struggles with asthma." Underneath the headline was an 8-year-old African American boy, Xavier Miles, with a big smile on his face before receiving his spirometry test, which shows the function of the lungs, at his school. The caption stated that "Xavier has asthma and met with various educators who reminded him how to take off himself during an asthma attack."
The article then mentioned that St. Louis has twice the national average of children suffering with asthma. In an amazing coincidence at that time, St. Louis got around 84% of its electricity by burning coal, that is over twice the national average of 39%. Even worse, Ameren, the local electric utility, operates 4 three coal-fired power plants in the St. Louis metro area, 3 of which run without modern pollution controls.
According to the Clean Air Task Force, retiring one coal plant prevents annually 29 premature deaths, 47 heart attacks, 491 asthma attacks, and 22 asthma emergency room visits.
Just a couple of miles from where I grew up in my childhood home was the Meramec Coal Plant. It was originally built in 1953. Its health costs to society is larger than profits from production. According to the Environmental Integrity Project, the plant causes about 1,000 asthma attacks and 57 to 100 premature deaths each year.
On March 2, 2013, my dad had surgery to remove a six-inch cancerous tumor below his kidney. The doctor asked my dad if he was a smoker because my dad's cancer was typical of a smoker. However, my dad has been a non-smoker his entire life. I was worried for my dad living 36 years just a couple of miles from the Meramec coal plant increased his risk of cancer.
From the awareness I learned how bad it is to burn coal, especially in my hometown St. Louis, I gave a speech at the April 17, 2013, St. Louis South County Toastmasters meeting called "What Keeps Me Up Late at Night." The goal of that speech was to urge my fellow Toastmasters to request the Missouri Department of Natural Resources (DNR) to require Ameren, the local electric utility which operates Meramec Plant, to lower its sulfur dioxide emissions to levels that are safe for our families according to the Clean Air Act.
That Toastmasters speech led me to write an opinion editorial published in the St. Louis Post-Dispatch on July 10, 2013. Just like my Toastmaster's speech, the title of this op-ed was called, "What Keeps me Up Late At Night." This op-ed asked St. Louis area residents to urge Ameren to retire the local coal plants because of the health risks from the polluted air.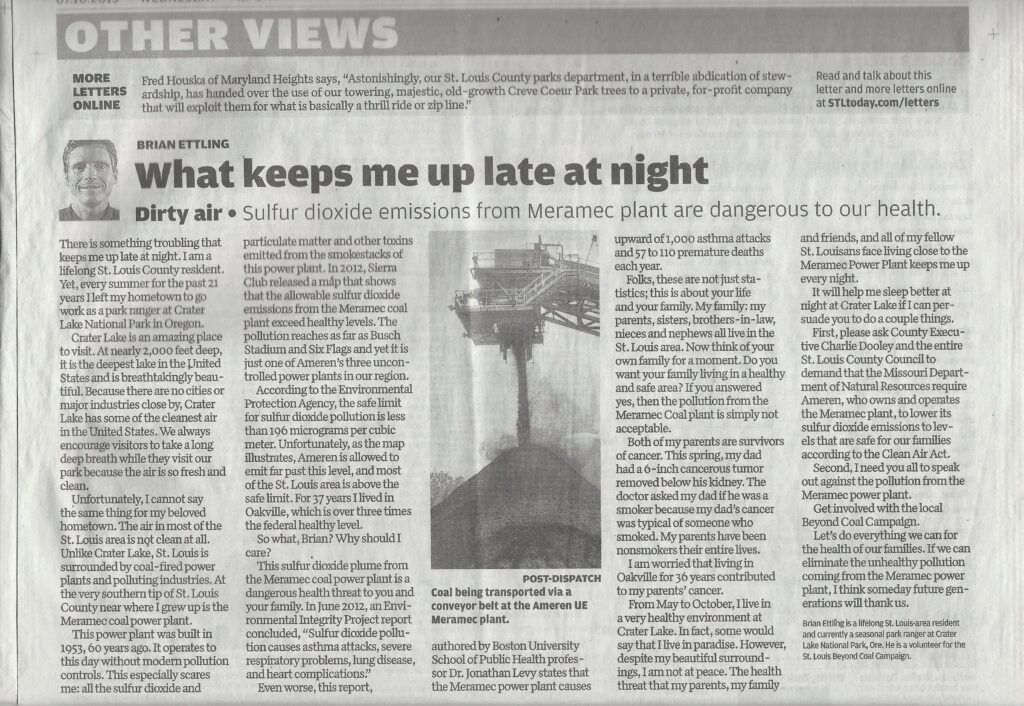 My dad was a retired 40-year employee of Ameren, the utility that operated the Meramec coal plant. My parents had concerns about me speaking so publicly against Ameren and the Meramec Coal Plant since my dad received a retirement pension from Ameren. Even more, my parents knew a lot of people in the St. Louis area, including Ameren employees. They felt like my op-ed had put them in an awkward position. This led to some strained conversations with my parents. We eventually moved on and forgot about this subject. However, the difficulties it caused within my family did probably keep me up late at night more than my first published op-ed. We came to an agreement to let them know before I had an article published like that again.
The good news is that my op-ed did generate a conversation in the St. Louis area about the Meramec Coal Plant. Ameren first announced its plan to retire the Meramec Coal Plant in 2014. It officially closed Meramec on December 31, 2022. Meramec was Ameren's oldest and smallest coal-fired power plant. Would this plant retirement happened without my op-ed? Probably. It is obvious now that this was Ameren's oldest and possibly most inefficient power plant. Thus, its future looked limited.
At the same time, it felt good to put a spotlight on that unhealthy and polluting power plant to put more pressure on Ameren to retire it. In time, my parents seemed to also come around to be proud of my advocacy to urge the retirement of the Meramec Coal Plant.
10 Oregon Newspapers publish my 2013 op-eds promoting CCL and carbon fee & dividend
After I had success in 2013 getting two op-eds published in the St. Louis Post-Dispatch, I wanted to get climate change op-eds published in Oregon newspapers. As a seasonal park ranger at Crater Lake National Park, I worked there from mid-May to the end of September in 2013. Even more, I had co-founded the southern Oregon chapter for Citizens' Climate Lobby earlier that year. Thus, I aimed to create more success and publicity for this group. The CCL Chapter Leader for the southern Oregon group, Susan Bizeau, knew I had written and published op-eds in St. Louis. She also thought I should write op-eds to submit to be published in Oregon newspapers.
I first emailed a guest opinion submission to the Medford Mail Tribune on September 9th. It amazed me that it was quickly published on Thursday, September 12, 2013, "2013 drought, wildfires call for action on climate change." The day it was printed, I was running errands in Medford, Oregon with my Crater Lake National Park ranger job. Medford is about 76 miles or an hour and a half drive southwest from Crater Lake. I occasionally was assigned to go to Medford with my job pick up or drop off vehicles, pick up park newspapers, etc. By chance, I happened to be in Medford that day with work errands which enabled me to buy a hard copy of the newspaper with my guest opinion on page 9. It was exciting to have my first op-ed published in Oregon.
As a side note, unfortunately, the Medford Mail Tribune shut down abruptly in early January 2023. As of this writing, they don't have an active website to share an online link to my op-ed. Therefore, here is a screenshot of the print edition: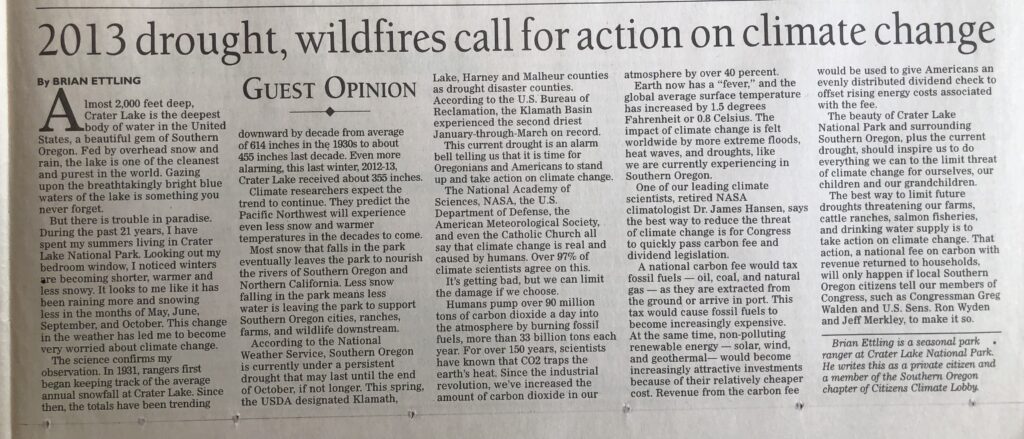 With my breakthrough Mail Tribune op-ed in September 2013, I next submitted a guest commentary to the Klamath Falls Herald and News. It took a while for the Herald and News to publish my submission, but they did on September 22nd. Southern Oregon experienced a bad drought in 2013, so I stuck with the same theme that I used for the Mail Tribune. My guest commentary for the Herald and News was called "2013 Oregon drought calls for action on climate change."
Klamath Falls is only about 60 miles or a little over a one-hour drive directly south from Crater Lake. Klamath Falls and Medford are in opposite directions from Crater Lake. The cities are separated by the Cascade Mountains. When I was driving back from Medford on the weekend of September 22nd as it was getting dark, I happened to find a newspaper vending machine in the small town of Rocky Point. I just happened to have one remaining hard copy of the Herald and News with my guest commentary printed inside towards the back page.
With these two published op-eds, I decided to try for the other large city newspaper in southwestern Oregon, The Grants Pass Daily Courier. It published my submission on Friday, September 20, 2013. The Daily Courier gave my guest opinion a different headline, "See Crater Lake as climate bellweather." On that weekend of September 21st, I traveled down through Medford to see friends in Talent. I purchased a copy of this Grants Pass newspaper among the newspapers for sale by the checkout stand by the Fred Meyer's supermarket in Medford.
It is hard for me to access this Daily Courier op-ed online because it is behind a pay wall subscription fee. Here is a screenshot of the print edition: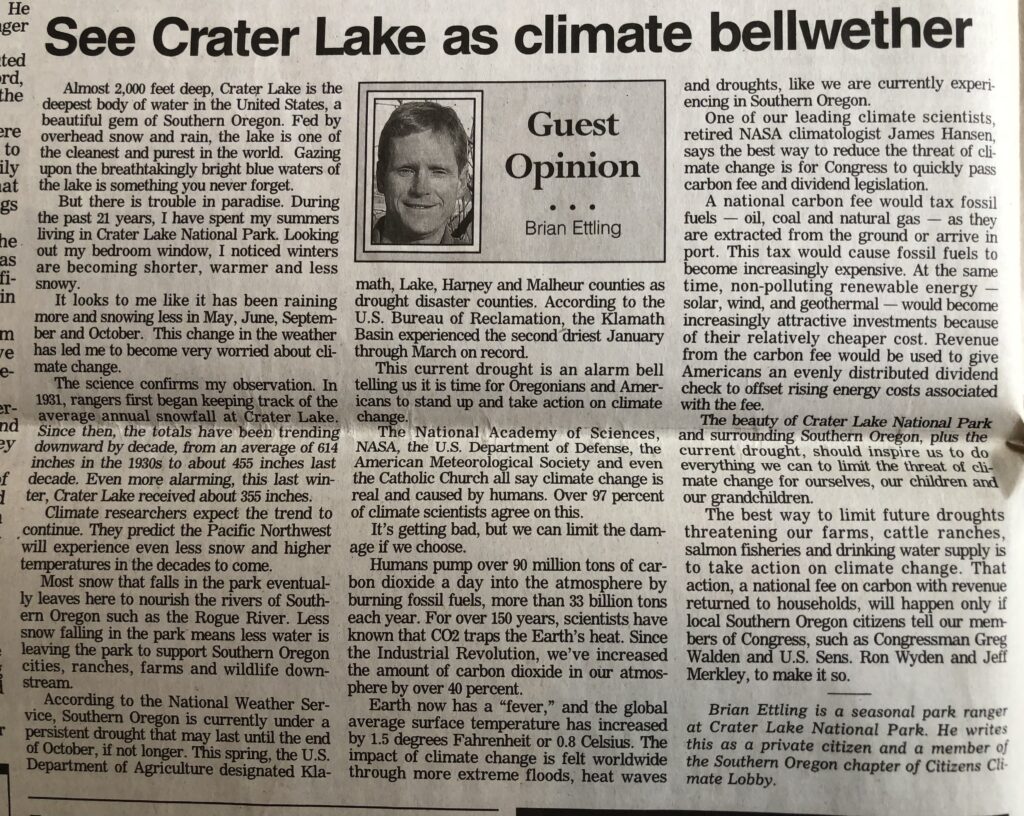 Around that same time, The Bend Bulletin published an op-ed by me on September 18th, "2013 Oregon drought calls for action on climate change." I emailed a submission to them around the same time I emailed my other submissions in early September. Bend is a two-hour drive north of Crater Lake. It was my only op-ed where I was not able to get a printed copy. At the same time, it was still exciting to be published in their newspaper.
I felt like I was on a roll getting op-eds published in southwestern Oregon's three largest newspapers within a week, plus The Bend Bulletin. On that Saturday evening, I had dinner with Susan Bizeau, the Group Leader of the southern Oregon CCL chapter. Susan was ecstatic that I got op-eds published in so many local newspapers in the past week. She responded to my Medford Daily Tribune guest opinion with a supportive letter to the editor that was published. She was eager to show me and read it to me as a group of us went out for Thai food in Talent, Oregon.
Since I was having success getting published in newspapers, Susan challenged me to submit op-eds to more Oregon newspapers, even the largest newspaper in Oregon, The (Portland) Oregonian. I did not want to let Susan down and I loved being challenged by friends in this way. I wrote it the submission and emailed it on September 27, 2013. I forgot about this submission because I then had too many other things on my mind. I was totally focused on wrapping up my season at Crater Lake, packing up my belongings, cleaning out my seasonal park residence, loading my car, and planning about my cross-country drive back to St. Louis.
During my cross-country drive, I woke up in a motel room in West Wendover, Nevada, on the second day of my journey on October 4, 2013. As I was getting ready to brush my teeth, I received a phone call Steve Valk, Director of Communications of CCL. He wanted to congratulate me for getting a guest opinion published in The Oregonian. This was a complete surprise to me. I asked Steve how he knew about this. He responded that it popped up on his Google alerts for "Citizens Climate Lobby" that day. This was a thrill to get this news out of the blue. I immediately had to turn on my laptop to see for myself. It was so cool to see it online for the first time, "Shrinking Crater Lake snowpack argues for carbon tax: Guest opinion."
This was now my seventh published op-ed for the year, two in the St. Louis Post-Dispatch and now five in Oregon newspapers. It felt like I was still surfing a good wave, and I was not ready to quit yet. After I returned to St. Louis for the winter, I decided to email another Oregon newspaper, the Eugene Register-Guard, to submit an op-ed. The Register-Guard published my guest opinion on October 23, 2013, "Crater Lake snowpack shows climate change."
This was now my eighth published op-ed for the year, two in the St. Louis Post-Dispatch and six in Oregon newspapers. I felt like I was on a winning streak and I did not want it to end. Over the next month, I was busy working full time for the Missouri Sierra Club. However, as I wrote about in my previous blog, that job was not a good fit for me. I decided to resign from that job at the end of November to devote myself to my writing and organizing. On December 3, 2013, another Oregon newspaper, The Ashland Daily-Tidings, published my op-ed, "Smaller Crater Lake snowpack calls for climate change action." Unfortunately, there is no online link to that guest opinion. I have friends in Ashland, Oregon, but they were not able to get a hard copy for me.
'But, that's not all!' as they say on bad TV infomercials, I was not finished for 2013. On December 13, 2013, the Salem Statesman Journal published my op-ed, "Carbon tax an act to stem climate change." This is my tenth op-ed for 2013 that I got published: two in the St. Louis Post Dispatch and eight in Oregon newspapers. Ten was a nice round number. I felt like I had done my part getting published in newspaper op-eds in 2013.
To my surprise, my newspaper writings continued. On December 22nd, the Statesman Journal published a very dismissive letter to the editor (LTE) by Mr. Ray Woodworth of Salem, Oregon, "Climate change consensus is not scientific proof."
Ray Woodworth directly attacked my op-ed by writing, "In his Dec. 14 guest opinion, Brian Ettling wrote that more than 97 percent of climate scientists and the Catholic Church agree that climate change is caused by humans. What he failed to point out is that this agreement is a consensus, not a scientific proof."
Woodworth went on to argue: "What makes these scientists so sure that human beings are responsible now? Can they scientifically prove it? So far, they have not."

To my delight, the Statesman Journal published my 200-word LTE response to Ray Woodworth on January 5, 2014, "Isotope signature proves carbon footprint of man."

My LTE response and my blog "Explaining Climate Change in 200 Words or Less" inspired some Facebook friends to try to explain climate change in their own words or even in French. I then wrote a blog about that, "Explaining Climate Change briefly in French or your own words."
St. Louis Post-Dispatch publishes two more of my op-eds calling for climate action.
After the Salem Statesman Journal op-ed, I decided to take a break from writing op-eds for a few months. The inch hit me to start writing again as Earth Day approached in April 2014. It would be one year anniversary of my first published op-ed that was in the St. Louis Post-Dispatch just a couple of days before the 2013 Earth Day.
I wrote and submitted a new op-ed to the Post-Dispatch for Earth Day, April 22, 2014. To my joy, they published my op-ed, "For Earth Day: Asking our elected officials to be climate heroes."
With this op-ed, the Post-Dispatch included a beautiful color photo of Crater Lake National Park. The words "For Earth Day" were also printed in green. The layout for this article looked stunningly beautiful. The way that the Post-Dispatch printed my op-ed, I should have mounted and framed it. I still might one of these days.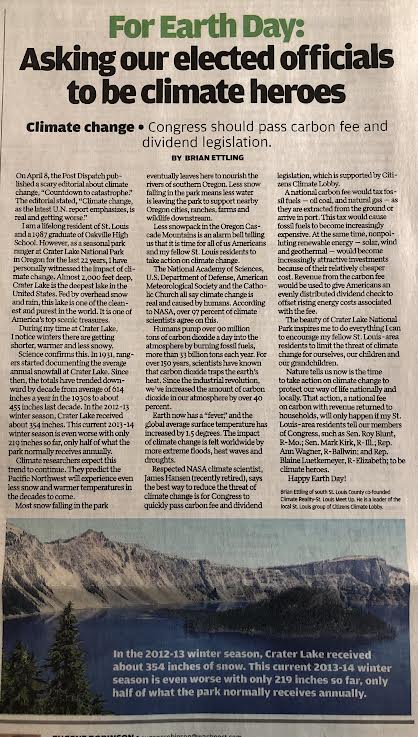 For Earth Day 2015, I wrote and tried to submit an op-ed to the St. Louis Post-Dispatch, but this time they decided not to publish my submission. I got a bit spoiled getting op-eds published in the Post-Dispatch for the previous two Earth Days. I figured that I would wait for the right time when I felt inspired to submit an op-ed to the Post-Dispatch again.
The St. Louis Post-Dispatch editorial from November 27, 2015, "Climate Consensus" inspired me to write and submit an op-ed. To my excitement, the Post-Dispatch decided to publish it two days before Christmas, on December 23, 2015. "A GOP market-friendly alternative to Obama's Clean Power Plan". I advocated that CCL's carbon fee and dividend proposal would effectively reduce the threat of climate change. At the same time, carbon fee and dividend would grow the economy while reducing greenhouse emissions much more effectively than President Obama's EPA regulations, which the Republicans deeply opposed.
At our Christmas family gathering, my older sister asked me about this op-ed. It was great to have an engaging conversation about climate change this family get together for Christmas. I hope my op-ed inspired other family conversations during the 2015 holidays. This op-ed inspired me to write and submit more op-eds in 2016.
For Earth Day 2016, I decided to write and submit an op-ed to the St. Louis Post-Dispatch. Unlike April 2015, they chose to publish my op-ed for April 22, 2016, "Earth Day and our national parks calls for GOP climate action." I was very fortunate when the Post-Dispatch published my 2014 Earth Day op-ed with the brightly colored picture of Crater Lake National Park. There were no colored photographs attached to my op-ed this time, which was slightly disappointing. At the same time, it still felt glorious to have an op-ed published on climate change in my hometown newspaper, the St. Louis Post-Dispatch. It was great to have my picture and words in the newspaper that I grew up reading as a child.
5 Oregon Newspapers publish my 2016 op-eds promoting climate action
2016 marked the Centennial or the 100th anniversary celebration of the National Park Service (NPS). Many media articles were written and published that year focusing on the significance of the NPS Centennial. That brought a lot of media attention to the national parks and NPS sites in 2016. With all this local and national spotlight attention on the national parks with the 2016 centennial, I thought this would be a good hook to submit climate change op-eds.
In early May 2016, I returned to work at Crater Lake National Park for my summer ranger job. I worked many years there as a park ranger, plus I saw climate change while working in the national parks. Even more, climate change is one of the biggest threats facing the national parks as we reflected upon the centennial and the future of American national parks. In May 2016, my first submission was in the Medford Mail Tribune. It was published on May 6, 2016, with the "Crater Lake threatened at centennial."
Since there is no line link available as of this writing: here is a screenshot of the hard copy of my Mail Tribune op-ed: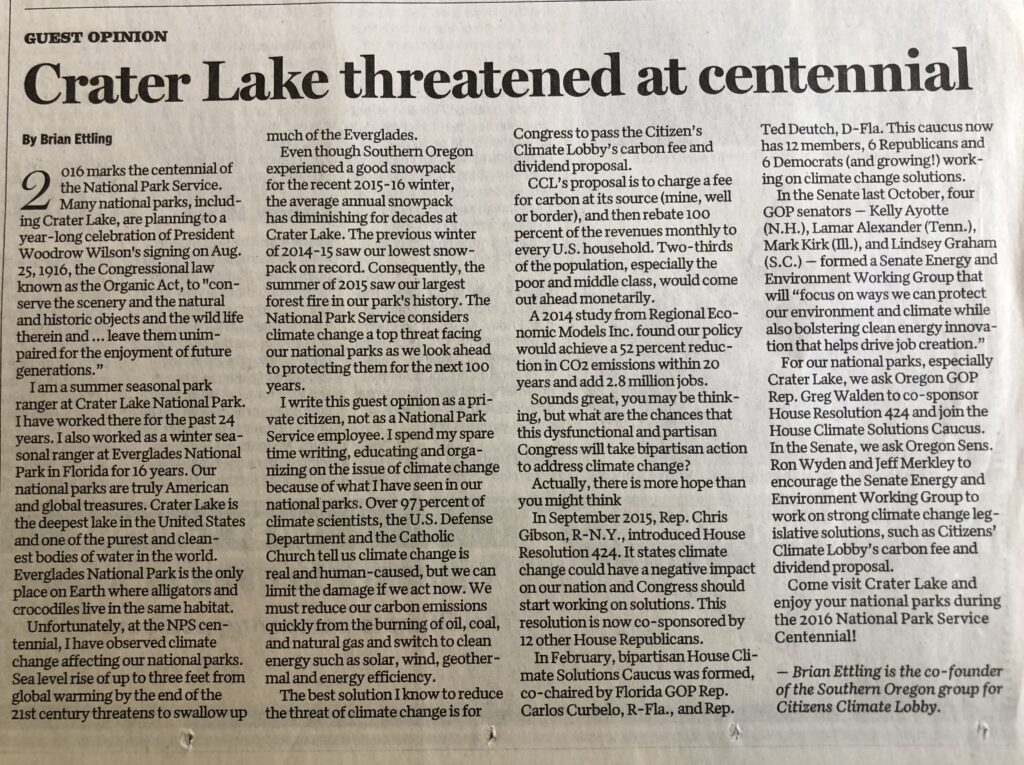 Over one week later, the Klamath Falls Herald and News published my guest opinion, "Legislation offers hope dealing with climate change." Oddly, no online link exists for this op-ed. Somehow, I managed to get a hard copy to save.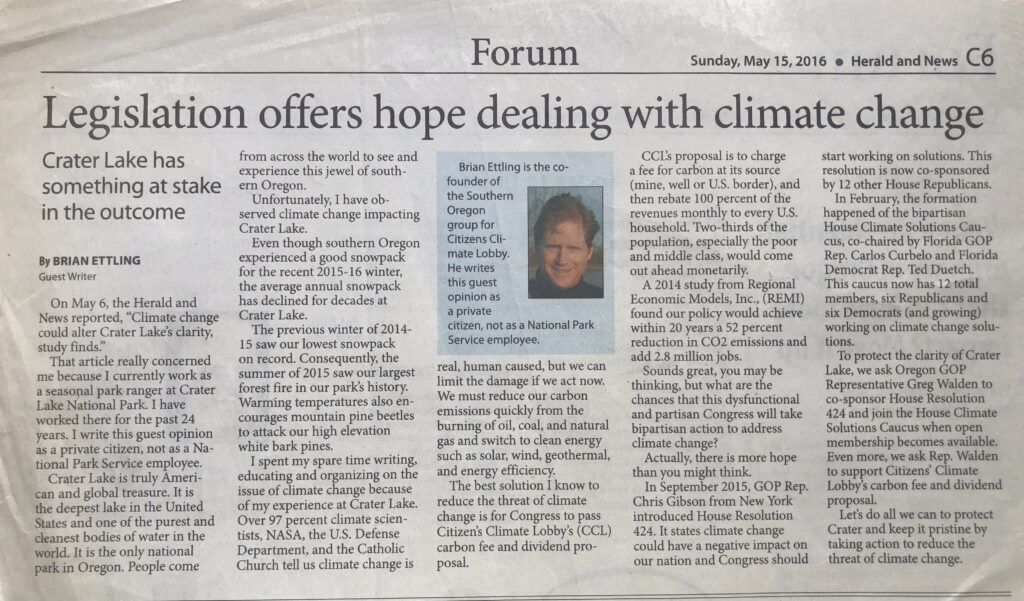 This Herald and News commentary did not mention the centennial. On May 6, 2016, the Herald and News, The Bend Bulletin, and other Oregon newspapers reported "Climate change could alter Crater Lake's clarity." That article spurred me to write and submit my guest opinion to the Herald and News to acknowledge the problem of climate change on Crater Lake. I then pivoted to offer a great policy solution of urging Congress to pass CCL's carbon fee and dividend.
That same month that I submitted op-eds to the Mail Tribune and the Herald and News, I thought it was a good opportunity to submit a guest opinion to Oregon's largest newspaper, The Oregonian. I wrote this op-ed with similar wording as my Herald and News guest commentary. The Oregonian published my opinion piece on May 12, 2016 with the headline: "Climate change: Protect Crater Lake National Park."
The Oregonian printed my op-ed with a beautiful color photo of Crater Lake above what I had written. Just like my Earth Day, April 22, 2014 op-ed in the St. Louis Post-Dispatch which showed a beautiful photo of Crater Lake along with my writing, this layout in the Oregonian looking stunning and splendid. I asked a friend of mine who lives in Portland, Jamie Scott Campbell, to mail a copy of my Oregonian op-ed to me. Jamie and I worked together at Crater Lake in my first summers there in 1992 and 1993. It was very kind of Jamie to mail this to me.
I will never forget opening the large vanilla envelope that Jamie sent it to me. I carefully opened it up at the Crater Lake interpretive ranger office. My ranger colleagues were very excited and impressed. One my ranger friends, Lise Walls, wanted to get a picture of her and me holding the Oregonian page that had the picture of Crater Lake and my op-ed. I will never forget what she said as she wanted pictures for the occasion. She said, "Brian, this is a big deal!"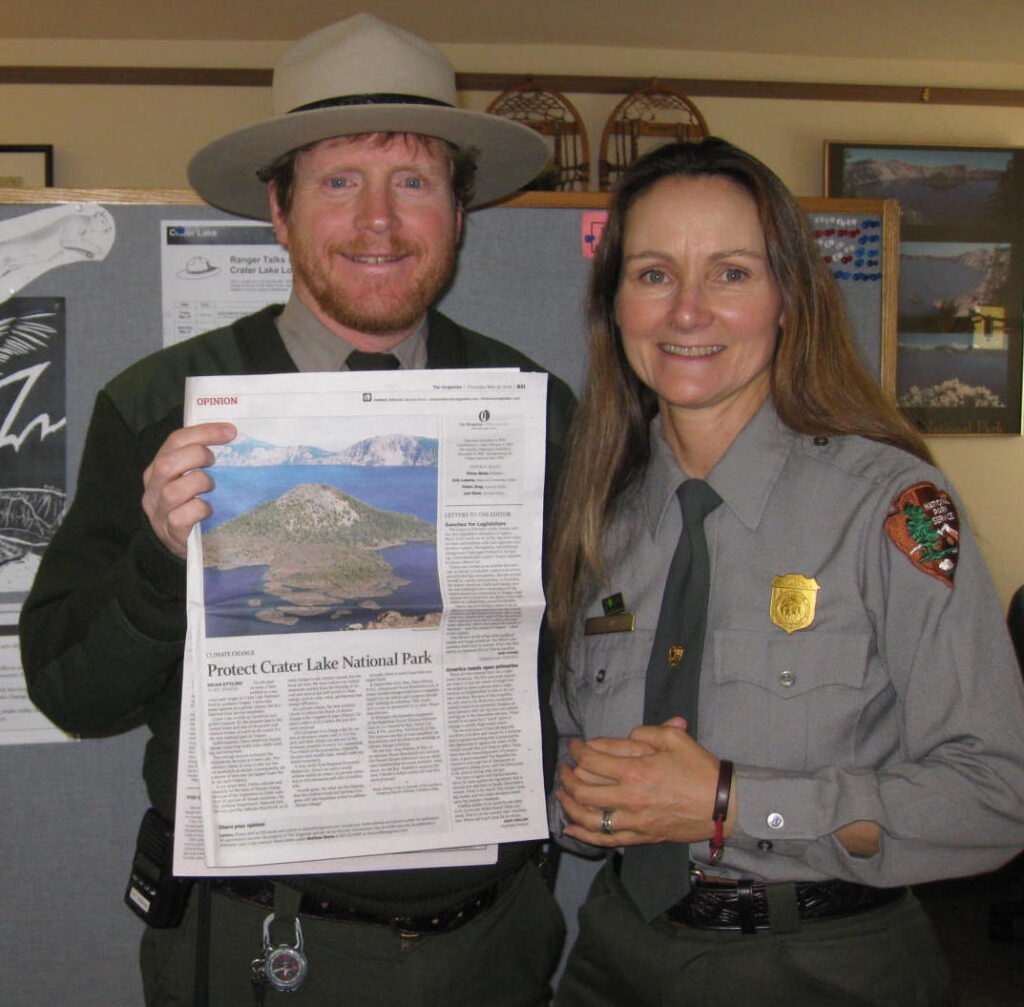 This was very memorable sharing this experience with my fellow Crater Lake ranger friends. I was not finished submitted op-eds in 2016. On June 11, 2016, The Bend Bulletin published my guest view "Climate change action needed to protect our national parks." The CCL Bend Chapter Leader happened to be visiting Crater Lake several days later. I was disappointed that I was unable to meet up with her. She very thoughtfully brought a hard copy of that Bend Bulletin op-ed. She gave it to a fellow Crater Lake park ranger to give to me.

The NPS centennial was officially observed on August 25, 2016. That was the date that President Woodrow Wilson signed the Organic Act into law. Around that time, it seemed appropriate to submit a guest opinion for the Ashland Daily Tidings. This newspaper printed my fifth and final 2016 op-ed on August 24th, "Park centennial calls for action."

Getting my name and a cartoon about me printed in Missouri newspapers in 2017

In November 2016, my friend, Brian Kahn, wrote an article for the website, Climatecentral.org, that featured me. Brian worked as a seasonal park ranger at Crater Lake National Park during the summers of 2006, 2008, and 2010. He then became a journalist covering climate change for Climate Central. Since my writings and focus for years was seeing climate change in the national parks, I was pleased when Brian wrote the article, "National Parks Are At the Front Lines of Climate Communications: More and More Park Rangers Are talking about Climate change."

Brian had several quotes from me and quoted some of my friends for the article. We chatted by phone a couple of months before Climate Central published the article. I urged Brian to use several sources that he ended up using in the article. Brian Kahn's article was a turning point for me from when I was writing less op-eds and appearing more in newspaper articles.

In late 2016, my friend George Laur, who is the Missouri Coordinator for CCL, decided that I should do a speaking tour in Missouri to promote CCL sometime in 2017. In February 2017, my wife Tanya and I moved to Portland Oregon when she was recruited for a job there. When I told George this in January 2017, his response was: 'We are still doing this tour, Brian. You might just have to fly back from Oregon so you can speak at the events.'

I ended up flying to Missouri during the last week of March for this speaking tour in Missouri. George made all the arrangements for me to speak at two different locations. First, I spoke to over a crowd of 100 people in Jefferson City at the Runge Conservation Nature Center on March 29, 2017. I spoke on the impacts of climate change in our national parks. The Jefferson City News Tribune wrote an article about my talk, "Climate change threatens park, ranger says."

That talk must have made quite an impression. Besides their article, the News Tribune printed a cartoon from their conservative cartoonist aimed at me. He had the wrong colors for the ranger uniform, and it did not look much like me. The statements in the cartoon looked like a real head scratcher that did not make any scientific sense. Having said that, I was very flattered and honored to have inspired this political cartoon. The cartoonist tried to mock me. However, I thought the joke was on him since he seemed to have a lack of scientific understanding.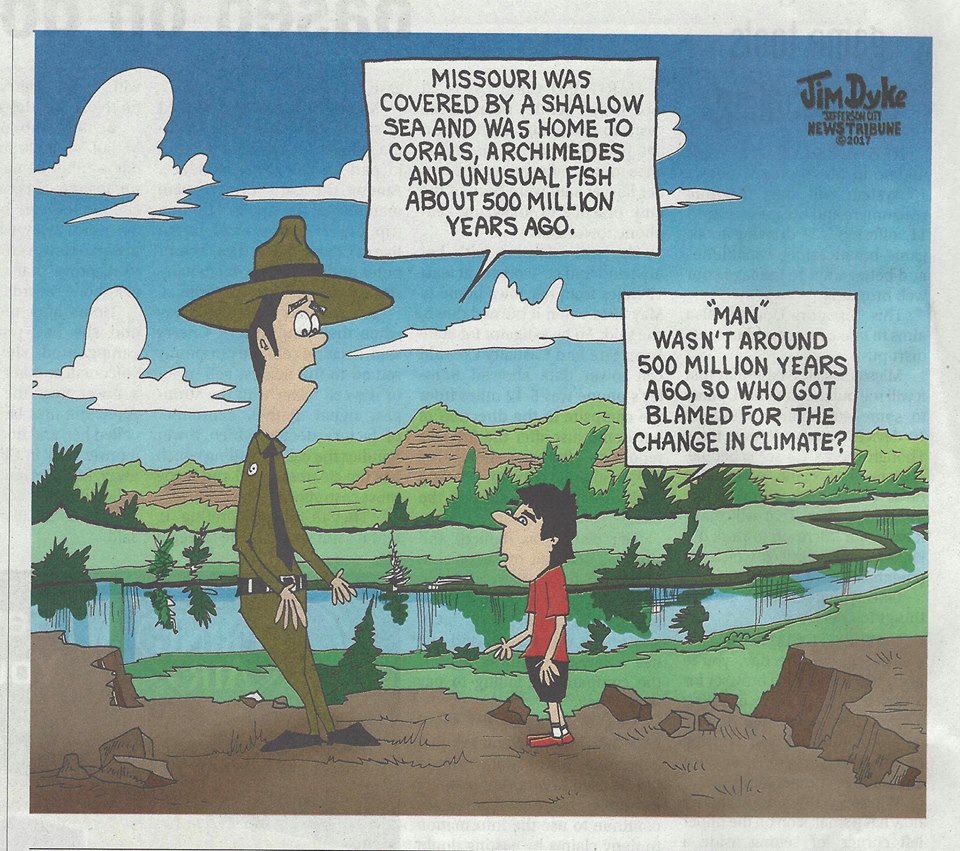 Two days later, on March 31, 2017, I spoke to over 60 people at Truman State University in, Kirksville, Missouri. When George and I arrived in Kirksville that morning, I met with a newspaper reporter Jason Hunsicker from the Kirksville Daily Express. Jason wrote an article profiling me included a lovely picture of me at Crater Lake. The article printed in the newspaper on April 10, 2017. It was titled, "Citizens' Climate Lobby tries to make a difference." The bad news is that there is no online link available. The good news is that my CCL friend that lives near Kirksville, Sharon Bagatell, mailed a hard copy of the newspaper to me.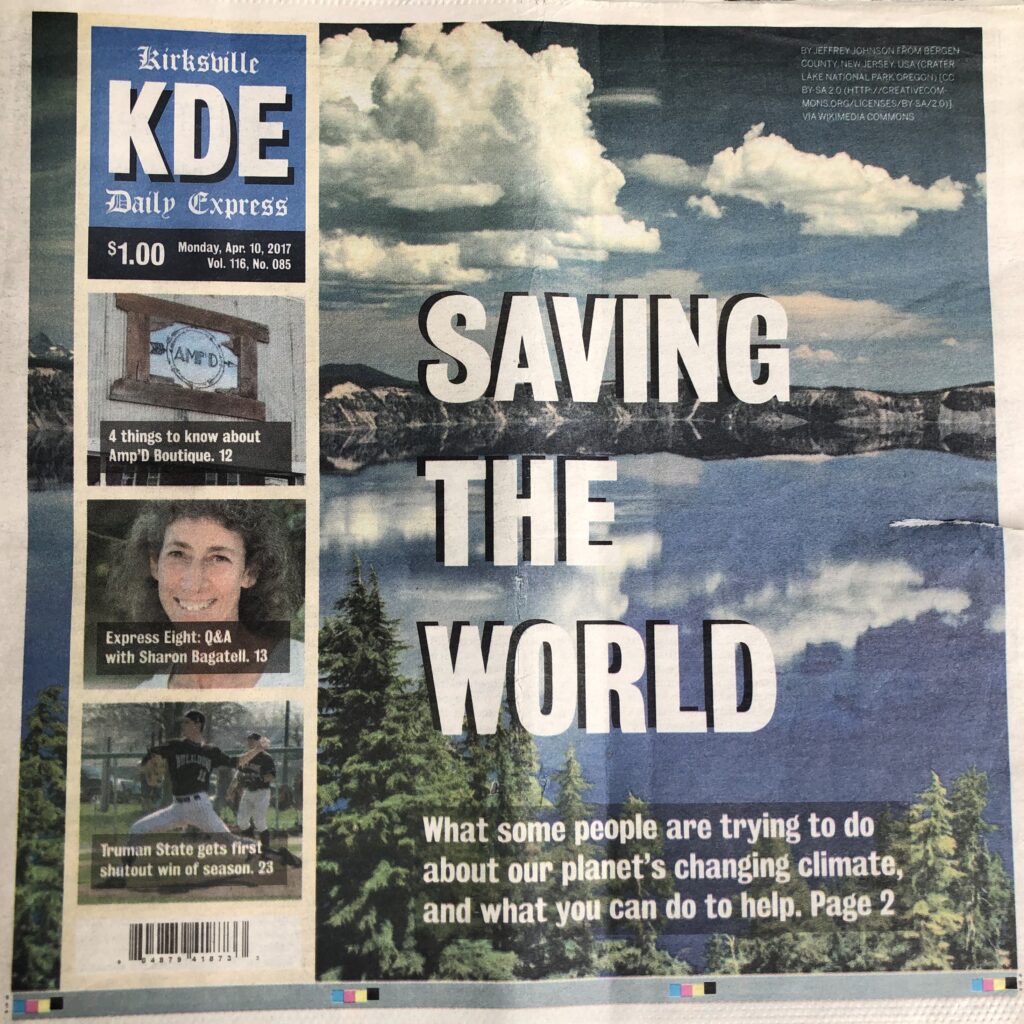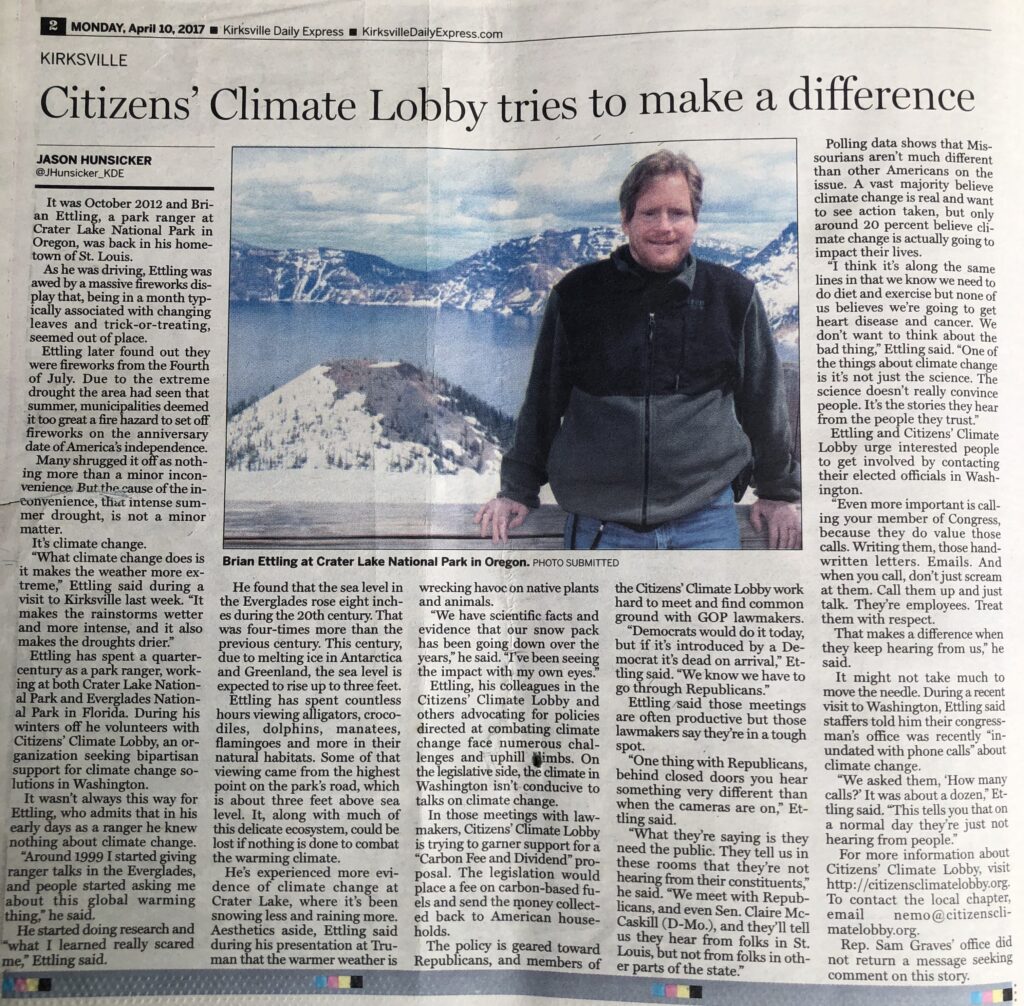 Getting my name in Oregon newspapers in 2017 to promote climate action
After this short Missouri speaking tour, I wanted to do a speaking tour across Oregon. I had this vision to travel around central, southern, and eastern Oregon to inspire and organize Oregonians in those areas to organize for climate action and join CCL.
The CCL volunteers and I who organized this tour called it The Oregon Stewardship Tour. We thought that taking climate action, especially with urging Congress to pass a carbon fee and dividend, is one of the best ways to be good stewards of Oregon's precious air, and and water.
It was also one of the bravest and boldest feats I have done driving 1,600 miles myself in my car to 11 cities for this 12-day tour from October 24 to November 4, 2017. I traveled to give presentations in La Grande, Baker City, John Day, Burns, Prineville Redmond, Lakeview, Klamath Falls, and Grants Pass to talk to rural and conservative Oregonians about climate change.
This tour was a huge undertaking for me. For a recap, I had
• 9 public outreach events
• 2 lobby meetings with district offices of Rep. Greg Walden
• 2 newspaper editorial board meetings
• 2 live radio interviews
• 4 published articles in Oregon newspapers featuring the tour
• 4 press releases published announcing local tour events.
The morning that I left Portland to start driving across Oregon to La Grande for the tour, I had a phone interview with Lee Juillerat of the Klamath Falls Herald and News. The newspaper had their article about me and The Oregon Stewardship Tour as the headline story on the front page of the newspaper on October 29, 2017. This was the first time I had a headline front page newspaper article about me. Underneath the frontpage headline, "Forum to discuss climate change at Crater Lake," was a bright color picture of me at Crater Lake.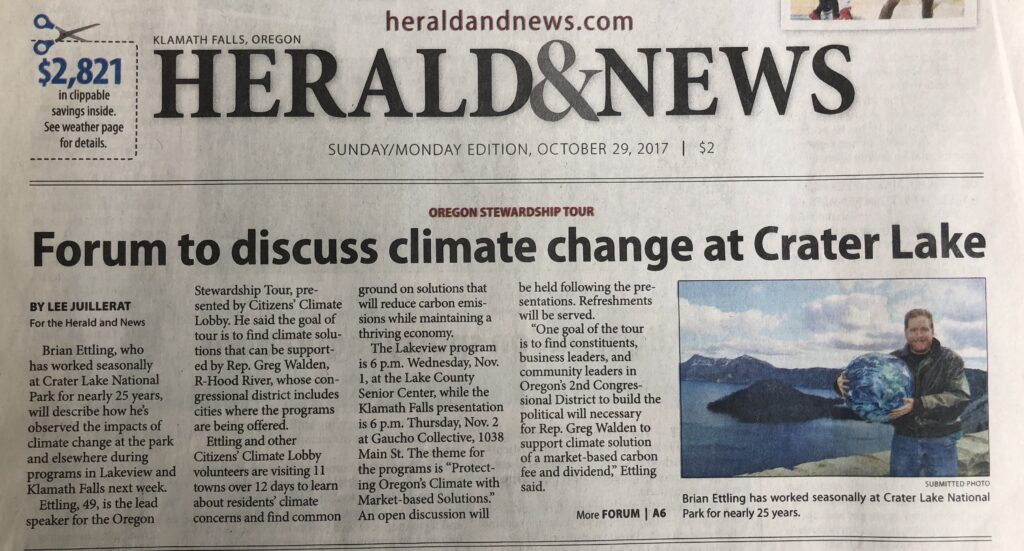 When I spoke in Klamath Falls on November 2, 2017, I spoke to 25 citizens at a downtown Klamath Falls location, we ended up filling the room. That Herald and News lead article probably helped motivate some of the area residents to attend the event.
After that October 24th morning interview with Lee Juillerat of the Herald and News, I jumped in my car and started the long drive from Portland to Baker City, Oregon. It was a 234-miles and over 4-hour drive to this city in eastern Oregon. When I arrived in Baker City, I met up with two Portland CCL volunteers, Barry Daigle and Jason Lewis. They drove separately from Portland to meet up with me to help me during the first two days of the tour since they were from that area. The first thing that Barry and Jason pointed out to me was the press release printed on the front right column of the Baker City Herald announcing our event in Baker City that evening. The headline was "Group to discuss climate change Tuesday at the Library."
That same day, the newspaper for La Grande, The Observer, announced our event for Wednesday, October 25th, "Forum to discuss climate solutions." With these newspapers announcing the tour events for the first two days, the tour felt like it was off to a great start. Because of the press releases in the newspaper as well as the word of mouth, we were able to fill the room with local residents during the first two days of the tour.
Before the tour started, The Blue Mountain Eagle, the newspaper for the city of John Day, printed an October 18th press release. It was for the third event for our tour on Thursday, October 26th, "Climate forum coming up."
During my presentation at John Day on October 26th, a writer for The Blue Mountain Eagle, Richard Hanners, came to report on the event. On October 31st, he wrote an article for the newspaper. "Climate change group presents its case." I remember this event for having a tough audience of mostly high school students who did not have much of a response to the presentation. I was very happy that Richard Hanner's article strictly reported on the facts of my presentation and the conversation with the audience how the weather in John Day has changed over the years. I was relieved he did not share that the audience was very subdued and hard to energize. I sure hope my presentation had some kind of impact on these students.
On the same day The Blue Mountain Eagle published their press October 18th release, The Burns Times-Herald printed a press release "Oregon Stewardship Tour Offers Forum" for the fourth day of the tour on Friday, October 27th. We had 14 people fill the small room at the Hines City Hall to hear my presentation. Unlike the teenagers in John Day the previous day, the residents of Burns-Hines were very engaged and asked lots of questions during this presentation.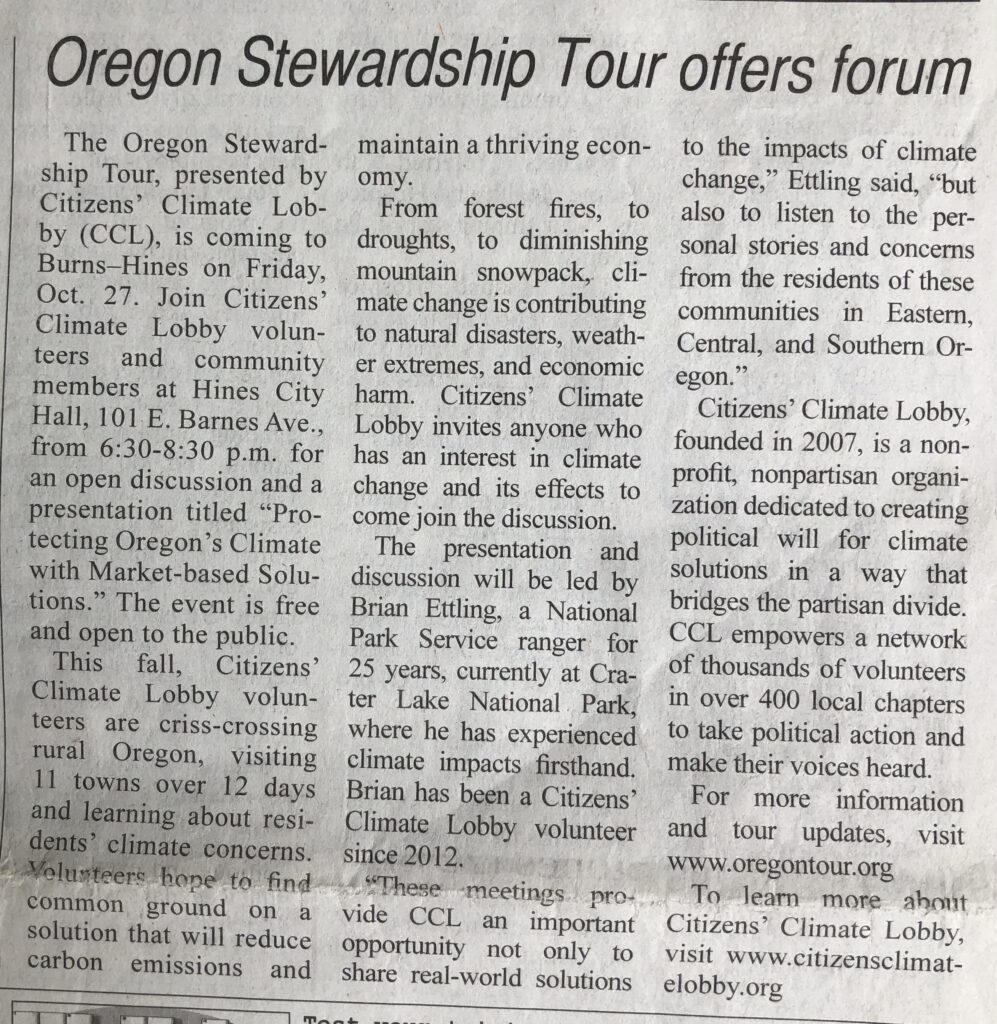 The audience was concerned because it could be quite expensive to live in Burns if a carbon fee and dividend was passed in Congress. They informed me that residents often must drive 130 miles one-way to get supplies and run errands in Bend.
This group gave us lots of homework to find out more details of this policy and exactly how it would impact low-income people. We promised we would respond to their questions quickly as and e-mail the answers back to them. We loved their enthusiasm and keen interest to learn all they could about our solution, even if they were asking very tough questions at times.
On October 28, 2017, the Bend Bulletin had a front page article announcing the events for the fifth and sixth days of our tour. On Saturday, October 28th, I was scheduled to give a talk in Prineville at the Crook County Fire and Rescue Building. On Sunday, October 29th, my talk was at the Roundtable Pizza in Redmond, Oregon. The Bend Bulletin article was called, "Climate Tour goes to unlikely locations."
This part of the tour had mixed results. No local residents showed up for the Prineville event, just three local CCL volunteers from the Bend area. Thankfully, we had a 15 people show up for our event in Redmond. Thus, the Bend Bulletin article did not stir up much interest in the nearby cities of Prineville and Redmond. At the same time, it was still a morale boost to be on the front page of this newspaper as I was winding my way through Oregon during this tour.
These were all the newspaper articles that I recall from The Oregon Stewardship Tour. I was exhausted and had a cold by the tour that covered 11 cities over 12 days. It was an adventure to travel and meet Oregonians across the state. Yet, a few times felt it was a like a grind. Overall, it was rewarding to get publicity for Citizens' Climate Lobby, carbon fee and dividend, and the tour in the local newspapers as I traveled to eastern, central and southern Oregon.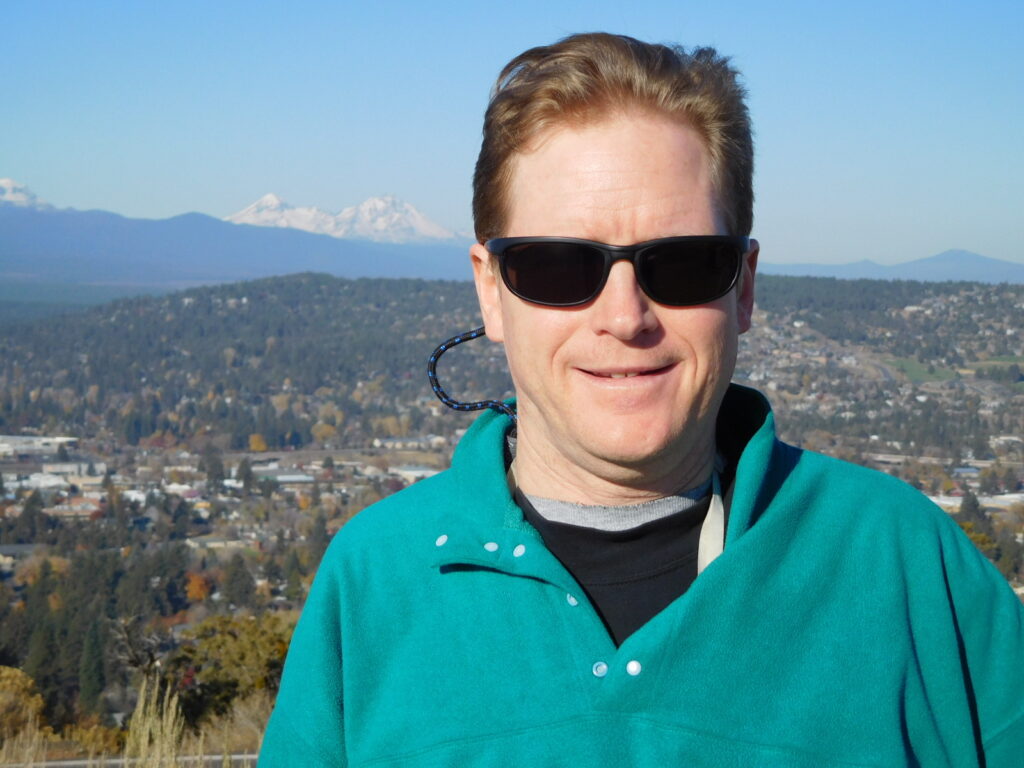 Writing 2 op-eds to promote Oregon's cap and invest bill in 2018
For the first half of 2018, I worked for Tesla Energy in a job selling solar panels. This was my first sales job. It quite an adjust for me. I had grown very comfortable having seasonal jobs as a park ranger working the national parks for the previous 25 years. I got used to nearly everyone loving me as a park ranger. In sales, it seems like nearly everyone hates you for bothering them and occasionally you find someone who likes you. It took all my energy to succeed in this job. There was no time, interest or desire to write op-ed, especially for climate action.
Because of my support wife Tanya and a very supportive boss Mike, I did end up succeeding in the job. I exceeded the company required sales goals for March and April. By the end of May, my supervisor informed me that I was ranked 50th out of 350 employees for the number of home solar appointments booked. I hit a positive strive of booking Tesla Energy Advisors scheduled to come to customers' homes in the Portland OR and Vancouver WA area to chat with them about creating a custom solar system for their home.
Sadly, Tesla laid off my supervisor, the advisor manager, their regional boss and 9% of Tesla's staff, mostly in the Tesla Energy Division, on June 12th. My job transferred to Tesla Motors, located just south of downtown Portland. Sadly, the new job was not a good fit for me with the hours, commute, work environment, work culture, so I decided to leave that job on July 9, 2018.
The day I resigned from Tesla, I was in a fog that day not sure what to do. The Tesla store was located in the south waterfront district just south of downtown. I decided to go to the Powell's Books downtown store to restore my soul. Powell's Books is a big landmark, institution, and tourist destination in Oregon. It claims to be "the largest used and new bookstore in the world, occupying an entire city block and housing approximately one million books." After spending an hour or two there to cheer myself up after quitting a very stressful job, I walked towards a MAX commuter train stop to start taking public transportation home.
On this walk to catch public transit, I ran into Sonny Mehta, an organizing Field Director for Renew Oregon. I met Sonny the previous October just a couple of days before I departed Portland to start The Oregon Stewardship Tour. Renew Oregon was organizing a campaign to lobby Oregon legislators to pass cap and trade legislation in Oregon Legislature during the upcoming 2019 session. When I led The Oregon Stewardship Tour during the previous October, Oregon CCL leadership wanted me to included information in my talks on Renew Oregon's cap and trade policy. Two days before I left for the 2017 tour, I stopped by the Renew Oregon office in downtown Portland. I met Sonny for the first time, and he gave me handouts from Renew Oregon to share with Oregonians during my tour.
When I ran into Sonny on July 9, 2018, he asked what I was doing. I shared that I just quit my Tesla job. Sonny and I agreed to meet for coffee in a couple of days. He encouraged me to volunteer for Renew Oregon in their organizing efforts to get the Oregon Legislature to pass a cap and trade bill in the 2019 Oregon Legislative session. Looking to do the most effective climate action, I jumped at the opportunity to get involved with Renew Oregon. I soon joined in on their weekly organizing calls. Sonny encouraged me to write op-eds and letters to the editor (LTE) in newspapers in Oregon. I was quite familiar with writing many op-eds and LTEs from experience over the years. It looked like a fun challenge from Sonny.
Because of other commitments, it took me awhile to write op-eds for Renew Oregon's cap and trade bill for Sonny Mehta for Oregon newspapers. In late August, I was a breakout speaker for a co-presentation with another Climate Reality Leader for the Climate Reality Training in Los Angeles. That took time to prepare that presentation and schedule time with the co-presenter Itzel Morales to get our talk ready for the training. In September, I devoted some time to canvass in Washington state for their 1631 ballot initiative to put a price on carbon.
In mid-October, I organized a climate change speaking tour across my home state of Missouri. I gave presentations at my alma mater William Jewell College, Missouri University in Columbia, my alma mater Oakville High School, St. Louis University, and teaching a Climate Change 101 continuing education class at the Meramec campus of St. Louis Community College. It was a very successful tour with the presentations I gave across Missouri. The student newspaper for William Jewell College, The Hilltop Monitor, published an article on October 26, 2018 about my talk on the campus, "Brian Ettling presents the conservative case for a carbon tax at the 2018 Truex Economic Lecture." It took time in September to create all those presentations. Even with all those commitments, I found time to write op-eds for Renew Oregon and Sonny.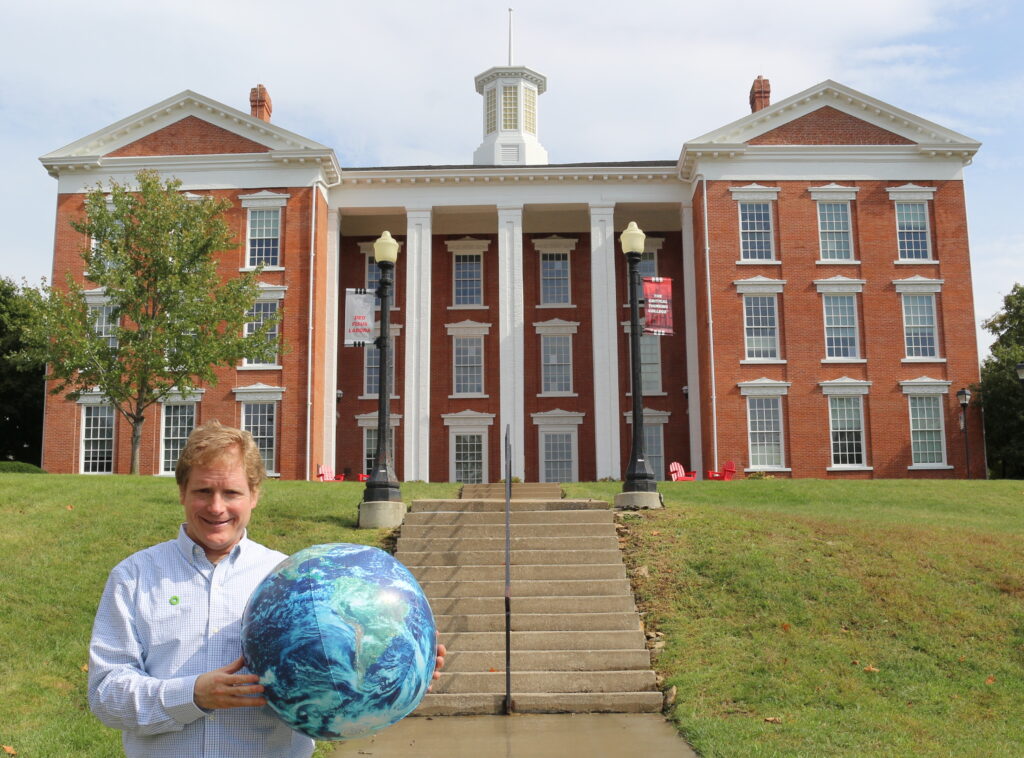 September 25, 2018, Klamath Falls Herald and News published a guest opinion that I wrote. "To reduce wildlife smoke, let's act on climate change." At that time, I was an active volunteer with Citizens' Climate Lobby and Renew Oregon. Thus, it was fun for me to promote CCL's carbon fee and dividend proposal and Renew Oregon's Clean Energy Jobs Bill in one op-ed.
On October 6, 2018, the Bend Bulletin printed my guest column, "2018 drought and smoke should push us to act on climate change." My op-eds for the Herald and News and The Bend Bulletin both referenced recent articles about the intense heat and smoked happening in Oregon that summer. In writing those op-eds, I then pivoted to the solution of supporting CCL's carbon fee and dividend and Renew Oregon's Clean Energy Jobs bill. These op-eds were published just days before I left for my October speaking tour in Missouri. It was a relief to get these published before my trip since I knew I would be focused on that for several weeks.
Writing a climate change guest opinion for the Portland Tribune in June 2021
For the next year and a half, I was very busy volunteering with Renew Oregon to urge legislators to pass the Clean Energy Jobs Bill. This was a cap and invest bill known as HB 2020 in the 2019 Oregon Legislative session. This was a very empowering endeavor to attend legislative hearings at the Oregon state Capitol in Salem, lobby legislators, testify at hearings, participate in weekly phone meetings, assist in organizing rallies, and organize large events. In addition, I wrote two LTEs to the Portland Tribune, one in January 2019 and the other in February 2020 urging legislators to pass the Clean Energy Jobs Bill.
As I attended numerous legislative hearings on the Joint Committee for Carbon Reduction, I enjoyed having a great front row seat to watch the HB 2020 take shape in committee, successfully pass out of committees, and even pass on the House floor on June 18, 2019.
The victories felt huge to watch the bills progress towards passage. At the same time, it was a devastating and heartbreaking loss when the Republicans fled Oregon in the last week of June 2019 to prevent a Senate floor vote, which killed HB 2020. In late February 2020, Republicans in both the House and the Senate fled Oregon fled Oregon to kill that cap and invest bill. After the first defeat in the summer of 2019, I felt so low I did not want to get off the couch for weeks.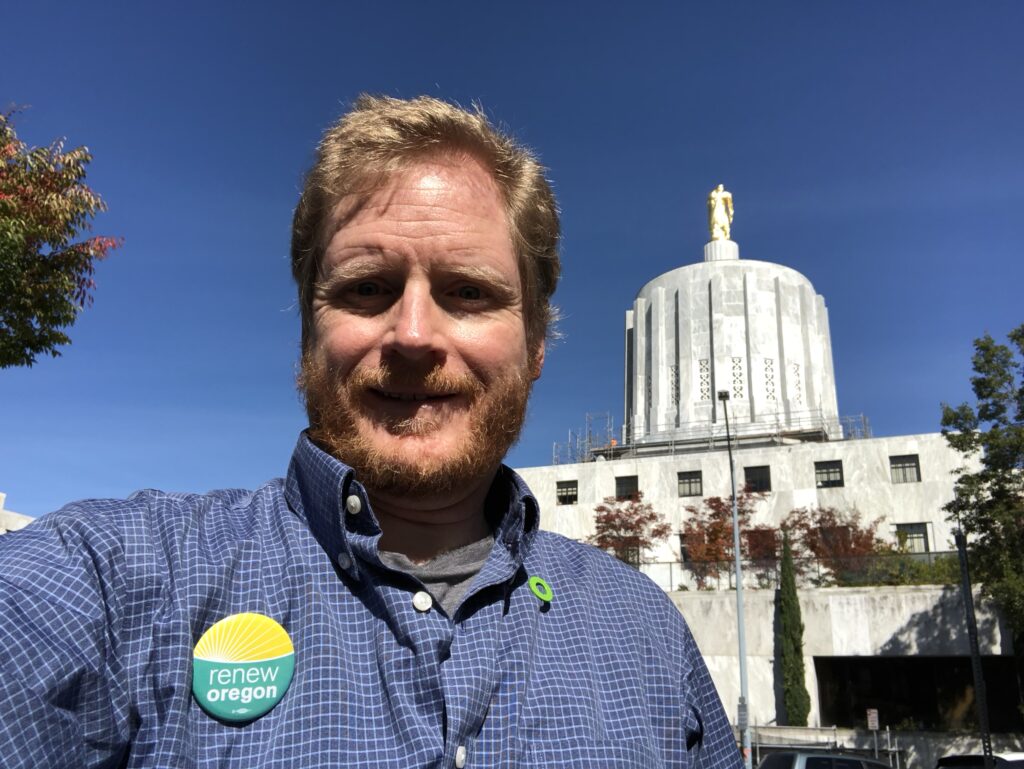 At the same time, I found ways to bounce back from these setbacks. During the summer of 2020 while the COVID pandemic was still raging, I met with numerous Oregon legislators by phone and Zoom. I led the efforts with Oregon CCL volunteers for over 30 Oregon legislators to endorse the CCL federal bill, The Energy Innovation and Carbon Dividend Act (EICDA). During one of these meetings, Oregon Rep. Tiffiny Mitchell asked if she could introduce a state resolution endorsing the EICDA. Representative Mitchell did not run for re-election. Thus, Senator Michael Dembrow proudly introduced the resolution on the Oregon Senate floor February 4, 2021, when it officially became known as Senate Joint Memorial 5 or SJM 5.
SJM 5 passed the Oregon Senate on April 7th by a vote of 23 to 5, with 6 Republican Senators, half of the Oregon GOP Senate caucus, joined all the Democratic Senators present to vote to support it. Unfortunately, SJM 5 fell short of receiving a floor vote in the Oregon House in June 2021. It was exciting was that 30 House members, including 7 Republicans, signed on to co-sponsor it. The Oregon House has 60 members. Half the chamber were SJM 5 co-sponsors.
The worst part of this defeat was Oregon CCL leadership becoming very angry when the OR House Democratic Leadership refused to give SJM 5 a floor vote. After I experienced two dreadful GOP walkouts that defeated the 2019 and 2020 cap and invest bills, I never believed SJM 5 would pass until I saw it with my own eyes. The Oregonian published an opinion editorial from Oregon CCL leadership and I disagreed with the tone. Former Rep. Tiffiny Mitchell advised us not to publish it since it seemed to attack OR House Democratic Leadership.
I pleaded with the Oregonian and Oregon CCL leadership to re-edit the op-ed to be more gracious, but they ignored my input. Thus, I wrote my own op-ed. and I submitted it to the Portland Tribune. Unlike the Oregonian, the Portland Tribune is a weekly newspaper in Portland, Oregon. It is owned by the Pamplin Media Group, which publishes several community newspapers in the Portland metropolitan area. On June 11, 2011, the Portland Tribune printed my op-ed, "Federal legislation holds hope of steering U.S. toward net zero carbon emissions."
I was very proud of my Portland Tribune op-ed. I talked about the problem of climate change and then the federal solution of CCL's Energy Innovation and Carbon Dividend Act (HR 2307). I then wrote about the Oregon Legislative Resolution, SJM 5. I listed by name all 36 Republican and Democratic legislators who sponsored SJM 5. I stated that "Oregon Citizens' Climate Lobby volunteers applaud each of these legislators for co-sponsoring SJM 5 to support a national bipartisan approach for climate action."
I ended this guest opinion by writing: "These legislators listed above are making a bold statement that a federal market-based carbon pricing bill is a way forward for Oregon and the U.S. to reduce the threat of climate change.
We hope our Oregon Congressional delegation, Reps. Cliff Bentz, Suzanne Bonamici, Earl Blumenauer, Peter DeFazio, and Kurt Schrader, and Sens. Ron Wyden and Jeff Merkley, will see this message and support HR 2307."
Because of the animosity over the June 2021 Oregonian op-ed, I no longer felt like a valued volunteer and climate organizer within Oregon CCL. I dropped out of CCL several months later.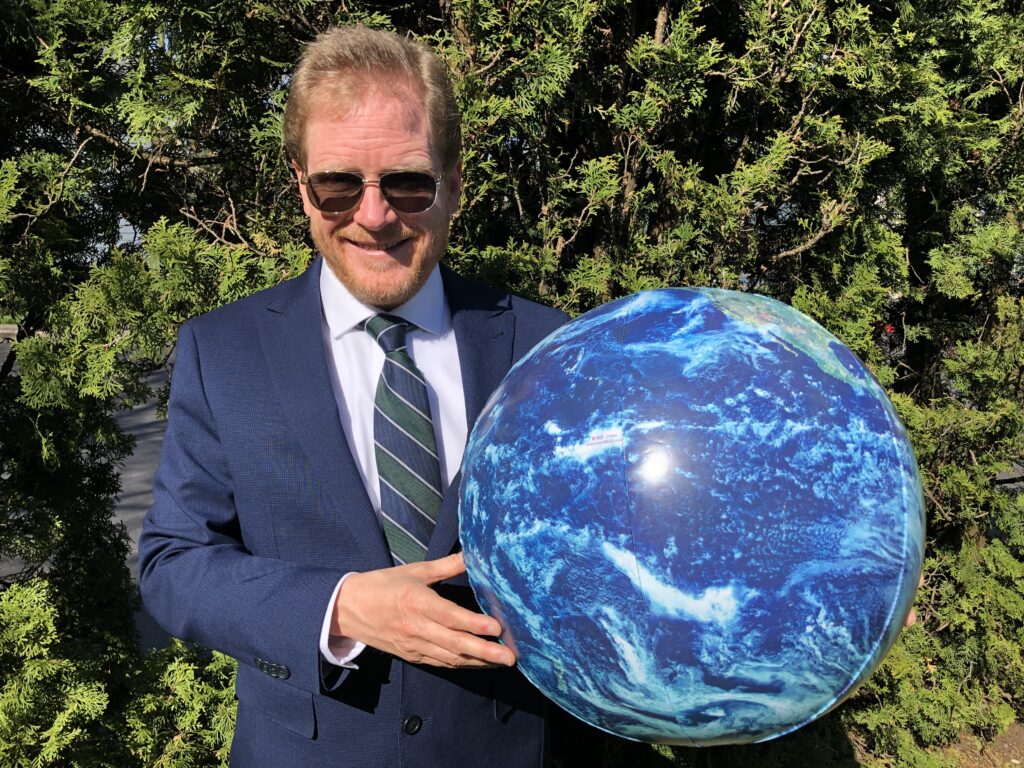 My June 11, 2011, the Portland Tribune op-ed was my last published op-ed. My frustration with Oregon CCL nearly caused me to quit the climate movement. However, I am still active in the climate movement as of this writing on June 8, 2023. The threat of dangerous climate change is too great of a burden to just walk away. I decided in May 2023 to attend the CCL June Conference and Lobby Day in Washington D.C. happening June 10-13 in Washington, D.C. On June 13, 2013, I will be joining hundreds of CCL volunteers in lobby meetings at Congressional offices at the U.S. Capitol to urge Congressional offices to pass effective climate legislation.
In the past two years, I have submitted two op-ed to the Oregonian, but the newspaper decided not to publish them. I still love to get more op-eds printed in newspapers in the future for climate action. In a sense, I am still living my dream of getting my name in the newspaper to try to make a positive difference in the world.
My tips how to get a climate opinion editorial (op-ed) published in a newspaper
Go to the newspaper's website to the opinion or editorial section and look for a tab for "Submitting a commentary piece or letter to the editor (LTE)."

In that section, such as this link to the Oregonian, it will note the email address to submit the op-ed or letter to the editor (LTE). Most importantly, it will state the maximum word count for LTEs (up to 250 words for The Oregonian) and a maximum for an oped (up to 500 to 600 words for the The Oregonian). For submitting an LTE or op-ed, keep a close limit on your word count. Don't go over the word count or the newspaper will reject it.

Keep the op-ed relevant to a recent editorial in the newspaper, a news story reported in the newspaper within the last couple of days, or a major event getting a lot of coverage in the media.

Newspaper editorial staff are more likely to publish your op-ed if your op-ed is in response to a recent editorial or news article in the newspaper.


If you are urging local members of Congress or state legislators to pass a specific bill, mention their names in your op-ed.

Members of Congress and their staff have Google alerts to when the Senators or Representatives' names are printed in published media. Thus, if you weave in the elected official's name in your op-ed, they are more likely to read it if their name in mentioned.


Don't get discouraged! It can be hard to get an op-ed or even a LTE published in major city newspapers due the volume of op-eds submitted by many people.

Thus, don't be too disappointed if your op-ed is not published due to possible high number op-ed submissions. Getting published can require multiple submissions of different op-eds to a newspaper over a period before one gets published. Be patient!


Due to the smaller number of op-ed submissions in local and neighborhood newspapers, try submitting an op-ed to your local neighborhood newspaper.

You can increase your chances of getting published submitted your op-eds and LTEs to local and neighborhood newspapers since they tend to receive less guest opinion submissions. Even more, these newspapers might be more eager to fill space in their pages due slow news periods or lack of other op-ed submissions.


To increase your chance to get published, submit op-eds to multiple newspapers.

At the same time, try to vary the wording to each newspaper that you submit. Look at their website at the maximum word limit and try to tie your op-ed submission a news story or editorial of that specific newspaper. Newspapers generally don't like to run generic op-eds from citizen writers that appear in other area newspapers.


Have fun! It is very rewarding to get an op-ed or a LTE published in a newspaper.

I loved submitting op-eds and getting published in the St. Louis Post-Dispatch and various Oregon newspapers over the years. It was very exciting seeing my name in print urging for climate action to hopefully reach many readers and online subscribers of these newspapers. I hope it created more awareness and inspiration for climate action. Maybe it helped others to find their voice to write to newspapers and their elected officials to act on climate. You just never know when you plant seeds when and where they are going to spout.

Final Thoughts
As nearly all my blogs, this is a very long as I shared my complete story on a given topic. I also wrote this so I could share all my published op-eds in one blog with my thoughts on each individual one that was published. Even with the very immense length of this blog, I could not find a way to highlight other peak moments for me.
One of my biggest achievements as a climate organizer was when Yale Climate Connections (YCC) published an article I wrote: "Communicating Climate Change in a National Park" on April 26, 2012. YCC defines itself as "a nonpartisan, multimedia service providing daily broadcast radio programming and original web-based reporting, commentary, and analysis on the issue of climate change." For years, I listened to their daily minute and a half podcasts/radio stories on "how people are responding to the changing climate." YCC featured my friend Larry Lazar on their podcast in 2015. They featured me on their podcast in November 2017, "Park ranger witnesses climate change firsthand."
I met Bud Ward, Editor of Yale Climate Connections, at the American Geophysical Union Conference in San Francisco in December 2011. We exchanged business cards at a social event. Months later, I emailed Bud to network for a career in climate communications and advice for attending grad school for climate communications. We chatting by phone in March 2012. I will never forget when Bud said: 'I can't help you with either of those, but I admit I have something a little more self-serving. Would you want to write a short article for Yale Climate Connections?'
I jumped at that opportunity. We agreed that I should write about my experience about communicating about climate change as a park ranger in the national parks. Bud offered to pay me for writing that article, which turned out to be a similar amount to a paycheck I was receiving as a park ranger at that time. Bud was very gracious with his edits after I submitted my writing to him. Before I had written and submitted any op-ed, this experience writing for Bud and Yale Climate Communications really hooked me on writing about climate change.
In addition, Clare Foran, former associate editor at The Atlantic, reached out to me for a phone interview in November 2014. She was writing an article about park rangers in the national parks discussing climate change with park visitors. Somehow, she found me, possibly from my Crater Lake climate change evening program that is on YouTube. Our phone conversation went well. She then wrote this article featuring me for The Atlantic, "Next Time You Visit a National Park, You Might Get a Lecture on Climate Change" that was published on December 12, 2014.
This was another high point for me, among many, as a climate organizer. It was another dream come true for me to get my name in newspaper and magazine publications promoting climate action. I hope my story and successes will inspire you and others to write and to act on climate. I look forward to seeing your name in a newspaper or magazine for climate action.