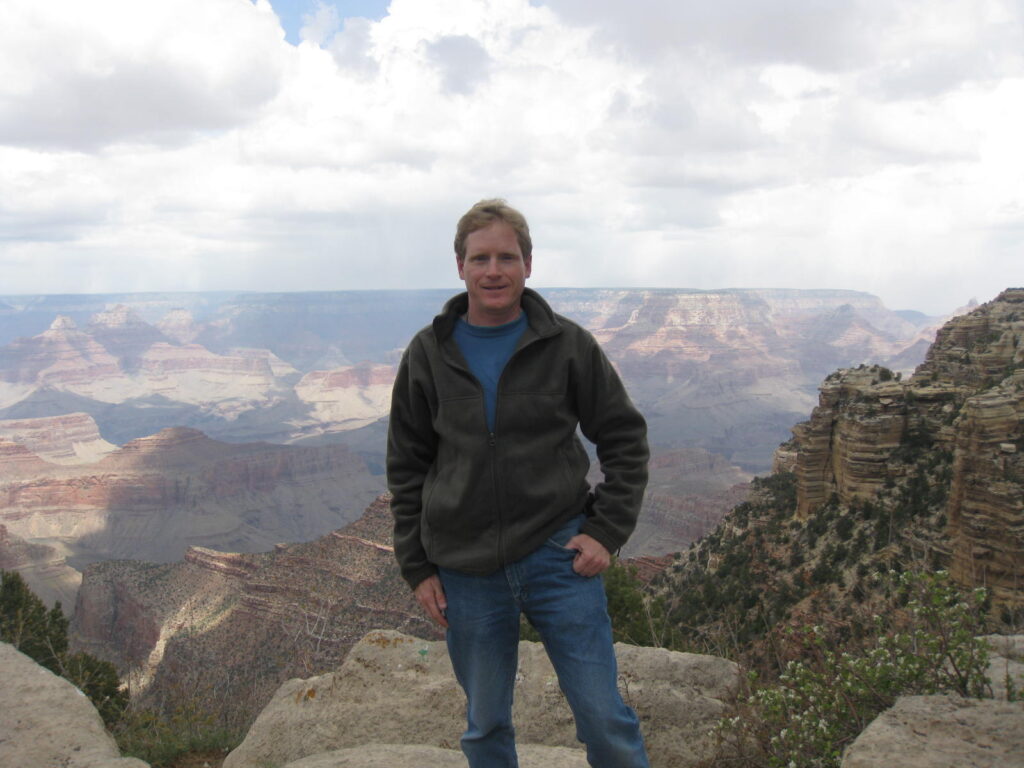 "Brian, I need you to come to Grand Canyon National Park and jump start our interpretive climate change program. Let's talk."
This was a very intriguing question posted to me by my friend Pete Peterson on December 5, 2011 on Facebook. I had just posted an update attending the American Geophysical Union (AGU) conference in San Francisco, California, one of the most prestigious annual scientific conferences in the world. I was there to network and see the presentations of the world's best climate scientists and communicators in the world.
At that time, Pete was a Supervisory Park Ranger at Grand Canyon National Park. I knew Pete from when both of us worked for the National Park Service at Crater Lake National Park from 2003 to 2005. We had struck up a friendship and had reconnected just a couple of years before on Facebook. I was at AGU to see if it could lead to new opportunities for me as a climate change communicator. Although Pete was not attending AGU, an opportunity like what Pete was throwing out to me was something I hoped could be gained by spending time at this AGU.
In the previous two years, I had developed the www.climatechangecomedian.com website in 2010 and I started giving my climate change evening ranger program at Crater lake National Park in August 2011. Pete was following my developments as a climate change communicator and giving climate change ranger talks at Crater Lake. He shared my deep concern about climate change. He thought my efforts could be helpful to inspire the park rangers he supervised at the Grand Canyon to chat with the public more effectively about climate change.
My first two times seeing the Grand Canyon
I latched onto Pete's invitation because I loved Grand Canyon National Park. I first saw the Grand Canyon on a family cross country vacation in the summer of 1987 and thought is was stunningly beautiful. Afterwards, I jokingly said that we did the Clark Griswald 1983 Vacation Movie thing of just visiting the south rim of the Grand Canyon National Park for a few hours. I recall we were only at Grand Canyon Village (or Canyon Village as the park employees like to call it) on the south rim for a couple of hours. Unfortunately, we had a lot to see on this very long looping road trip from St. Louis to Denver, Rocky Mountain National Park, Salt Lake City, Zion National Park, Bryce Canyon National Park, Las Vegas and then back home.
We were there on a beautiful sunny day, late in the afternoon and we only had a couple of hours there before we need to drive a couple of hours to Flagstaff to spend the night. The late afternoon sun seemed to shine a light on the beauty and cast dark shadows of the canyon formations. Although it was way too quick, we relished the time we got to there and I vowed to return for a longer visit.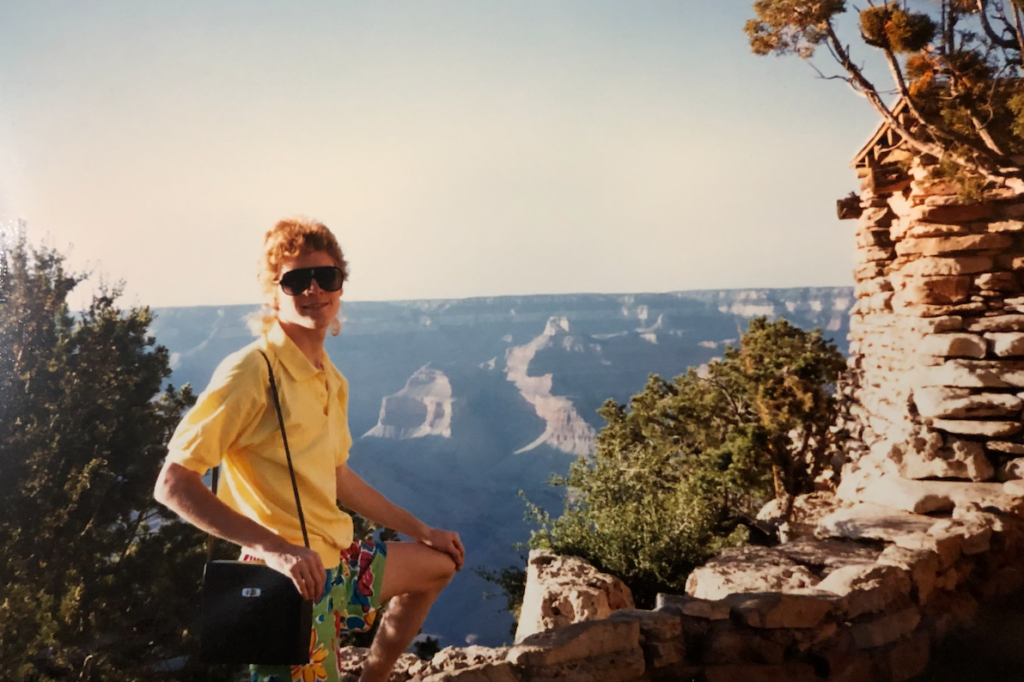 After I graduated from college in 1992, I worked summers at Crater Lake National Park, Oregon and winters in Everglades National Park, Florida. Working in the national parks, inspired me to fall in love with all the national parks. I wanted to see as many of them as I could during the travel times in April and October when I traversed across country on road trips from Crater Lake to the Everglades. My first girlfriend and I traveled to see Grand Canyon National Park in October 1995.
This time, we made a point to spend the night in lodging at the most inexpensive place at Canyon Village to give the national park a bit more time than when I saw it on our family vacation in 1987. This time, my then girlfriend and I drove the entire length of the Desert View Drive, which skirted along the south rim 23 miles from Canyon Village to Desert View. Like my first visit in July 1987, it was a clear sky and lovely day to take in the magnificence of the Grand Canyon.
In the years that followed, I kept bouncing back from Crater Lake National Park, Oregon to Everglades National Park, Florida, driving a different cross-country trips in between to see other national parks and scenic places. I had always wanted to return for a visit to the Grand Canyon, but I didn't seem to have the time in at least other trips that I drove across Arizona.
Hiking to the bottom of the Grand Canyon in December 2009
In December 2009, I visited my friends Steve and Melissa who lived in Flagstaff, Arizona, on a cross country trip from Oregon to St. Louis. Steve worked as a back country law enforcement ranger at Grand Canyon National Park. The three of us became good friends spending several winters as next-door neighbors in Everglades City while working in Everglades National Park. During my visit, we were swapping ranger stories from our experiences working in the national parks.
At one point, Steve just said to me out of the blue, 'Would you like to hike to the bottom of Grand Canyon National Park?
"Yes!" I quickly responded. "I would love to do that someday."
"No," Steve sighed. "I am talking right now, while you are visiting us."
"But, I don't have backpacking gear," I sheepishly confessed.
Steve then explainded, "I will set you up with a backpack and all the equipment. You will spend the night at the Phantom Ranch Ranger Station at the bottom. There's a guest room there at the law enforcement housing there where you will stay. You will just need to bring a change of clothes and lots of food."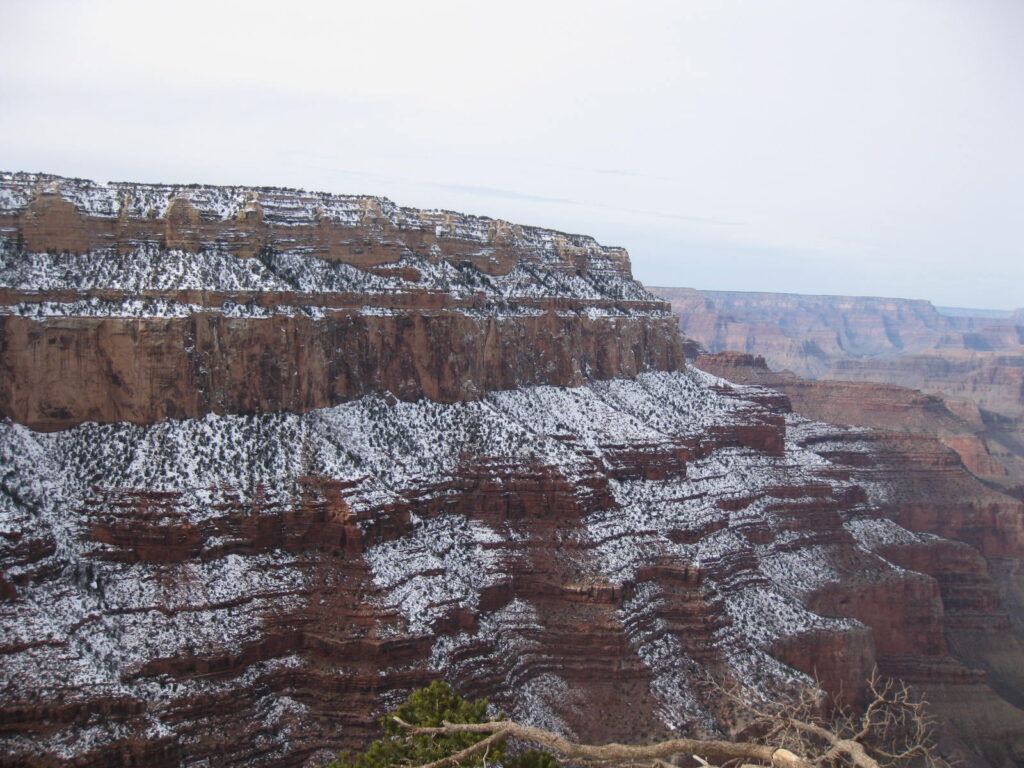 Immediately, my gut told me that this was a once-in-a lifetime experience that I could not refuse, so I instantly said yes. Steve went to the grocery store with me to help me stock up on lots of food. He advised me that I will be burning a lot of calories hiking down and then back up the trail. Thus, he recommended that I bring the amount of food I would normally eat, plus 20% more for the energy my body would need. Even more, he recommended lot of carbohydrates such as crackers, bread, etc. that will keep me fueled up and retain water. His advice was vital since I did not have a clue how to hike the Grand Canyon. I adhered to every tip he gave me.
Steve even generously lent me his YakTrax Traction Device or "shoe chains" to slip over my hiking boots for the upper part of the trail. I just shorten the name to "YakTrax" whenever I use them. Canyon Village is over 7,100 feet above sea level. It had snowed there recently. Thus, the upper part of the trail was a sheet of ice with well over 1,000-foot drop offs on one side of the trail. When I started walking the trail, those YakTrax were a life saver because the ice did not look forgiving at all. It wanted to cause one to slip and go shooting off the edge. With the YakTrax and my trekking hiking poles, I felt I was in full command of the icy trail. The YakTrax helped me feel like I was walking on a hard dirt surface.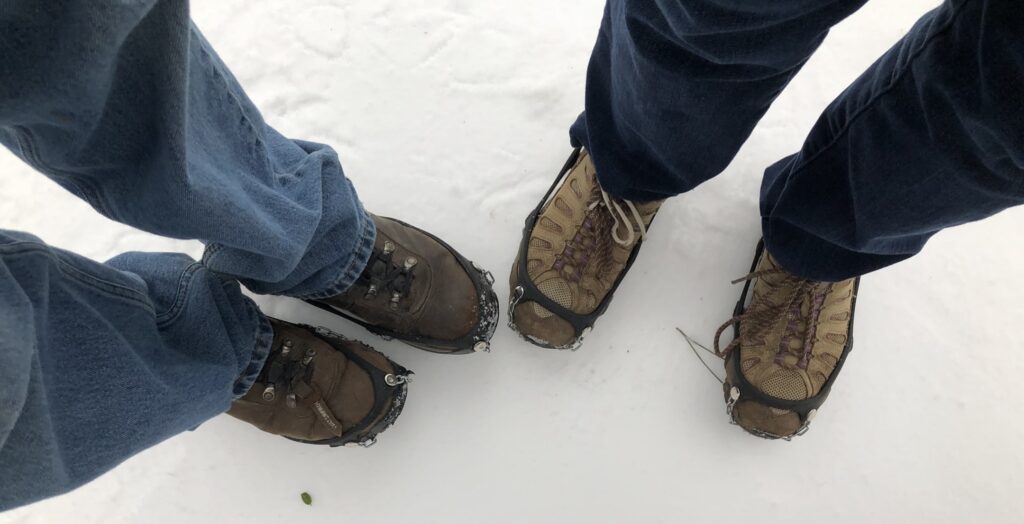 Steve advised me to park my car at Canyon village near the Bright Angel Trailhead. I would then ride a free shuttle bus from Canyon Village a couple of miles to the South Kaibab Trailhead. I was there one week before Christmas, and I was amazed how many other hikers and backpackers were using the shuttle bus and were at the trailhead. The Grand Canyon bus shuttle felt more like an airport city bus service at rush hour. Even more, it was fascinating to see all the people at the South Kaibab trailhead with their hiking and backpacking gear, probably most of them knew a lot more about how to plan for this trip than I did.
By this time, I had worked 17 years in the national parks. During much of that time, I had issued backcountry permits to visitors wanting to overnight backpack in Everglades National Park. The park trained me on the advice to give the back country campers on the gear they would need and how much time to allow to travel to various backcountry camp sites. Thus, I knew some, but my lived experience was still very little. I did join friends and co-workers on overnight canoe trips in the Everglades and once I overnight backpacked with a girlfriend in Redwoods National Park. As long as someone else planned all of these trips and lent me some of their gear, I was always a 'yes' to do a trip like that. As far as me planning an overnight backpacking trip, never.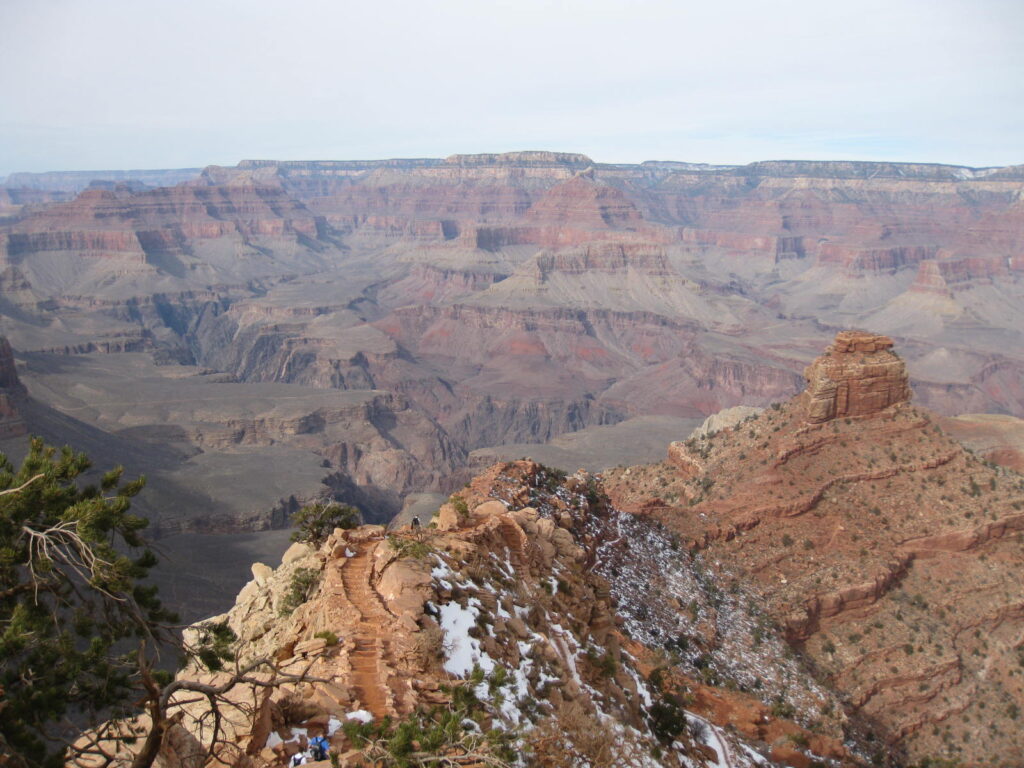 I had grown very spoiled to hiking on day trails in the national parks and then returning to sleep in my park housing comfortable bed at night. I also enjoyed staying in a motel in or near a national park to do day hikes and sleeping in a comfortable bed at night. Or I would visit a friend during a cross country trip who lived in or near a national park to do day hikes and then stay in their spare bedroom at night. The closest to 'roughing it' for me was driving my car to a park or nearby campground, pitching my tent, and then hiking all day in a national park. Even when I was camping in a tent, I would still go out of a nice meal at a lodge restaurant in a national park or eat in a nice restaurant for dinner and breakfast in a nearby town.
Thus, when I was seeing all these serious backpackers and hikers on the shuttle bus and at the South Kaibab Trailhead, I got a momentary churning in my stomach with an internal voice saying to me: 'What the hell are you doing? You are out of your league!'
At the same time, I was in safe hands with Steve. He loved his job of working as a backcountry ranger at the Grand Canyon and regularly hiking down and up the canyon. He knew exactly what I needed to pack and which trails to use to have an excellent trip. Steve was one of the smart rangers I had met. A man of great intelligence and a very deep thinker. He really should have been a scientist. Sometimes, I felt intimidated by all of his knowledge, but honored that he would let me hang around him as a friend. With Steve advising me on this trip, I felt like a pro.
As far as trail options, Steve advised me to take the South Kaibab Trail down and then return the next day on the Bright Angel Trail. The South Kaibab Trail is considered much more scenic than the Bright Angel Trail. From the Canyon Village trailhead to Phantom Ranch, the South Kaibab Trail is 7.4 miles long and has an elevation drop over 4,900 feet. The Bright Angel Trail is 9.9 miles long and has an elevation drop of almost 4,500 feet. Thus, the Bright Angel Trail is a bit less strenuous and steep going back up to Grand Canyon Village.
I started down the South Kaibab Trail late morning on December 20, 2009, just five days before Christmas and around the time of the winter solstice. It looked like winter at the top with the upper portion of the Grand Canyon covered and snow. There was high wispy clouds that made the sky looked overcast. It looked and felt like winter at the upper part of the Grand Canyon.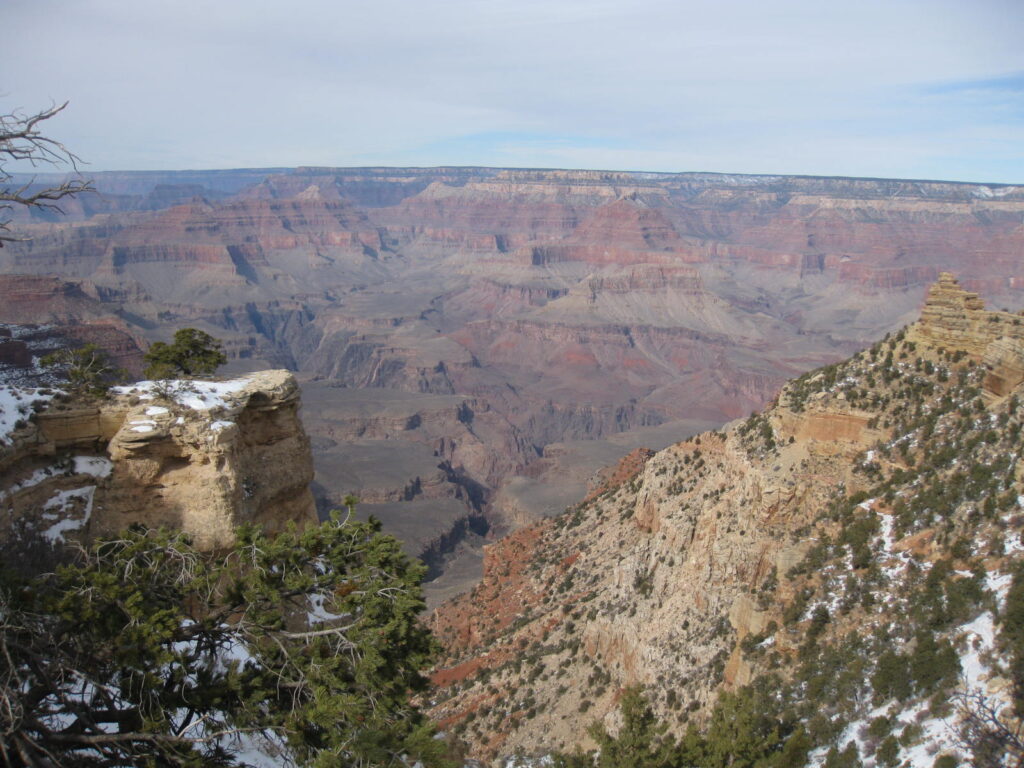 As I walked down the trail, the beauty of the Grand Canyon was beyond words. For the previous four summers at Crater Lake National Park, I had walked down and up the Cleetwood Trail once or twice a week to narrate the boat tours as a park ranger. The Cleetwood Trail is 1.1 miles long and drops in elevation around 700 feet and has some lovely views of Crater Lake. The Cleetwood Trail is noted as a strenuous trail in Crater Lake information sources, not recommended for visitors with health issues. At 7.7 miles long and an elevation drop the South Kaibab Trail felt like 'many Cleetwoods' with the physical exertion going down the trail with many incredible views. It felt like every time I turned a corner on a switchback on the trail, I got a new view of the Grand Canyon. I could not take enough pictures.
This was a life changing experience and one of the highlights of my life to hike to the bottom of the Grand Canyon. This was something that I hoped to do in my wildest dreams, but I probably would not have been able to do without the connections of my friend Steve. He set up the backcountry permit for me, got me a reservation at the spare bedroom at the ranger station, loaned me the gear, advised me on what food and trails to take, and gave me the confidence that I could do this. I will always be grateful to my friends Steve and Melissa for this opportunity.
There were surprises on this trail such as tunnels, especially as one gets close to the bridge that goes across the Colorado River. Except for the occasional planes flying overhead and hikers that I ran into less and less the further I got down the trail, it was a very peaceful and quiet experience. I had also never been on a trail with so many switchbacks on a trail. Even more, this was the most water bars I had seen on a trail, especially the last couple miles of the trail. A water bar is defined as a rounded wooden or rocky ridge in the trail or ridge and channel constructed diagonally across a sloping road or utility right-of-way that is subject to erosion. Used to prevent erosion on long, sloping right-of-way routes by diverting runoff at selected intervals.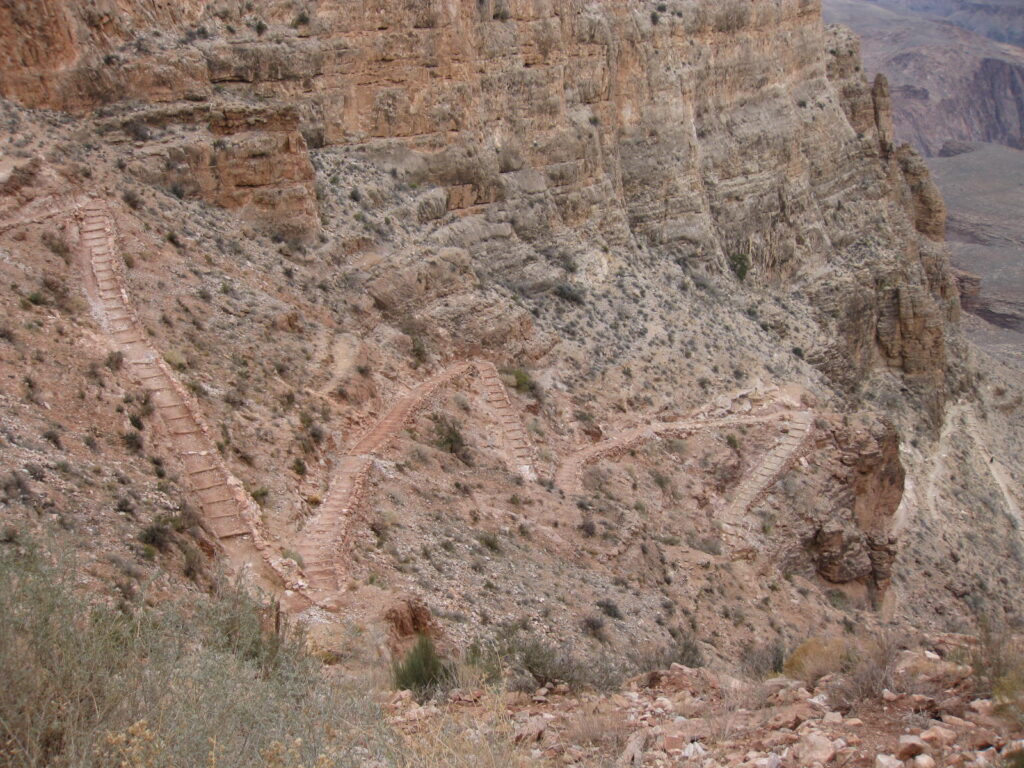 With the steepness of the South Kaibab Trail, plus the water bars, turning the trail into steep steps, I started getting shin splints or cramping on the sides of my legs on the last mile or so down the trail. It started to hurt to walk in that last mile, even though the scenery was still incredibly beautiful, and every step got me closer to the destination of Phantom Ranch. I was certainly looking forward to a good night sleep to rest my legs and I knew I was going to sleep well from all the exercise.
The bottom of the Grand Canyon was fascinating. The Colorado River made an ever present sound of water rushing by in a hurry. The foot bridges across the river almost looked like a miniature New York City span bridge, like the George Washington Bridge. I got there a half hour before it got dark to take in the scenery there. It was fun to touch the purplish colored Vishnu rocks along the trail as I got close to Phantom Ranch. Geologists consider those rocks to be almost 2 billion years old, probably the oldest rocks on Earth I have touched and seen up close. As I was losing daylight at the bottom, I photographed 4 deer foraging on grasses and leaves of the bushes along the shoreline of the Colorado River.
The two law enforcement rangers at the park housing were pleasant but surprised to see me inside the shared housing unit. I shared that their co-worker and my friend Steve Rice had reserved the extra bedroom for me for the night. They made me feel right at home as one was cooking and the other one was sitting on the couch watching TV. I brought from deep inside my backpack the packaged food for my dinner. It all tasted so good after a very big day of hiking.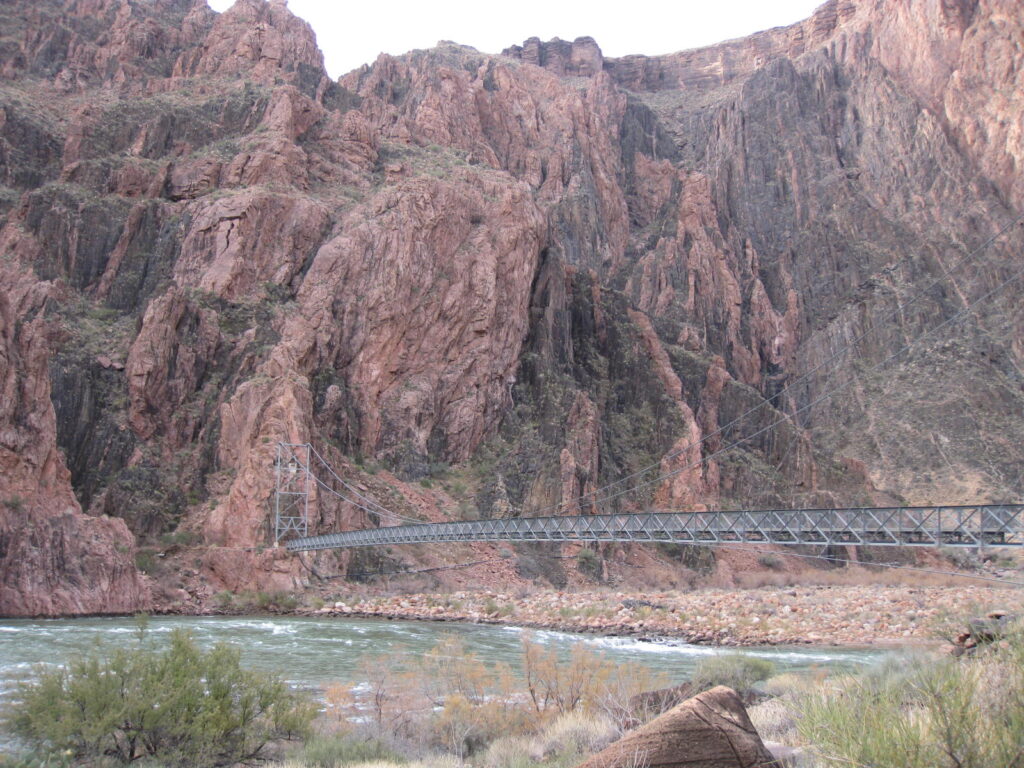 Not much to do at Phantom Ranch and I was wiped out from the long hike, so I went to bed early and got a very good sleep. The next day, I woke up early but very rested, eager to complete the over 9 miles and the 4,500 feet elevation gain of the Bright Angel Trail. The weather was overcast for the second day, which was fine for me. I just didn't want it to be cold and rainy on the slog back up the trail.
One of the changes I noticed going back up the Bright Angel Trail, as opposed to the South Kaibab Trail, was that the mule trains went up and down the trail. The first mule train I saw just had a lead rider and they looked like they were carrying supplies down to Phantom Ranch. The mule trips had a person riding on each mule down to Phantom Ranch. The riders looked so thrilled to be riding the mules, posing for pictures that I took of them. Maybe I had been hiking too long and getting delusional, but I could have sworn that some of the mules on the mule train were even smiling at me.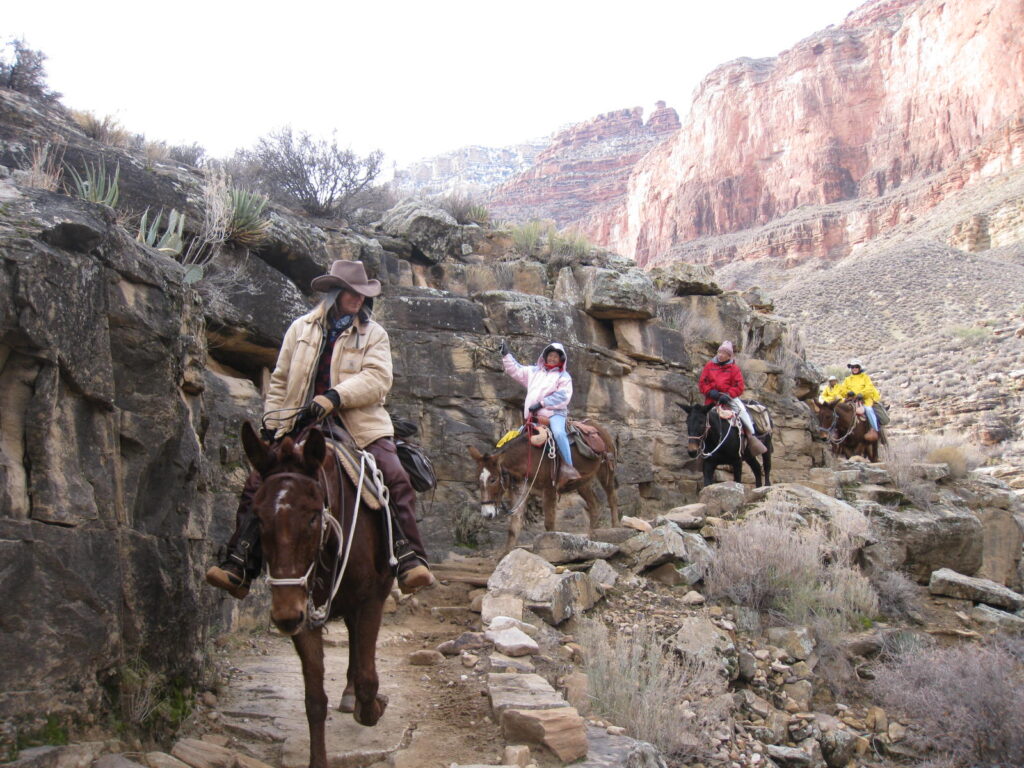 Lots of switchbacks going up the last few miles of the Bright Angel Trail. In a sense, it feels like you will never get to the top. It felt like I was getting closer when I started seeing the snow covering the upper Grand Canyon on the last upper mile or so on the trail. However, when I reached the trailhead of the Bright Angel Trail and soon saw my car, I was never so happy to see my car after such a long hike. I called my younger sister and a few friends from one of the rim hotels lobbies in Canyon Village to let them know that I had just conquered the Grand Canyon.
I then drove over two hours to Flagstaff to treat myself to a lovely Thai dinner, since Flagstaff has some great Thai restaurants. The next day, I woke up it was December 22nd, and I was going to have to make efficient time traveling on the road to make it home in time for Christmas to see my parents, sisters and their families. With encountering some snowy and icy road conditions in Missouri, I barely made it home on time on the evening of Christmas Eve. This first trip down and up the Grand Canyon was a fantastic experience that I did not know how I would top in my life.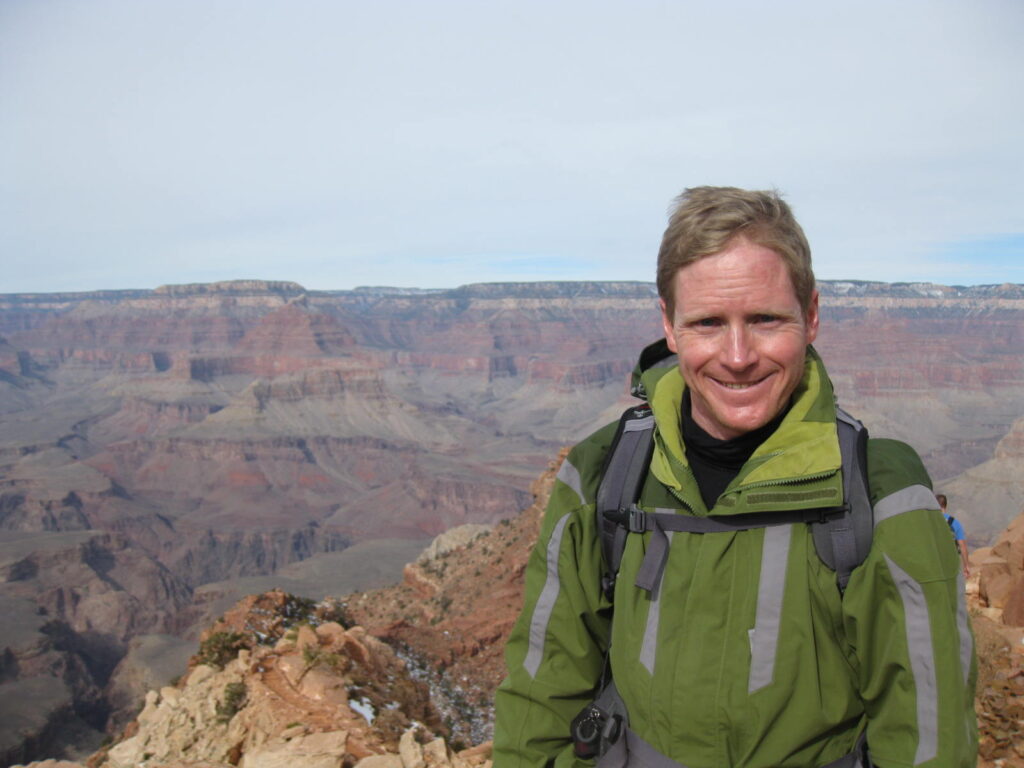 Hiking the Grand Canyon, North to South Rim, November 2010.
One year later, I visited my friends Steve and Melissa in Flagstaff. This time, they had a six-week-old baby Henry and Steve's sister was visiting to see Henry. Steve and Melissa were happy to see me, but they looked overwhelmed having a new baby. Even more, Steve's sister was visiting, in addition to me. It looked like they just wanted to get me out of the house, and I did not blame them. Steve then suddenly asked me: "Hey Brian, would you like to hike the Grand Canyon again?"
"Sure!" I quickly responded. "I was really hoping you would ask me that again."
Steve replied: "Since you just hiked to Phantom Ranch last time, I think you should try hiking hiking from the north to the south rim."
"Wow!" I responded. "How would we make that work?"
Steve: "This is what I am thinking. We will drive separately to the north rim tomorrow. We will need to camp in a campground, somewhere north of the North Rim. You will park your car at the parking lot at the North Rim. Melissa will drive your car to the South Rim, to the South Kaibab Trail parking lot. It will take you about 3 days to hike Rim to Rim. I will supply you with a tent, sleeping bag, and water filter if you don't have one. How does that sound?"
This sounded like another incredible adventure that I could not say no. The next day, we did leave Flagstaff with Steve, Melissa and Henry in one car and me driving my car. This was an impressive drive into northern Arizona. We stopped at the Navajo Bridge, which crosses the Colorado River 470 feet (143 m) above the water, spanning the steep cliffs of Marble Canyon on either side. Steve, Melissa, Henry and I stopped to walk the Old Navajo Bridge. With the high elevation of the bridge that seemed to soar above the river like a bird, I felt high anxiety walking on that bridge. I was afraid to take any pictures with the thought that a puff of wind or an unexpected bump could send my camera falling into the deep river canyon below. Thus, I clung to my camera instead of taking any pictures of this engineering marvel.
While walking halfway across the Old Navajo Bridge, I momentarily forgot my intense fear of heights. I was excited to spot some endangered California Condors nesting and hanging out under the new bridge. I bravely got out my camera while safely standing several feet back from the bridge railing. Even with the fear of heights I experienced on the bridge, I could not pass up this opportunity to take a picture. This was the first time I remember seeing and photographing California Condors, one of the most endangered bird species in the world.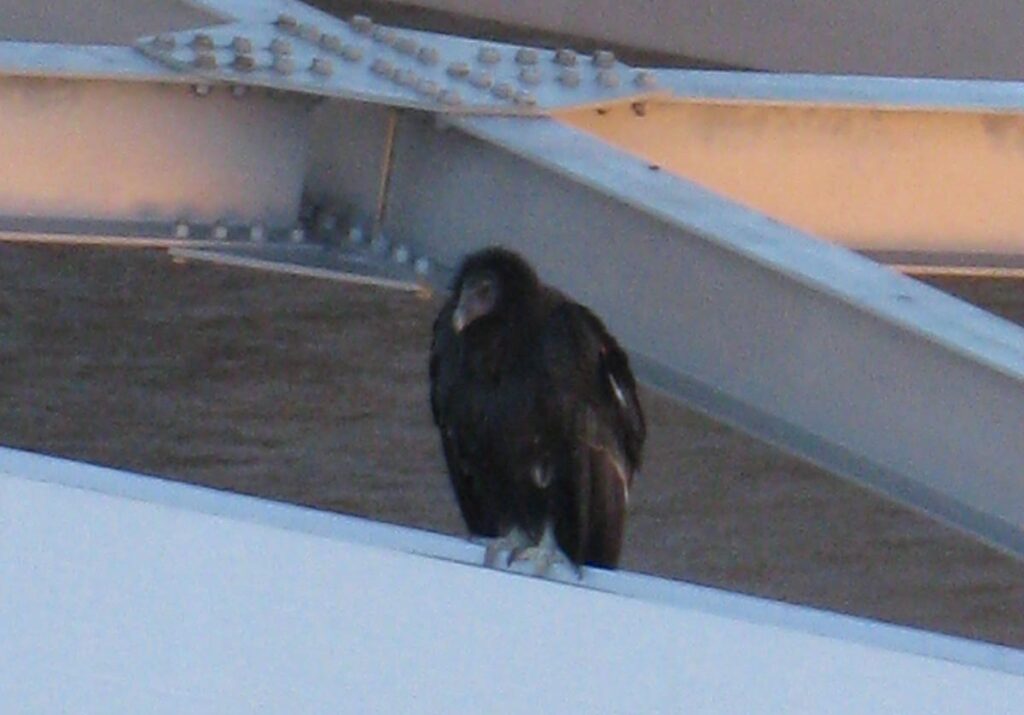 That evening, we did camp north of the North Rim of Grand Canyon National Park. I remember that it was quite windy and even a bit cold that night. Steve, Melissa, and Henry were in a tent not far from me. Henry did cry a couple of times during the night. However, Steve and Melissa seemed thrilled to be taking Henry on his first camping trip of probably many in the future.
The next day, we drove to the parking lot of the North Rim of the North Kaibab Trailhead. There was not another car in sight. It was a huge parking lot that looks like it is probably bustling in the middle of summer. That day it looked like a deserted place that no one dares to visit this time of year. Steve and Melissa were eager to get back to Flagstaff, so I handed Melissa my keys and soon they were gone.
I actually had some fear in my stomach doing a solo backpacking trip for the first time in my life. I asked as many questions as I could before they left. At the same time, I got the feeling that they got tired of my questions and just wanted to leave. It was time for them to set me free on this journey. I was now completely on my own without another person in sight. Steve and Melissa had just given me one of the best gifts in my life. Yet, part of me was wondering: What in the hell did I get myself into?
The North Kaibab Trail was spectacular in its own way, different than the South Rim Trails. It starts at a higher elevation of over 8,000 feet, but it did not feel as steep going down, However, there were still lots of narrow switchbacks and several bridges connecting the switchbacks to wind down into the Grand Canyon. The solitude was fantastic. I don't think I saw another person the whole time I was hiking that day. Maybe one or two other people hiking or at the campsite that evening. The only sound I heard the entire day was the late fall wind whistling through the canyon. The sound seemed to warn that winter is coming and won't be avoided if one spends too much time in the canyon. The north side of the canyon looked lusher with some small trees, bushes and some grass than I had remembered walking on the south rim trails a year before.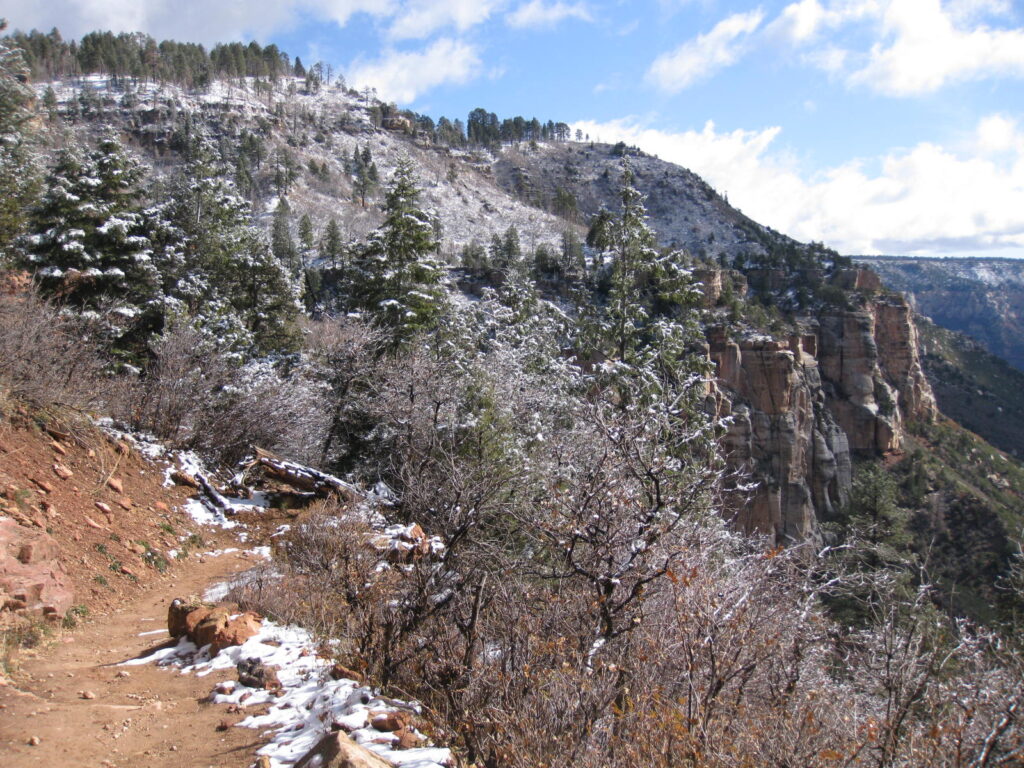 I made it to Cottonwood Campground to spend the night. Not far from the campsite, Steve advised me before the trip to fill up on water for the next day, using the water filter he lent me. to get It ended up being kind of a warmish night without a cloud in the sky. The stars were fabulous without hardly any city lights. I remember pulling down the tent for part of the night just so I could fall asleep seeing the stars. The next day was a relatively flat seven-mile hike to Phantom Ranch, with some interesting short side trail to see a waterfall, Ribbon Falls. I did see a small number of hikers that day, primarily by Ribbon Falls
I made it to Phantom Ranch by late afternoon. Steve arranged for me to stay at the VIP cabin at Phantom Ranch, one of the nicest places I have stayed anywhere. This is the cabin where the park superintendent stays when visiting Phantom Ranch. Its where other dignitaries liked to stay when they hiked the Grand Canyon, such as the late Senator John McCain. Recently, it had been renovated. It felt like the Hilton there with a four-poster full size bed, a washer/dryer, automatic dishwasher, a phone and plenty of outlets to charge the battery of my digital camera, my cellphone and my iPod. Steve heavily emphasized in his authoritative law enforcement ranger voice, but also speaking as a good friend going out of a limb for me, that I will leave the cabin "as immaculate as I found it, if not cleaner."
I could not help myself that I called my mom and my then girlfriend from the land line phone at the VIP Cottage using my long distance calling card. The reception was great as I shared with them that I was at the bottom of the Grand Canyon. Phantom Ranch primarily had tent camping sites, cabins, and four hiker dormitories (two for men and two for women). It felt like I was staying at the best place by far at Phantom Ranch. I was certainly not roughing it that night.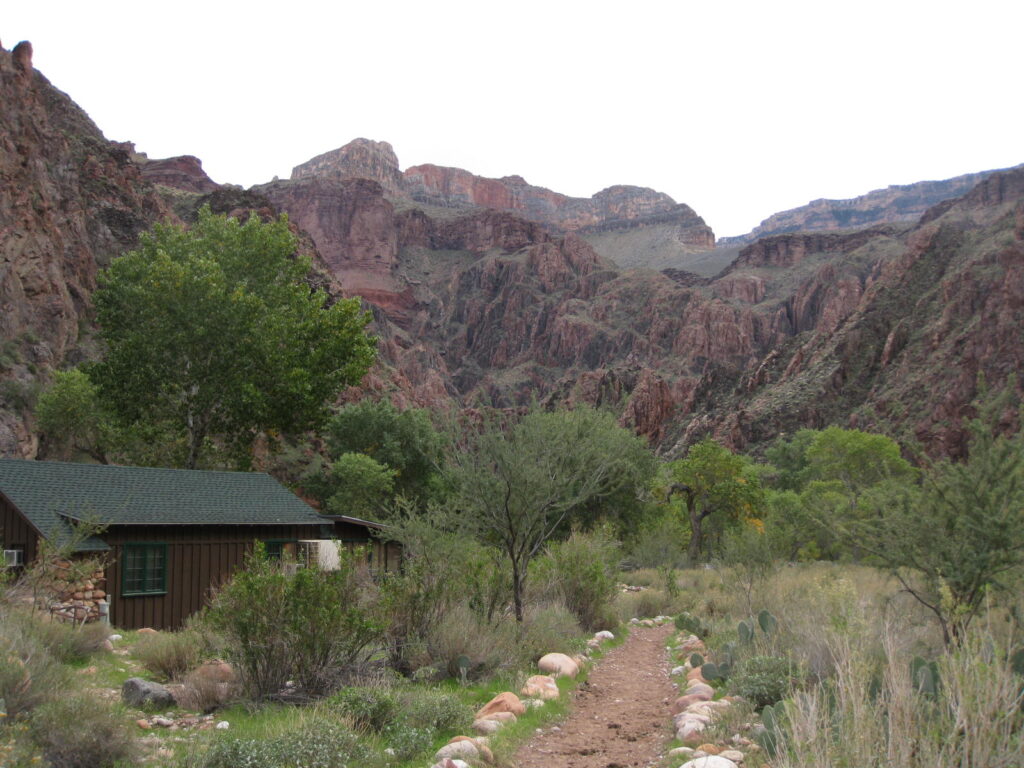 That evening, I went to a ranger campfire talk led by a ranger named Mandy Toy. She shared how she typically works around two weeks straight in the canyon and then she gets two weeks off. The starting day of her shift is walking down the Grand Canyon and her ending shift day is walking back up the Grand Canyon. She loved her job but reflected that it gets hard on the knees. She informed us that one of her co-workers had to quit after doing that job for years because it became too hard on her knees.
The next day, I went back up the South Kaibab Trail, doing the trail in reverse from the previous year. As I walked across the bridge that goes above the Colorado River, I got to wave and briefly say hello with some of the water rafters below me. They were full of enthusiasm to be rafting down the Colorado River in the Grand Canyon. I then had to hike up the South Kaibab Trail, 7.4 miles from Phantom Ranch with an elevation gain of almost 4,900 feet.
With my fully charged iPod, I listened to my favorite music most of the day to motivate me to go up this steep trail while seeing and stopping for the magnificent scenery along the way. The weather was mostly sunny that day, with lots of blue sky, but still, lots of small puffy clouds for dramatic effect for photos. With the bright sun, the different colors of the rocks in the canyon seemed to pop out more to make fabulous photos.
From the year before, I learned firsthand that November and December are ideal months of the year to hike to the bottom of the Grand Canyon. In the winter, in those months the average high temperature at Phantom Ranch is around 60 degrees Fahrenheit. In the summer, the temperature at Phantom Ranch can be well over 100 degrees. My friend Steve told me the well-worn joke at the Grand Canyon that 'Only fools and rangers go down to the bottom of the Grand Canyon in the summer.'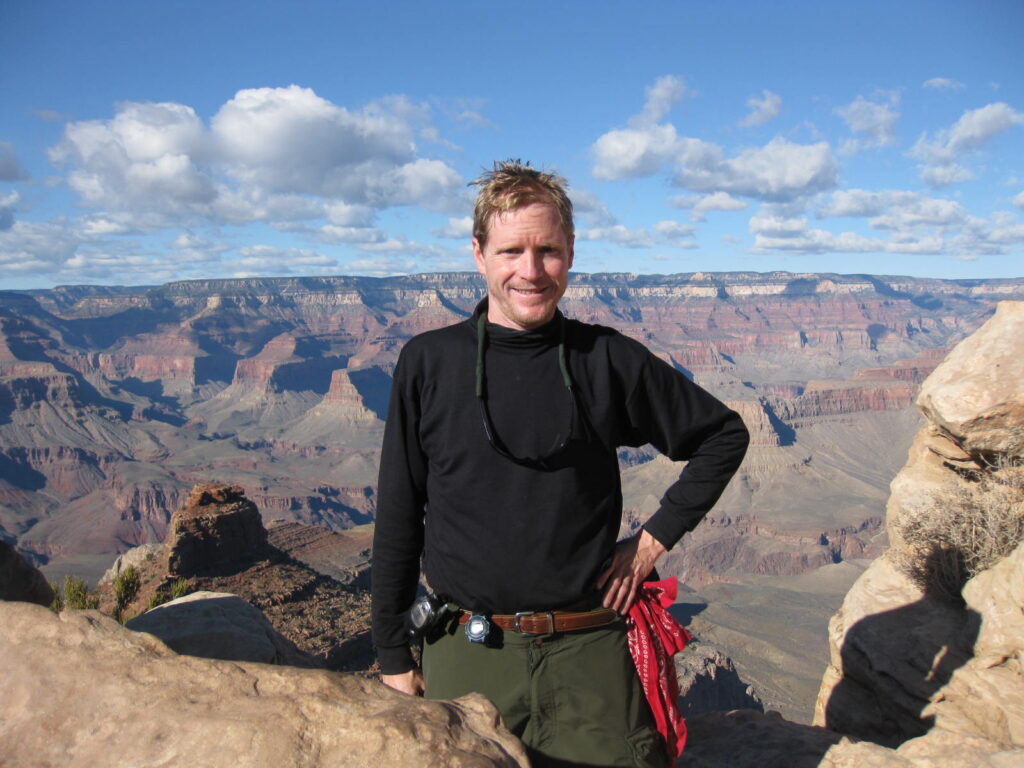 In late afternoon, I was so happy to see my car parked not far from the South Kaibab Trailhead. Melissa and Steve did a fabulous job of getting my car their safely so I could drive it away from the canyon.
This was a life changing experience for me. It was the first time I had overnight backpacked by myself. I had really stretched myself out of my comfort zone. It was very rewarding to jump at an opportunity that may never come again and to be open to big opportunities that can appear out of nowhere. It reinforced my deep love for the national parks, the outdoors, and connecting with world class wilderness areas. Even more, it reminded me of the incredible planet where we live. Finally, it inspired me on a higher level to want to protect our planet from the threat of climate change and other human caused harms.
After this successful trip hiking from the North to the South Rim of the Grand Canyon, I did not know how I would top that for a Grand Canyon experience. Fortunately, my friend Pete Peterson had an idea for me that could top that.
Giving a climate change talk to over 200 park visitors at Grand Canyon National Park
Just one year later, December 5, 2011, Supervisory Ranger Pete Peterson asked me in a Facebook post:
'Brian, I need you to come to Grand Canyon National Park and jump start our interpretive climate change program. Let's talk."
With all my fantastic memories of visiting Grand Canyon National Park over the years, I was not going to pass up this offer. Let me counter that, even if I had never visited Grand Canyon National Park, this was still a huge opportunity not to be dismissed because it is Grand Canyon National Park.
Pete Peterson and I kept in touch over the next year to brainstorm when I could come to speak at Grand Canyon National Park. In early 2013, we finally settled on a date of Tuesday, May 7th. At that time, I still worked as a seasonal park ranger at Crater Lake National Park. Thus, it was ideal to fit in a talk at the Grand Canyon during a cross country drive from St. Louis, where I spent the winters to Crater Lake.
I arrived the day before I was scheduled to speak driving into the East Entrance on Hwy 64. I drove on The Desert View Drive, stopping at the Desert View and other pullouts to get views of the Grand Canyon that day. The canyon looked at bit hazy, but it was still a magnificent site, bringing back great memories of hiking to the bottom just a couple of years before.
At the Desert View Visitor Center, I saw the signs advertising the upcoming ranger evening programs at Grand Canyon Village. It was exciting to see my name and ranger talk listed on the posted public announcement of the scheduled evening ranger programs.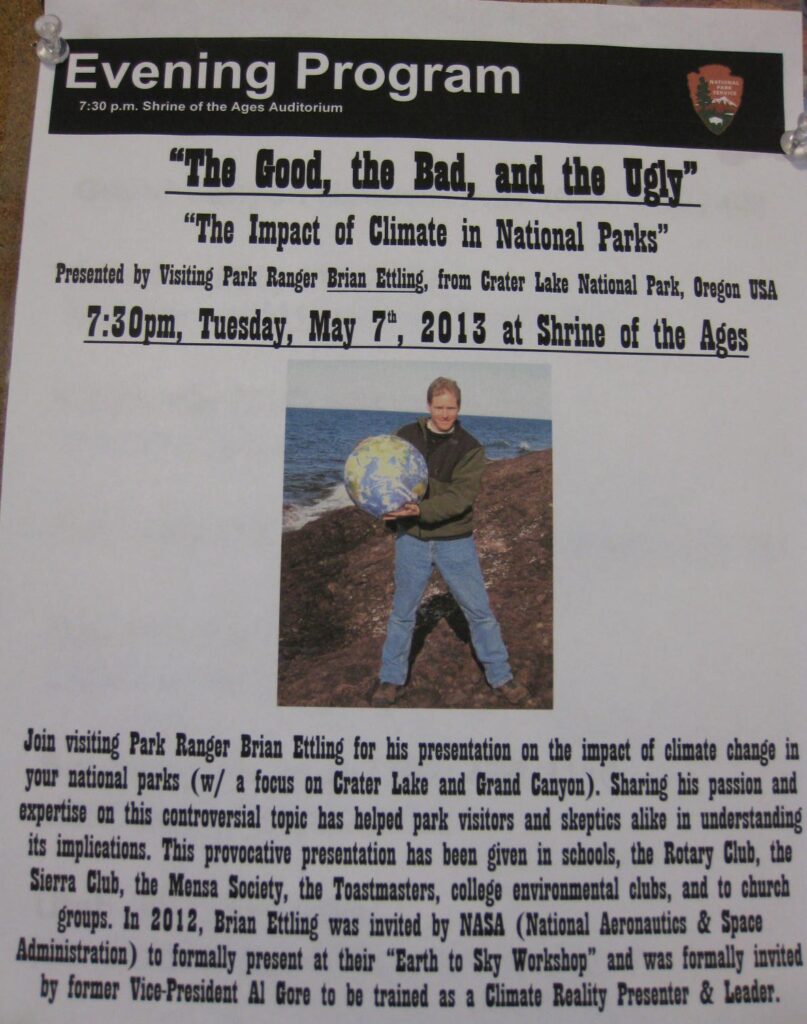 As I arrived to stay with Pete and his wife Carrie at his home in Canyon Village in late afternoon, Pete informed me that I would be speaking at the Shrine of the Ages Auditorium in Canyon Village. Pete shared that many of nearby Grand Canyon Park rangers were excited for my talk and planned to attend tomorrow. Even more, these talks were well attended by park visitors, so I should expect an audience of over 200 people.
My talk, The Good, The Bad, and The Ugly, was geared for a Crater Lake audience, so we agreed that I needed to include some information about the Grand Canyon. Gulp! I only had 24 hours to learn some facts how The Grand Canyon was impacted by climate change and how the Park Service is responding to the threat of climate change. Pete had a busy day for me the next day to meet with park scientists and give me tours of Park buildings that were recently designed to be energy efficient and park friendly.
Tomorrow was going to be a very stressful day. It was really sinking in that I only had hours to learn about the impacts of climate change on the Grand Canyon and how the park was taking action to be part of the solution. I would then be presenting this information to an audience of over 200 park visitors, staff and even park scientists in the audience. Most of this park staff and scientists probably had an encyclopedic knowledge of the Grand Canyon. It felt like I had only given myself a few hours to put together and defend a masters dissertation for a huge audience. Just like each time I start my hike to the bottom of the Grand Canyon, part of me wondered: What in the hell did I get myself into?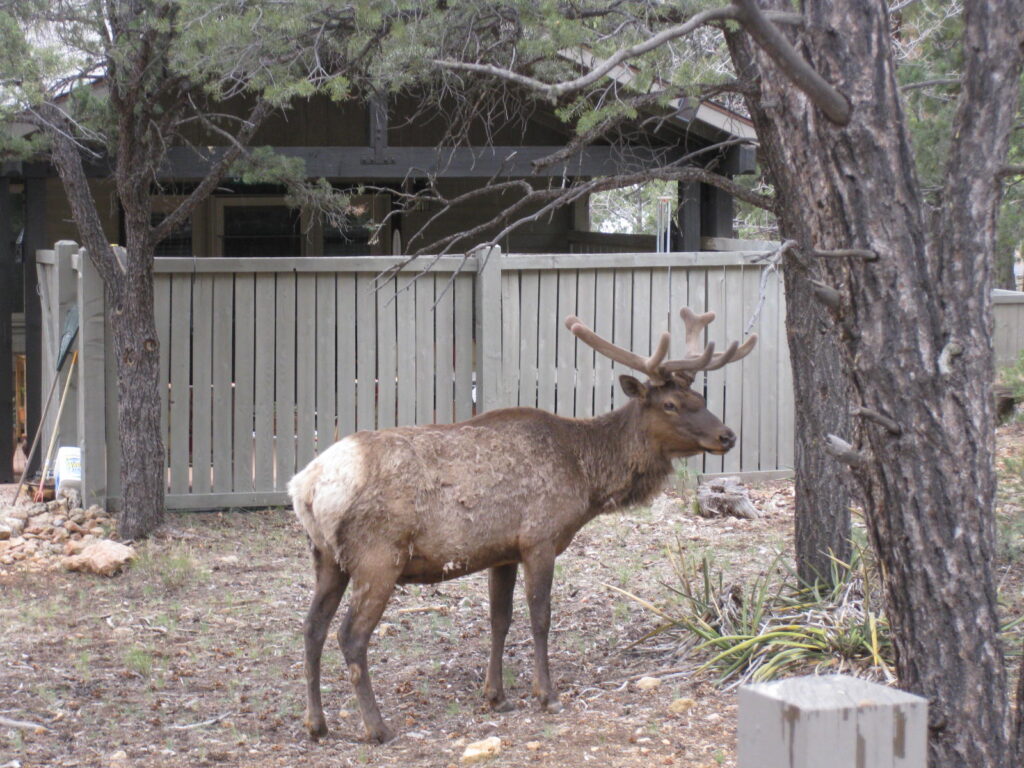 While hanging with Pete and Carrie at their park house in Canyon Village, we saw an elk not far from their back porch. This amazed me because I had not really seen any elk in all my years working at Crater Lake National Park and just a few times visiting other national parks. This might have been the closest I had ever been to seeing and photographing an elk.
At the end of the day, Pete and his wife Carrie took me to see a wonderful sunset from an overlook of the Grand Canyon somewhere in the Canyon Village area. The overlook was crowded with lots of other visitors to get a glimpse of the sunset. The Canyon and the sunset were so captivating with the bright orange glowing colors that you could not blame anyone for wanting to be there, even if it felt like I had to out elbow others to get a photo.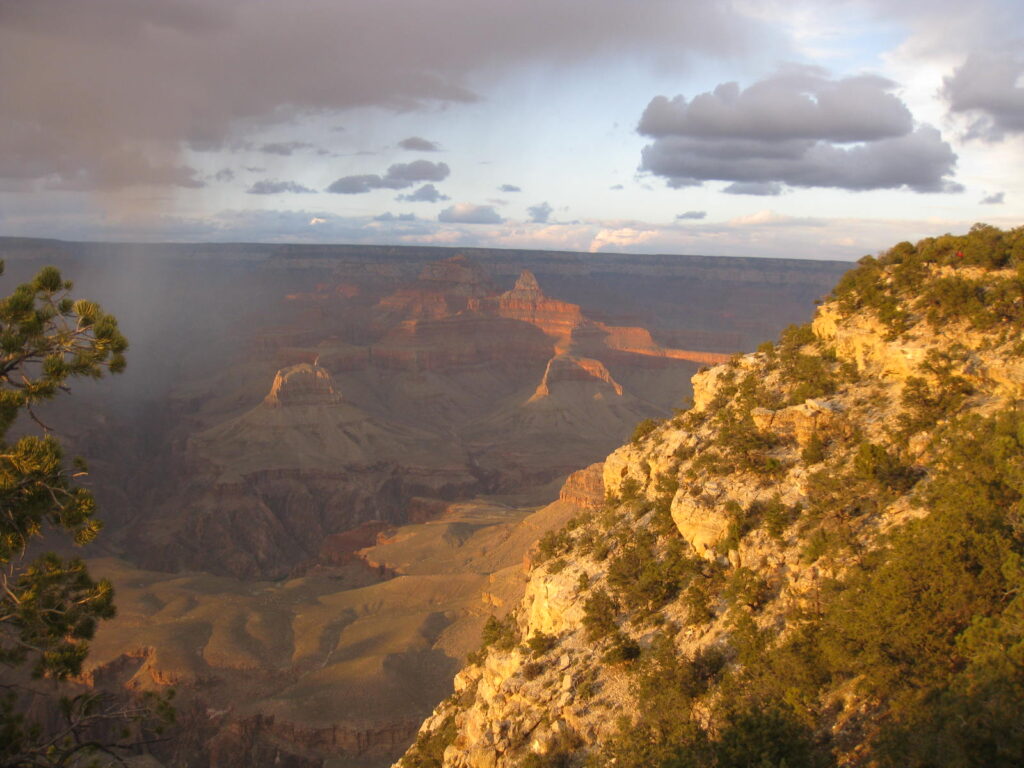 Tuesday, May 7th turned out to be me a very busy day for me. Pete first scheduled me to speak briefly towards the end of the weekly park ranger staff meeting about my efforts talking about climate change using humor. This was the first thing in the morning of a required staff meeting. I felt a little intimidated because I did not know these rangers and they didn't know me. Pete had me speak right before the meeting adjourned, so many of these folks were eager to just start their work assignments for the day. Basically, I was nervous. I didn't feel funny in that moment, and they didn't feel like laughing with any humor I might have wanted to share at that moment. It did not feel like my day was off to a good start.
I had to shake off that morning experience that got off to an ok start and go with the agenda that Pete had planned for the day. One of our first meetings was with Stephanie Sutton, District Interpretive Ranger for Canyon Village. She briefed me on the science of phenology, which is the study how seasonal life cycle events for plants and animals are impacted by variations in climate. Of special concern at Grand Canyon are the gambel oaks.
According to Stephanie, with the warming climate temperatures, gambel oaks are now putting out their leaves earlier in the spring. The winter moth caterpillars then emerge earlier to take advantage of the earlier leaves. Unfortunately the Pied Flycatcher still arrives around the same time during the spring migration only to find all the caterpillars gone into their cocoon stage. As a result of no food, scientists noted up to a 90% population decline of the Pied Flycatcher.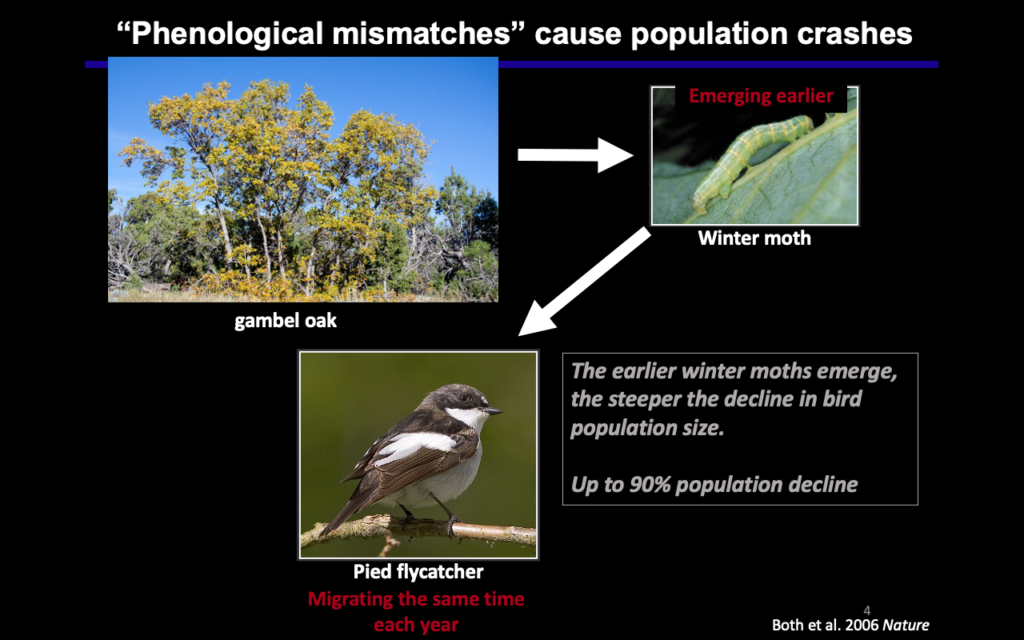 This helped to share how climate change was impacting the Grand Canyon. It was good evidence to latch onto how climate change was impacting the trees and birds of the Canyon area. The Grand Canyon itself is hundreds of millions of years old. The rocks don't care about modern climate change. Heck, the rocks have seen many climate changes. On the other hand, climate change can literally spell death for some of the trees and plants that calls the Grand Canyon home. Thus, I had something to point out how climate change was impacting the park's ecosystem.
As I continued to quickly learn and cram to give my Grand Canyon Evening program that evening, I learned that Grand Canyon National Park is doing what it can to be a Climate Friendly Park. Pete showed me where The South Rim Visitor Center has multiple solar panels to provide most of its electricity. He then took me to see a large cistern tank next to the visitor center to reclaim rainwater for landscaping and restroom toilets. Pete then showcased on this tour how South Rim Village has a very convenient shuttle bus service and bike rentals so visitors can drive less and not idle in traffic jams.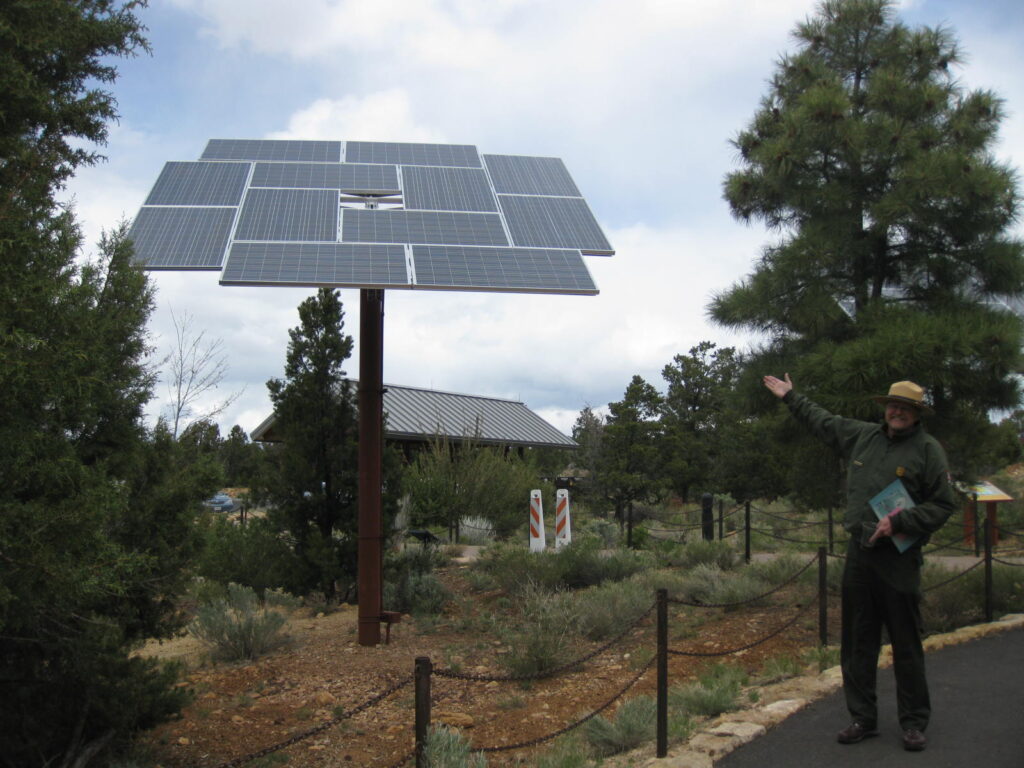 Next Pete showed me the recently constructed maintenance and natural resource offices are LEED certified (Leadership in Energy and Environmental Design) by the US Green Council. According to Grand Canyon Park signage, "All new buildings in the park meet strong standards for sustainable materials and energy efficiency. Building features include:
· Passive heating and cooling
· Low-flow plumbing fixtures.
· Efficient lighting
· Recycled materials
I spent time in the park library throwing these images in talk of photos I had just taken with Pete hours early on our tour. While I was doing this, my old Toshiba laptop was periodically crashing and not cooperating. This was sending my blood pressure through the roof since it was just counting down to a couple of hours until my talk. Internally, I was really wondering what I had gotten myself into this situation. I felt way in over my head at that moment.
Around 4 pm in the afternoon, Pete scheduled for me to meet with an air quality researcher in the park. For years, The Grand Canyon was known for having poor air quality due to its proximity to Los Angeles, Las Vegas, The Navajo Coal Plant by Page, Arizona, and other sources of air pollution. The good news is that the Navajo Coal Plant, the largest coal plant in the western US when it was in operation, was demolished in 2020.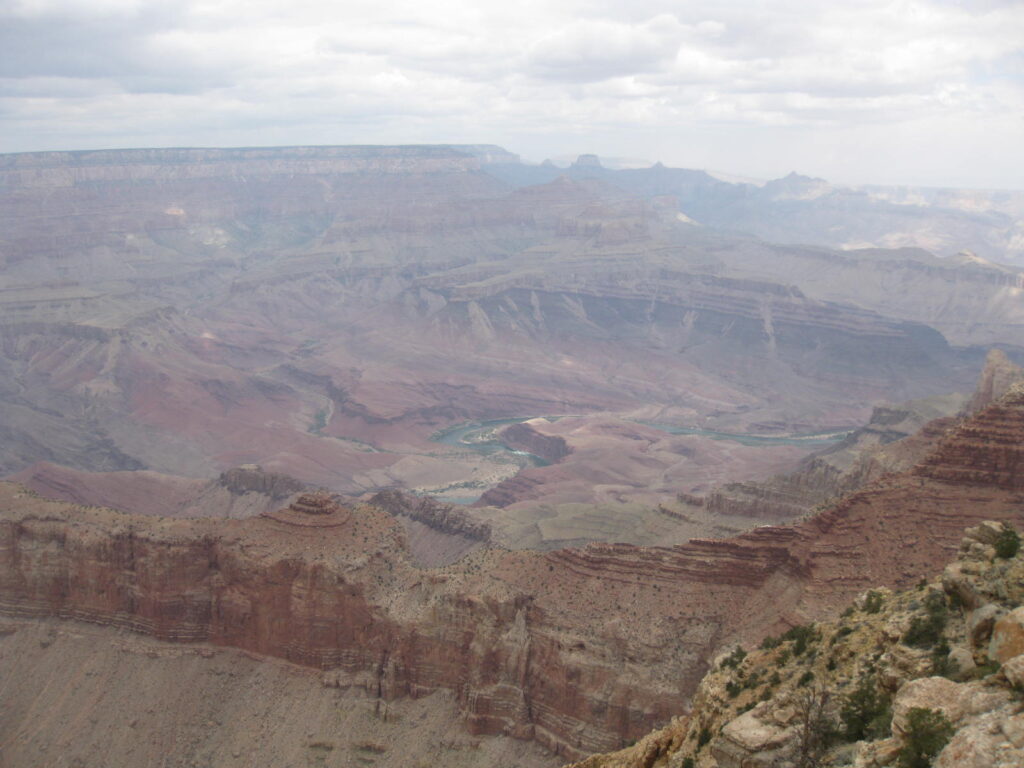 When this researcher met with me, she was devastated because she had just been ordered within the last day or two to remove her scientific air monitoring equipment from the Canyon. She had to walk into parts of the Canyon herself to remove some of the equipment. In a sense they were her "babies." She was a mom herself and she did not know how she was going to explain this to her kids someday.
Thus, she did not know what she could share with me for my evening program happening in a couple hours about the air quality issues in the Grand Canyon. I felt sad and outraged for her. However, it was also a relief that she did not have any ready information for me since I had so much to cram in my presentation happening soon. My stress level was off the charts with my laptop computer not performing well as I was trying to piece together a PowerPoint talk in less than 3 hours. Yet, I found myself consoling and trying to give hope to this career scientist who felt very despondent in that moment. We both were extremely worried about climate change. I encouraged her to join groups that gave me hope at that time and now, Citizens' Climate Lobby and The Climate Reality Project.
After my meeting with this researcher, my laptop worked well enough to put the final touches on my Power Point happening in less than 2 hours. I then went to the Shrine of the Ages Auditorium to meet up with Pete Peterson and another ranger that would be assisting me that evening, his name was Shawn Eccles. It turned out that he had a climate change talk that he was giving regularly at the Grand Canyon. We had time before my talk for Shawn to show it very briefly to me. It was a great talk. I asked if he could give me a copy of his PowerPoint and he very graciously shared it with me.
Pete, Shawn and I made sure my slides worked well on the big screen, which they did. I was ready for my 7:30 pm ranger talk. Pete lent me a National Park Service polo shirt to wear that evening. The program was a blur. Unfortunately, we did not get a video of my talk. It was a packed house of over 200 people, the largest in-person talk I have ever given. As far as I remember, they were a receptive audience. It was amazing to be able to reach that many people with a message about climate change. Their seemed to be a whole section of park rangers in one part of the audience, which I hoped to chat with afterwards.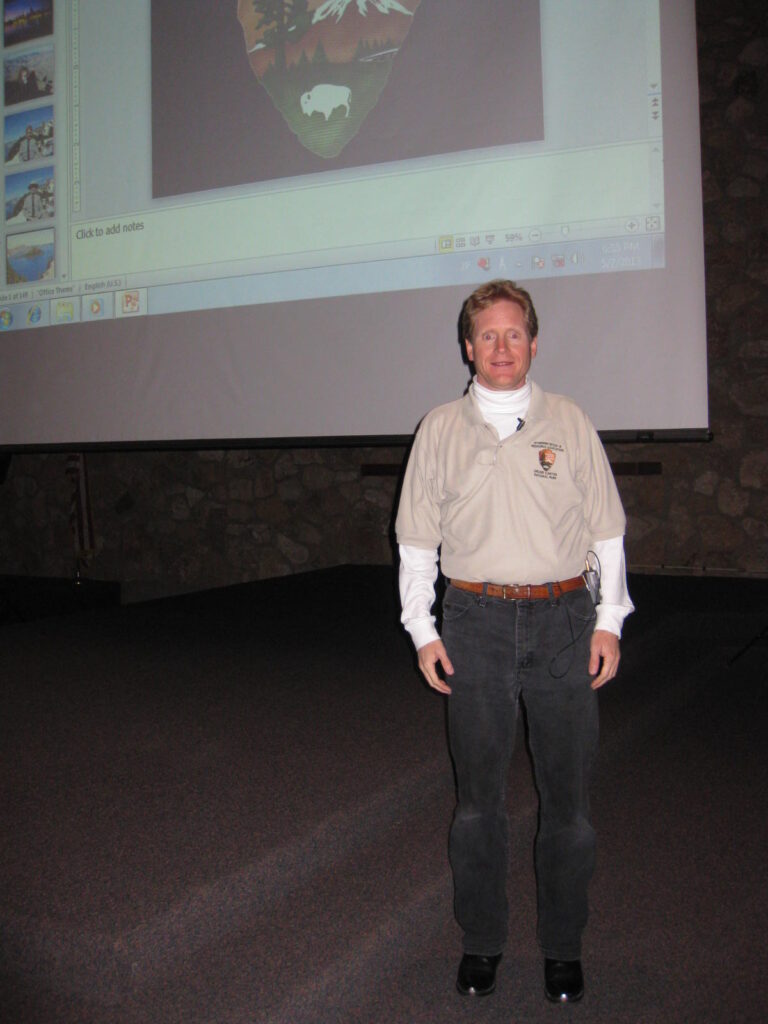 After my talk was completed, some people lined up to compliment me on my talk. Unfortunately, I had one gentleman who was there with his wife that asked to see some of my slides. I generously pulled up some of my slides, and he started nick picking on the climate science on some of my graphs, saying, 'That's misleading!' 'Where did you get that information?' 'You are not showing the complete picture here.'
It took me a few minutes to comprehend that he was a climate and science denier who strongly objected to my talk. A small group of rangers waited patiently to chat with me after my talk, but they finally gave up and left as this climate denier hogged this time with me. I found the climate denier to be very draining. I should have said to him as he kept droning on with all the critiques of my talk, 'Sir, I hope you don't mind, I hope we can continue this conversation at a later point. However, right now I want to chat with some of my fellow rangers who came to this talk to see what they have to say.'
Finally, Pete interrupted to introduce me to a high school science teacher at the Grand Canyon who really liked my talk. Yes, there is a large enough staff and families living in Canyon Village and the surrounding area that the Grand Canyon has its own high school. We started having a great conversation. However, the climate denier was still standing next to me. He chimed in to offer his unsolicited opinion that "scientific consensus does not matter."
The high school teacher just rolled her eyes. However, this had been a very long and stressful day for me. By this point, I had enough of his comments. I retorted, "Scientific consensus does matter. It is how we get to all our new understanding of science. It does not look like you understand the basic concept of science. I am sure that this teacher or her students would be happy to explain it to you."
The climate denier then became more irritable. His wife gently led him out of the auditorium acting like she wanted to go home for the evening. It was great to finally to have a lovely conversation with the science teacher and another park ranger that wanted to briefly chat with me. Out of the corner of my eye, I could see the climate denier having a strained conversation with his wife by the auditorium entrance looking like he wanted to engage with me more, but she was not having it.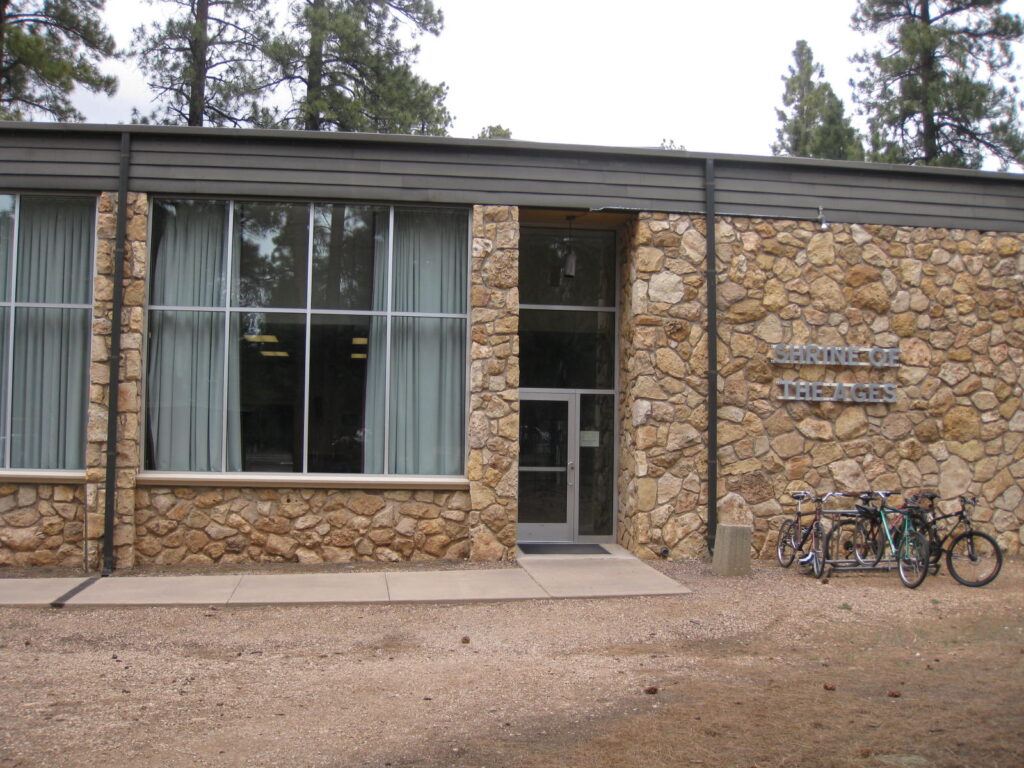 Pete later that evening told me that he thought I went too far in admonishing that park visitor and found it to be unproductive. The National Park Service really tries to maintain positive relations with the public, even when visitors disagree with NPS policies and actions. The NPS really does want park rangers to treat visitors with the upmost respect. NPS trains its frontline interpretation rangers that interact with the public in a way showing that "The Visitor is Sovereign" and has a "Visitor's Bill of Rights:
To have their privacy and independence respected.
To retain and express their own values.
To be treated with courtesy and consideration.
To receive accurate and balanced information."
Pete felt like I had been a bit harsh with the climate denier, even if he disagreed with everything the climate and science denier was saying. He didn't think that debating the denier was helpful as the scientific community has already made up its mind.
I did agree with Pete that I let my conversation with the science denier go on too long, which probably led me to argue with him. By arguing with him and strongly pushing back against his opinions, all I did was alienate him. That was a shame. At the same time, I still thought it the image was funny of him hanging out at the auditorium entrance wanting to argue more with me, but his wife would not let him. I sure wish I could have heard what his wife and him were saying.
It was a very tough but rewarding opportunity speaking to over 200 people at the Grand Canyon about climate change. I recently thanked Pete Peterson again for one of the best experiences of my life. The day afterwards, I was able to enjoy the view of the Grand Canyon from the Bright Angel Trailhead overlook before leaving the park to continue my road trip. The canyon was a bit hazy that day. At the same time, The Grand Canyon looked as even a more rewarding place for me with my memories of seeing it the first time with my family, hiking to the bottom twice, and then speaking to my largest audience ever about climate change.
I once worked with a ranger at Crater Lake National Park who said that he thought that the Grand Canyon just looked like a 'giant hole in the ground. That's it.' I can share from personal experience that the Grand Canyon is not 'just a hole in the ground,' but one of the most beautiful, awe inspiring, rewarding, and challenging places I have ever seen.