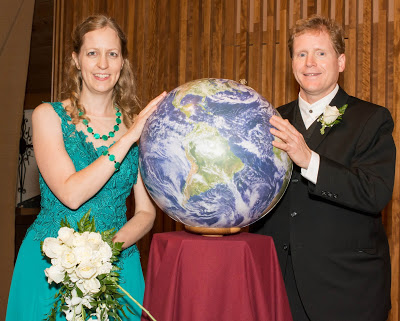 Tanya Couture and Brian Ettling at their wedding ceremony. Nov. 1, 2015.
"In every walk with nature one receives far more than he seeks." – John Muir,
This is one of my favorite quotes by John Muir, who lived from April 21, 1838 – December 24, 1914. He was a Scottish-American naturalist, author, environmental philosopher and early advocate of preservation of wilderness in the United States. His writings and activism helped to preserve the Yosemite Valley, Sequoia National Park and other wilderness areas. He seemed to be happiest and most at home exploring Yosemite and the surrounding areas. If you spend time at Yosemite, like I have done a few times, you can seek why. It won't take you long to see will see why he wrote that.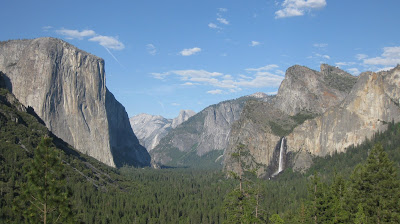 In my 23 years working as a park ranger at Crater Lake National Park, Oregon and Everglades National Park, Florida, I love quoting John Muir during my ranger talks and interactions with visitors. Yes, I have lived his quote spending time in the great outdoors of our national parks. I have received far more wonder for my heart and soul than I will ever know. While experiencing the inspiration, I have been deeply troubled Seeing Climate Change in my 22 years as a Park Ranger.
My Struggle as a seasonal park ranger and off-seasonal climate advocate
By the winter of 2007-08, climate change was really tugging at me to take action. I had read and seen enough of sea level rise in the Everglades and its impact on the amazing wildlife, such as the alligators, crocodiles, birds, dolphins, manatees, etc. I decided to give up this wonderful winter job and move back to St. Louis for the winters. I had no idea what I was going to do in my hometown. However, I knew I had to speak out, write and organize locally to inspire others to take action to reduce the threat of climate change.
I still spend my summers at Crater Lake National Park leading ranger talks and hiking in nature. Since 2011, I have been giving my climate change evening program at Crater Lake. From 1992-2008, my old routine was Crater Lake in summer and Everglades in winter. By 2008, I found it a little confining to be a ranger year round seasonally in two different national parks. I like to jokingly call myself a "city slicker who works in national parks." I need my winters in St. Louis to reacquaint myself to the zany, urban civilization where I grew up.
Giving up my winters in the Everglades was not a smart move financially. It was giving up a middle class salary and to live on half of the money. It was forfeiting half of my annual experience in the National Park Service, which could have helped me land a permanent ranger job. It meant giving up independence to live with family. It meant always being somewhat of a stranger in my hometown since I am gone half of the year. Add up all of those factors, less financial security, less of a stable career, and living dependently on family, does not make for a good dating situation.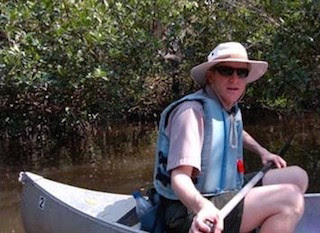 Brian Ettling working as a ranger at Everglades National. Park
Besides being a seasonal park ranger and climate change advocate, my other dream was to find a wonderful woman and get married. Yes, I have had many dates and some girlfriends. However, it was hard to maintain those relationships and settle down due to my insane migratory summer Crater Lake park ranger/winter St. Louis climate change activist lifestyle.
The Reward of Following my Climate Change Bliss


While working in the Everglades around the year 2000, I first discovered the quote Joseph Campbell quote, "Follow your bliss!"
In my spare time from immersing myself in the Everglades, a friend recommended that I listen to the 1988 PBS documentary Joseph Campbell and the Power of Myth.  I then bought the six cassette one-hour conversations between mythologist Joseph Campbell (1904–1987) and journalist Bill Moyers.
Their conversation focused on Campbell's knowledge of ancient mythology. They discussed how mythology still influences society and individuals today.
During their discussion of the Hero's Adventure, Bill Moyers asked, "How do I slay that dragon in me? What's the journey each of us has to make, what you call 'the soul's high adventure'?
Joseph Campbell responded, "My general formula for my students is 'Follow your bliss.' Find where it is, and don't be afraid to follow it."
Thus, I took this quote to heart to follow my bliss as a climate change communicator. In 2009, I spoke to my nephew's second grade class and Cub Scout Troop, my younger niece's girl scout troop, and my older niece's seventh grade class. A local Catholic grade school asked me to speak to their third and fifth grade classes.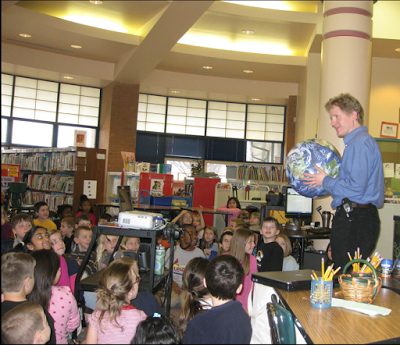 Brian Ettling speaking at the school of his nephew Sam, February 2009
As I mentioned in my previous blogs, I taught around 7 continuing adult education classes for St. Louis Community College. These classes were about 3 hours in length. In addition, I co-taught or taught 3 climate change classes for the OASIS Center of St. Louis, which is a non-profit educational organization promoting lifelong learning for adults over 50 years old.
I joined my local Toastmasters group, where I have given over 15 speeches on climate change. My fellow Toastmasters voted for me as "Best Speaker" for 6 of those speeches.  I co-founded the Climate Reality-St. Louis Meet Up with local area resident and businessman Larry Lazar. I got a short term job at the St. Louis Science Center interacting with folks at temporary Climate Change exhibit. I became co-leader of the St. Louis Citizens' Climate Lobby group.
As I followed my passion engaging my hometown St. Louis on climate change, I started understanding this advice of Joseph Campbell.
For Bill Moyers asked him directly: "What happens when you follow your bliss?"
Joseph Campbell replied: "You come to bliss."
Later on Bill Moyers asked, "Do you ever have this sense when you are following your bliss, as I have at moments, of being helped by hidden hands?"
Joseph Campbell: "All the time. It is miraculous. I even have a superstition that has grown on me as the result of invisible hands coming all the time — namely, that if you do follow your bliss you put yourself on a kind of track that has been there all the while, waiting for you, and the life that you ought to be living is the one you are living. When you can see that, you begin to meet people who are in the field of your bliss, and they open doors to you. I say, follow your bliss and don't be afraid, and doors will open where you didn't know they were going to be."
Taking action on climate change was leading to bliss for me. Furthermore, it helped me find the woman of my dreams.
Climate Change work leading to romance 


At one of the Climate Reality-St. Louis Meet Ups, there was this beautiful slender woman with long blonde hair sitting at the bar drinking a birch beer. As one of the founders of the group, I walked up and introduced myself. She was shy and quiet However, she seemed interested to meet me since I was one of the leaders of the group. Her name was Tanya and I asked her how she liked her birch beer soda. She let me try some of her soda. I invited her to a future planning Climate Reality-St. Louis event and she came.
Tanya and I struck up a friendship. I asked her to meet me for coffee to hear one of my climate change talks and she said yes. Thus, we met for coffee at a Starbucks in December 2012 and again in February 2013. I practiced climate change talks for her both times. During the second meeting, I asked her if she would be interested in having dinner and seeing a movie. We ended up eating a a fun Indian restaurant and seeing the Jennifer Lawerence and Bradly Cooper movie, Silver Lining Playbook.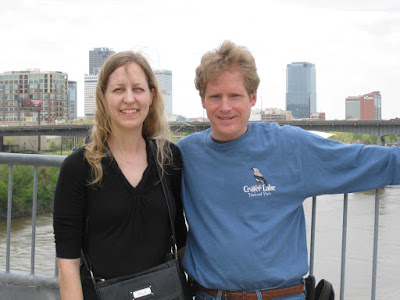 Tanya and Brian Ettling. Trip to Little Rock, Arkansas. April 2013.


Right away, there seemed to be a wonderful chemistry between us. We started dating in March 2013. She kept coming to my climate change talks around St. Louis. In April 2013, I took the train to see her Little Rock, Arkansas when she performed with the Little Rock Sympathy. One week later, Tanya played the violin for my parents' 50th Anniversary Party. Her parents had me over for dinner a few weeks later. That summer, Tanya came to visit me at my summer job at Crater Lake National Park.
Through Tanya, I started getting invited to speak at climate change events. In December 2013, her good friend Connie asked me to give a climate change talk. January 2014, Tanya and I started filming for YouTube goofy videos where we promoted ourselves as the Climate Change Comedian and the Violinist!
By the summer of 2014, we had so much fun being around each other that each of us was starting to think about marriage. I proposed to her on Christmas Eve, 2014 at Castlewood State Park, located west of St. Louis. My proposal was on one knee at a bench high on a bluff over looking the Meramec River and a vast Missouri forest. One month later, we made another goofy YouTube video with my mother, Climate Change Comedian, His Mom, & His Fiancée.
A Climate Change Wedding 
Throughout 2015, we had so much fun planning our November 1st wedding with Tanya's mother, Nancy. Tanya and Nancy laughed and approved all of my ideas for the wedding. My inflatable Earth Ball that I use for all of my climate change talks played a dominant role in the wedding. The minister for our ceremony, Darla Goodrich, talked about our love for the earth and protecting creation from climate change during her homily. Tanya chose to wear a beautiful green dress. The front of our wedding bulletin had an image of the earth.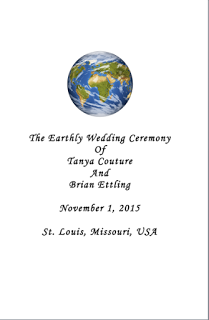 On the back of the bulletin, Tanya and her family were very positive on what I had printed for the back page:
Tanya, Brian and their parents are delighted that you joined us today.
Hope you have a ball at our wedding! 
The Marriage of Brian and Tanya:
Where Everyday will be Earth Day!
Quotes from Brian to meditate 
for today and everyday:
"Each and everyone of us 
can change the world. 
We do this by 
The way we vote, 
The products we buy
And the attitudes we share 
with each other." 
"Think Globally, Act Daily." 
"Never leave home without 
your Earth Ball."
Quote from Tanya:
"It is never dull with Brian, 
but I am not sure 
if he is actually from this planet."
Our friends and family who came to the wedding thought all of this was hilarious and fit with our personalities and my passion for climate change. It was so special to see so many friends and family members who had been so supportive of me with my climate change work over the years at the wedding.
Receiving sublime affirmation for my climate change work at the wedding reception. 
The wedding was nothing to compared to reaffirming bliss I received at the reception.
My best man was Larry Lazar, who I had co-founded the
Climate Reality-St. Louis Meetup
. Without Larry asking me to join him in creating this Meet Up, I am not sure if I would have met Larry. Thus, all of the credit goes to him. Larry gave a wonderful toast how Tanya and I met and all of my climate change advocacy. During the toast, he invited the reception guests to come to our next meet-up, a screening of the
Merchants of Doubt documentary
, on Sunday, November 14, 2015.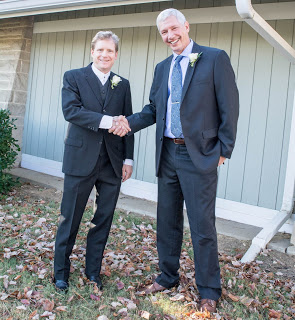 Brian Ettling with his Best Man, Larry Lazar
Surprisingly, two people from the reception actually came to this event two weeks later. Larry joked during his toast and I concurred that people should come because maybe they too might meet the person of their dreams, like Tanya and I did.
Tanya's Matron of Honor, Anne, next got up to speak. Anne joked, 'Tanya, you have a lot of patience, much more than most women would tolerate. There seems to be three in your relationship: You, Brian, and his Earth Ball.'
The audience, including Tanya and me, laughed hard at that comment. That was hilarious, Anne!
Next, my Mother-in-law, Nancy got up to speak. She totally surprised me by what she said:
"Tanya, we are so happy you have found in your life companion in Brian and gained someone who appreciates nature and the environment…


We admire you, Brian and welcome you in our family. The passion that drives you is admirable. You working hard at making people understand the seriousness of climate change and we thank you for this. 


(Tanya) and you are both make an impact on your surrounding in positive ways through music, work, and advocacy.


We love you both and wish you the very best for your future together."


Her speech was a sublime affirmation for all of my climate change work. Her speech left me stunned and speechless for her heartfelt words that I had followed by bliss. At that moment, Nancy showed me that I truly had received far more than I have ever given with my climate change work.
Support for my climate change work from my wife


Since our wedding two months ago, Tanya has been so supportive of my climate change work.
On November 29, 2015, my new wife scheduled both of us to attend the People's Climate March in downtown St. Louis. It was organized by Avaaz.org, a group I did not know existed before this march. On social media, there was conflicting reports where the march started in St. Louis. Some of the announcement said the Arch grounds, other announcements stated in front of City Hall. One rumor on social media said the march had been cancelled. All of these confusing reports left me very frustrated if I wanted to attend. Tanya insisted that we go downtown and attend anyway.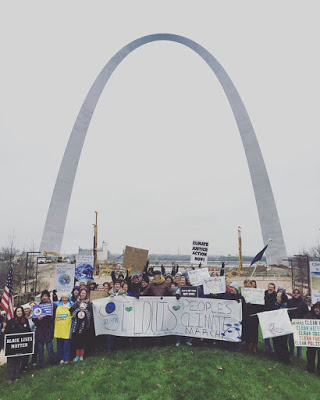 St. Louis People's Climate March, November 29, 2015
Image Source: avaaz.org
I was so happy that Tanya pushed us to go and I did not cancel. According to Avaaz, around 75 people attended this march. It was a cold, damp, blustery day, not the most ideal conditions for an outdoor march. Immediately after our arrival, I introduced myself to the even organizer, Devon Rae Hartwig. I mentioned my efforts as the co-founder of the Climate Reality-St. Louis Meet Up and a Climate Reality Project Leader.
Before I knew it, Devon asked me to be the main speaker at the beginning of the march. It was a thrill for me to briefly speak to the marchers. Many of them complimented me on my words after the march. Thank goodness for Tanya for seeing the importance for us attending this event.
This past week, Tanya heard my frustrations of not feeling I am effective enough as a climate change communicator. Her response was to schedule a test drive of a Tesla Model S at the St. Louis Tesla store the day after Christmas. Tesla Product Specialist, Matt Daniel sat in the car with us during the test drive. Tanya and I were amazed how the vehicle performed. It drove very smooth, comfortable, and quiet. We liked the computer GPS, back up camera, and parking sensors. Even more, we were amazed by the automatic pilot feature that self steered the car on the interstate. It even changed lanes safely when we put on the change lane signal.
Best of all, this was a moral boost as a climate change communicator for me to test drive a 100% electric car. Hopefully, this is the future for transportation to eventually have all of our vehicles not emitting carbon pollution and contributing to climate change. Again, I cannot thank Tanya enough for scheduling this Tesla test drive for us.
Tanya is always fully supportive of my work to write, organize, and give public speeches on climate change. I could not ask for better spouse as I follow my bliss with climate change activism.
With climate change action, you can receive far more than you can seek


Some folks reading this are not interested in finding true love or a spouse. I have no problem with that. The point of this blog post: If you get involved with taking action on climate change, you may receive far more than you seek.
In my case, I met my wife after I have been following my passion. Even if I had not met Tanya, I have had the blessing of meeting so many friends, such as Larry Lazar, who have inspired me and given me hope. Through the Climate Reality-St. Louis Meetup, Citizens Climate Lobby, South County Toastmasters, etc, I have met countless friends that are way too numerous to mention here. If you are a friend reading this, you probably inspired me with my climate change work.
During the Power of the Myth with Joseph Campbell, Bill Moyers asks: "When I take that journey and go down there and slay those dragons (finding and acting on your life's purpose), do I have to go alone?"
Joseph Campbell: "If you can find someone to help you, that's fine too. But, ultimately, the last deed has to be done by oneself. Psychologically, the dragon is one's own binding of oneself to one's ego. We're captured in our own dragon cage. The problem of the psychiatrist is to disintegrate that dragon, break him up, so that you may expand to a larger field of relationships. The ultimate dragon is within you, it is your ego clamping you down."
One of the rewards I have received from climate change action is the hope I have received from friends. Besides Tanya, many others have also pushed me beyond my personal limitations and comfort zone. Through their actions, I can see that action leads to more climate actions.
As Joan Baez once said, "Action is the antidote for despair."
At a Citizens' Climate Lobby meeting on Saturday April 6, 2013, my friends Juli Viel and Lucas Sabalka challenged me to write a climate change opinion editorial for the St. Louis Post-Dispatch. They directly needled me saying, "We know you want to do this. If you don't do this, one of us will write this oped."
They threw down the gauntlet and I had no choice but to respond. Late that evening, I threw myself into composing an editorial that I completed and submitted around 3 am. To my astonishment, the Post-Dispatch published my oped, For Earth Day, a GOP free-market solution to climate change, on April 19, 2013.
As wise men and women have shared with us for years: 'As you step outside of your comfort zone, that is where the magic happens.'
As we all know, it must take action to make a difference.
As Dr. David Orr says, "Hope is a verb with its sleeves rolled up."
With climate change, a wide range of actions is available for you to make a difference. You can write your elected member of Congress, write a letter to the editor or oped to your newspaper, support a candidate willing to take strong action on climate change, divest your investments from fossil fuels while encouraging your university and other organizations to do the same, organize to force your local utility to not use coal and switch to clean energy for your local electricity, weatherize your home if you have not done this already, etc.
As I like to say, "Each and everyone of us can change the world. We do this by the way we vote,
the products we buy, and the attitudes we share with each other." and  "Think Globally, Act Daily."
As we take action on climate change, we can gain hope, friends, and love. Similar to spending time in nature, we may even receive far more than we seek.
As Bill McKibben, founder of 350.org, stated,
"Very few people on Earth ever get to say: I'm doing, right now, the most important thing I could possibly be doing.' If you join this fight, that's what you will be saying."
Thank you Tanya, Nancy, Larry Lazar and so many others for helping me to see that I have received far more by taking on action climate change than all of the effort I invested!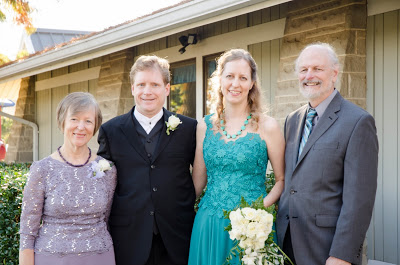 Nancy Couture, Brian Ettling, Tanya Couture and Rex Couture