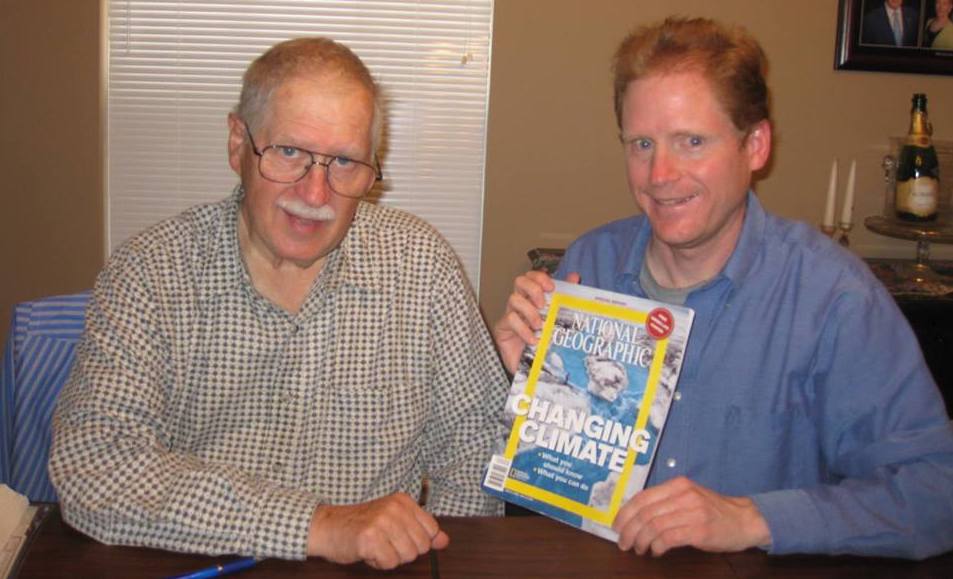 (Note: This is an updated version of my guest blog from my friend Harriet Shugarman's website climatemama.com. My 2015 guest blog for that website was Talking to Your Parents about Climate Change: A Personal Story)

A Sudden phone from My Dad about having an emergency high risk surgery

Late in the evening on October 23, 2019, I received a phone call that I will never forget. I live with my wife Tanya in Portland OR, but I got a phone call from my younger sister in St. Louis MO that my Dad was at the hospital for emergency abdominal surgery for an aneurysm . His doctor felt that my Dad had to have immediate surgery to relieve this blockage, otherwise he might not be alive much longer.
My sisters, their husbands, and my Mom came to the hospital to be with him before he was wheeled into surgery. My Dad been fighting stage four bladder cancer since 2013. He had been in and out of hospitals during the past month struggling with health issues related to his cancer. The doctor was not certain that my Dad would survive this surgery, so my Mom and sisters were there to possibly say goodbye. While they were gathered around him minutes before he was scheduled for surgery, he had one request before being wheeled into the operating room. He wanted to call me on the phone, so my sister called me so he could talk with me.
I was speechless to receive this phone call. I had a lot of anger towards my Dad during the course of my life. I always appreciated that he was an excellent provider for our family, working 2 jobs for over 40 years to support his family. My parents paid for my college education and they would let me live with them between my seasonal park ranger jobs as an adult. Yet, I had felt a lot of hurt from my Dad having an unpredictable volatile temper as a child that did leave some really bad emotional scars. As adults, our politics had a deep divide and sometimes we had screaming arguments about it.
As I shared in the 2015 Climate Mama blog, we had bitter confrontation in my late 20s. He did not like that I was working as a seasonal park ranger for years after I graduated from college in 1992. He wanted me working a steady office or management job, which was not how I envisioned my life. I loved him as my Dad, yet our relationship had always felted strained to me. I felt a lot of frustration towards him because it always felt like he did not understand me and get who I was as a person.
My Dad started the conversation saying that the doctor said he must be operated on to dissolve this aneurysm. Without the surgery, my Dad may not have long to live. The doctor also said that he had no idea if the surgery would be a success. My Dad told me: "The doctor said he feels like (the operation) will be like shooting an arrow straight into the air. He has no idea where it will land."
With that in mind, my Dad wanted to let me know how proud he was of my climate change work and he wanted me to keep doing that. He acknowledged that things had not always been smooth for us, but that he was thinking of me and he loved me. I was speechless except to thank him for all that he did for me and tell him that I loved him. I told him how much I enjoyed when my mom and him came to visit Tanya and me the previous May. I shared that think of him whenever I hear and see the freight trains pass by our apartment in Portland, since he loves trains so much. I encouraged him to get better so they could come visit Tanya and me again. If he came back, I promised to show him more sights around Portland and he could see the trains by our apartment. He liked that idea and I wished him all the best to make it through the surgery before we wrapped up the call.
The Bible tells the story of the Prodigal Son who is forgiven by his father for running away and living a dangerous life. However, I felt like I was experiencing a story of a Prodigal Father who knew he had hurt me in my life and he wanted my forgiveness before it was too late.
That evening, I did something I never do, I kept my iPhone on all night in case my Mom or sister called with any news. I just didn't know what would happen. I tried to prepare my mind for any outcome, but I just didn't know. The phone never rang again that night or into the morning. It was another case of 'no news was good news.' The next day my Mom called to say that my Dad made it through surgery. It was a success. We dodged a bullet. I still booked flight to St. Louis to go visit them for several days after experiencing this close call and to support my Dad with his recovery. He was very happy to see me when I visited him at the hospital.

For years, I have meant to write this blog to show gratitude to my dad for his support

The news about my Dad was sobering for the next several months. He was not going to be able to walk again, confined to a wheelchair for the rest of his life. In late December 2020, it was determined that there was nothing else the doctors could do to treat my Dad's bladder cancer. His doctor thought he might have just months, maybe weeks to live. He was put on hospice care. Tanya and I flew back to St. Louis the second week of December to be with our families. We wondered if we would be soon be flying back to St. Louis for a memorial service for my Dad.
In spite of the fact that my Dad would never walk again and his cancer not curable, he was in good spirits going into 2020. Then the COVID pandemic hit in March 2020. The rehabilitation place where he was living was shut down to outside visitors indefinitely. Except for waving at him through a window and phone calls, my Mom and sisters could not visit my Dad for months. Since I live in Portland OR and was unable to travel with the pandemic, I was not sure if I would see him alive again. Finally, in May 2020, my Mom was able to bring my Dad back to their home with hospice nurses there during the day to care for my Dad.
Tanya and I did not feel safe traveling in 2020 due to the pandemic, so I was not sure if I would see my Dad alive again. During the first half of 2021, Tanya and I were able to get both doses of the vaccine and my parents got both doses of the vaccine. We finally felt it was safe enough to visit them at the end of June and the first two weeks of July in 2021. We had a big family dinner with Tanya's parents and my parents on Sunday, July 10th, the day before our flight back to Portland. At the end of that visit, I was unsure if I would see my Dad alive again since he was still considered to be on hospice care.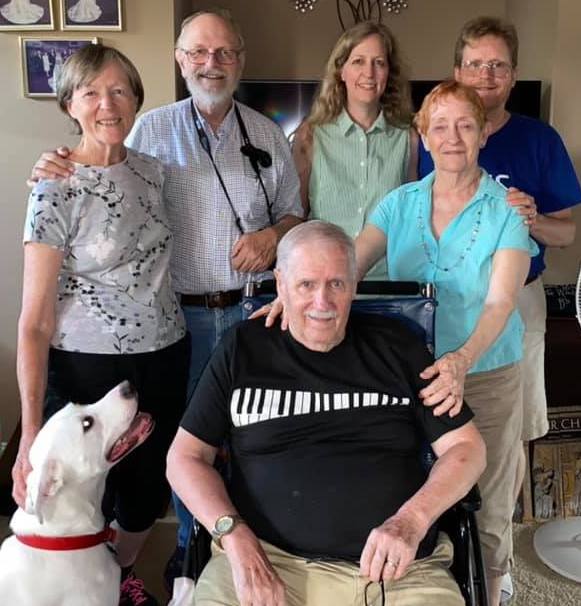 Tanya and I got our booster shots in early December 2021 and then flew back to St. Louis in the 3rd week of December to visit Tanya's parents and my parents. Just like all of my previous visits, my Dad was in good spirits. My Mom, Dad, Tanya, and I even played cards like we did during July 2021 visit. When I last saw him on December 17, 2021 before flying back to Portland, I wondered if I would see him alive again. Technically, my Dad is still considered to be in hospice care because his condition is still the same. The doctors can't treat his bladder cancer. At the same time, he keeps chugging along. The universe seems to whisper in my ear though that this good fortune won't last forever.
My Dad seems to be on "borrowed time," as the expression goes. However, he has been borrowing time for over two years now. His Dad, my Grandpa Roy Ettling, lived to be 94 years old. Thus, my Dad seems to have some kind of genetic knack to keep going. At the same time, it is been tugging at me for many years to write this blog to my Dad while he is still alive and has a sharp mind. For many years, especially for Father's Day or his birthday in June, I wanted to write a blog of gratitude to my Dad for being so supportive of my climate change work.
Until I felt inspired to start blogging again this month, I had not felt inspired to write a blog since March 2019. Since then, I had been so busy with my climate organizing. Then, since March 2020, I felt so unmotivated and too depressed to do any blogging with the COVID 19 pandemic. Even though the pandemic is still raging strong with the omicron variant now, I am not going to let all that bad news from keeping me to write this blog.

My Gratitude for my Dad for his support of my climate change organizing

21 years ago, Bill Moyers interviewed George Lucas about how Lucas came up with the Star Wars mythology. In this interview, George Lucas explains how it was his father's dream for his son to work in and eventually inherit the family office equipment store in Modesto, California.
However, George had no interest in taking over his father's business. He decided in college that he wanted to be a filmmaker. When George decided to go to the University of Southern California film school and pursue his dream, his dad felt crushed that George was not going to take over the family business.
George Sr. felt young George was making a huge mistake because he had built up this successful business for his son to eventually take over. It was a big source of friction between them until George Sr. saw son George's huge success with the Star Wars films.
George said his dad was very proud of his achievements as a filmmaker. George told Bill Moyers "the only thing you have to do, in the end, if you have to accomplishment one thing in life, is to make your parents proud of you. If you are healthy and you can take care of yourself, and you are a good person…one who contributes to society and does not take away….that is all your parents really want in the end."
I loved this story because my Dad and I are both big fans of the original Star Wars movies. As a kid, one of my best memories of him was that he went out of his way to buy tickets to surprise us so our entire family could see the much anticipated Star Wars sequel, The Empire Strikes Back, on opening day on May 21, 1980. This film is still one of my favorite movies of all time. (Spoiler Alert) It became a cultural icon when Darth Vader announced to Luke Skywalker: "I am your father!"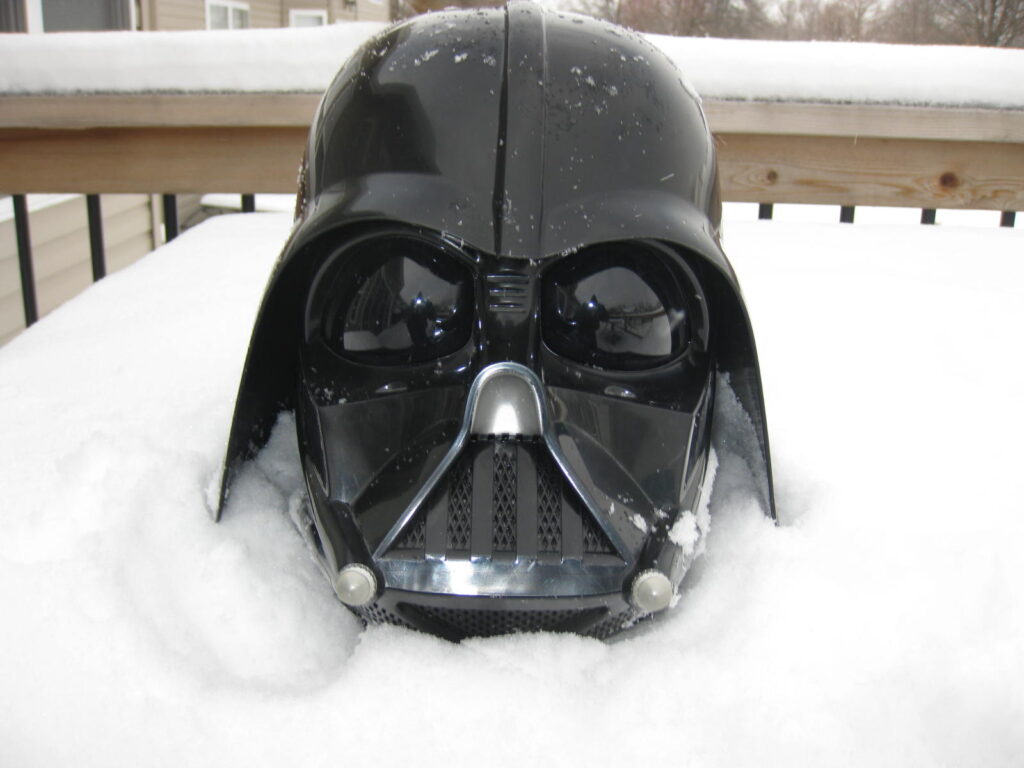 I will never forget this gift from my Dad because there was an audible gasp from the movie audience when Darth Vader said that. At that moment, no one wanted to believe that plot twist. It took years for me to accept it. Not even the actor James Earl Jones, who played the voice of Darth Vader, believed it, when he recorded that line of dialog for the film.
Since Darth Vader was the villain in those Star Wars films until Luke redeems him, George Lucas has said that the original Star Wars trilogy films is ultimately a space soap opera about a father and son relationship. As mentioned above, George Lucas struggled with the relationship with his father. I certainly struggled in the relationship with my Dad.
When I decided to become a seasonal park ranger bouncing around national parks, it disappointed him for years. He asked me several times, "When are you going to get a real job?" To compound my Dad's disappointment, I made it my life's mission to write, teach and give public presentations about the impacts of climate change, which I witnessed first hand and up close, through my work as a park ranger. For my dad, it was initially beyond his comprehension that humans could damage our planet. As I became more aware of climate change and began my work as a climate change activist, my Dad displayed open hostility at my life choice. He tried telling me that: "climate change was not real, that humans cannot change the climate, and that this was liberal nonsense."
However, like George Lucas, I found my passion in life and nothing was going to stop me. There was no looking back. In the spring of 2010, I put together my first climate change powerpoint presentation to share with friends. In August 2011, I delivered my first climate change evening program as a seasonal park ranger at Crater Lake National Park.
In August 2012, I attended a training in San Francisco along with nearly 1,000 other people led by Al Gore to become a Climate Reality Project Leader to give presentations on climate change. Since that training, I have given over 200 climate change presentations across the United States and even Ottawa, Canada. Some personal highlights are as a guest presenter for NASA in Hampton, Virginia in 2012, a guest speaker at Grand Canyon National Park in 2013, a presenter for the Oregon Wild Conference in Portland, Oregon in 2014, and a guest speaker at the Citizens' Climate Lobby Canada Conference in Ottawa Canada in November 2016.
I have attempted every avenue I know to get out the message about taking action on climate change, including writing this blog since 2011, writing opinion editorials in the St. Louis Post-Dispatch and the Oregonian starting in 2013, doing local radio interviews, and in 2014, making funny short videos with my wife (then girlfriend) Tanya and my mom Fran Ettling.
My dad also played a role in our videos, as my cameraperson. After filming our third video in January 2015, my dad seemed to get antsy behind the camera and he told me he wanted to be in front of the camera with me. I decided to take him up on his suggestion, and to see where this would lead..
In February 2015, my dad and I filmed our first climate video together. I interviewed him about how he had changed his mind about climate change. He explained to me that it was me, his son, who had changed his mind. I had helped him understand and see the weight of the evidence before us. Over the years, I watched a shift in my dad's thinking and I gained a new respect and admiration for him. He evolved from being hostile about my climate activism to being my biggest cheerleader. Yet, as I was making this video with my dad, I kept thinking how crazy this idea would have been 10 years before.
These short YouTube videos that I did with my parents and Tanya caught the attention of Comedy Central's Tosh.o TV show. A year later, a producer of the show called me to invite my Mom and I to fly to Los Angeles to do a comedy segment with the show's host, Daniel Tosh. Our comedy segment first aired Comedy Central on August 2, 2016, Climate Change Comedian. The cool thing about this segment is that a very short clip of my Dad was included, so my Dad had a brief moment on TV using comedy to promote climate change awareness.
My parents' support of my climate change communication efforts did not stop there. Around that same time, my Mom came home to tell me a story. They were at a party of one of their friends. The host of the party remarked, 'I think that climate change is a bunch of nonsense.'
My Mom responded, "That's interesting. Can I show you a video?"
My Mom then showed the YouTube video of my Dad and I talking about how I changed his thinking on climate change. My Mom said that the host of the party was silent and did not say another word about climate change for the rest of the party.
A Science Communicator shifts her Dad's thinking about Climate Change
Around this same time I made the YouTube video with my Dad, the cover story of the March 2015 issue of National Geographic, was The War on Science by Joel Achenbach. This article includes a story about Liz Neeley who helps to train scientists to be better communicators. As it turns out, Liz's father is a climate change doubter. He gets most of his climate change information from conservative media. In frustration she finally confronted him: "Do you believe them or me?"
She told him she believes the scientists who research climate change and knows many of them personally. "If you think I'm wrong," she said, "then you're telling me that you don't trust me." Her father's views shifted; and in the end it wasn't the facts that finally convinced him, but rather his relationship with his daughter.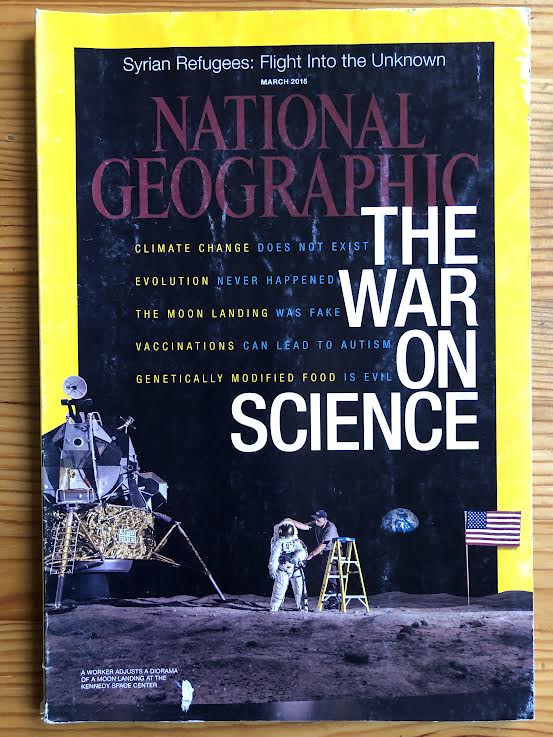 Science Denial expert Dr. John Cook's Dad shifted his opinion on climate change
One of the leading experts on science denial is John Cook from Brisbane, Australia. As the founder of skepticalscience.com in 2007, he started this website as a way to put together scientific peer-reviewed information on climate change in layman's terms to counter the most common denial myths on global warming. He was motivated to do this by "some 'vigorous discussions' with a few in-law family members (primarily his father-in-law) who happened to be global warming skeptics." His own father was also a skeptic who would 'run out of the room' when the subject came up.
I have closely followed John's work to counter climate science denial since since I first heard of him and skepticscience.com in 2011. I even met John at a house party during the AGU (American Geophysical Union) Conference in San Francisco, CA in December 2011. I used his 2011 "The Debunking Handbook" that he co-wrote with Stephan Lewandowsky, as a guide with much success when I gave climate change speeches from 2012-2017 to my local St. Louis Toastmasters group, which contained my climate change doubters. (This handbook was revised in 2020 to reflect updated knowledge about debunking misinformation).
In so many ways, John is the "go-to" source to counter science denial, especially with countering climate change denial. More recently, I highly recommend his 2021 book, Cranky Uncle vs. Climate Change: How to Understand and Respond to Climate Science Deniers. John is also a very talented cartoonist. He uses amazing cartoons and great illustrations in his book to show how to counter act climate denial arguments. On top of that, John created the fun Cranky Uncle phone Ap game in 2021 to help inoculate and build immunity against science denial.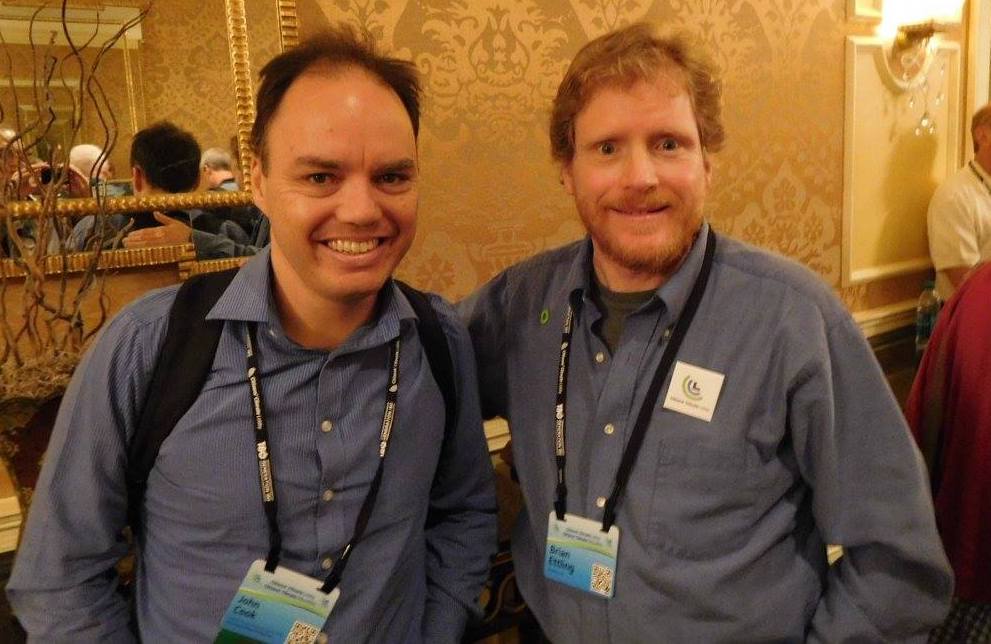 In spite of John's world renowned expertise on combating science denial, his own conservative father would not budge in his refusal to accept the science of climate change. In Dr. Katharine Hayhoe's 2021 book, Saving Us: A Climate Scientist's Case for Hope and Healing in a Divided World, she shared the story how John Cook installed solar on his house. However, when he mentioned the benefits of solar to his dad, John said, "He was initially resistant, probably because I was the one saying it and it seemed like a green-y thing to do."
Then one day, John's dad crunched the numbers and he thought it was "a financial no-brainer to get solar power." Saving money is one of his core values, so he had sixteen solar panels installed on this roof. Soon, he started getting checks from his electric company from the power the solar panels were creating for the local power grid. Every time he received one of these checks, he would call John to tell him about it. John's dad estimated he was saving over twelve hundred dollars a year. Dr. Hayhoe wrote:
"Having solar panels wasn't just consistent with his values – they were turning him into an even better version of himself, thriftier and even more conservative (in the true sense of the word). They enhanced rather than challenged his identity."
A few years later over dinner, John's dad told him unexpectedly, during a conservation, "Of course humans are causing global warming."
John was dumbfounded, asking him, "What changed your mind?"
John was even more surprised when his dad responded, "What are you talking about? I've always thought this."
Oddly, John's dad had "denied the science for years, and now he was denying that he'd ever denied it."
With his background as a cognitive psychologist, John thinks that his dad changed his behavior to be more climate friendly first out of a value to save money then it caused a change in attitude towards climate science. Katharine Hayhoe and John Cook believe that "His dad's perception of who he was had been altered, and at such a fundamental level that he literally couldn't recall that he'd changed."
In Conclusion: We should never give up on our Dads (or Moms) accepting climate science
During the Bill Moyers interview, George Lucas talked about how parents can be redeemed by their children. This was part of what he demonstrated through his Darth Vader character. My own dad and Liz Neeley's dad, all initially found it hard to comprehend that humans could put our future and that of our planet in peril through the burning of fossil fuels. They changed their views and opened themselves up to hearing the reality about climate change because of their love and respect for their children. Or, in the case of John Cook's dad, he changed his mind on climate science with the money he had saved installing solar panels on his home.
So for those of you whose parents or other loved ones may still be reluctant to see, hear and understand the facts and realities about climate change, don't give up! If Darth Vader, one of the biggest movie villains of all time can be redeemed by his children Luke Skywalker and Princess Leia Organa, then there is certainly hope that we all may still be able to redeem our own reluctant parents.
I hope my Dad gets a chance to read this blog. I just want him to know how much I love him and how much I appreciate how supportive he has been for all of my climate organizing.