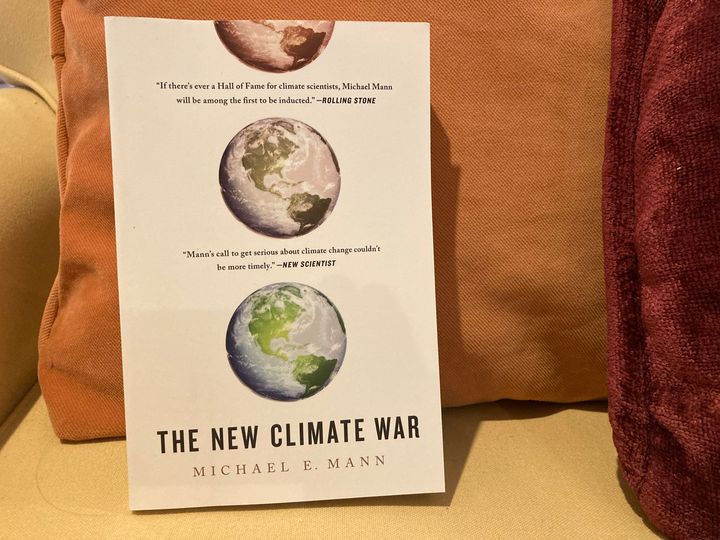 Looking to read a good book for what you can do for the problem and solutions to climate change? I highly recommend climate scientist Dr. Michael E. Mann's 2021 book (soon to be a paperback edition coming out on May 10, 2022), The New Climate War: The fight to take back our planet.

Dr. Michael E. Mann is the Distinguished Professor of Atmospheric Science at Penn State University. He is also the director of the Penn State Earth System Science Center (ESSC). In Fall 2022, he will become Presidential Distinguished Professor in the Department of Earth and Environmental Science at the University of Pennsylvania, with a secondary appointment in the Annenberg School for Communication.
As you read this book, you will be able to dig deeper into Dr. Mann's message that 'We need urgency and agency to solve the climate crisis.'

My Admiration for climate scientist Dr. Michael E. Mann goes back many years
For over a decade, I have been reading Dr. Mann's books and following his appearances the media. As a seasonal park ranger in Everglades National Park, Florida in the 2000s, I took an interest in organizing and giving public presentations in climate change as far back as 2008. To prepare for my own climate change presentations in 2010, I read Dr. Mann's book, that he co-wrote with University of Pennsylvania Professor of Geosciences Lee R. Kump, Dire Predictions: Understanding Global Warming, The illustrated guide to the findings of the IPCC (Intergovernmental Panel on Climate Change). I mentioned his famous Hockey Stick Graph in the very my very first powerpoint that I created to share with friends in 2020, "Let's Have Fun Getting Serious about Resolving Climate Change."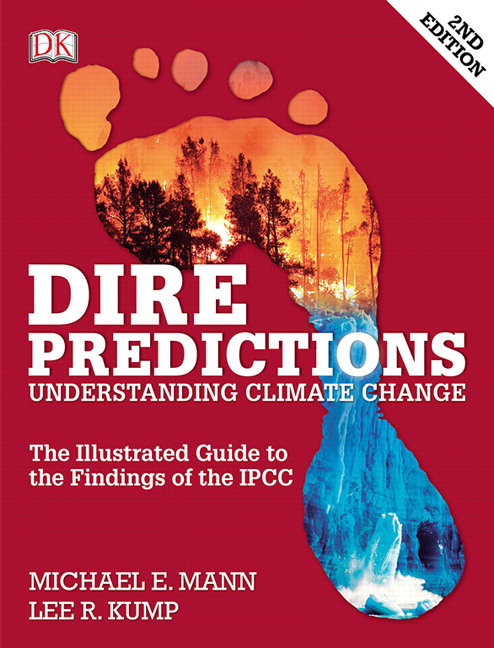 In February 2011, I joined my local Toastmasters public speaking support group in my hometown of St. Louis MO to be a better public speaker for my climate change advocacy. About one third of this group were climate change deniers or doubtful of the science of climate change. On February 16th, I gave my "icebreaker" speech where I shared that I joined Toastmasters to be a more effective climate change communicator. Afterwards, one of the climate denier club members immediately challenged me with a question. She wanted me to address in a speech this question: 'What is the exact evidence that scientists know that humans are causing global warming?'
Her question seemed like a fun challenge for me to learn what is this key bit of evidence that we can point that humans, not natural causes, are the primary cause for present day climate change. The best source I could find then was was the text and graphs from Dr. Mann's book, Dire Predictions on pages 34-35, with the heading, "Couldn't the increase in atmospheric CO2 be the result of natural cycles?"
With so many climate deniers and doubters in this Toastmaster audience, plus climate change considered to be a dour subject by others undecided members, I knew this was going to be a heavy and awkward experience to give this speech. It felt like it was going to be as about awkward as farting or passing gas at a cocktail party. Thus, I decided to acknowledge the obvious and call my speech I AM GOING TO DROP A STINK BOMB ON YOU!
Unlike many other speeches, I was not voted Best Speaker for this speech when I gave it on April 13, 2011. However, I was grateful this climate denier Toastmaster challenged me with that question. With reading Dr. Mann's book, it helped cement in my mind how we knew a key bit of evidence that points to humans as the major influence on present day climate change.
As my interest in communicating and organizing in climate change became more of a passion in 2011, a friend in Washington D.C. urged me to attend the AGU (American Geophysical Union) Conference in San Francisco CA in December 2011. Many of the top climate scientists and science communicators would be giving presentations on the science of climate change and science of communicating about climate change. Thus, I made arrangements to crash on a friend's couch in San Francisco so I had a place to stay while attending the conference. It turned out to be very valuable advice for my friend to push me to attend AGU. I attended so many outstanding climate change presentations and had a chance to meet so many renowned climate scientists and communicators.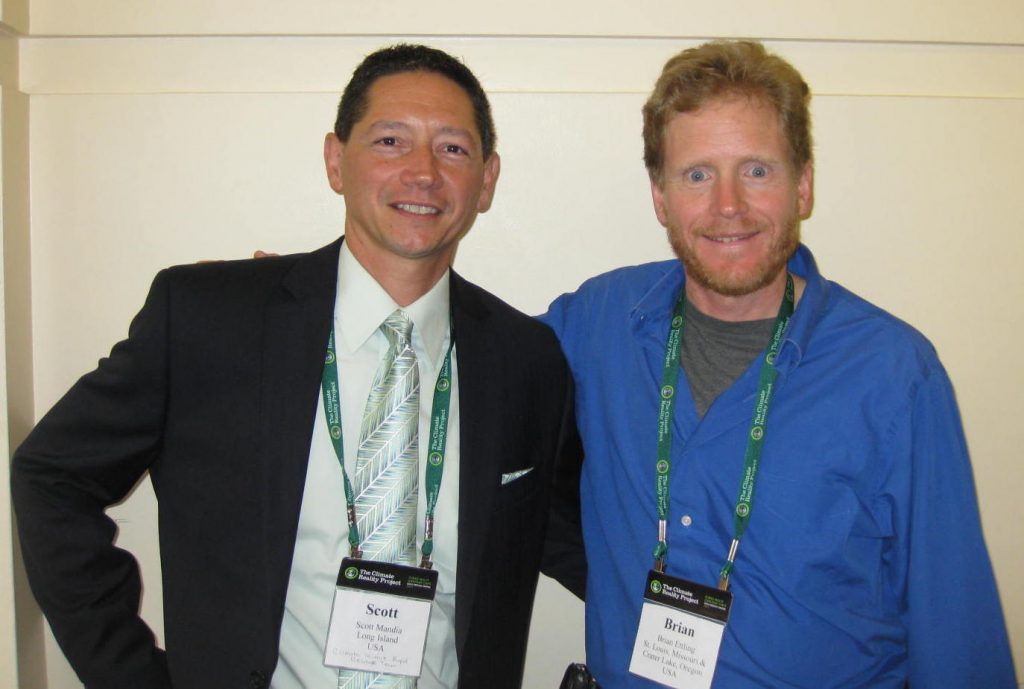 During the first morning of AGU, I ran into a friend, Scott Mandia, professor of Earth and space sciences and assistant chair of the Physical Sciences Department at Suffolk County Community College, New York. He encouraged me to follow him around to hang out for a few minutes before we headed to attend a lecture. As we walked into one of the conference rooms, I saw Professor Mandia walk right up to Dr. Michael E. Mann. I was stunned to see this well known climate scientist in person. Scott introduced me to Dr. Mann. I was tongue tied and star struck to be introduced to him on the spot. Dr. Mann was minutes away from giving his presentation, so I did not want to be a any kind of distraction. I enjoyed his talk. I wish I would have brought my copy of his Dire Predictions book for him to sign after his talk.

In email exchange over a year ago, Dr. Mann responded that he did remember meeting me a number of years ago and he enjoyed it! Very kind of him to say that. I felt more like an interloper at AGU just trying to soak up all the information on climate that I could. I was not presenting a published paper, a ground breaking study, or findings from research, nor was I known in the climate community. I had just started giving my climate change evening program at Crater Lake National Park in August 2011. Just two weeks earlier, I gave a speech to my Toastmasters group about individual climate change solutions, called 'It is Easy to Be Green'. I was voted as Best Speaker by my fellow Toastmasters for that speech. None of these personal accomplishments were going to turn heads at AGU, nor should they compared to excellent science presentations from the distinguished scientists at this conference, such as Dr. Mann. It is an honor that Dr. Mann might just remember me from our 2011 very brief introduction.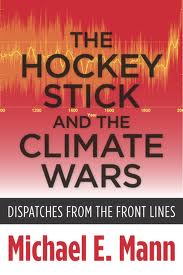 Just a few month later, in March 2012, I blogged a review of his 2012 book, Dr. Michael E. Mann's Hockey Stick Book is a 'Very Gripping Read.' In the blog, I contrasted Dr. Mann with "the polar opposite of the Dos Equis `Most Interesting Man in the World' beer ads." It seemed funny when I wrote that 10 years ago. However, the more I see Dr. Mann on TV and hear him in recorded podcast and radio interviews, I think that Dr. Mann has a very compelling personality, with a great sense of humor who would be an enjoyable presence at any kind of gathering. I was so inspired by his 2012 book, The Hockey Stick and the Climate Wars, that I wrote a second blog about Dr. Mann one month later for Easter 2012, False Witnesses whose Testimonials Did Not Agree. In both blogs, I really connected with Dr. Mann's "six stages of denial" that climate deniers cling to avoid accepting the reality of climate change.
I was big fan of Dr. Mann's 2017 book, The Madhouse Effect, with illustrations by the Pulitzer Prize-winning political cartoonist Tom Toles, to push back against climate denial. Unfortunately, I was not able to review the book due a busy 2017. That February, my wife and I moved from St. Louis MO to Portland OR. In March 2017, I gave a climate change speaking tour across my home state of Missouri. I then worked my summer job as a seasonal park ranger at Crater National Park from May to October. Most of 2017 was also spent planning and leading a climate change speaking tour across Oregon in the last week of October to the first week of November.

In November 2020, Comedy Central's Tosh.o invited me to appear again as "The Climate Change Comedian" after my successful appearance on the TV show in August 2016. This time, as the comedy would take center stage on this show, I still wanted to try to slip in a climate change message if possible. With the pandemic, I had not given a climate change presentation in months and I was feeling very rusty. Thus, I emailed Dr. Mann for his advice for climate change messaging for this TV appearance, and this was his response:

"Hi Brian…
Sounds like a great opportunity indeed. These days, my messaging is focused on just two words: urgency and agency.
Yes, bad things are happening, we can see them playing out in real time now. But we can prevent the worst from happening. Assuming the election goes our way, there will be leader ship once again in Washington DC. And we have ready climate plans on the table from both Congressional Democrats and the Biden campaign. We need to hit the ground running, and in his perspective first hundred days, Biden and a hopefully Democratic Congress need to pass a climate plan that put a price on carbon, incentivizes clean energy, enforces regulations, and blocks support for new fossil fuel infrastructure.
That's sort of my elevator pitch!"
That was an amazing gift to exchange emails with one of the world's top climate scientists, Dr. Mann. After his email, I wrote up my own answer to prepare to a climate change elevator pitch for this Tosh.o appearance. I practiced it over and ever to have it memorized to try to say it naturally during the TV taping. Because of the COVID pandemic and the short notice to film, this time I was filmed at home over Zoom, not flown to Los Angeles like the previous taping. Thus, it was nice not to have to leave home. As I shared with Dr. Mann over email afterwards, very disappointing that I was not able to squeeze in any message on climate change. This was his very gracious response:
"HI Brian,
Happy to have been of any help. Sorry they didn't use that material.
I've had a number of frustrating experiences before where a lot of stuff (and what I considered was the best stuff), got left on the cutting room floor.
It's one the real challenges in the world of media interviews.
Good on you for the effort though, keep it up. It will ultimately pay off!"
It was around this time that I heard from Dr. Mann that his newest book, The New Climate War, would be be release in January 2021. I was really looking forward to reading and reviewing in early 2021. However, I was very busy from January to June 2021 leading the effort for Oregon Senate to pass a Climate Resolution on April 7th that almost passed the Oregon House in June. For the last two years during the pandemic, I was not motivated to write or blog due to a bad depression I felt at that time with the social isolation.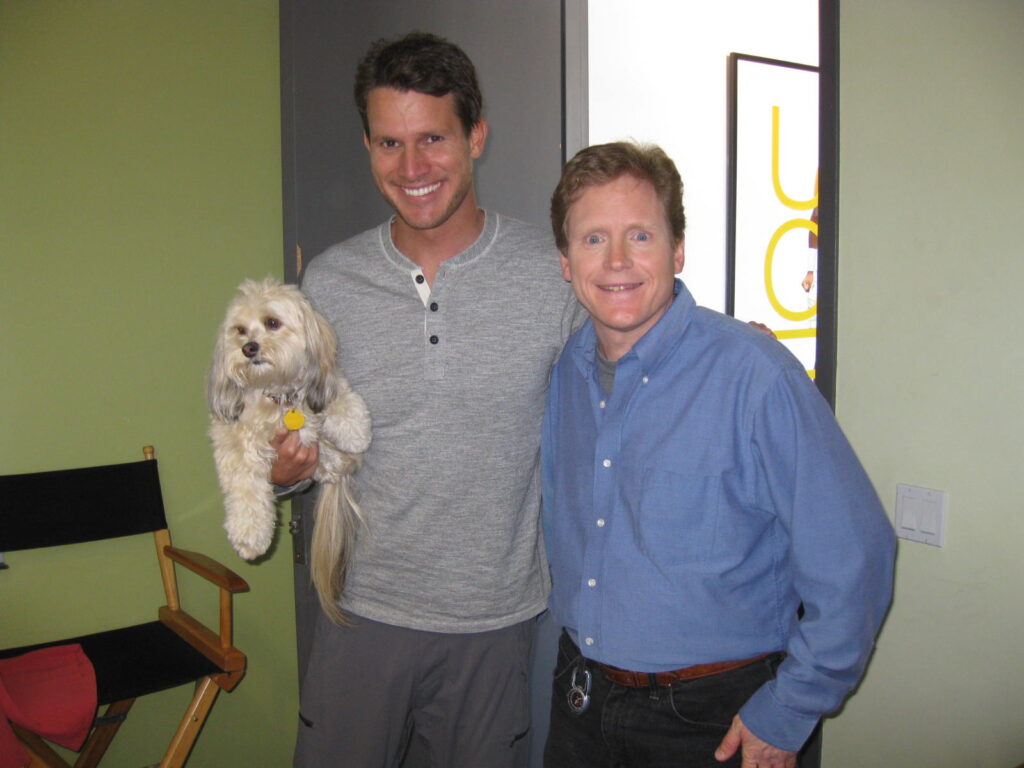 The comedic Adam McKay film "Don't Look Up," which I saw on Christmas evening 2021, finally inspired me to start writing and blogging again. I eagerly awaited for Netflix to start showing the movie on December 24th partially because of Dr. Mann's glowing review. "Don't Look Up" is about scientists warning their projection that a huge "planet killing" comet will hit the Earth in 6 months unless appropriate action is taken to deflect or destroy the comet. The film stands as a metaphor for climate change. Pardon the pun, but the movie had a deep impact on me. I ended up seeing it twice. I ended up writing a ridiculously long blog about the movie where I quoted Dr. Mann several times.

After writing several blogs in early 2022, I felt motivated to read Dr. Mann's book and give it a full review.

My Thoughts on Dr. Mann's 2021 book The New Climate War
Let me say that when I finally read Dr. Mann's book in early 2022, I really enjoyed reading it. As a climate organizer for over 10 years, I found myself relating with many things that Dr. Mann wrote in this book. I ended up taking over 64 pages of notes from statements Dr. Mann wrote about throughout this book.

In the introduction, Dr. Mann makes it very clear why he calls this book, The New Climate War. On page 3, he makes the case that the past climate deniers (the fossil fuel industry, far right-wing commentators, very conservative Republican members of Congress, etc) "can no longer insist with a straight face, that nothing is happening. Outright denial of the physical evidence of climate change simply isn't credible anymore. So they have shifted to a softer form of denialism while keeping the oil flowing and fossil fuels burning, engaged in a multipronged offense based on deception, distraction, and delay. This is the new climate war, and the planet is losing." (his emphasis)

Because I am a climate organizer, Dr. Mann states a position that is music to my ears: "The enemy (mentioned in the last paragraph) has masterfully executed a deflection campaign…aimed at shifting responsibility from corporations to individuals. Personal actions, from going vegan to avoiding flying, are increasingly touted as the primary solution to the climate crisis. Though these actions are worth taking, a fixation on voluntary action alone takes the pressure off of the push for governmental policies to hold polluters accountable."

Amen, Dr. Michael Mann! Thank you so much for writing this and giving major focus in your book that individual solutions are not enough to solve the climate crisis. I talk more about this further on in this blog about my pet peeve of all the conversations I have had with fellow climate activists lecturing me about individual solutions, such as buying an electric car, going vegan, not flying, not driving, not buying anything, etc. Yes, I try to do many individual actions myself, but I am under no delusions that my individual actions will reduce the threat of climate change on its own merits.
As a matter of fact, I saw writer, climate activist, and founder of 350.org, Bill McKibben address this situation when he gave a lecture in Portland Oregon in May 2019 to promote his book Falter: Has the Human Game Begun to Play Itself Out. During that lecture, an audience member pressed McKibben why he was not pushing harder for a vegan diet, no flying, and other individual solutions. McKibben responded that he never felt like he was under any delusions that putting solar on his home, changing his diet, and not flying was going to solve the climate crisis. Twice I have seen Bill Mckibben speak in person (more on that later on in this blog). Both times he emphasized creating a climate movement large enough and strong enough to defeat the fossil fuel interests. Thus, I really applaud Dr. Mann's emphasis on collective action, rather than just individual actions, to address climate change.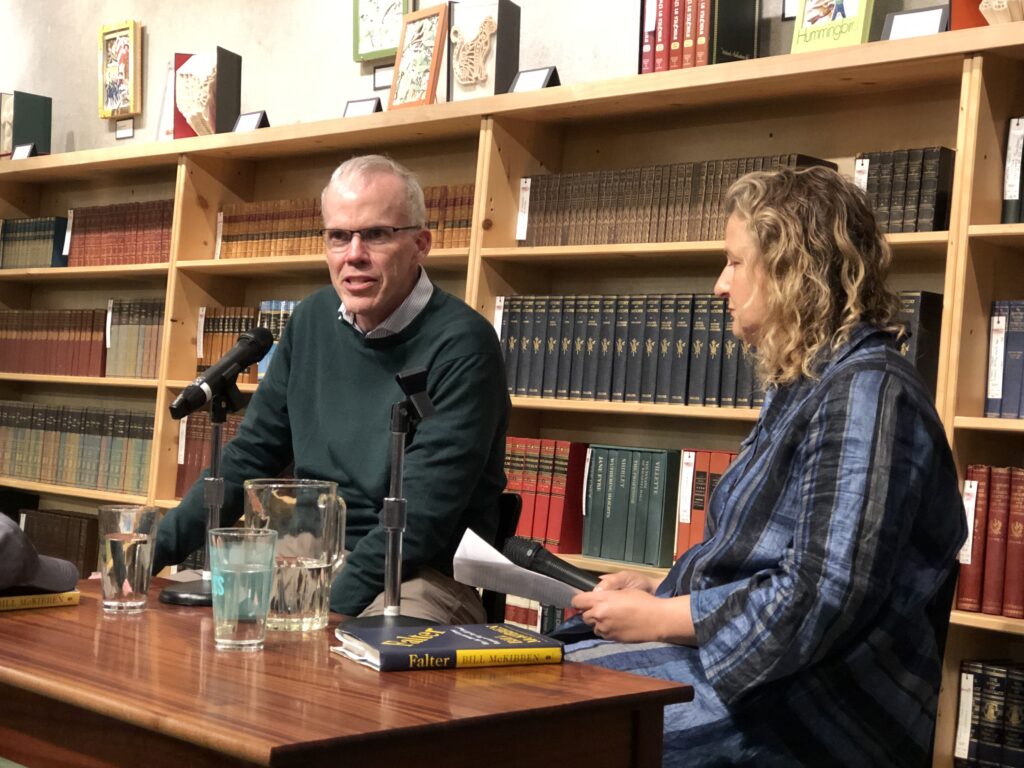 Even more, a couple of times in The New Climate War, Dr. Mann cites a study, which is by David Hagmann, Emily Ho, and George Loewenstein, "Nudgling Out Support for a Carbon Tax," Nature Climate Change 9, no. 6 (2019): 484-489, that, in Dr. Mann's words, "actually shows that emphasis on small personal actions can actually undermine support for the substantive climate change policies needed." With all the attention in the climate movement on individual solutions, this finding should be shouted from the rooftops.

Dr. Mann has given a lot of thought to the word "war" to describe the situation that we are facing to counter act the forces of denial or inactivists, as he would now call them. In the introduction, Dr. Mann directly addresses how he has scientific "colleagues who have expressed discomfort in framing our predicament as a 'war.' But, as I tell them, the surest way to lose a war is to refuse to recognize you're in one in the first place. Whether we like it or not, and though clearly not of our own choosing, that's precisely where we find our ourselves when it comes to the (fossil fuel) industry-funded effort to block action on climate"

Dr. Mann then devotes Chapter 1 to the "Architects and Misinformation and Misdirection", such as Frederick Seitz and S. Fred Singer. They were contrarian scientists who came out of defended the tobacco industry in the 1950s from the claims that smoking cigarettes caused cancer to then attack Rachel Carson's warnings of the danger of DDT, the science behind the hole in the ozone, the dangers of acid rain, the extreme danger of wide scale nuclear, etc. All of this history is also covered more extensively in the Naomi Oreskes and Erik M. Conway's 2010 book Merchants of Doubt. However, it is good to see Dr. Mann's perception of this history of science denial.

Even though Dr. Mann is a highly respected climate scientist well familiar with the fine minute technical details of science, I must say I really like his matter-of-fact, plain English writing style in his books. This probably comes from years of experience writing books about climate change to the general public, plus probably having good editors. However, Dr. Mann knows how to write about science that is engaging and easily understood for the person on the street, like me. This includes how he effectively uses humor and sarcasm to make his point. Such as, when he writes on page 16, "Among those contrarian scientists was the very same S. Fred Singer we encountered in the context of acid rain denial. Get used to that name."
Chapter 2 then focuses how the science denial wars then shift into the climate wars to deny the scientific consensus on human caused climate change. Dr. Mann starts with his own story how he was lured away from studying physics into the field of climate science in the early 1990s. It just a couple of years after Dr. James Hansen, Director of the NASA Goddard Institute for Space Studies, had testified to Congress in June 1988 that "It is time to stop waffling…(T)he evidence (of global warming) is pretty strong." As a 20 year old living in St. Louis MO at that time getting ready to start college, I will never forget reading about Dr. Hansen's testimony and seeing it on TV. We were having an extreme heatwave and drought that summer, with the Mississippi River at record low levels, Dr. Hansen's words seemed like a eerie warning from what I was seeing around me then.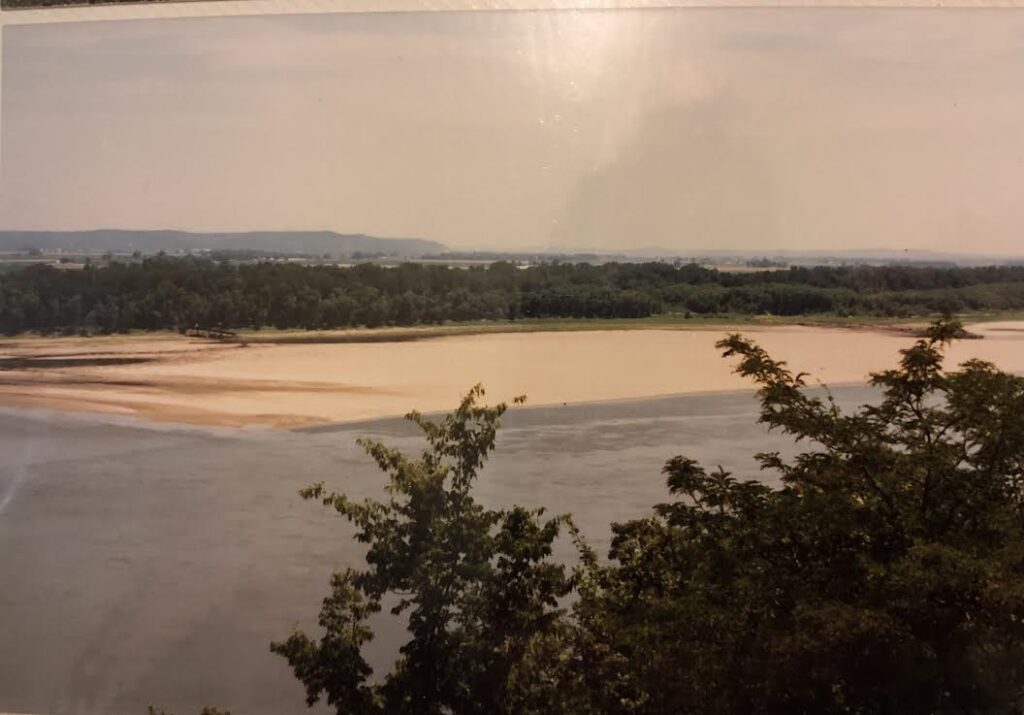 Going into the 1990s, climate science awareness was emerging ever stronger in the public sphere. In 1995 Dr. Benjamin Santer and his IPCC coauthors, based upon the existing knowledge of climate literature, concluded that "the balance of evidence suggests an appreciable (then changed to the word "discernible" in that final IPCC report to please the oil-rich Saudis) human influence on climate." Barely after the ink had dried on this IPCC plenary in February 1996, Santer was publicly attacked by S. Fred Singer in the journal Nature. Yes, Dr. Mann, like a bad horror movie where the same villain keeps resurrecting like a zombie, we can see S. Fred Singer causing more havoc. Chapter 2 focuses on the other oily (if I can use that term) bad actors defending the fossil fuel interests in the 1990s and beyond.

One nightmare character mentioned in Chapter 2 that never seems to go away is chemist Arthur B. Robinson. In 1998, he joined forces with Frederick Seitz to create the "Oregon Petition," which had thirty-one thousand signatures of so-called "scientists" to gin up a fake widespread opposition to the scientific consensus of climate change. Dr. Mann stops mentioning Robinson on page 32 to move onto the brief history of other well known climate deniers.
Ironically, I had a brush with Arthur B. Robinson in 2021. He was elected to the Oregon Senate in 2020. In December 2020 to June 2021, I organized an effort with Oregon Citizens' Climate Lobby volunteers to almost get a climate resolution, known as Senate Joint Memorial 5 or SJM 5, supporting federal carbon pricing, to try to pass in the Oregon Legislature. To get SJM 5 through the Senate, it first had to go through the Senate Energy and Environment Committee. On March 11, 2021, this committee ended up voting in favor of SJM 5 by a vote of 4 to 1, including one rural Republican Senator supporting this climate resolution. The one committee vote that opposed SJM 5, none other than state Senator Arthur B. Robinson. He actually held up the committee vote for a few minutes so he could share his scientific opinion that humans can't cause climate change. During the Senate vote on April 7, 2021, Senator Robinson had to again hold up the vote for a brief speech to share his views how human caused climate change is not real. His Senate colleagues, including many of his fellow Republicans, just ignored his remarks. SJM 5 ended up sailing through the Oregon Senate by a vote of 23 to 7 with all the Democratic Senators, plus 6 Republican Senators voting for it (which was half of the GOP Senate caucus). Thus, I can personally attest to Dr. Mann that some of these denier characters reported in his book and elsewhere never seem to fully go away.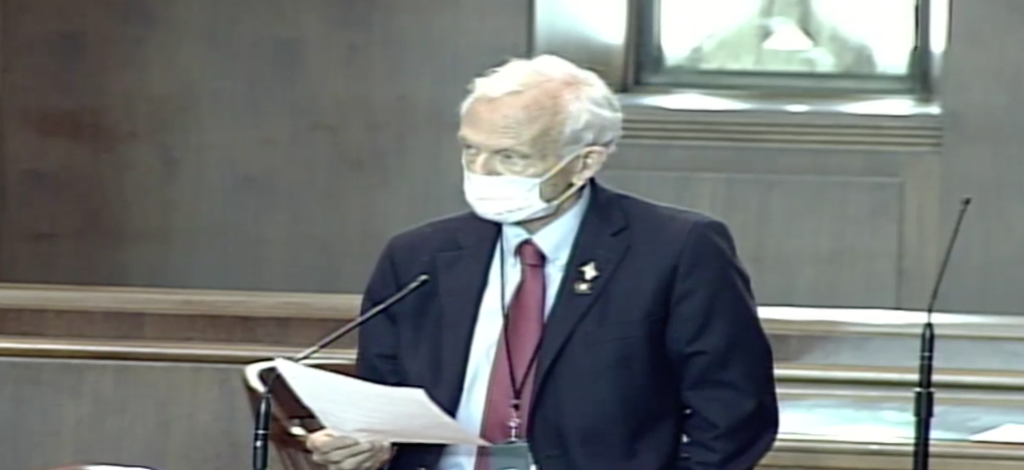 The later part of this chapter is a summary of Dr. Mann's defense of his "Hockey Stick Graph" from the numerous attacks of climate deniers and the distraction of deniers to create the giant nothing-burger 2009 Climategate email hack. Again, the actual scandal was the hack of private emails among climate scientists, not the content of their emails. Dr. Mann gives a full history of this struggle in his excellent 2012 book The Hockey Stick and the Climate Wars.
Chapter 3 really struck a chord with me with Dr. Mann sharing the story behind the "Crying Indian" ad campaign that aired in the 1970s. I still vividly remember those TV ads showing trash along the side of the road and waterways. Towards the end of the ad, there is a Native American seeing the trash with crying tear of sorrow in one eye, and then the tag line, "People start pollution. People can stop it." I was just a little child seeing those ads, but it convinced me for a lifetime to never throw litter on the side of our roads.
Dr. Mann points out that ad was nothing more than a charade and a deflection campaing. The character in the ad "Iron Eyes Cody," was actually an Italian-American actor, not an American Indian. That ad campaign successfully deflected the burden of litter from corporations that produced packaging to consumers.
The litter problem, we were led to believe, wasn't pollution-generating corporate practices. It was you and me. And the 1970s efforts to pass bottle recycling bills to shift responsibility to beverage producers for packaging waste, then failed. Today, decades later, plastic pollution is so widespread on our planet that it can now be found in the deepest part of the ocean, the Mariana Trench 36,000 feet below. Thus, Chapter 3 is all about deflection campaigns, such as the NRA's "Gun's don't kill people, people kill people", the tobacco industry blaming flammable furniture, etc. This chapter is setting the table for Chapter 4 how the fossil fuel industry deflects from its responsibility for its leading role for causing climate change to shifting the blame that it's your/our fault alone.

Dr. Mann correctly devotes pages huge issue of deflection by the fossil fuel industry because we have been so easily deceived by this industry. The New Climate War came out at the beginning of 2021. However, with the Russian invasion of Ukraine in 2022 causing Americans to worry about a spike in gasoline prices, we are now seeing another deflection campaign by the oil and gas industry to push for more domestic drilling for oil and to ease government regulations. Many Americans still don't know that oil is a global commodity with the price determined on the global market and the U.S. is already the world's #1 producer of oil. However, the oil and gas industry wants to convince Americans that 'Drill, Baby, Drill' will somehow magically lead to lower gasoline prices, climate be damned.

Getting back to 'It's YOUR fault' theme of Chapter 4, Dr. Mann informs us that it was the oil company BP that came up with the concept of the "personal carbon footprint." This campaign didn't arise in a vacuum, but rather on the success of the Crying Indian campaign and so many other previously success deflection campaigns. The oil industry wants us as individuals to focus how much oil we are personally using by calculating our personal carbon footprints rather than any kind of collective governmental policy action that could hurt their profits. Dr. Mann quotes environmental author Sami Grover, "Contrary to popular belief, fossil fuel companies are actually all too happy to talk about the environment. They just want to keep the conversation around individual responsibility, not systematic change or corporate culpability."

Sadly, it does not stop there. The oil industry, prominent media like The New York Times, and even many climate advocates have incorrectly solely focused on individual solutions, such as going vegetarian/vegan, not flying, not driving or driving less, etc. Again, Sami Grover: "Ask your average citizen what they can do to stop global warming and they will say, 'go vegetarian' or 'turn off the lights,' long before they talk about lobbying their elected officials."

That quote really connected with me because I traveled to Washington D.C. eight times in four years (2015-2019) to lobby Congressional offices to act on climate. Plus, I have carpooled with climate advocates to travel to the Oregon state Capitol in Salem numerous times to urged elected officials to pass strong climate policy. Yet, so many fellow climate advocates I encounter in person and on social media don't seem to understand the importance of voting and lobbying elected officials to prioritize climate policies. Sadly, many climate advocates have been egged on by the climate deniers, or as Dr. Mann calls them now the inactivists, and even the Russians on social media, to just shame fellow climate advocates for flying, eating meat, etc. I really do appreciate the space the Dr. Mann devoted in Chapter 4 on the harmful nature of shaming in the climate movement.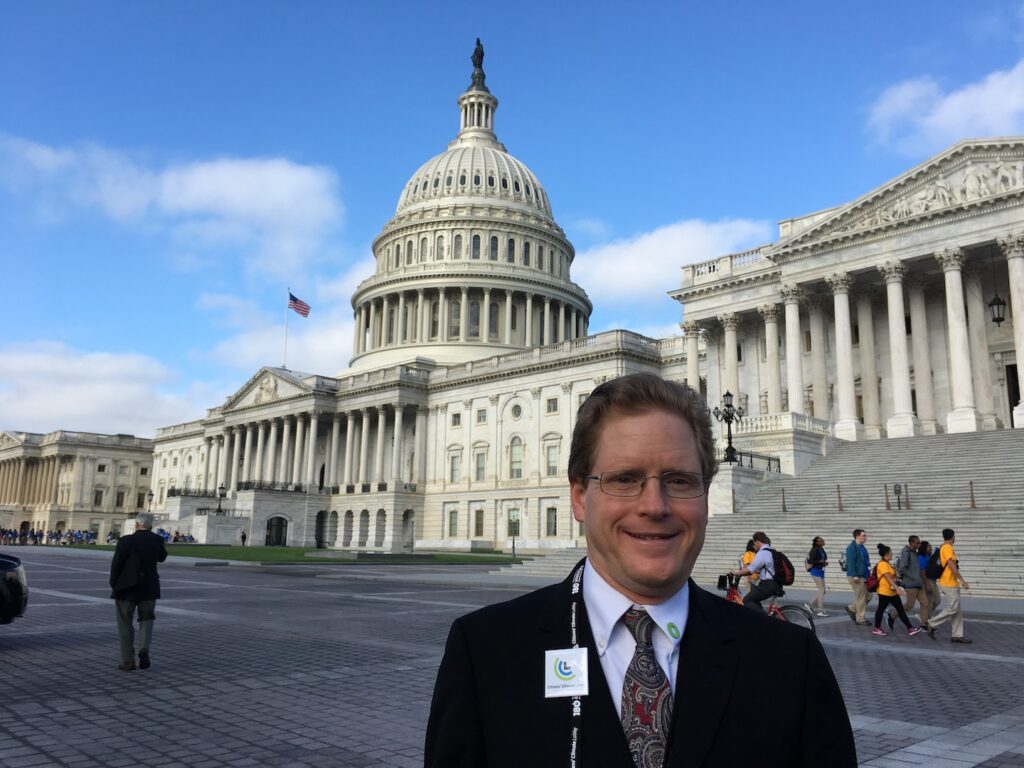 As I also mention in the next section, I have had my fill of shaming by so called climate advocates for for personal decisions such flying, having kids, sometimes eating meat, not buying an electric car yet, etc. The shaming has been so irritating for me that it reminds me of a documentary I saw in 2009 called Lord Save Us from Your Follows by writer & director Dan Merchant. This film asks if evangelical Christians are actually turning Americans away from religion with their heavy preaching of moral values. Some climate advocates may also need to question their tactics with shaming. Dr. Mann cites climate-messaging expert Max Boycoff of the University of Colorado for noting that "flight shaming" for example "is one of the more unproductive ways to have a conversation. Boycoff thinks that all shaming does is make people feel bad, it's "blaming other people while not actually talking about the structures that give rise to the need or desire to take those trips."
As a climate organizer looking to struggling to find a way to make collective and systematic change, I loved what Dr. Mann wrote at the end of Chapter 4, "We should all engage in climate-friendly individual actions. They make us feel better and they set a good example for others. But don't become complacent, thinking your duty is done when you recycle your bottles or ride your bicycle to work. We cannot solve this problem without deep systemic change, and that necessitates government action. In turn, that requires using our voices, demanding change, supporting climate-focused organizations, and voting for and supporting politicians who will back climate-friendly policies––which includes putting a price on pollution––the topic of the next chapter."

For the past 10 years, I volunteered with Citizens' Climate Lobby, which primarily advocates for a federal price on carbon. I strongly support a carbon price because most people don't have time to research whether products they are buying were manufactured and transported using a lot of fossil fuels or not. A policy like carbon fee and dividend puts a tax on the pollution at the source, the oil well, natural gas well, or coal mine, and then that fee is carried over into the cost of the product. Thus, hopefully an apple produced locally using an electric tractor, would be cheaper than an apple shipped from Chile. Thus, I was thrilled to see Dr. Mann devote an entire chapter to this book to carbon pricing.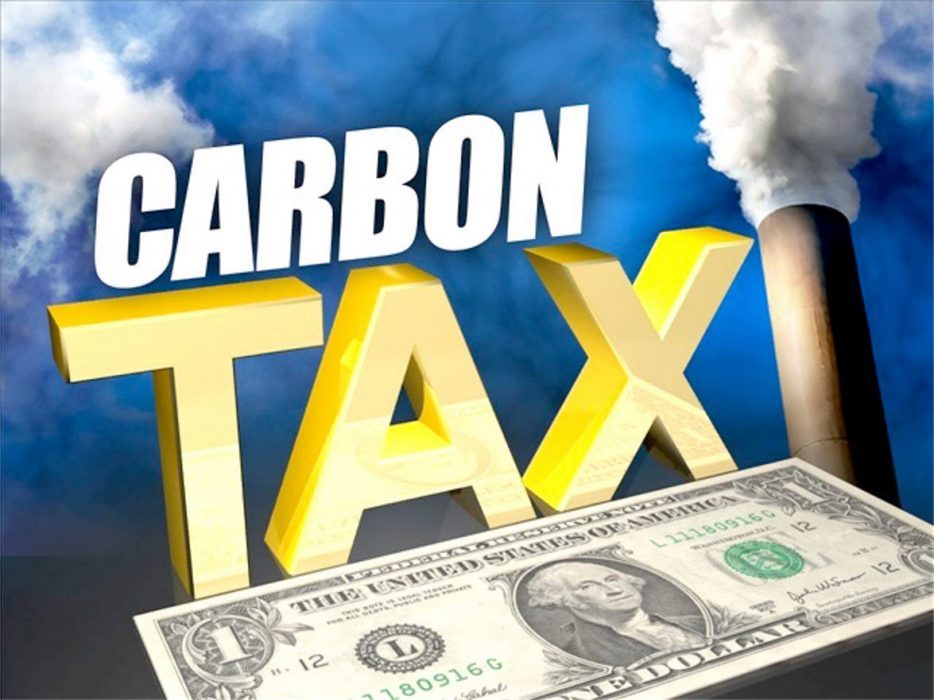 Unfortunately, Dr. Mann points out on page 108 that carbon pricing "Carbon pricing gets attacked by both left and right wing politics."
As a Democratic leaning voter, I was particularly dismayed that the Green New Deal (GND), first promoted by Congresswoman Alexandria Ocasio-Cortez in 2019, advocates against a price on carbon. Even worse, "A letter signed by 626 groups, including Greenpeace and 350.org, was delivered to every member of Congress in early 2019 laying out support for a GND, while stating that the groups 'will vigorously oppose any legislation that…promotes corporate schemes that place profits over community burdens and benefits, including market-based mechanisms…such as carbon and emissions trading and offsets." (emphasis added)
Dr. Mann then touched upon how "the Sierra Club helped defeat a 2016 climate tax initiative in Washington (state) because its leaders felt it didn't satisfy principles of social justice." That felt like a heartbreak for me since I contacted climate friends in Washington state to urge them to support this ballot initiative. Dr. Mann then warns that "there is a fairly aggressive effort underway by some on the environmental left to turn support for the GND in its current form (including opposition to carbon pricing) into a purity test."
Dr. Mann makes a good point about carbon pricing, "Despite the divisiveness that has risen around the role of carbon pricing, there is nothing intrinsically partisan about it." Unfortunately, "It is only relatively recently, as efforts to implement carbon pricing have actually started to move forward––that we've seen support for carbon pricing start to erode on both sides of the political spectrum."
I applaud Dr. Mann for calling out climate and energy policy writer & podcaster David Roberts for being "misguided" in his opposition to carbon pricing. Sadly, Roberts opposition to carbon pricing has steadily continued since the publication of The New Climate War at the beginning of 2021. On January 24, 2022, Roberts gleefully shared a new paper in the journal Nature Climate Change by political scientists Matto Mildenberger (UC-Santa Barbara), Erick Lachapelle (University of Montreal), Kathryn Harrison (University of British Columbia), and Isabelle Stadelmann-Steffen (University of Bern). The paper looked at public opinion in the places where carbon fee-and-dividend policies have been implemented, Switzerland and Canada. The headline of Roberts' blog and podcast was Do dividends make carbon taxes more popular? Apparently not.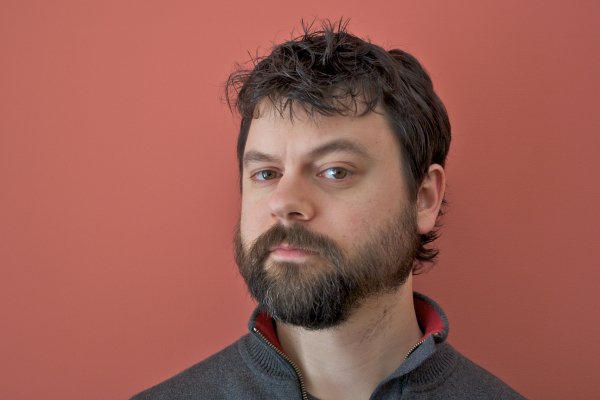 Roberts was all too happy to report from the findings of this paper that 'Refunds don't change opinions much (for supporting carbon pricing after they are implemented), many recipients don't know they exist, and additional information about refunds often doesn't help (increase their support).' As a strong supporter of Citizens' Climate Lobby's carbon fee and dividend policy, I was skeptical of this new paper and Roberts' eagerness to showcase it to confirm his opposition to carbon pricing policies.
Fortunately, I was not the only one annoyed by this January 24th blog and podcast of David Roberts. Gerald Butts, who was principal secretary to Canadian Prime Minister Justin Trudeau from 2015 to 2019 and Trudeau's closest personal advisor, and Catherine McKenna, who was the minister of environment and climate change during the same period, noticed the January 24th piece. "They objected to (Roberts') conclusion that dividends did not make the carbon tax more popular in Canada."
Roberts then generously had them on his February 16th podcast to set the record straight. According to Roberts, "We talked about how the carbon tax was conceived, what enabled it to secure majority support (yes, they say, refunds were important), and where the politics of carbon pricing stand as we move into the 2020s. Not only were my spirits lifted — it's nice to know there's a sane country out there somewhere — I learned an enormous amount. I think you will too."
It was great to see Roberts, who I really do admire for his opinions on climate policy, change his tune, at least for this climate podcast and blog, on carbon pricing. Roberts is a proud climate curmudgeon who is skeptical that government and society can enact the needed policies to reduce the threat of the climate crisis. However, with his spirits lifted in his conversation with Gerald Butts and Catherine McKenna, hopefully he will stay hopeful for the future, especially with carbon pricing policies.
Anyway, along the lines of that spirit of hope, Dr. Mann reports that on page 117 that "Republican pollster Frank Luntz found that Republican voters under forty favor a fee and dividend model by a whopping 6 to 1 margin."
Sadly, Dr. Mann informs us on the next page that "Ironically not only is there an increasing tendency among progressives to oppose seeking a middle ground when it comes to climate policy, but we've arrived in a "bizarro" world where the climate-change talking points employed on the political left are sometimes virtually indistinguishable from those on the political right." One example of this that he gives is former Democratic Presidential candidate Tulsi Gabbard. She came out on record during the 2020 Presidential primaries against a price on carbon with a stand weirdly in agreement with Putin's Russia and the Trump Administration.
Since I consider myself a pragmatic climate advocate who strongly supports carbon pricing, it excites me that Dr. Mann states his position towards the end of this chapter that "Carbon pricing is one of the most powerful tools we have for (the systematic changes needed to address the climate crisis). Taking that off the table (as some on the far left and the climate inactivists would love to do) would constitute unilateral disarmament in the climate wars."
In Chapters 6 and 7, Dr. Mann then shifts gears to point out the ways the climate inactivists put their thumbs on the scale for false solutions while sabotaging support for renewable energy. One example, among many distractions of the inactivists is the crocodile tears that birds are killed by wind turbines, even though the Audubon Society, which actual mission is to protect birds, supports wind turbines. Chapter 7 goes into the non-solution solutions promoted by the inactivists such as natural gas, unclean coal with carbon capture and sequestration (CCS), geoengineering, just planting trees, nuclear energy, "adaptation" and "resilience."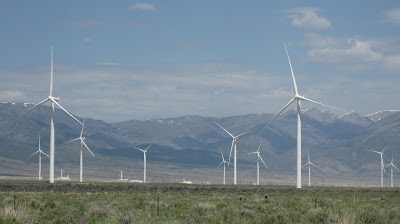 In Chapter 8, I applaud Dr. Mann strongly criticizing the climate "doomists" who believe it is too late to act on climate. These individuals and groups exaggerate the threat climate change, which ultimately does a disservice to everyone wanting a healthy planet to live. As he titles this chapter, "The Truth is Bad Enough." At the start of this chapter, he makes a strong point that "doomism today poses a greater threat to climate action than outright denial."
Climate advocates will often refer to climate change as driving a car too fast in a fog when you don't know where we could fall off a cliff. Dr. Mann likes to push back though to assert that "There is no cliff that we fall off of at a 1.5°C (2.7°F) warming 2°C (3.6°F) warming. A far better analogy is hat we're walking out onto a minefield, and the further we go, the greater the risk. Conversely, the sooner we cease our forward lurk, the better off we are."
I have thought frequently about Dr. Mann's minefield analogy. I think it synergizes well with statements of the late climate scientist Dr. Stephen Schneider, who is a hero of Dr. Mann and mine. Dr. Stephen Schneider was the first scientist I turned to in 1998 read his books on global warming to learn about this issue. Dr. Schneider used to say that if we keep burning fossil fuels and releasing greenhouse gases the planet may respond with "nasty consequences" or "nasty surprises." Thus, Dr. Mann's warnings about climate change remind me of the warnings that Stephen Schneider was trying to alert the general public over 20 years ago.
Sadly, Dr. Stephen Schneider passed away in 2010. If he was still alive, he probably would be shocked to see so many extreme weather events influenced by climate change such as the 2020 Australian bush fires. This was an extreme weather event made worse by climate change that forced Dr. Michael Mann to cut his Australian sabbatical short and return to the United States. With this in mind, Dr. Mann gives us this sobering message:
"So yes, it's fair to say that dangerous climate change has already arrived and it's simply a matter, at this point, of how bad we're willing to let it get. While climate-change deniers, delayers, and deflectors love to point to scientific uncertainty as justification for inaction, uncertainty is not our friend here. It is cause to take even more concerted action…The consequences of doing nothing grows by the day. The time to act is now."
Even more, "It is our decision-making henceforth that will determine how much additional warming and climate change we get." Again, Dr. Mann is clearly telling us that it's up to us with our actions to determine how much of a threat climate change will be in the future. With this in mind, it's important that we don't get distracted by the deniers or delayists but also not the doomists either. As Dr. Mann writes: "It is appropriate to criticize those who downplay the threat (of climate change). But there is also danger in overstating the threat in a way that presents the problem as unsolvable."
Dr. Mann then provides a great quote by clean-tech author Ketan Josh, "Doomism is the new denialism. Doomism is the new fossil fuel profit protectionism Helplessness is the new message."
Dr. Mann warns that "Climate doomism can be paralyzing. As one observer noted, '[climate] doomism has been used as a tool to turn people off action and to pervert election results.'"
I could write many paragraphs agreeing with Dr. Mann's strong pushback against the "doomist" messaging that sadly sways a number of potential climate advocates from taking significant climate action. It always makes me sad and leaves me feeling deflated when friends and some well known individuals voice their opinion that there's not much we can do to avoid a bleak future with climate change. I will never buy into that. At the same time, it's so important that we collectively and individually take all the climate actions that we can to avoid stepping out further into the climate minefield. Thus, Dr. Mann does provide inspiration and hope for me to fight on at the end of this chapter when he writes:
"We do not face a scenario of near-term societal collapse or human extinction. The only assurance of such scenarios would be our abject failure to act. If there were not still a chance of prevailing in the climate battle, I would not be devoting my life to communicating the science and its implications to the public and policy makers. I know we can still avert catastrophe. And I speak with some authority on the matter. As a scientist who is still engaged in climate research, my views are informed by hard numbers and facts. In the final chapter of the of (this) book, we confront the remaining front in the new climate war – ourselves, our own self-doubt that we have it within ourselves as a species to meet the challenge at hand."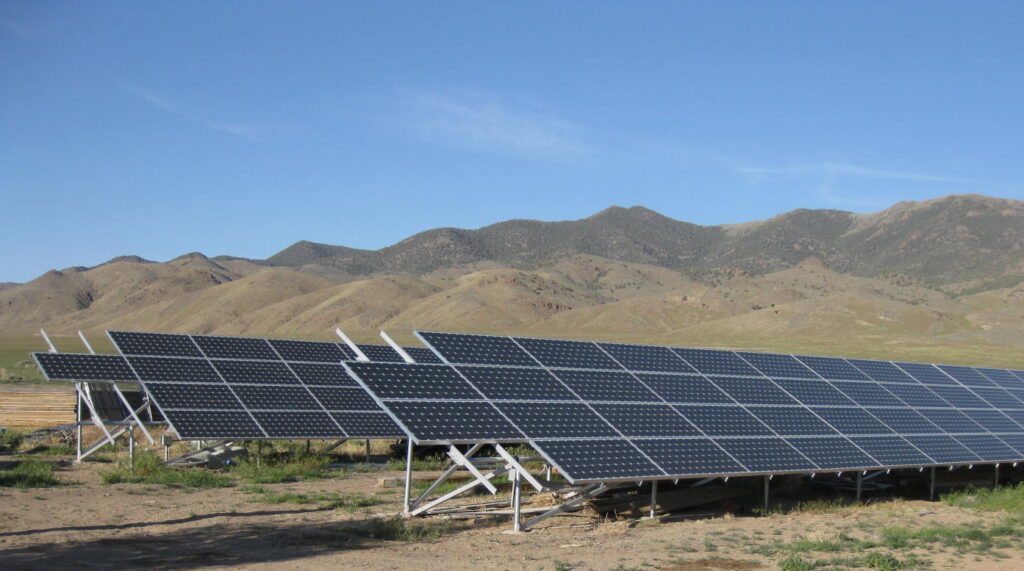 Indeed, the final chapter of The New Climate War is titled "Meeting the Challenge." Dr. Mann begins the chapter by writing:
"Despite the challenges detailed in this book, I am cautiously optimistic ––that that is to say, neither Pollyannaish, nor dour, but objectively hopeful––about the prospects for tackling the climate crisis in the years ahead."
There's so much more I would like to comment, but I want to give others a space to read this chapter and the book to develop their own opinions and responses. Like I wrote previously in this review blog, this book really connected with me on many levels. Thus, it has been hard to write a brief review with so many items that I want to comment about.
Bottomline: I highly recommend the 2021 hardback version of the book. At the same time, I look forward to the paperback edition coming out in May 10, 2022 to see if Dr. Mann has included any updated thoughts.
My one suggestion to Dr. Mann: 'Give the Do-ers very clear marching orders'
In The New Climate War, Dr. Mann proclaims on page 45 that 'The most hard-core (climate) deniers are in the process of going extinct (though there is still a remnant population of them). They are now being replaced by other breeds of deceivers and dissemblers, namely downplayers, deflectors dividers, delayers, and doomers." (his emphasis)
That would make for a great group of Seven Dwarfs for the next Adam McKay (writer/director of the film Don't Look Up) like climate change Hollywood satire! Seriously, though on the flip side, I would like to add another D to Dr. Mann's list. Unlike the other Ds, this is a good D. This is a D of what I call the folks like me who want to be the Do-ers. In other words, folks like me who want to Do Something Now for climate action.
These would be the folks who are paying close attention to what Dr. Mann is writing about in this book and other publications, his public speeches and media interviews, etc. The segment of the population who are paying attention to the latest IPCC reports, published scientific findings on the climate, and credible media reports on the climate. As a result, they want to Do Something Now for climate action. Sadly, the other seven Ds that Dr. Mann wrote about in his book do take up most of the oxygen in the room. Yes, I do get why he focused on them since we do need to understand our opponents in The New Climate War.
The good news is that there are a lot of us Do-ers or Do Something Now folks for climate action. The most recent Yale Global Warming's Six America's Survey from September 2021, published in January 2022 shows that 33% of Americans are alarmed about climate change. That's one in three Americans! This survey defines Alarmed as "convinced global warming is happening, human-caused, an urgent threat, and they strongly support climate policies."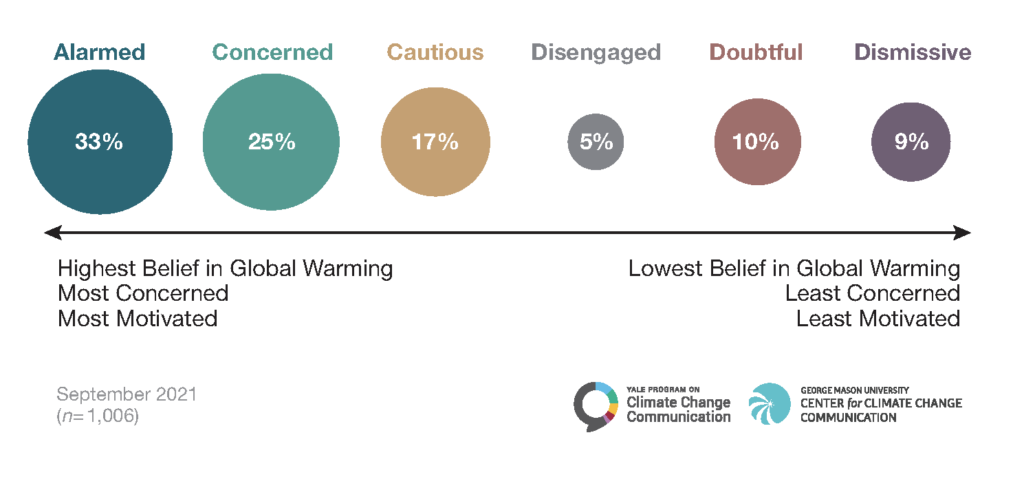 When you add in that 25% of Americans are concerned about climate change. This survey defines Concerned as the people who "think human-caused global warming is happening, is a serious threat, and support climate policies. However, they tend to believe that climate impacts are still distant in time and space, thus climate change remains a lower priority issue."
When you combine the Alarmed and Concerned segments of the American population, that's 58%, a clear majority of Americans who think human-caused global warming is happening, is a serious threat, and support climate policies. On the other hand, only 9% of Americans are Dismissive of climate change, meaning they "believe global warming is not happening, human-caused, or a threat, and most endorse conspiracy theories (e.g., 'global warming is a hoax).' Sadly, it's the Dismissives, especially those who are members of Congress, fossil fuel executives, and right wing media figures, who still can garner way too much attention in the public sphere with their outlandish statements, outsized media influence, and piles of lobbying money to sway Republicans and the Senator Joe Manchins in Congress. Dr. Mann refers to the climate deniers as inactivists, which he defines as "The forces of inaction – that is fossil fuel interests and those who do their bidding – (who) have a single goal of inaction" as the forces we must overcome in this new new Climate War."
Yes, in order to win a war, especially The New Climate War, you must successfully define and learn the tactics how to prevail against your opposition. At the same time, the do-ers, climate warriors, and alarmists do need clear precise marching orders to defeat our opponents and reduce the threat of the climate crisis. That's exactly what I did when I saw writer, climate activist, and founder of 350.org Bill McKibben give a public presentation at St. Louis University in November 2012. During the question and answer time with the audience, I was the first one to walk up to the microphone and ask him directly: "What's our marching orders, Bill?"
His response: "Contact your local college or university as a student, professor, or alumni and ask them to divest their endowment from fossil fuels."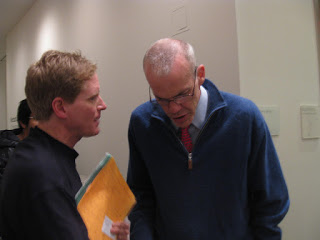 That was clear enough and I did just that. Four months later in February 2013, I did write to the President of my alma mater, William Jewell College, to ask him to consider divesting William Jewell's endowment from fossil fuels. I followed it up with a letter to the editor to the William Jewell student newspaper urge the students, faculty, and administration to divest the college's endowment from fossil fuels. I didn't stop there. As a 1992 alumni, I made connections to arrange for the college President to call me that summer to have a conversation about divestment. Was I successful? No. However, I blogged about my efforts to hopefully inspire others to copy my efforts. Even more, following those marching orders from Bill McKibben gave me confidence to do more for climate action.
Dr. Mann does have a great succinct message in this book regarding climate action that "There is clearly a sense of urgency. But there is also recognition of agency – a sense that action is possible, that our future is, at least to an extent, still in our hands."
If you recall above, that's also the theme, urgency and agency, in the email response that Dr. Mann sent me in November 2020. Again, his very generous advice when I was getting ready to appear on a national TV comedy show to possibly discuss climate again. In The New Climate War, Dr. Mann does give a lot of great advice and insights for fighting this war, such as staying objectively hopeful that we do have the tools and ability to reduce the threat of the climate crisis and disregard the Doomsayers. He urges us to support and respect the climate youth activists, such as Greta Thunberg, Alexandria Vilaseñor, and Jerome Foster (who I had the privilege to meet and attend lobby meeting with at a Congressional office for climate action at a Citizens' Climate Lobby conference in Washington D.C. in November 2018).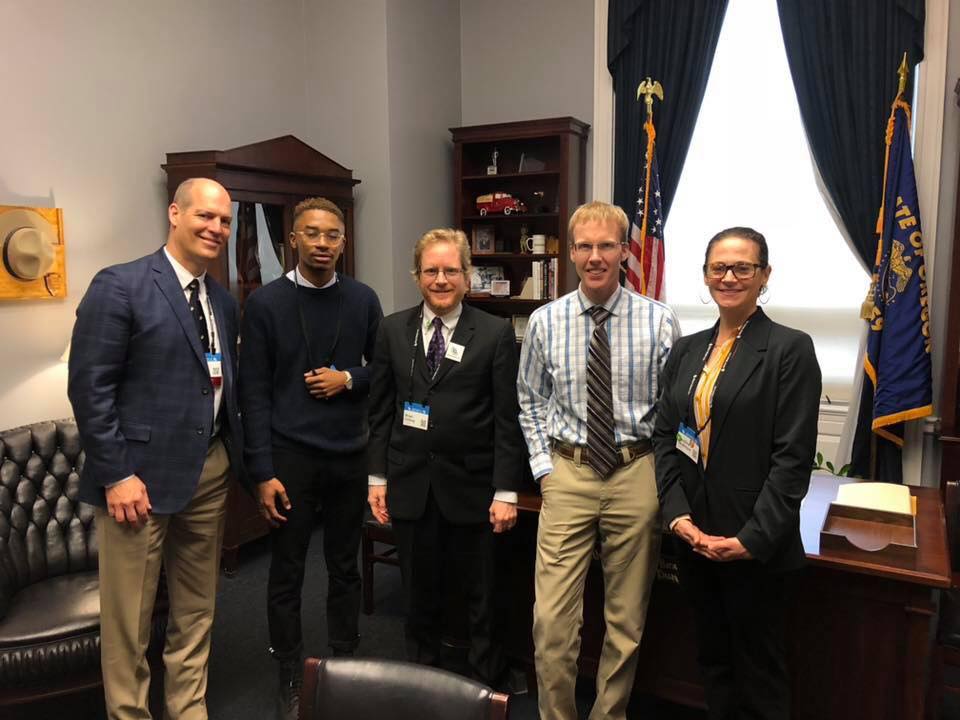 Even more, Dr. Mann advises us to Educate, Educate, Educate our friends when a false claim about climate change moves outside of the denalist echo chamber and tries to infest well meaning folks that we know. It's important that we arm ourselves with helpful credible sources like skepticalscience.com to be able to rebut to help the confused middle so they can join us battle. Finally, Dr. Mann hits hard on this crucial idea that "Changing the system requires systematic change."
I can't applaud enough for Dr. Mann emphasizing this thought throughout his book. As a matter of fact, that has been my biggest frustration with the climate movement, the lack of organizing together on systematic solutions. My pet peeve is all the conversations with fellow climate activists lecturing me about individual solutions. I had a block a climate activist on Facebook who would not stop harping on me that my wife and I should not have kids. This is a very sensitive subject for me because my wife and I got married in 2015 when I was 47 years old and she was 40 years old. We would have loved to have children of our own, but it was not meant to me. This activist would not stop browbeating me about this. He nearly had me crying as I tried to explain the situation. I finally had to block this person to end the conversation for once and for all. Thus, for anyone reading this, please be sensitive when bringing up the subject of world population and having kids. I respect anyone who decides not to have kids due to bringing them into the world in the midst of the climate crisis. At the same time, for others like me, not having children is a very touchy subject since it was not meant to be for my wife and me.
I have met folks who just thought that living in an eco-village, eating a vegan/vegetarian diet, not driving, or flying was doing their part to solve climate change. I do admire and appreciate their actions. At the same time, it's not enough. As Dr. Mann stresses in this book systematic change is needed. I proudly drive 20 year old manual transmission green Honda Civic. It was the most fuel efficient car I could afford when I bought it new in 2002 and it still runs great today at over 300,000 miles. My wife and I fully know that this car won't last forever. We get really excited when we see a Tesla or any kind of electric car when we go out for a drive. When my car does eventually seem to be on its last legs, we plan on replacing it with an electric car. We test drove a Tesla in December 2015, so it has been a dream for my wife and I to get an electric car for years. Yet, whenever I post about my car on social media when it hits a major milestone such as 300,000 miles or 20 years old, some of my climate friends will post "You need to get an electric car!" Yes, my wife and I know this!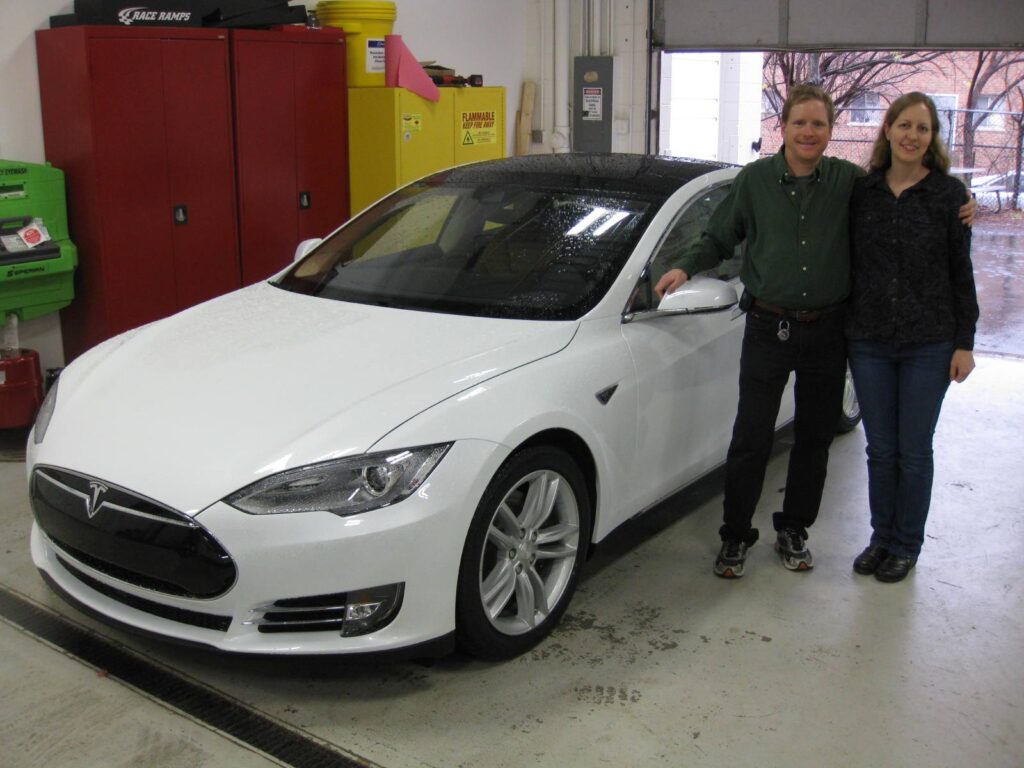 I could go on and on about the tunnel vision about individual solutions. Yes, they are important, but they are not the cure all. I will never forget a statistic mentioned towards the beginning of the January 10th, 2020 Climate One Podcast, INCONSPICUOUS CONSUMPTION: THE ENVIRONMENTAL IMPACT YOU DON'T KNOW YOU HAVE by host Greg Dalton: "The small choices we make everyday can have a big collective impact on climate. But experts say individual actions can only get us about 30 or 40 percent of the way to safety. The rest falls on governments and companies."

Dr. Mann does a superb job of stressing that individual actions are not going to cut it towards reducing the climate crisis. Page 264 he writes: "The answer is that there is no path of escape from climate-change catastrophe that doesn't involve policies aimed at societal decarbonization…We won't get those policies without politicians in office who are willing to do our bidding over the bidding of powerful polluters. That means we must put pressure to bear on politicians and polluting interests. We do this through the strength of our voices and the power of our votes." (My emphasis)
Right on, Brother Mann! Preach! Preach! Having said that, I would invite Dr. Mann to go much further. I think he needs to be even more clear and direct in his marching orders of what climate advocates need to do right now. A good example of this was one of the promotional interviews with the cast of the "Don't Look Up" film in December 2021. Around the 13 minute mark of this YouTube video, comedic actor Jonah Hill asks: 'What can one person do to take climate action?' Leonoardo DiCaprio's response: 'The #1 thing is vote in elections for people who take climate change seriously.'
Having said that, I would really encourage Dr. Mann to be very direct with his marching orders in future writings, media interviews and public talks. Literally, I can't stress this enough as a climate organizer, PEOPLE DON'T KNOW WHAT TO DO TO TAKE CLIMATE ACTION. Sadly, according to the Yale Global Warming's Six America's Survey, this includes many of the Alarmed segment of the U.S population. "Most (Alarmed) do not know what they or others can do to solve the problem (of climate change)."
I heard Dr. Anthony Leiserowitz say directly in his keynote address at the Citizens' Climate Lobby (CCL) Conference in Washington D.C. in June 2017, now on YouTube. He noted at the 24:45 minute mark that the number one question of the Alarmed and Concerned, which is currently 58% of the U.S. population is 'Ok! I get it! Climate change is real, bad, scientists agree, and we need to do something, but what can I do?' Sadly, we have millions of Americans in these groups that want to do something, but they don't know what to do. Dr. Mann and I both know that we ultimately have to change the government policies. This then consequently involves larges numbers of the Alarmed contacting and engaging with their elected officials, especially their members of Congress. Sadly, large percentages of the Alarmed and Concerned are still not contacting their members of Congress. When the Yale Global Warming's Six Americas asked the Alarmed and Concerned why aren't they contacting their members of Congress. The number one response was no one asked them to contact them! Dr. Leiserowitz then jokingly yelled at the CCL audience of committed climate activists: "JUST ASK!"
Even more, Dr. Jennifer Carman, a postdoctoral associate with the Yale Program, spoke about this when she was the guest speaker for the Citizens' Climate Lobby March 2022 Monthly Meeting. She highlighted that of the Alarmed group, recent findings show that just 34% are politically active, 46% are willing to take action, and 20% are inactive at this time. She stated that "We found from our research that one of the big barriers that prevents people is that no one has asked them (to take action)."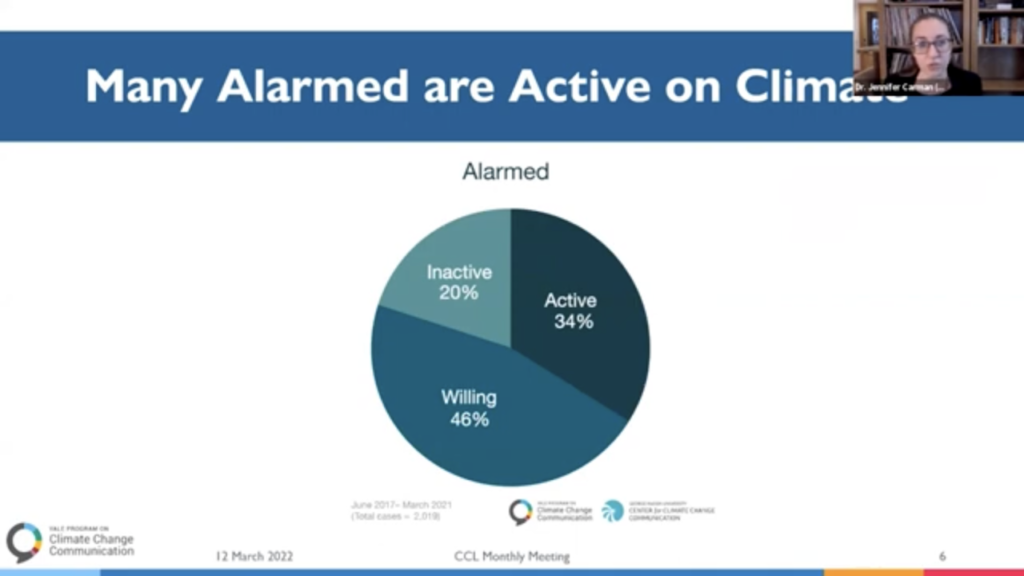 I know from Dr. Mann's public statements and an email exchange with me that he is hesitant of crossing "the line of being policy prescriptive rather than just policy informative." That's fair. Dr. Mann is one of the most respected climate change scientists who is willing to engage the media and the public on climate science. As he talked about in The New Climate War and his previous books, speaking publicly about climate science was not something he envisioned for his career. Specifically, he was forced to "go public" when he was unfairly attacked by climate deniers and denying elected officials going back many decades now. He has proudly embraced his public role to defend himself and climate science. I applaud this. Dr. Mann is one of my heroes. His books and public appearances has had left a big impression on me. Even more, he has been personally generous to me with his time and advice.
Having said that, I do want to push back a bit against the hesitation of Dr. Mann and other climate scientists who don't want to be policy prescriptive or put on a spot to advocate for specific solutions. Many climate scientists feel like it's "not my job" to go beyond working on the science and publishing the results. Sadly, as I wrote about above, we are not making the progress that we need because many Americans who alarmed about climate change don't know what to do, what to say, who to contact or what or what solutions to advocate. Sadly, too many of the most committed climate advocates are caught into side show distractions about just going vegan, preaching about over population, or even giving dangerous doomerism or nihilistic messages that 'It's too late!' Just like the deniers, the climate advocates caught up in bad messaging can also take up the oxygen in the room, leaving the public confused, which inadvertently, helps the deniers and inactivists that Dr. Mann and I want to defeat in this New Climate War.
Thus, I would really encourage Dr. Mann and other climate scientists to come up with very clear marching orders and specific advice on what the millions of us climate do-ers can jump in and immediately do. We are standing by eagerly wanting to help! As I blogged about over 10 years ago, a climate advocate friend of mine had just returned from a presentation by Project Ocean at a conference. That speaker stressed the point that when people hear they have cancer, they do not research the molecular biology of cells. They want the solutions now on how they can fight cancer successfully. 'Is it exercise, diet, meditation, prayer, medication, surgery, sense of humor, or anything else Doctor?' The huge planetary problems associated with climate change can be very scary for your audience to comprehend. What is your solutions for them?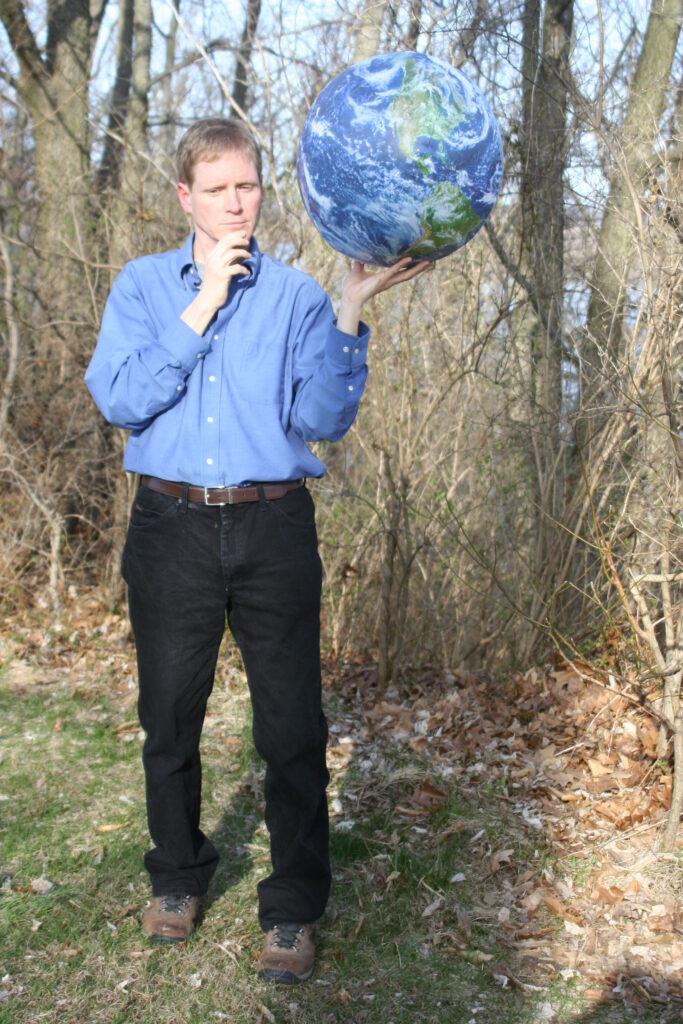 I had this happen to myself recently when I felt a very severe pain in my left arm in late December 2021. Ironically, I had basically the same injury in December 2015 that I blogged about then. Like any pain, I denied it was happening for a few days and even weeks. I then started putting a pack of ice on my arm hoping that would do the trick. It did not. I finally went to see my doctor on January 12th this year. With any family doctor/general physician, I knew in this specialized age of medicine that my doctor was not going to be able to heal me on the spot. She diagnosed the problem as a rotator cuff strain. However, she didn't then say, 'Sorry it's not my job to fix it.' She did what any good doctor would do, she assigned me to a specialist. In my case a physical therapist, who could help me with daily exercises to regain my mobility in my left arm, reduce the pain, and bring me to a road of recovery. After several months of physical therapy, I can report that I am completely healed and basically back to normal.
Another way to think of this is something I heard from a very influential climate scientist, the late Dr. Stephen Schneider, a who is hero of Dr. Mann and I. In 1998 when I needed to learn something fast about global warming to answer visitor questions as a naturalist guide in Everglades National Park, I went to a Miami bookstore and bought Dr. Stephen Schneider's book, Laboratory Earth: The Planetary Gamble We Can't Afford to Lose. I then became a fan and follower of Dr. Schneider's public statements and warnings about climate change. In his TV, documentary, and recorded podcast interviews, I found him to be a master of using amazing metaphors and analogies to explain to non-scientists the complex science of climate change in a way that the public could truly understand. In my opinion, no scientist or communicator before or since can touch the outstanding communication style of Dr. Stephen Schneider.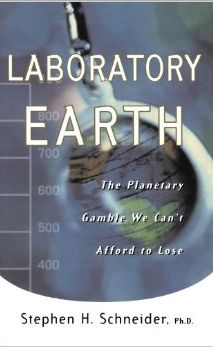 Dr. Schneider had a fantastic metaphor, 'Would you argue with you doctor over a heart condition?' in a 2006 HBO climate change documentary, Too Hot Not To Handle. This analogy is still stuck in my mind sixteen years later. I blogged about this back in 2015.
Here is the full quote from Dr. Schneider:
"Some people say 'When you are sure about climate change, then we will do something about it.'
Suppose your doctor says 'Well, I am very concerned about your heart condition. I think you should be on a low cholesterol diet and exercise.' Would anybody say to their doctor 'If you can't tell me precisely when am I going to have the heart attack and how severe it will be.' then why should I change my lifestyle?'
That is how absurd it is that when the political world tells us in the climate world: 'tell us exactly how bad it is going to be and when and when you are sure, come back and talk to us.' That is not the way it works in any other form of life. Not in business. Not in health. Not in security. We have pretty good ideas about what could happen. We do not have the detailed picture and we are not going to for several decades. What we are doing is taking a risk with the life support system of the earth and humans have to decide if we want to slow that down."
This is a brilliant quote to respond to the vast climate denial that was happening in 2006 and is still lingering around today in 2022. Again, on the flip side, there are also millions of climate alarmed citizens and even climate do-ers, who would hear these warnings from Dr. Schneider, like I did back then in 1998 and 2006, and Dr. Mann today, and would respond, "Ok, Doc, I get it! tell me what I should do right now now to reduce the threat of climate change."
If I could have Dr. Mann and other climate scientists sit down to watch one video of my frustrations with how we communicate how climate change to this day, it would be this short clip from the 1992 Spike Lee film Malcom X. In this scene, a sympathetic young white woman expresses admiration for Malcolm X and his fight for racial equality. She directly asks him what she can do. Sadly, his response was "Nothing."

Director Spike Lee included this scene in his film because Malcolm X wrote about this encounter in his autobiography. Upon later reflection, Malcolm X seemed to regret that he wished he could have had a better answer for her in that moment.
Too often, I have felt the same way in my eleven plus years of being involved in the climate movement and asking climate organizers to mentor me so I could become an effective full time climate organizer. I blogged about this twice of very deep personal frustration five years ago. Often it has felt like climate scientists don't have that clear answer when the public asks them: "What can I do?" On page 222, Dr. Mann admitted to learning the hard way in his public presentations that he gave for years that he "focused only on the on the science and the impacts, because I am a scientist. I would then only pay lip service to 'climate solutions,' with the obligatory final slide." Afterwards, audience members frequently gave him this feedback, "That was a great presentation. But it left me so depressed."
As he reflected on this audience feedback, he thought his presentations were deficient. He needed to also include "reasons for hope" in his public lectures. I applaud Dr. Mann's candor to adjust his public presentations to include hope to try to inspire his audience to take climate action. From 2010 to 2019, I gave over 200 climate change public presentations in 10 U.S. states, Washington D.C. and Ottawa Canada. I tried to learn and evolve to give my audiences very specific solutions they could do on the spot (signing letters to members of Congress) and to take with them after they got home. It's so important that we are improving our messages that our audiences have hope and know exactly what they can do to act on climate.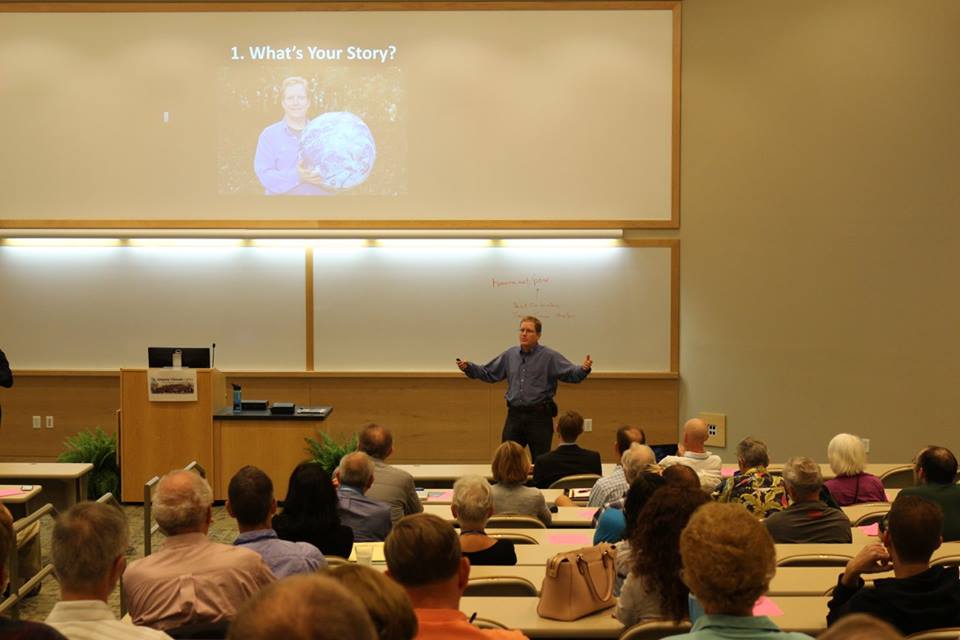 An audience eager for Dr. Michael Mann and David Wallace-Wells to focus on climate change solutions
From pages 205-217, Dr. Mann is quite critical of author David Wallace-Wells' July 2017, "The Uninhabitable Earth" New York Magazine article and then subsequent 2019 book by the same title. He gave a searing opinion about Wallace-Wells' New York Magazine article writing, "It was to climate doom porn what Shakespeare is to modern literature. Yes, Wallace-Walls article and then best-selling book did have a profound impact on the larger conversation on climate. I totally agree with Dr. Mann that the article did "present an overly bleak view of our climate future." The 2017 article didn't connect with me. Back in 2008, I had seen the National Geographic climate change documentary Six°Degrees Could Change The World and read the book it was based on, Six Degrees: Our Future on a Hotter Planet by journalist Mark Lynas. I thought that 2008 National Geographic documentary and Mark Lynas' book had already informed me what could happen if humans don't act to reduce the threat of climate change. Thus, I found David Wallace-Wells' 2017 New York Magazine article did not connect with me at all.
Even more, I had already learned as far back as 2011 that dire messaging does not work. Even worse, it can have a backfire effect causing people who hear climate doom messages to be even less likely to take climate action. In December 2011, I heard Susan Joy Hassol, Director of Climatecommunication.org speak at the American Geophysical Union Conference in San Francisco. During her presentation, she stated that "Most people will find it difficult to accept the science of climate change if they feel there is no solution." She was citing the December 2010 research paper, Apocalypse Soon? : Dire Messages Reduce Belief in Global Warming by Contradicting Just-World Beliefs by Matthew Feinberg and Robb Willer who uncovered this finding with experimental studies on 97 Berkeley undergraduates. Susan Hassol explained to me by e-mail soon after her lecture, "that people who believe in a 'just world' have trouble accepting something that is hopeless." Too much emphasis on doom and gloom without providing hope can influence people to be even more pessimistic about climate change and the science that supports it.
In 2017, Dr. Mann expressed his concern about the 2017 David Wallace Wells article in a Facebook post writing, "The evidence that climate change is a serious problem that we must contend with now is overwhelming on its own. There is no need to overstate the evidence, particularly when it feeds a paralyzing narrative of doom and hopelessness. I'm afraid this latest article does that." Dr. Mann's strong criticism sparked a lot of discussion, which led to a November 2017 New York University event, called "The Doomed Earth," where Dr. Mann had an in person discussion with David Wallace-Wells, narrated by Robert Lee Holtz, a science writer at the Wall Street Journal. Dr. Mann mentioning this event on page 209 inspired me to find the YouTube video from this event.
Why mention all of this? At the 1:05 (one hour and five minute) mark on this video during the question and answer period, a participant asks the audience: "A show of hands. How many people here are frustrated and want to hear about solutions?"
It's off camera, but the participant remarks that a number of people raised their hand wanting to hear about solutions. This prompted the host Robert Lee Hotz to point out that the symposium with Dr. Mann and David Wallace-Wells was about climate change communications. This audience member then quotes Kurt Vonnegut that "In American history, in the battle of forces between good and evil, greed and compassion, there's only one thing that has made a difference and that's organizing."
This audience member then asks Dr. Mann and David Wallace Wells, "What have you come across in your writings that has excited you about some new ways to organize that could solve 'the mother of all challenges,' which is to recruit a lot more people to do a lot more courageous tasks (to solve the climate crisis?"
Although this audience member was very long-winded and irritating to watch as he hogged the microphone to plug his app and organizing group, I still thought his question was spot on though as a long term climate organizer with similar frustrations.
Before he got to the point of his question, he defined the 'mother of all challenges' as "If the major grassroots organizations are going to have any success in the very near future to be able to recruit the vast larger numbers of people that they need to do the much bigger tasks from willing to get arrested at a pipeline to be willing to knock on 200 doors on a weekend to get the right person elected. We're going to need some way to solve that problem, which I call 'The mother of all challenges.' (Which is) what can we do to get a lot more people to wiling to join groups to do a lot bigger things than to just show up at a protest, which really does not do much or just call your members of Congress?"
David Wallace-Wells then responded that "What I find interesting is that most of the people who have asked about what they can do in the aftermath of my (New York Magazine) piece were really focused on personal consumption choices and…"
The audience member then interrupted Wallace-Wells to say, "I call that the lifestyle delusion."
David Wallace-Wells felt a little defensive and replied, "I am actually totally with you and I feel like what I actually say is that organizing is actually the thing to do…It's good to live in a responsible way, but political organizing is overwhelmingly the thing that is going to solve the problem if we are going to solve the problem."
The audience member then interrupted to ask: "Then that begs the question: How can we organize in a lot more cleverly and a much more bigger way?"
In my opinion, Wallace-Wells struggled to answer that question when he responded, "To me, it feels like, first of all, the climate is doing a lot of the work for us…with the extreme weather, with the hurricanes and the wildfires, that I do think the public is really waking up to climate change in a much more profound way than they ever have before. And I think it is important to keep in mind, given what I was saying earlier about the incredible speed in which we have created this problem with that the fact that the public is even aware at all, on some level should be a cause for hope rather than a cause for despair…"
Dr. Mann: "I would underscore some of (David Wallace-Wells) points that if you take an issue like gun control, upwards of 90% of the American public supports common sense gun legislation. Yet, we have a gerrymandered Congress which is not willing to do anything about the problem. And, so public acceptance and even public concern in the political system that we operate in today is not always sufficient. It is necessary, but not necessarily sufficient for political change."
I thought this was an interesting exchange and brief conversation. However, like many of us in the climate movement that want to do something, I wanted to hear more. To me, this brief conversation at this public discussion with Dr. Mann and author David Wallace-Wells shows that there is a segment of the public that is very hungry to hear more about climate solutions and how we can organize politically to try to solve the climate crisis.
In a future book by Dr. Mann or other climate scientists, I would like to hear more specific climate solutions and marching orders on what we can do. Let me add, that it's ok if Dr. Mann does not have all the answers or does not feels comfortable suggesting solution as an impartial climate scientist just trying to provide non-biased scientific answers. 11 years ago, I heard a scientist with the National Park Service, Patrick Gonzalez, say at a government climate conference that "it took millions of actions by people to get us into the climate crisis, and it will take millions of actions to get us out of it."
The key question is which solutions are needed to solve the climate crisis?
After all, it was an overwhelming consensus of climate scientists over many decades who established through science that climate change is real, bad, happening right now, it's caused by us humans, and we can limit the damage if we choose. In 2018, the IPCC (the Intergovernmental Panel on Climate Change) released a summary report that we must cut our global greenhouse gas emissions in half by 2030 and down to net zero by 2050. By how? What are the best scientific solutions to get us to net zero greenhouse gas emissions by 2050?
At the very least, I would like to see Dr. Mann in a future book or writing point us to the solutions that we should be doing. Or, to be respectful of his position to not be prescriptive, who can he point us to that can show us the modeling, range of solutions, or needed collective actions to get us globally to net zero by 2050? Is it Project Drawdown or 2017 book Drawdown: The most Comprehensive Plan Ever Proposed to Reverse Global Warming, edited by Paul Hawken? Is it the 2018 book Designing Climate Solutions: A Policy for Low-Carbon Energy by Hal Harvey, CEO of Energy Innovation? Is it the En-ROADS Climate Solutions Simulator that was created by Climate Interactive? It is not one of these?
For the millions of of climate do-ers who want a road map how we globally get to net zero by 2050 based on the best science, which is the collective solution. To quote the 1996 film Jerry Maguire, "You had us at hello," Dr. Mann, with your published papers, books, public presentations, and media appearances on climate change. Just advise or point us in a direction with very clear marching orders on what we should do next for climate action.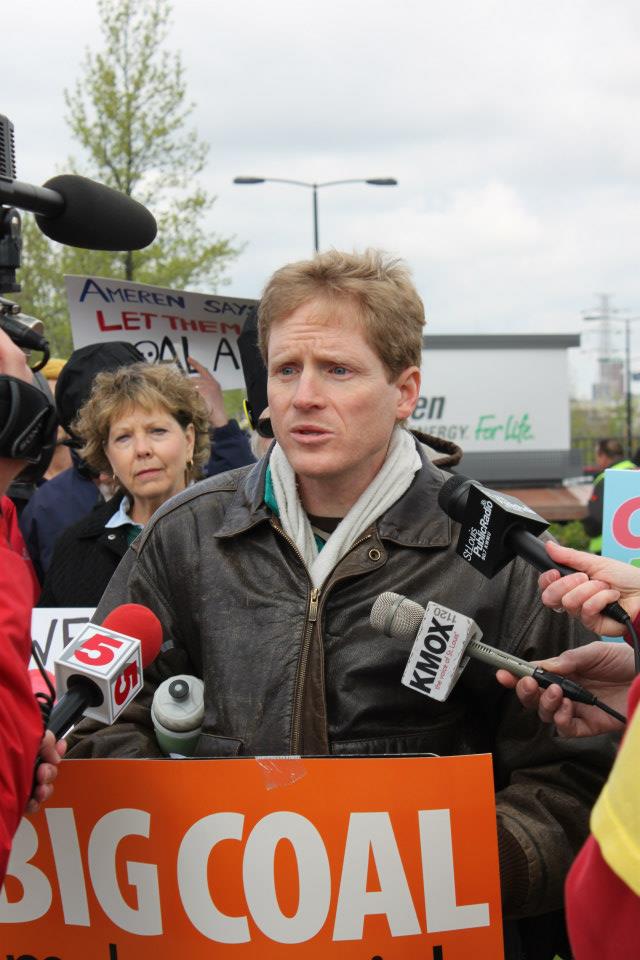 In September 2018, a friend on Facebook asked me "When you have time I would love to see some everyday things we can do to help the earth." Thus, I responded with this blog in December 2018, For Climate Action: 8 Everyday Actions you can do to help the Earth. No, I just did not give my friend a list of individual solutions for her to feel better. My top solutions were:
1. Vote in every election for candidates who support climate action.
2. Regularly contact your members of Congress
3. Organize
4. Talk about climate change to your friends, family, co-workers and neighbors.
5. Weatherize your home
6. Install solar
7. Switch to an electric car, if you can afford it.
8. Be hopeful
Oddly, my friend hoped I would tell her to bring her reusable bags when she goes grocery shopping. Yes, that is helpful for the planet to not use single use paper and plastic bags when one is grocery shopping. Yes, do that! And, we need folks to take many additional actions to reduce the threat of climate change.
My advice for Dr. Michael Mann for messaging for climate action
If Dr. Mann is open to it, maybe we could even write a joint guest opinion in a newspaper sometime on ways that climate do-ers can take action now.
Conservationist writer and activist Edward Abbey once wrote: "The idea of wilderness needs no defense. It only needs more defenders."
In 2022, I would say that the idea that climate change is real, it's human caused, it's bad, scientists agree, and we can limit it if we chose needs no defense. It only needs more people taking action.
Therefore, if I could advice Dr. Michael Mann on a concise message for climate action, it would be:
"Yes, we have urgency to try to reduce the threat of climate change now. At the same time, we must step up our personal agency to vote, organize, and support strong climate candidates in the November 2022 mid term elections. Then, after we elect them, we must strongly lobby them to prioritize effective climate legislation."