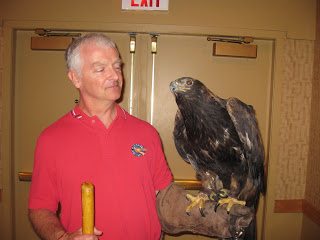 WBS Director, Jeff Meshach with Mariah, the Golden Eagle
Recently, I got to look into the eyes of a Golden Eagle named Mariah.  What a beautiful bird!
The Crestwood Sunset Hill Rotary Club invited me to attend their weekly luncheon meeting last Wednesday, March 21, 2012.  I came to scope out the meeting since I am invited to speak at a future club meeting on Wednesday, April 19th.  This Rotary Club invited me to speak on carbon footprints.  I was chosen because of my interest in climate change and my experience as a public speaker on this subject as a park ranger and a St. Louis Toastmaster.
I choose to attend this meeting because I wanted to hear the presentation of Walter Crawford, Jr. He is the Executive Director of World Bird Sanctuary, located just outside of St. Louis in Valley Park, Missouri.   The World Bird Sanctuary (WBS) rehabilitates birds of prey, such as hawks, falcons, eagles, owls, vultures, and other animals.  The Sanctuary also provides education on-site and traveling outreach presentations to the public all around St. Louis and the United States.  Walt was speaking about his 35 year experience rehabilitating birds, caring for them, traveling with them, and showing birds of prey to the general public.
Walt was a very engaging speaker and the Rotary audience hung on every word he said.  He wove amazing stories of being pulled over by the police with the birds of prey perched in passenger seat.  He was able to use his charm and show the birds to talk the police out of giving him tickets.  He talked about keeping eagles in his hotel room and talking a few ladies into seeing the birds in his room.  He shared how the birds are extremely loyal to him or other trainers at the WBS.  It was spell bounding to also hear how the birds always return to the trainer when they are flown before a crowd of 50,000 plus people at a St. Louis Cardinals baseball game.  The huge and very noisy crowds of people never bothers the birds because they are strictly focused returning to the trainer.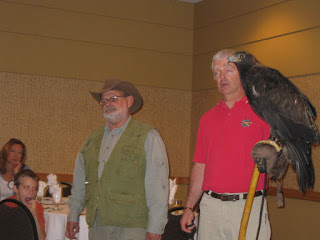 The best part though was when the Director of World Bird Sanctuary and fellow trainer, Jeff Meshach,  brought out the Golden Eagle, Mariah.  She is nearly 40 years old and has lost much of her sight.  The audience, especially an 8 year old and a 10 year old boy in attendance, felt awestruck by the bird.  Walt knew bringing the birds out to show people are the key to his successful presentations.  He knows firsthand that people will not be inspired to save nature, unless they can experience it with their own eyes, such as being a few feet away from a live eagle.  He even pointed out the obvious, "You cannot save something unless you love it."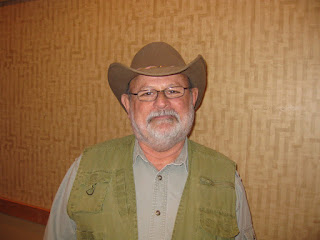 Walter Crawford, Jr; Execute Director of WBS
I then was so enthralled with his insightful wisdom that he shared with the group and then with me after the presentation.  He also stated, "Conservation is not a philosophy.  It is how we should live every single day."  Walt's mentor was in the 1970s Marlon Perkins, past Director of the St. Louis Zoo.  Marlon Perkins was also the host of the TV show Mutual of Omaha's Wild Kingdom that I watched as a child.  Walt also has continued Marlon's philosophy that showing animals to "getting people to understand their connection to nature."
Even more, staying connected with nature will have an impact on you.  Walt stated, "Everything you eat, breath, and drink is a product of what you do."  Even more, "Everything you touch has an effect on you."  His words did strike deeply into my heart as I strive to be a climate change communicator and do all I can to promote the protection of nature and the natural world.  Walt really was a 'Sage on the Stage' that day.  He certainly motivated me to be a better steward of our planet.
I really felt blessed that I got to see his presentation.  Interacting with Walt, Jeff, and Mariah was the highlight of last week for me.  I also want to thank the members of the Crestwood Sunset Hills Rotary Club, such as Randy Martin, President Jenny Bell, Wesley Finke, Bob Alexander, Randy Martin, and Carl Deutsch for allowing me to feel so welcome at their meeting.
Walt's words of wisdom reminded me of the Baba Dioum quote:
"In the end, we will only conserve what we love.
We will only love what we understand.
We will understand only what we are taught or allowed to experience."


I also want to share this video that was given to me and all the other participants at the Earth to Sky: Communicating Climate Change Conference in Shepardstown, West Virginia in September, 2011, sponsored by the National Park Service, NASA, and Fish & Wildlife Service.
I also wanted to share my central philosophy (which is very similar to Walter Crawford's)
Think Globally and Act Daily


And:
Each and everyone one of us can change the world.
We can do this by 
1. The way we vote
2. The products we buy
3. The attitudes we share with each other.