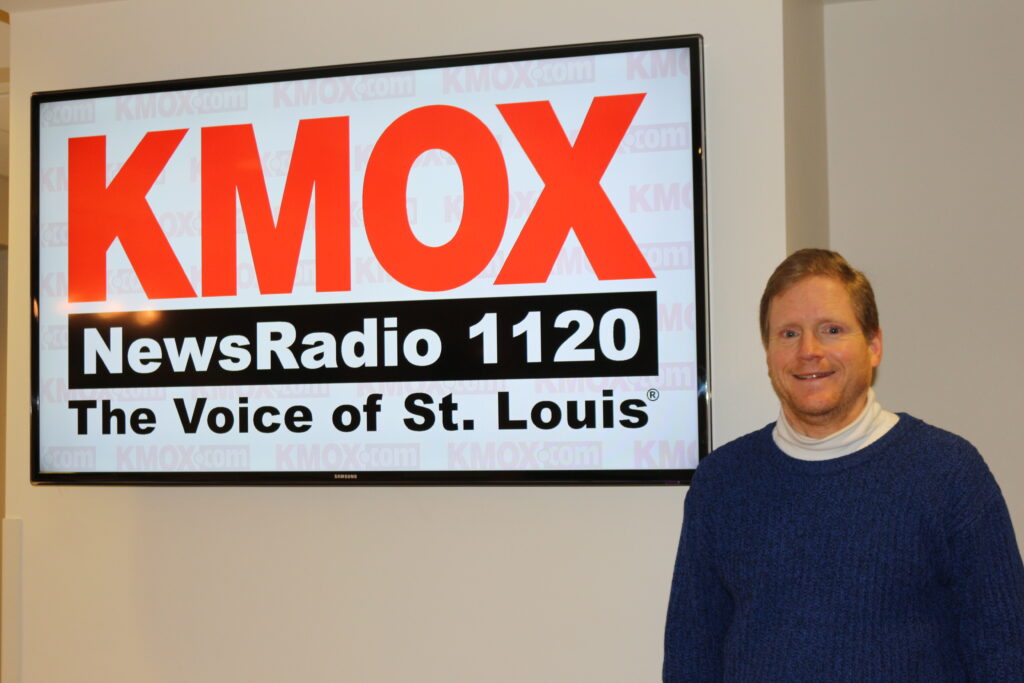 "It sounded really loud, he said it really loud
On the radio, whoa-oh-oh-oh"
From the 1979 song "On the Radio" by Donna Summer
When I was a kid growing up in Oakville, Missouri, a suburb at the southern end of the St. Louis metropolitan area, I was fascinated by FM radio stations that played pop music. In some of my earliest memories around the age of 5 to 7 years old in the mid 1970s, I loved listening to Elton John and Paul McCartney on the radio. Every time my parents' car drove past a very tall radio tower in St. Louis, typically painted in subdue red and white colors with a blinking light on top, I thought Elton John, Paul McCartney and other singers were performing their songs live somewhere from within that tower. It seemed magical and mystical in my young child's imaginative brain. I didn't understand how they would perform their hit songs repeatedly inside those towers. It did not occur to me until I was older that the singers recorded the songs just once on records and the radio stations were just playing the records.
I watched way too much TV growing up, but my favorite memories were listening to pop music on the radio. Someday I wanted to be "On the Radio" as that memorable 1979 song by Disco singer Donna Summer sang. As I grew up, other dreams took over my life. In the 1980s, I wanted to be a successful businessman like billionaire Donald Trump who I saw on TV as oozing with confidence and success. I loved his 1987 book The Art of the Deal. I wanted to be building skyscrapers and closing big money real estate deals like he was. In addition, my dad thought I should major in Business Administration in college to get what he called "a practical education."
From 1988 to 1992, I attended William Jewell College in Kansas City, Missouri to major in Business Administration. I enjoyed my business classes, but I quickly discovered that I did not want to spend my life working in an office cubical. I just too ecliptic to be the practical adult that my dad wanted me to be. In 1991, Donald Trump went bankrupt. So much for that stellar businessman image that he projected. Even wore, he cheated on his first wife with the mistress who would eventually his second wife, bragging to the media that his extra martial affair was "the best sex he ever had." Thus, I wanted no part of Donald Trump's sleazy world and lifestyle. I stopped liking him then and wanted nothing to do with him ever since then.
Working in the national parks and discovering climate change
When I graduated from William Jewell College with my business degree in May 1992. I was unsure what to do with my life. I took a summer job at the gift store at Crater Lake National Park to help me find my own life's path. When the train arrived in southern Oregon, on May 20, 1992. I found my spiritual home in Oregon at Crater Lake National Park. From that point on, I wanted to live close to snowcapped mountains and to nature. The odd thing was that Crater Lake was just a summer job. I had to find a different job for the winter.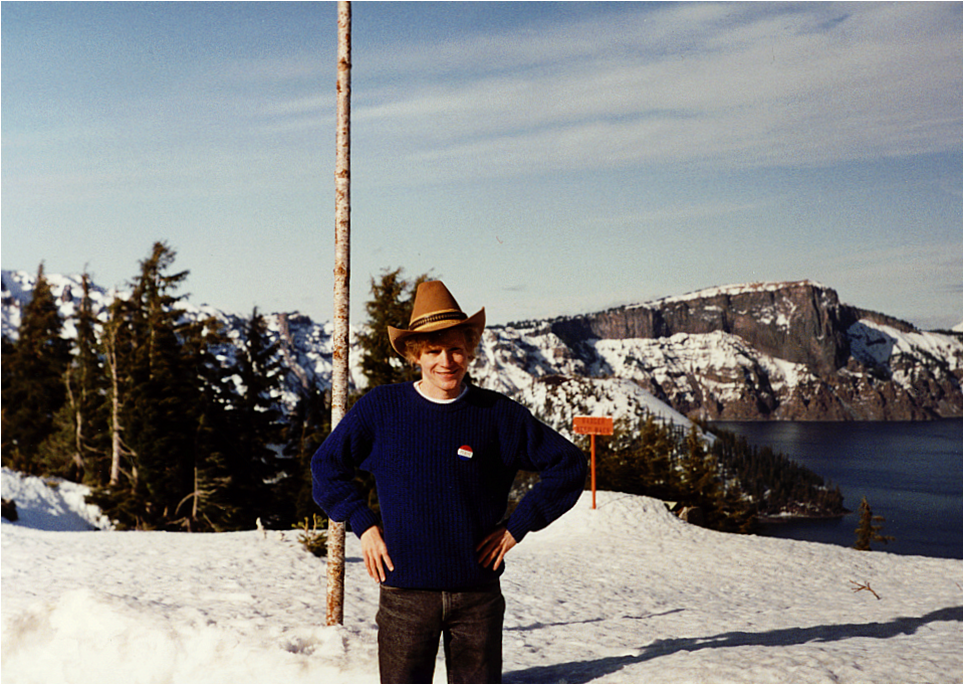 In the winter of 1992-93, I worked at the front desk at the Flamingo Lodge in Everglades National Park, Florida. It was about as far away from Crater Lake as you could get in the United States. I could not wait to return to Crater Lake in May 1993. At the same time, I enjoyed my winter in the Everglades canoeing and seeing all the wildlife. It was fascinating to see alligators, crocodiles, dolphins, manatees, and the wide variety of wading birds in the Everglades.
From 1992 to 2008, I fell into this habit of spending my summers at Crater Lake National Park in Oregon and my winters in Everglades National Park, Florida. The national parks had little to no TV reception. Thus, I continued my lifelong love of listening to popular music on the radio. The FM radio became my companion during those cross-country drives across the United States, traveling from Crater Lake to the Everglades in the fall and the reverse trip every spring. In 2002, I switched to listening to local National Public Radio (NPR) stations in southern Oregon and Florida to stay up to date with the national news.
In 1998, I started giving ranger talks in Everglades National Park. Visitors then asked me about this global warming thing. Visitors hate when park rangers tell you, "I don't know." Soon afterwards, I rushed to the nearest Miami bookstore and to the park library to read all I the scientific books I could find on climate change.
The information I learned really scared me, specifically sea level rise along our mangrove coastline in Everglades National Park. Sea level rose 8 inches in the 20th century, four times more than it had risen in previous centuries for the past three thousand years. Because of climate change, sea level is now expected to rise at least three feet in Everglades National Park by the end of the 21st century. The sea would swallow up most of the park and nearby Miami since the highest point of the park road less than three feet above sea level.
It shocked me that crocodiles, alligators, and beautiful Flamingos I saw in the Everglades could all lose this ideal coastal habitat because of sea level rinse enhanced by climate change.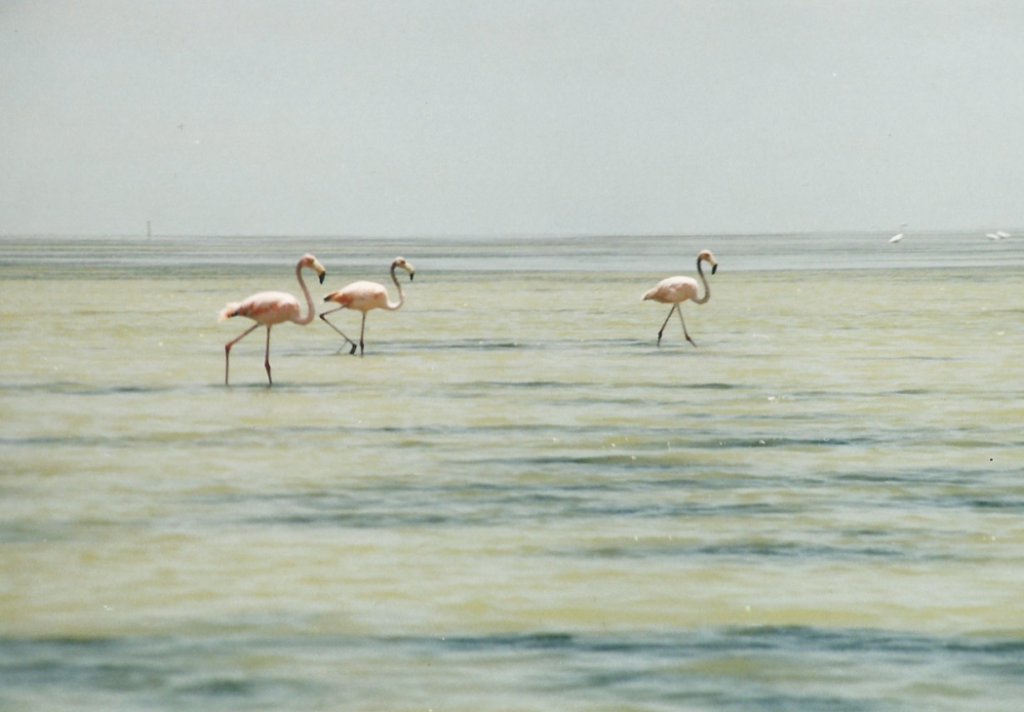 Organizing for climate action in my hometown of St. Louis, Missouri
I became so worried about climate change that I quit my winter job in Everglades National Park the year in 2008. I started spending my winters in St. Louis Missouri to find some way to organize for climate action. I started giving climate change talks at my nieces and nephews grade schools in the spring of 2010. In the winter of 2011, I joined South County Toastmasters to become a better climate change communicator. That same winter, I worked at the St. Louis Science Center at their temporary climate change exhibit from March to May 2011.
While attending a St. Louis Science Center lecture about how climate change is impacting the weather in April 2011, I met and became friends with St. Louis businessman Larry Lazar. We had a mutual longing to do something about climate change. Thus, Larry and I co-founded the St. Louis Climate Reality Meet Up group in November 2011 (now called Climate Meetup-St. Louis) to organize regular meetings and promote events to create more awareness about climate change in the St. Louis area.
Up until 2017, I still worked my summer job Crater Lake National Park. While working at Crater Lake for many years, the impacts of climate change became apparent with the average annual snowpack diminishing. I noticed more mild winters with below average snowpacks. The summer wildfire seasons became more longer, hotter, dryer and more intense. By August 2011, I had gathered enough information to start giving a climate change ranger evening program at the campground amphitheater to the park visitors.
Larry Lazar and I organized some informative meetings about climate change through our St. Louis Climate Reality Meet Up group during the winter of 2012-13. In June 2012, the Climate Reality Project, founded in 2007 by former Vice President Al Gore, invited Larry and I to attend their three-day training in San Francisco, California on August 21-23. As trained Climate Reality Leaders, Larry and I started giving climate change presentations in the St. Louis area that winter. Larry and I gave several joint presentations with Lucas Sabalka, a mathematics professor at St. Louis University who had also attended the Climate Reality San Francisco Training.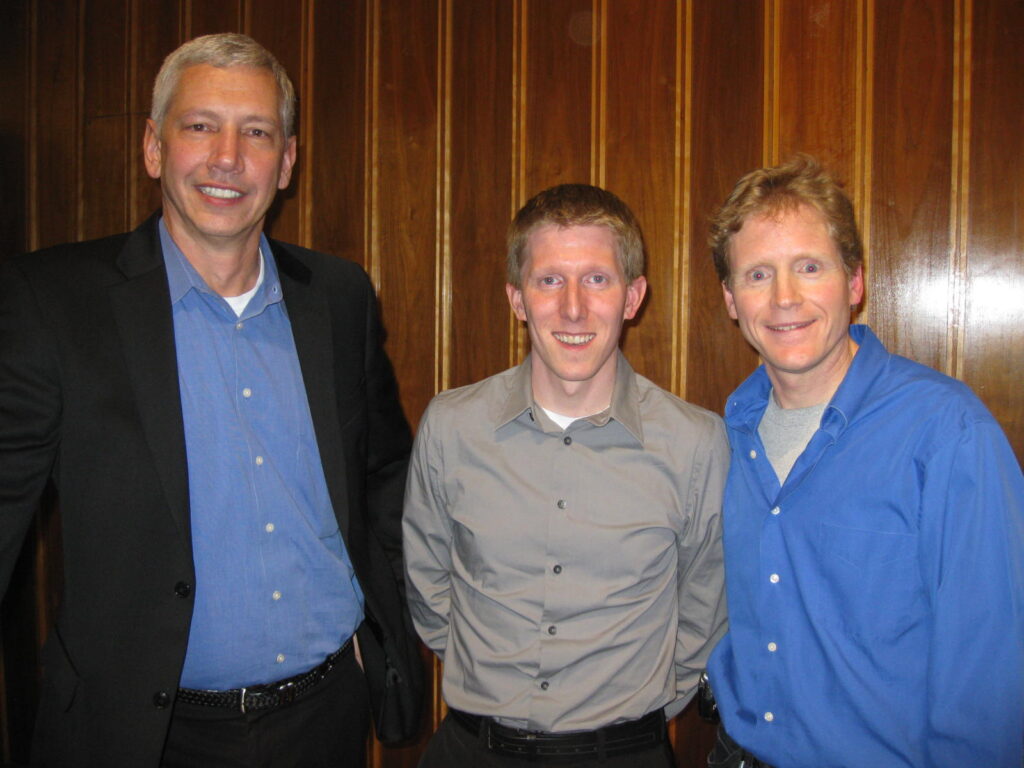 Learning about the unhealthy and deadly coal pollution in the St. Louis area
With the climate organizing that Larry, Lucas, and I did during the winter of 2012-13, I met Sara Edgar, an organizer with the Missouri Sierra Club's Beyond Coal campaign. It was through Sara at the Beyond Coal Campaign and a news article I stumbled across that I learned how dependent St. Louis was on burning coal for electricity.
On December 31, 2012, the St. Louis Post-Dispatch, my hometown newspaper, had this headline that grabbed my attention: One in five kids in parts of St. Louis area struggles with asthma. Underneath the headline was an 8-year-old African American boy, Xavier Miles, with a big smile on his face before receiving his spirometry test, which shows the function of the lungs, at his school. The caption stated that "Xavier has asthma and met with various educators who reminded him how to take of himself during an asthma attack."
The article then mentioned that St. Louis has twice the national average of children suffering with asthma. What causes asthma?
According to the Center for Occupational and Environmental Medicine, environmental factors are one of the top causes of Asthma:
"Pollution, sulfur dioxide, nitrogen oxide, ozone, cold temperatures, and high humidity have all been shown to trigger asthma in some individuals."
During periods of heavy air pollution, there tend to be increases in asthma symptoms and hospital admissions. Smoggy conditions release the destructive ingredient known as ozone, causing coughing, shortness of breath, and even chest pain. These same conditions emit sulfur dioxide, which also results in asthma attacks by constricting airways."
Sara then shared with me statistics how deadly and unhealth it is to burn coal for energy. According to the Environmental Integrity Project, 1,000 asthma attacks and 57 to 100 premature deaths occurred each year because of the Meramec Coal Plant. Even more, according to the EPA, over 95% of our fixed source greenhouse emissions for St. Louis County came from the Meramec Coal plant at that time.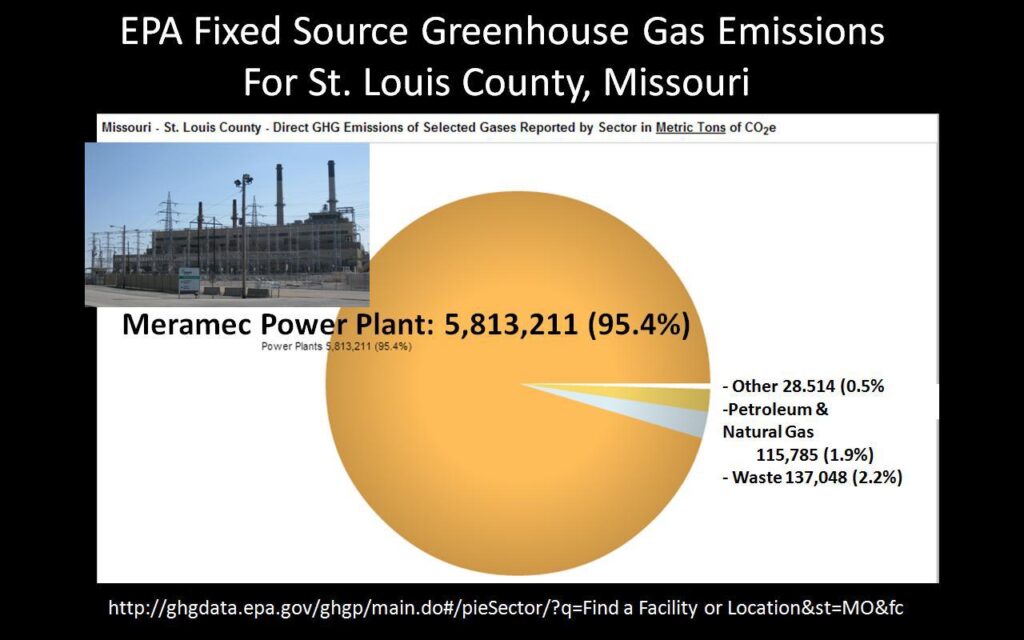 Volunteering and taking action for the Missouri Sierra Club's Beyond Coal Campaign
Sara invited me to be the moderator of the Coal, Climate and Clean Energy Forum at the Cliff Cave Library in Oakville, MO on March 28, 2013. Around 50 people attended this event. Sara encouraged me to write letters to the editor, which were published in the St. Louis Post-Dispatch and neighborhood newspapers urging Ameren to retire the Meramec Coal Power Plant.
From the awareness I learned how bad it is to burn coal, especially in my hometown St. Louis, I gave a speech at the April 17, 2013, St. Louis South County Toastmasters meeting called What Keeps Me Up Late at Night. The goal of that speech was to urge my fellow Toastmasters to request the Missouri Department of Natural Resources (DNR) to require Ameren, the local electric utility which operates Meramec Plant, to lower its sulfur dioxide emissions to levels that are safe for our families according to the Clean Air Act.
On April 25, 2013, Sara invited me to be one of the speakers at a Beyond Coal rally in front of the Ameren headquarters. All the speakers at this rally, including me, spoke to the attendees and the local TV & radio media about stopping coal ash pollution from Ameren's four coal plants in the St. Louis metro region. We wanted Ameren to stop dumping coal ash from our coal power plants in our ground water, rivers, and local community.
Those volunteer actions I took for the Missouri Sierra Club's Beyond Coal campaign then led me to write an opinion editorial published in the St. Louis Post-Dispatch on July 10, 2013. Just like my Toastmaster's speech, the title of this op-ed was called, "What Keeps me Up Late At Night." This op-ed asked St. Louis area residents to urge Ameren to retire the local coal plants because of the health risks from the polluted air.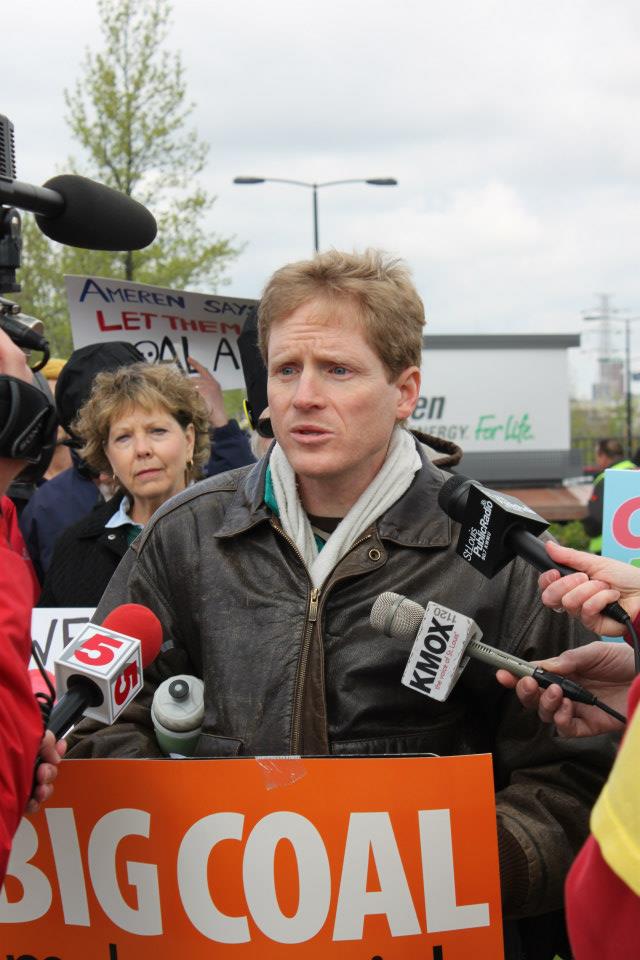 Briefly working for the Missouri Sierra Club and the Beyond Coal Campaign
All these volunteer action led to the Missouri Sierra Club hiring me in October 2013 to be an organizer primarily for the Beyond Coal campaign. At the time, it felt like a dream come true to work full time as a climate and environmental organizer.
The job soon felt like it was not an ideal fit for me just days after I started. Besides the Sierra Club, I organized for Citizens' Climate Lobby (CCL), the Climate Reality Project and I was the co-leader of the St. Louis Climate Reality Meet Up group, along with Larry Lazar. I took this job hoping to still coordinate with these other climate organizations. However, the job turned out to be all consuming with no time to interact with those organizations.
The St. Louis Climate Reality Meet Up had an event with a large attendance in November 2013. I hoped to go to recruit volunteers for the Sierra Club and the Beyond Coal campaign, as well as coordinate with those climate activists attending for future coalition organizing events. Sadly, my boss at the Sierra Club did not want me to attend because of a small gathering of Sierra Club volunteers scheduled to meet at the Sierra Club office that evening. I found his decision to be rather short sighted. It felt like we were just not seeing eye to eye on climate organizing.
Even more troubling, I learned that my job was an "exempt" position, not subject to the Fair Labor Standards Act's overtime regulations and, therefore, not entitled to overtime pay. It felt like I was working morning, afternoons, and evenings with very little free time. It felt stifling and confining compared to my other climate organizing and my summer job as a park ranger at Crater Lake National Park. Around Thanksgiving 2013, I did not want to do that job anymore, so I gave my two weeks notice.
In agreement with my supervisor to leave on good terms, we agreed I would attend the Missouri Health Foundation Annual Retreat in Columbia, MO in early December. The goal of sending me there was to network with the conference organizers and attendees to coordinate more with the Sierra Club. My supervisor wanted to me to make connections with conference organizers and attendees to work on a shared goal to improve the health of Missourians by reducing pollution, especially from Missouri's coal plants. It turned out to be a grueling conference with a lot of information and dry lectures. Many of the breakout sessions were about Medicaid expansion for Missouri, an issue that I do support. However, the breakout sessions about Medicaid expansion did not hold much interest for me.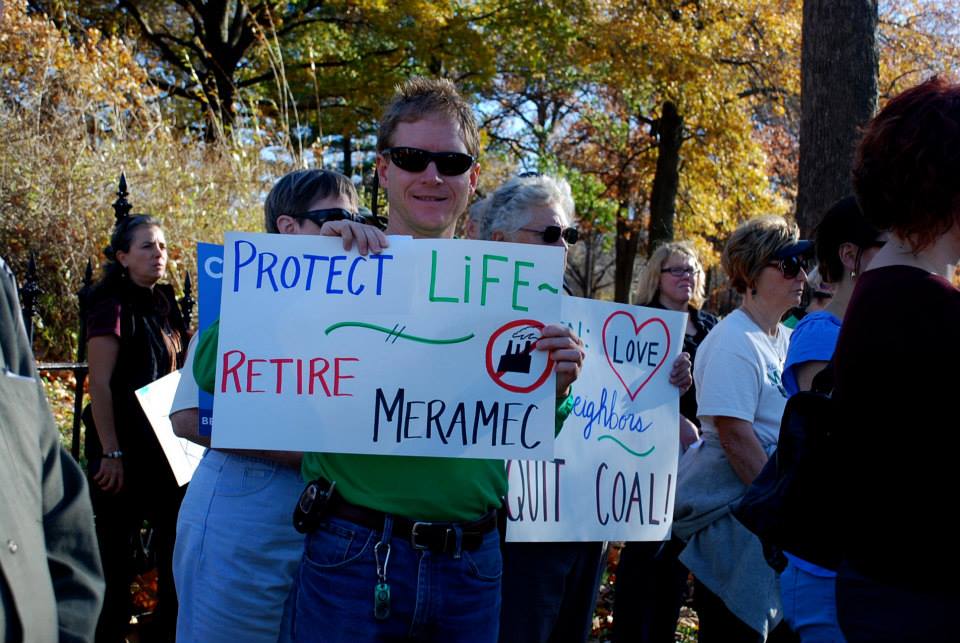 Hearing two of my Climate Reality friends interviewed on a St. Louis area radio station
As I drove to the conference, I had a gut feeling it would be a very wonky conference on medical policy. Thus, I was not looking forward to attending. On the drive to this conference on Monday, December 9, 2013, two fellow St. Louis Climate Reality Leaders, my friend Larry Lazar and Chris Laughman, were featured on a radio interview on the environmental themed Earthworms radio show on independent community supported radio station KDHX 88.1 FM.
I was driving on the I-70 interstate towards Columbia, MO leaving the St. Louis metro area when the interview started. Sadly, the radio signal in my car was not strong since I was heading away from St. Louis. I became very angry turning the car around at the nearest exit to try to get a better radio signal. I was not thrilled about going to this health conference, so this radio show was to be my driving companion for this very dark and lonely December evening.
It was exciting when Larry Lazar mentioned me during this broadcast, which was totally unexpected. He said, "Brian Ettling has given 100s of climate change presentations. He is a national park ranger, and he has a very funny, compelling, and interesting presentation. He is one of our best."
This was a huge honor for Larry to say this. Larry was recommending me to give climate change talks in the St. Louis area. Unfortunately, no online link is available to share a recording of this radio interview now. However, this was a moral boost for me that night in December 2013 because I felt down that the Sierra Club job did not work out for me. I drove to this health conference to complete a work obligation, not to fulfill a passion for me. To be honest, I was jealous at that moment that Larry and Chris were on the radio. I was excited for them, but I wanted to be that person on the radio talking about climate organizing.
With a new year approaching, I made it a high priority if not a 2014 resolution to be interviewed on the radio for climate action. If Larry Lazar and Chris Laughman could do it, I could do it!
Success! Landing my first live radio interview for climate action!
The host of that Earthworms radio show on KDHX 88.1 FM is Jean Ponzi. She is a great host. Jean is very engaging, funny, gregarious, and passionate about environment. Jean is the Green Resources Manager for EarthWays Center of the Missouri Botanical Garden. In addition, she hosts Growing Green St. Louis on the Big 550-KTRS AM, a weekly showcase for local sustainability achievements. On top of that, Jean is in demand as a public speaker promoting Green living options in business and public settings. I think it would be very safe to call Jean a very inspiring and positive "Force of Nature" in the St. Louis area.
Just like Larry Lazar and Chris Laughman had accomplished in December 2013, I really wanted to be on her radio show. At the same time, since she just had Larry and Chris on her show, I knew I was going to have to wait my turn to hang low for several months before I could reach out to her to request to be a guest on her show.
Going through my old emails and Facebook posts, I don't know how I connected with Jean Ponzi. Somehow, it just happened. It might be because both of us gave presentations at the Webster University Sustainability Conference that took place the previous Friday. Maybe we had a conversation during that conference. I don't remember now. Anyway, I did something right because Jean invited me into the KDHX studio in midtown St. Louis for a live interview on Monday evening, April 14 , 2014. My first radio interview was fun and exciting. I had finally made it, like the Donna Summer song, I was going to be "On the Radio."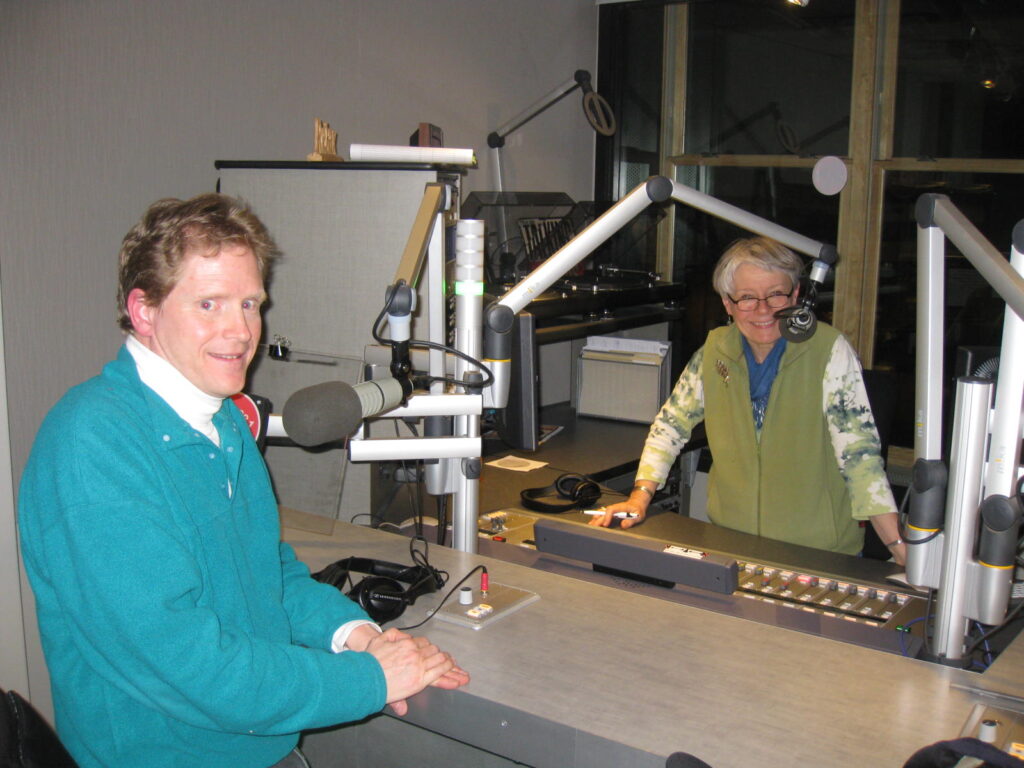 The bad news is that there's no longer an online link from this radio interview. The good news is that I got a picture of myself in the radio studio with Jean Ponzi. If I remember correctly, Jean had another guest booked, but that guest cancelled so she booked me to go on the air. That is one of the keys to getting on the air for climate action or other issues that you want to promote: being available if a booked guest suddenly cancels.
One of the things I loved about doing radio interviews is there is no eye contact with the audience. The listeners can't see you. Thus, I brought in notecards of my favorite quotes, my short personal mantras for climate organizing such as "Think Globally and Act Daily," and information on the events that I was promoting.
Yes, I did give Jean good eye contact during the interview to be fully engaged with her. At the same time, she did not mind at all when I glanced at my notes. There were times during the interview where she had to introduce the show, make announcements, station identification, promote upcoming broadcasts, etc. Thus, I had plenty of time to look at my notes and notecards to make sure I knew the talking points I wanted to emphasize during this radio interview.
The ultimate key to getting a radio interview is promoting an upcoming event you are leading in the community. For this interview, I promoted an event happening a few days later. On Thursday April 17th 7 pm, Climate Reality Leaders Larry Lazar, Corinne McAfee, Dr. Johann Bruhn, and I were presenting on climate change at Eastern Central College in Union, Missouri.
My parents, some of my friends, and my then girlfriend now wife Tanya Couture heard the live radio interview. They were all very pleased and proud to hear me on the radio.
The good news is that Jean Ponzi and I did stay in contact. She did invite me back as a guest for her radio shows six additional times in the five years after that. Larry Lazar and I were guests for her Growing Green St. Louis show on KTRS 550 AM on November 21, 2014. Larry and I talked with Jean about our efforts giving climate change talks in the St. Louis area as Climate Reality Leaders. It's a shame that there is no recorded link from that interview.
The Earthworms archive recordings of their past podcast episodes goes back as far as February 3, 2015. Thus, you can listen to recordings of the other 5 times Jean invited me to be a guest on her Earthworms radio program/podcast:
Starting in 2015, Jean did not even have me come into the radio studio to record these radio interviews/podcasts. We would agree upon a time, and she would call me on my cell phone. One of those calls on April 27 2016, I spoke to her from inside my car in a rest area in Colorado during my cross country drive from St. Louis to my summer job at Crater Lake national park. Those phone calls made it even easier to spread out my notecards and notes to share the exact quotes, talking points, and upcoming events that I wanted to emphasize during our interview.
My 2014 live radio interview on St. Louis NPR radio program KWMU "St. Louis On the Air"
In April 2014, staff at Eastern Central College in Union coordinated with Larry Lazar and me to promote our Thursday April 17th event. Climate Reality Leaders Larry Lazar, Corinne McAfee, Dr. Johann Bruhn, and I presented on climate change at Eastern Central College that evening.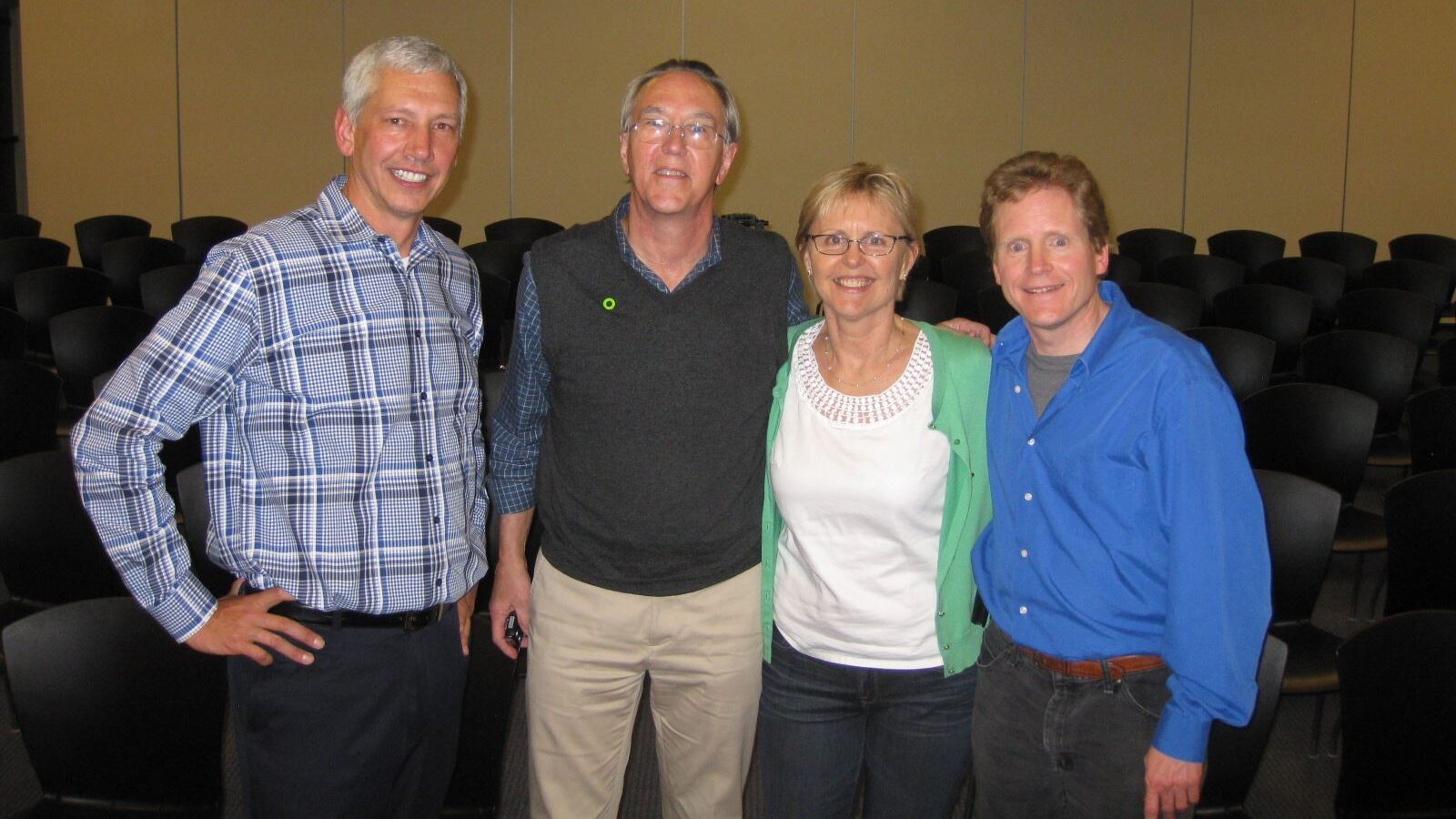 The staff at Eastern Central College made a successful connection with the St. Louis National Public Radio (NPR) station, KWMU 90.7 FM for their daily show, St. Louis On the Air about "the stories of St. Louis and the people who live, work and create in our region."
The show invited Larry Lazar, Dr. Jack Fishman, and me to be interviewed live on the air on April 15, 2014. Since 2011, Dr. Jack Fishman is a Professor of Department of Earth and Atmospheric Sciences and the Director of The Center for Environmental Sciences at St. Louis University (SLU). Before arriving at SLU, he worked at the NASA Langley Research Center for 31 years, where his research focused on the area of tropospheric chemistry. Larry, Jack, and I were invited to appear on St. Louis On the Air "to discuss the impact of climate change on the Midwest, ways to reduce your carbon footprint, and local efforts to get the word out about global warming."
We were primarily there to promote our event, The Panel Discussion on Climate Disruption on Thursday, April 17, 2014 at 7:00 p.m. at East Central College in Union, Missouri. During my winters in St. Louis, I regularly listened to KWMU for news. I especially enjoyed listening to St. Louis On the Air daily. In Florida, Oregon, and Missouri, I was a loyal listener to NPR for over ten years. It was so exciting to go to the radio studio to see where the show was broadcast live.
When I appeared on KDHX's Earthworms with host Jean Ponzi, it was a thrill for me to be interviewed solo to have the challenge to think on my feet to answer all her questions by myself. At the same time, I loved the chance to share this experience to be interviewed on the St. Louis NPR station with my friends Larry Lazar and Dr. Jack Fishman.
Since 2011, Larry and I had given a lot of joint climate change presentations in the St. Louis area and had organized some climate events. Larry introduced me to Dr. Jack Fishman who really has a deep understanding of the science of climate change. I loved the challenge of answering questions in live radio interviews. At the same time, I don't have all the answers. Sometimes I don't think on my feet as well as I should. I don't remember certain words when I am put on the spot and some answers to questions can allude me in the moment. Thus, I was very happy to have Larry there to share his perspective as a businessman and Dr. Fishman to share his knowledge and expertise as an atmospheric scientist.
It was fun to meet the host of St. Louis On the Air, Don Marsh, since I had heard his voice on my radio many times over the years. Even more, I remembered him years ago when I would see him on TV in St. Louis on stations KDNL and KTVI. I found him to be polite, reserved, and made us feel welcome in the radio station. He asked us great questions and he gave us the freedom to answer them in our own manner without interrupting us. It was great to get a picture of Don, Jack, Larry and I in the studio.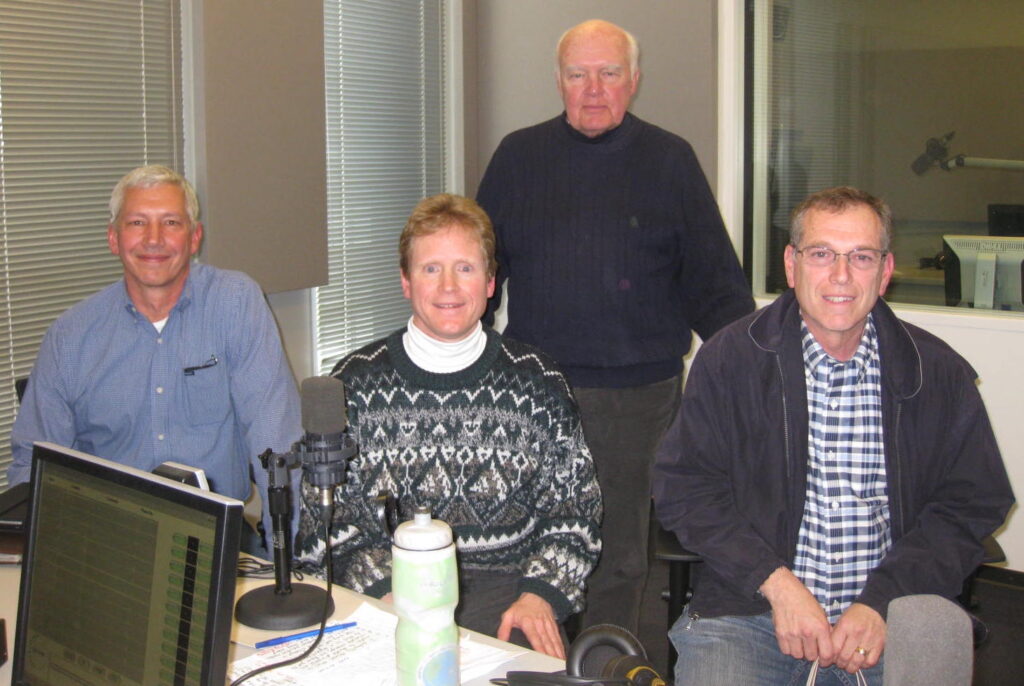 Of course, my parents, Tanya, and many other friends heard us on the radio live. I got to hear the daily re-broadcast at 9 pm and I was very happy how all of us sounded. A day later, KWMU, posted a link, description and recording of our interview, Encounters With Climate Change: A Discussion With Three St. Louisans. Even more, a picture of me at Crater Lake National Park in my ranger uniform included with the online post.
This felt like my biggest accomplishment as a radio interview up to that point. I still dreamed though of getting a radio interview on KMOX 1120 am, the news and talk radio station, which has the biggest number of listeners by far in the St. Louis area. In April 2014, I did not know how I was going to make that happen. It took a couple of years while I pursued other opportunities, but this dream did eventually come true.
My October 2017 radio interviews for two southern Oregon radio stations
After that April 2014 appearance on the St. Louis KWMU NPR radio show St. Louis On the Air, I hoped to have other opportunities to be interviewed on the radio. As I mentioned before, Jean Ponzi did invite me several times to appear on Earthworms on KDHX. However, it took a couple of years before I had more opportunities to be on the radio.
In February 2017, my wife Tanya and I moved to Portland, Oregon. After we moved there, I became very active as a volunteer in the Portland, Oregon Chapter of Citizens' Climate Lobby (CCL). I immediately loved living in Portland, but it felt like 'a blue bubble' with many people living there who are passionate about climate change and taking climate action. Thus, I had this mission to travel around central, southern, and eastern Oregon to inspire and organize Oregonians in those areas to organize for climate action and join CCL.
The CCL volunteers and I who organized this tour called it The Oregon Stewardship Tour. We thought that taking climate action, especially with urging Congress to pass a carbon fee and dividend, is one of the best ways to be good stewards of Oregon's precious air, and and water.
It was also one of the bravest and boldest feats I have done driving 1,600 miles myself in my car to 11 cities for this 12-day tour from October 24 to November 4, 2017. I traveled to give presentations in La Grande, Baker City, John Day, Burns, Prineville Redmond, Lakeview, Klamath Falls, and Grants Pass to talk to rural and conservative Oregonians about climate change.
This tour was a huge undertaking for me. For a recap, I had
9 public outreach events
2 lobby meetings with district offices of Rep. Greg Walden
2 newspaper editorial board meetings
2 live radio interviews
4 published articles in Oregon newspapers featuring the tour
4 press releases published announcing local tour events.
Looking back, I wish we could have booked more radio interviews. The organizers of the tour and I did not plan that part of the tour as well as we could. I wish we would have reached out to Oregon Public Radio (OPB) to their Think Out Loud program, a daily conversation covering local Oregon news, politics, culture, and the arts. This show reminded me of St. Louis On the Air, the local NPR show in St. Louis that covered local news and cultural topics. I was interviewed live on St. Louis On the Air on April 15, 2014. Since OPB's Think Out Loud broadcasted in most of Oregon, this was a lost opportunity that we did not approach the show's producers and contributors to let them know about my tour.
On the third day of the tour, I arrived in John Day and met up with Eric Means, another Portland CCL volunteer. Eric took advantage of the perfect fall weather to ride his motorcycle from his home to John Day. Eric and I then met up with Logan Bajett at the local John Day radio station KJDY to do a 10-minute radio interview about CCL and the Oregon Stewardship Tour. It was a taped interview that was scheduled to play Monday morning on Logan's Coffee Talk radio show. Unfortunately, a couple days later, Eric received an email from Logan that the station management decided not to air the interview. That felt like a disappointment since the interview went well and we took time out of the busy schedule that day to complete this radio interview.
On November 1, 2017, on the tenth day of the tour in Lakeview Oregon, I had a radio interview conducted over the phone with Jefferson Public Radio (JPR) on their daily morning show The Jefferson Exchange. JPR was the local NPR station that had a broadcast area that included Ashland, Medford, Klamath Falls and much of southwestern Oregon. When I worked at Crater Lake National Park from 1992 to 2017, this was the local NPR station where I was a regular listener. Thus, I was very excited to be interviewed by this radio station.
The Jefferson Exchange's Host Geoffrey Riley had a joint interview with me and Jim Walls, a resident of Lakeview who successfully led Lake County to be a net exporter of clean energy. Jim was my host while visiting Lakeview. Jim Walls was Executive Director for the Lake County Resources Initiative (LCRI), a non-profit working on natural resource projects to promote local clean energy projects to reduce the threat of climate change. With Jim's leadership at LCRI, Lake County had become one of the first counties in the U.S. to be a net exporter of clean energy.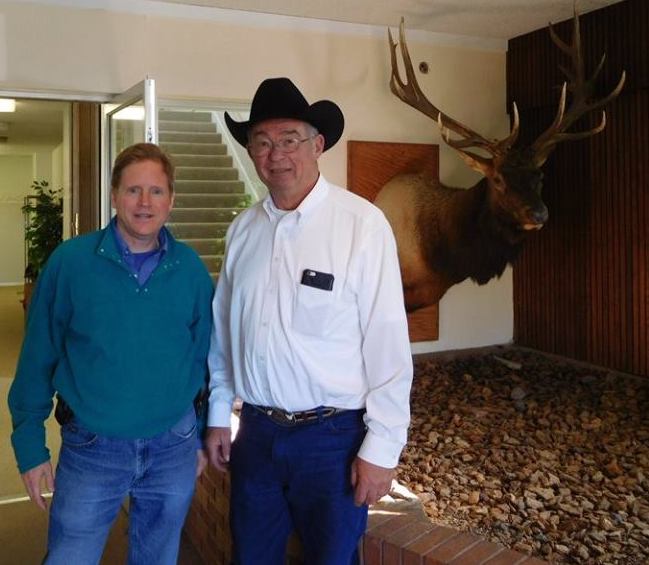 Jim Walls wore a cowboy hat, cowboy boots, and a western belt buckle. He spoke with a down home twang like someone that you would hope to meet visiting a western wide open spaces landscape. Lakeview is about 14 miles north of the northeast California border. It was one of the highlights of my trip to visit Lakeview and meet Jim Walls. Lakeview is in one of the least densely populated areas of the United States. After I arrived in Lakeview, one of the first things Jim told me:
"Son, this is not rural out here. This is frontier country. You could drive over 100 miles in any
direction leaving Lakeview and not see another human being."
Jim was so unique and a fantastic host, plus a big local leader in clean energy. Thus, it was an honor to meet him and participate in this joint radio interview with him on JPR. I remembered this as another great radio interview that I enjoyed doing. We were on the phone in two different rooms at the office building where Jim worked in Lakeview. We tried to be as far apart in the office so we would not get a weird audio feedback on the phone while we were interviewed live on the air. After the interview, the only downside was that I had to rush to leave Jim's office to head to Klamath Falls for more scheduled activities happening during the tour.
On day later on the eleventh day of the tour, I traveled to Ashland, Oregon. An Ashland independent radio station KSKQ 89.5 FM scheduled me for a live radio afternoon interview. I shared my background how I first discovered and got involved with CCL. The radio hosts reacted very positively to my background information about myself, CCL's carbon fee and dividend solution, and how that solution would help dramatically less air pollution.
At the end of the interview, the radio host wanted me or another local CCL volunteer back in three months for another interview. Even more, he offered to do public service announcements for future Southern Oregon CCL monthly meetings held in Ashland. The KSKQ radio staff's positive enthusiasm for CCL was a wonderful way to wrap up the day. It felt like high note as the Oregon Stewardship Tour was wrapping up the next day in Grants Pass, Oregon.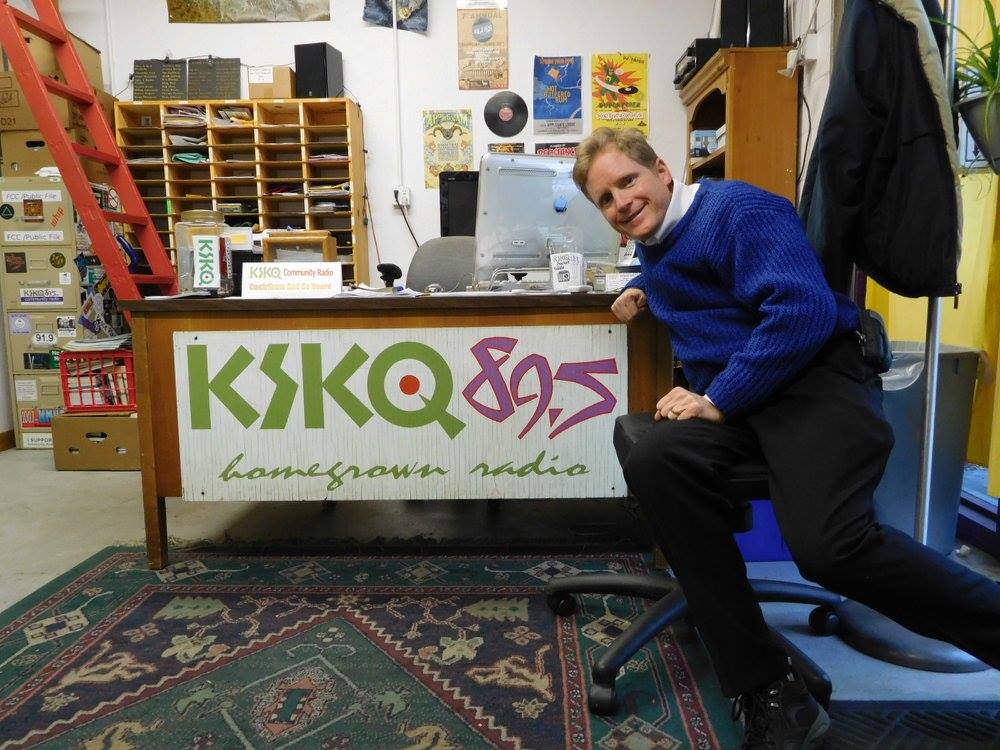 My climate change radio interviews for KMOX 1120 AM, known as "The Voice of St. Louis"
The summer of 2017 was my last year working as a seasonal park ranger at Crater Lake National Park. During that summer, I was planning and focusing on CCL The Oregon Stewardship Tour that I would be taking that fall. In my job as a seasonal park ranger, I would sometimes lead "step on" bus narration tours where a private motorcoach bus filled with passengers on an organized company tour of the western U.S. would come to Crater Lake. It just happened that this tour company, Sunrise Tours, and the passengers all the passengers on board were from my hometown of St. Louis, Missouri.
Among the group of St. Louisans on this tour bus was Debbie Monterrey, Co-host/co-anchor or Total Information AM, 5 to 9 a.m. weekdays on KMOX 1120 AM radio station in St. Louis. Debbie traveled on this bus tour with her family. It appeared that Debbie and her family were on this tour so she could promote Sunrise Tours for an on the air advertisement for KMOX.
Let me emphasize that KMOX is not any radio station in St. Louis. KMOX prides itself on being "The Voice of St. Louis." This news, information, and talk radio station is the most dominating of all radio stations in the St. Louis region. It is the flagship station of the St. Louis Cardinals Major League Baseball team. At that time, the flagship station of the St. Louis Blues NHL hockey team. It carried the Rush Limbaugh Show from 11 am to 2 pm daily.
The station boasts of running on 50,000 watts and having a broadcast coverage area of nearly all of eastern Missouri and most of Illinois. On October 29, 2013, The New York Times profiled KMOX in article, Trying to Outrun the Cardinals' Long Reach. The article states: "With a 50,000-watt signal originating from a transmitter across the Mississippi River, in Illinois, KMOX is said to be heard in 44 states and as far away as the Netherlands, East Africa and Guam."
Since I was a child growing up in St. Louis, I knew about of the broadcast reach of KMOX in St. Louis and much surrounding Missouri and Illinois area, plus areas beyond. As an adult, I knew that KMOX has a large number of conservative listeners who loyally tuned in daily to the Rush Limbaugh Show. Thus, when I started organizing for climate action in St. Louis around 2010, this was my dream to somehow be interviewed on KMOX inspire listeners to act on climate.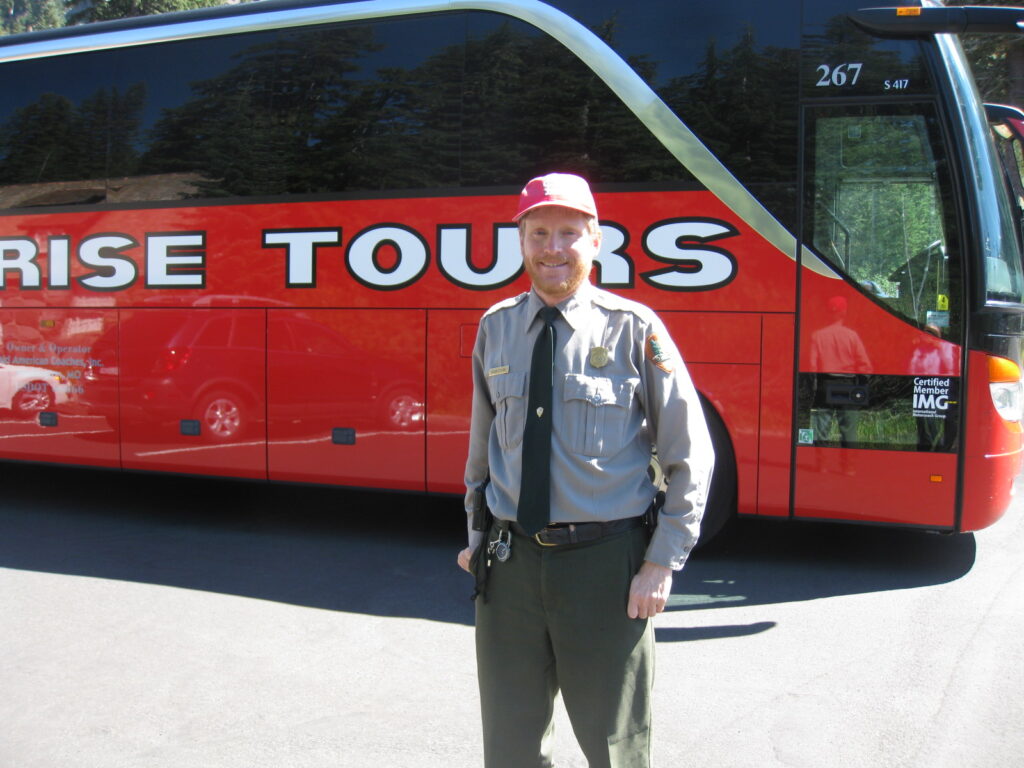 With this in mind I did not know who Debbie Monterrey was before I led this "step on" ranger tour at Crater Lake National Park in August 2017. However, everyone on the tour knew who Debbie was, so it became apparent to me very quickly who she was. It's one thing to meet a well- known news reporter and radio host. It's another thing when they are genuinely friendly and easy to get to know. Anyone would want to be friends with Debbie. She is very interested in people, traveling, life, her family, and sincerely focuses on you in a conversation.
Debbie was very appreciative of everything I did leading this step on tour around Crater Lake. She especially liked how I interacted with her children. As a ranger, I always tried to go out of my way to interact with children during my ranger talks and make them feel important. Debbie generously complimented me about my tour.
I told her my parents were big listeners and fans of KMOX. I shared about my background as a native St. Louisan who graduated from high school there. I let her know that I come back during the winters to give public presentations about climate change and organize events in the area. At the end of the tour, we exchanged business cards. Debbie encouraged me to contact her next time I was coming to St. Louis so she could do a "profile interview" about me.
One week later, on August 24, 2017, Debbie enjoyed my Crater Lake ranger tour so much that she briefly talked about me live on KMOX that morning. My Dad happened to hear her remarks on the radio live. This is what Debbie said live on the air:
"Oregon is absolutely beautiful if you have never been there…When we went to Crater Lake, which is phenomenal, we had a guide come on board, Ranger Brian Ettling and he is from Oakville. He went to Oakville High School. He would do 6 months of the year at Crater Lake and 6 months coming back to St. Louis and he was so hilarious. He did a great job. My husband asked him: 'Do you ever do stand-up comedy?' And (Brian) responded, 'Actually, I do YouTube videos about climate change. I try to make them funny. They are kind of silly.' And Tosh.o on Comedy Central had Brian on for a Web Redemption, which you can find on YouTube, which I thought was pretty amazing."
That December during the week around Christmas, Tanya and I traveled to St. Louis to visit with her parents and brother, and my parents, sisters and their families for Christmas. A few weeks before Christmas, I emailed Debbie to see if I could get a Profile Interview with her. We exchanged emails and scheduled a date for the day after Christmas, December 26, 2017, for me to come down to the KMOX radio studio in downtown St. Louis to be interviewed by Debbie.
I asked Debbie if my parents come join me in the studio, since they are lifelong regular listeners of KMOX. Debbie generously agreed they could join us. It felt like this was the best Christmas gift I could have given my parents. They loved every minute of being in the KMOX offices and studio. Debbie was very happy to meet them and to get a picture of all of us together. My parents were very proud to be in the studio when Debbie recorded our radio interview.
The profile interview aired on Saturday, January 6, 2018. Fortunately, here is the link where you can listen to this interview. After it aired, my mother-in-law commented that I sounded "Very impressive and smooth."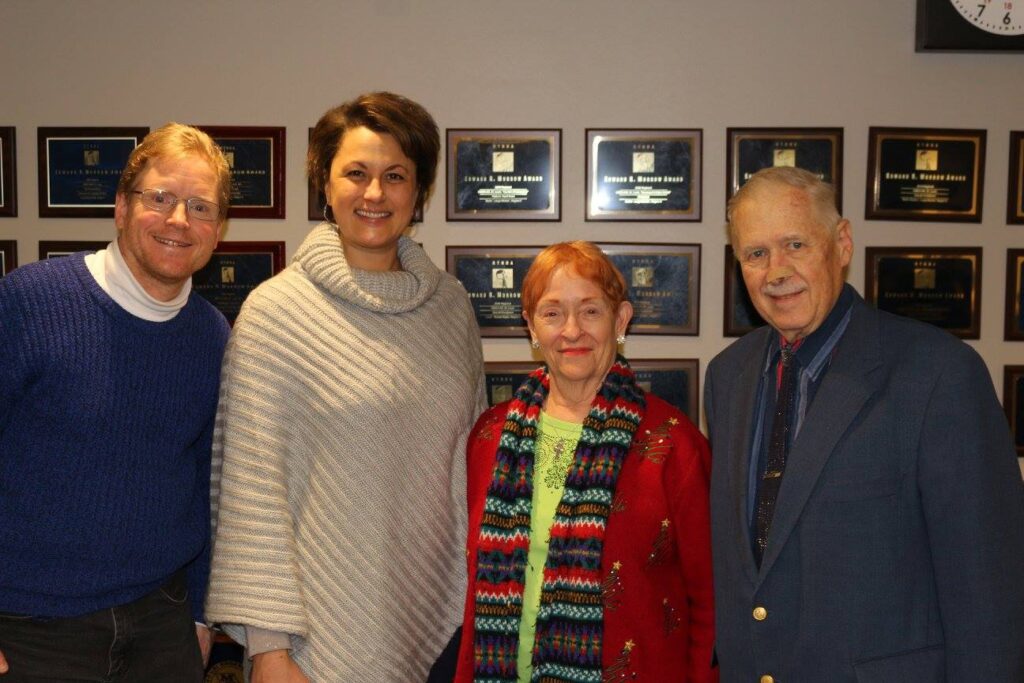 When I just listened to the recording afterwards, overall, I was very happy with it. Since KMOX has a lot of listeners who regularly listen to Rush Limbaugh on this radio station, I was striving for a message to reach moderates and conservatives. Debbie told me that the interview recording would probably air several times. That was good news since I was trying to reach moderates, conservatives, and their families who regularly listen to KMOX.
I am a little critical of myself that I did talk way too fast in some of my answers. When I do a future radio interview, I should have a piece of paper in front of that says: "Talk slowly! Relax." I did not catch any 'ahs' or 'umms,' so my delivery was good. However, I definitely had pregnant pauses and I did use "And so" as crutch words.
Debbie was a very friendly and kind interviewer. As a news reporter, she still wanted my reaction to people who do not accept climate change, the Trump Administration, and people who think it is too late. Listening to the interview recording on January 6, 2018, I was very happy I was able to keep my answers positive and hopeful.
Overall, getting interviewed by Debbie Monterrey on KMOX was a highlight of my life and an incredible experience. It was a dream come true to talk about climate change for the biggest radio station in the St. Louis region. My interview went so well that KMOX did invite me to return for short interviews for couple of short news segments in the following years.
In October 2018, I organized a climate change speaking tour across Missouri to speak at my alma mater William Jewell College in Kansas City, Missouri University in Columbia, MO, my alma mater Oakville High School, St. Louis University, and teaching a climate change 101 continuing adult education class at the Meramec Campus of St. Louis Community College. KMOX did a short three-minute segment highlighting my speaking events in St. Louis that included a very short, recorded interview with me. Sadly, there is no online link to that radio promotion.
Debbie asked me to do a recorded phone interview with her for a short news segment for KMOX for telling the difference between 'Weather vs. Climate.' This two-and-a-half-minute segment aired on February 12, 2019. Fortunately, I gave a Toastmasters speech about this subject in January 2013. I turned the text of that speech into a blog, You Can See Clearly Now. Thus, it was very easy for me to provide Debbie with short sticky sound bite quotes that she could insert into this recorded news segment.
The COVID pandemic in 2020 grinded all of my climate change organizing to a halt for a couple of years. Thus, my most recent radio interview is my Earthworms interview with Jean Ponzi recorded on November 27, 2019.
I love public speaking and giving radio interviews. Thus, I hope to give more radio interviews in the future, if the opportunity presents itself.
Until then, here are my tips to give successful radio interviews:
Get the contact information for the radio host and/or the producers for the radio program where you hope to be interviewed.
This was how I got all of my radio interviews, I reached out by email and called the radio station and the host of the radio show where I wanted to be interviewed.

The only exceptions were my local NPR radio interviews. For the April 15, 2014 interview on the local NPR show St. Louis On the Air, a staff person at Eastern Central College in Union, Missouri booked that interview. For my November 3, 2017 interview on the local NPR Southern Oregon show The Jefferson Exchange, someone from the local Citizens Climate Lobby Chapter in Ashland, Oregon reached out to Jefferson Public Radio to book that interview. Thus, if you have contacts that can make connections with a radio station to schedule an interview, utilize them.
Radio hosts and shows are always looking for guests.
Sometimes guests cancel. If someone suddenly cancels, a radio host or show might be eagerly looking to book someone for the next day or week, etc. Thus, be prepared that they might call you in on a very short notice if a guest cancels. Even more, climate change could be a breaking 'hot topic' news story where they need almost an immediate comment. Be ready to jump on those opportunities if they arise!
It helps if you have an event you are promoting.
Local radio hosts and shows like to tie their interviews to upcoming community events that are open to the public. Therefore, if you are leading or participating in a team organizing a nearby event, do let your local radio stations know. Radio stations are always looking to fill airtime. Thus, they might read a short press release about your event. Even more, they might be interested in a radio interview with you.
Giving a radio interview can seem like a pop quiz since you don't know what the radio host will ask you.
If you can't answer a question, don't feel bad or panic. Just pivot to what you know. Talk about the event you are promoting or share the talking point you want to emphasize to the listening audience hearing you on the radio.
It's the radio! In most cases, you can have your notes or notecards with you.
For most of my radio interviews, I had notecards and a page of notes with my favorite quotes, my short mantra statements like 'Think Globally, Act Locally!' and information on the event I was promoting. The radio hosts never objected that I had notes to glance over. I would still give the radio host good eye contact during the interview. However, they never complained about me glancing my notes during the interview to make sure I said exactly what I wanted to say.
Speak slowly and enunciate well.
In any public speaking situation, including a radio interview, I tend to speak fast and run my words together that makes it hard for others to understand me. Before the interview, take some relaxing breaths, meditate, or even write on a notecard "Talk slowly! Relax."

Remind yourself that the audience can't see you. They will only hear your voice. Thus, make sure they can hear you clearly by speaking slowly and pronouncing your words so that they can understand you and your message.
Have Fun! It is a very enjoyable experience to be interviewed on the radio.
All the radio hosts who interviewed me, such as Jean Ponzi, Debbie Monterrey and Don Marsh, loved their job. They wanted their guests, such as me to have a great and enjoyable experience. Each radio host I encountered were genuinely happy to see me, meet me, and wanted to do a great interview with me. They appreciated me being there. Their personalities, mannerisms, and the way they interacted with me put me at ease and I felt honored to be there.
Final Thoughts
As you can tell by this blog post, I had great memories getting interviewed for climate action on the radio over the years. As a child growing up listening to FM rock music stations, this was a dream come true to be on the radio. As a climate organizer during the past 13 years, it was a life goal for me to be on the radio to reach a wider audience to try to inspire them to act on climate. I hope this blog post will inspire you to go "on the radio" for climate action.