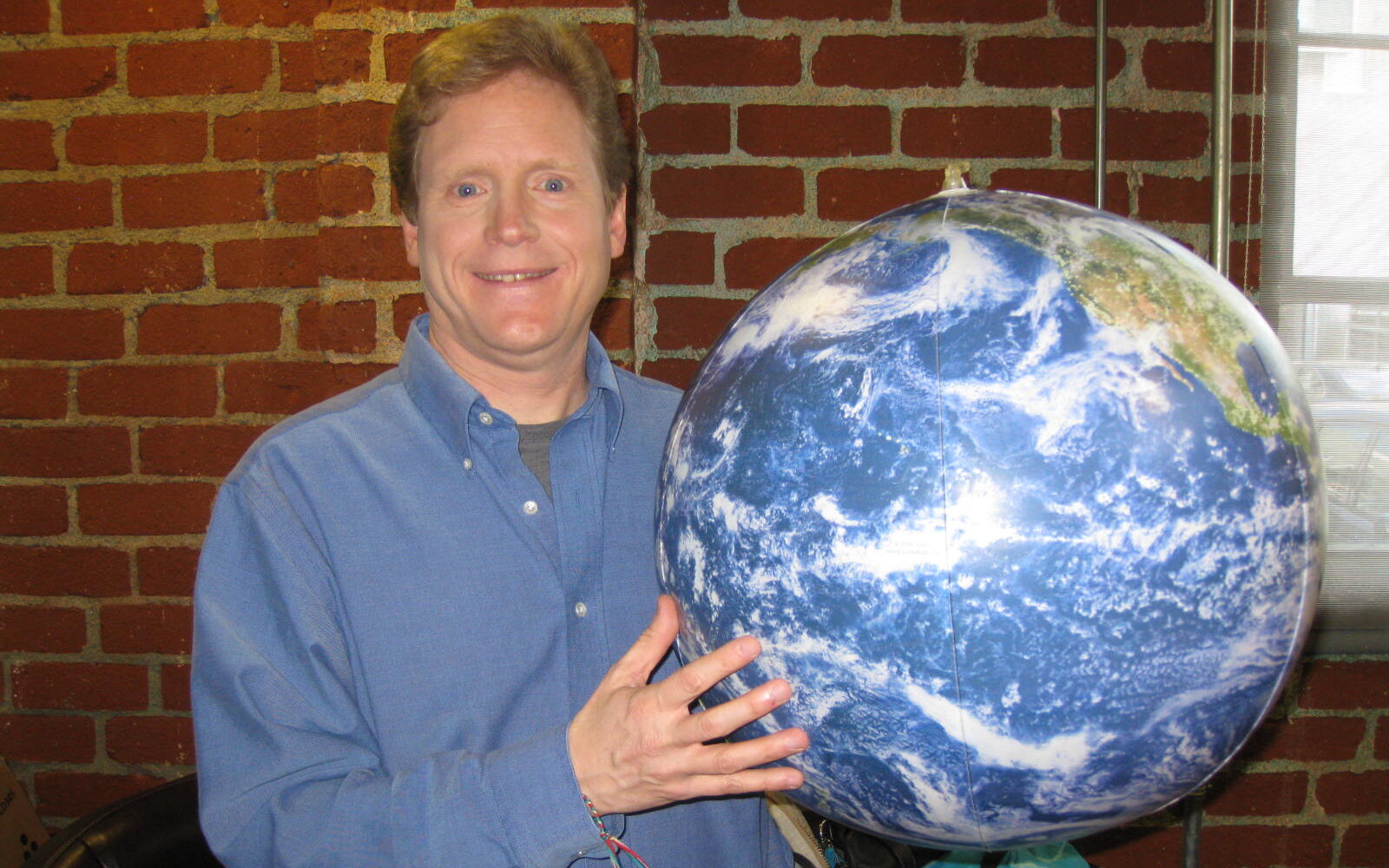 Image of Brian Ettling taken in April 2016 at the Tennis Channel TV studio where Comedy Central's Tosh.o is filmed in Los Angeles, California.
"Fine!" I responded with emphatic exasperation, "If I could be anything, I would like to be the 'Climate Change Comedian'!"
My friend Naomi nearly fell out of her hear laughing and responded: "That great! I would like you to go home and grab that website domain right now!" I immediately went home after I wrapped up this conversation and did just that.
This event happened in Ashland, Oregon around in the fall of 2009. At that time, I was housesitting for a friend. I didn't know what to do with my life. For seventeen years, I had worked as a seasonal park ranger at Crater Lake National Park, Oregon in the summers and Everglades National Park, Florida in the winter. I absolutely loved my job as an interpretation ranger at Crater Lake giving ranger talks, guided hikes, leading evening campfire talks, and narrating the boat tours. I loved every minute of standing in front of an audience, in these iconic places sharing about nature.
In 1998, I started giving ranger talks in Everglades National Park, Florida. Visitors then asked me about this global warming thing. Visitors hate when park rangers tell you, "I don't know." Soon afterwards, I rushed to the nearest Miami bookstore and library to read all I the scientific books I could find on climate change.
I learned about sea level rise along our mangrove coastline in Everglades National Park. Sea level rose 8 inches in the 20th century, four times more than it had risen in previous centuries for the past three thousand years. Because of climate change, sea level is now expected to rise at least three feet in Everglades National Park by the end of the 21st century. The sea would swallow up most of the park and nearby Miami since the highest point of the park road less than three feet above sea level.
It shocked me that crocodiles, alligators, and beautiful Flamingos I enjoyed seeing in the Everglades could all lose this ideal coastal habitat because of sea level rise enhanced by climate change.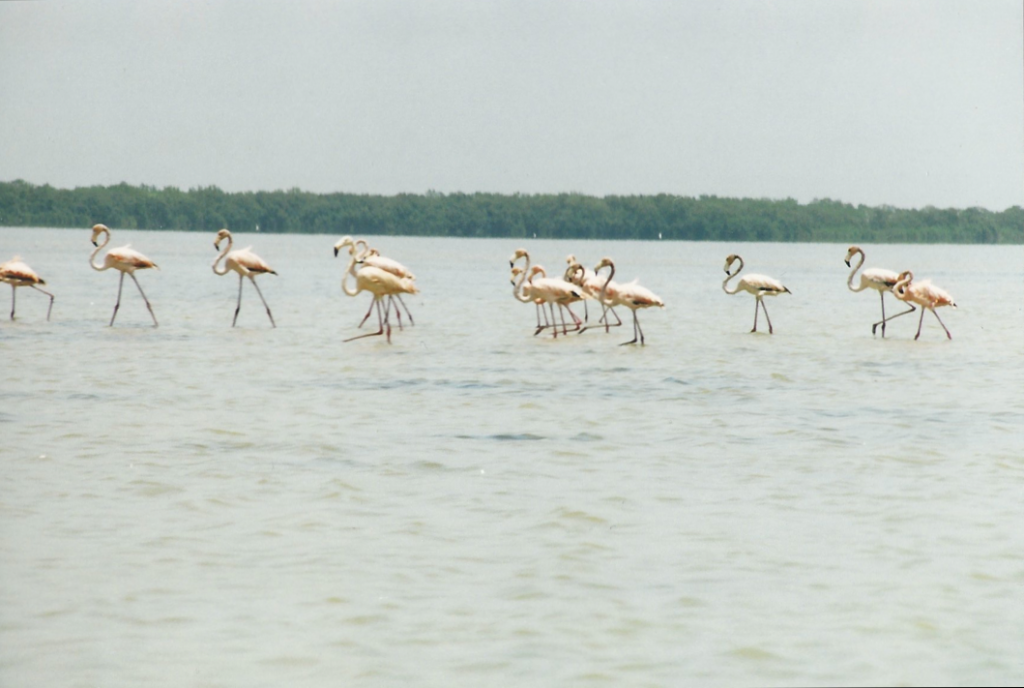 I became so worried about climate change that I quit my winter job in Everglades National Park the year before 2008. Up until 2017, I still worked my summer job Crater Lake National Park. I was not ready to give up my summer job there because of the incredible beauty there and the enjoyment I had wearing the ranger uniform while engaging with park visitors. In the fall of 2009, I had too much free time housesitting. I moved there with no job at that time trying to ponder what to do next with this climate change mission for my life.
This led to my conversation with my friend Naomi in Ashland where she pressed me to answer her directly: "What do you really want to do with your life?"
My answer of "The Climate Change Comedian" had a lovely ring and synergy to this for me to latch onto. When I started giving ranger talks in the Everglades in 1998, I discovered that park visitors wanted some humor in ranger talks. They are on vacation, so they wanted to see that I was not taking myself too seriously.
I even created my jokes as a park ranger, such as:
"What did one continental plate say to the other after the Earthquake?"
Any guesses?
"It's not my fault!"
Yes, I will admit that joke is a dad-joke groaner and that did not fit into any of my ranger talks. However, some of my fellow rangers thought that was hilarious. They even stole that joke from me to use it in their ranger talks.
At the same time, the science of climate change is deadly serious. It has the potential to kill millions of wildlife and people, as well as causing catastrophic harm to our planet. Thus, I had this calling to do something to educate people about the threat of climate change using the skills I acquired as a park ranger to educate, entertain, and inspire an audience. In late November 2009, my friend decided he did not want to spend the winter traveling in an RV, getting snowed out in places like Montana. He moved back to his house in Ashland. We quickly concluded that it was not going to work for me to live in his house.
Developing and Promoting myself as "The Climate Change Comedian"
I then quickly decided to move back to my hometown of St. Louis, Missouri to live with family for the winter. St. Louis has deep ties for me since it was the place I was born, went to high school, my parents and adult sisters lived there. It would be a nurturing place for me to be for those winter months. I only lived in Ashland, Oregon for a couple of months. However, I got exactly what I needed there. Advice that would change my life to be 'The Climate Change Comedian.'
The other advice Naomi gave me in Ashland was to immediately start creating my own climate change presentation. As a park ranger that gave evening talks in the Everglades and Crater lake, I learned the skill of using Power Point to create engaging and educational presentations with some humor sprinkled in. In January and February 2010, I created my own climate change presentation called "Let's Have Fun Getting Serious about Climate change." I started practicing this talk with friends in 2010 and into 2011.
In St. Louis, a family friend named John helped me create The Climate Change Comedian website, www.climatechangecomedian.com, which is still an active website to this day. My friend John encouraged me to start writing blogs for that website, which I have done sporadically to this day.
I started giving climate change talks locally in the St. Louis area in the fall of 2011, but I felt I was not getting notoriety or making a name for myself nationally. To up my exposure, I created a YouTube video on January 10, 2014, with my then girlfriend and now spouse since 2015, Tanya Couture. The video was called, "The Climate Change Comedian and the Violinist." I soon followed up this video on month later with a YouTube video with my mom, Fran Ettling, in February 2014, "Climate Change Comedian and the Pianist!" One year later, in March 2015, my mom, Tanya and I followed up that video with a YouTube video featuring my dad, LeRoy Ettling, "Climate Change Comedian and his Skeptical Dad!"
In these videos, I developed a tag line where I would promote myself as being very funny. In each of these successive videos, Tanya, my mom, or my dad would strongly respond, "You are not that funny!" I came up with that hook because I don't consider myself to be that funny, even if I had given myself that title. In all honesty, I didn't know what to do with that title of the "Climate Change Comedian" besides those videos and the climate change talks I gave around the St. Louis area.
Appearing on national TV Comedy Central as "The Climate Change Comedian"
Then in April 2016, something unexpected and magical happened. I spent the winter of 2015-16 getting married to Tanya in a big celebration wedding attended by family and friends on November 1st. I gave lots of climate change talks that winter and I was planning on returning to Crater Lake for the summer. In mid-April, I was getting ready to start packing up my belongings for the summer when the phone rang at my parents' house. My mom informed me that 'someone from Los Angeles wants to chat with you.'
I picked up the phone and the person identified himself as a staff member of Comedy Central's Tosh.o. We had a very friendly conversation where he asked me about my background such as "The Climate Change Comedian," and making the YouTube videos with my parents and Tanya. He then got to the point asking me: "We would like to fly you out to Los Angeles to appear on a taping Comedy Central's Tosh.o next week to be interviewed by our host Daniel Tosh. Would you be interested?'
"Yes!" as I serendipitously jumped at this opportunity.
He then inquired: "Do you have any plans next week?"
"Well," I responded, "My wife did plan a quick honeymoon trip. It was to stay at bed and breakfast that we had received as a wedding gift."
"Where?" he asked with curiosity, probably thinking of the traditional honeymoon places of Paris, Hawaii, the Poconos, Niagara Falls, the Bahamas, etc.
"Augusta, Missouri!" I enthusiastically responded.
"Augusta, Missouri?" he seemed genuinely confused.
"Augusta, Missouri is wine country!" I said with much delight looking forward to this trip that my wife had been planning.
"Augusta, Missouri is wine country?" he replied with even more confusion, probably thinking about Napa Valley, California, and other more renowned wine regions.
"It's wine country for Missouri," I stated with as much local pride as a I could.
The staff person from Tosh.o then asked me. "We would like to fly your mom out to Los Angeles also. Can you ask her if she would be interested?"
We then wrapped up the phone call. I then approached my mom about this invitation and shared that they wanted to include her. I asked if she would be interested in getting flown to LA to appear on a national TV show.
Her response was a coy and very intrigued response of "Yes."
Her mood then shifted to a sterner tone: "You better call Tanya and ask her immediately if this is ok. She has been planning this trip to Augusta for a while!"
I immediately called Tanya to share everything. She encouraged me and my Mom to jump at this opportunity. She then inquisitively asked: "Have you ever watched Tosh.o?"
I then lied and said, "Yes!"
All that I really knew about Tosh.o was on before the Daily Show with Jon Stewart on Comedy Central, that we faithfully watched at that time. However, that was all that I knew about the show.
Like any good wife when they know their husband is lying, Tanya wasn't buying it.
She then pressed me, "Have you ever really watched this show?"
"No," I sheepishly confessed.
"Can you please watch the TV show before agreeing to anything like this in the future?" she stated with an irritation in her voice.
Without mentioning this conversation to my contact at Tosh.o, the staff felt so bad about what they perceived as intruding on my honeymoon that they offered to fly Tanya out to LA also on that trip, as well as my mom and I.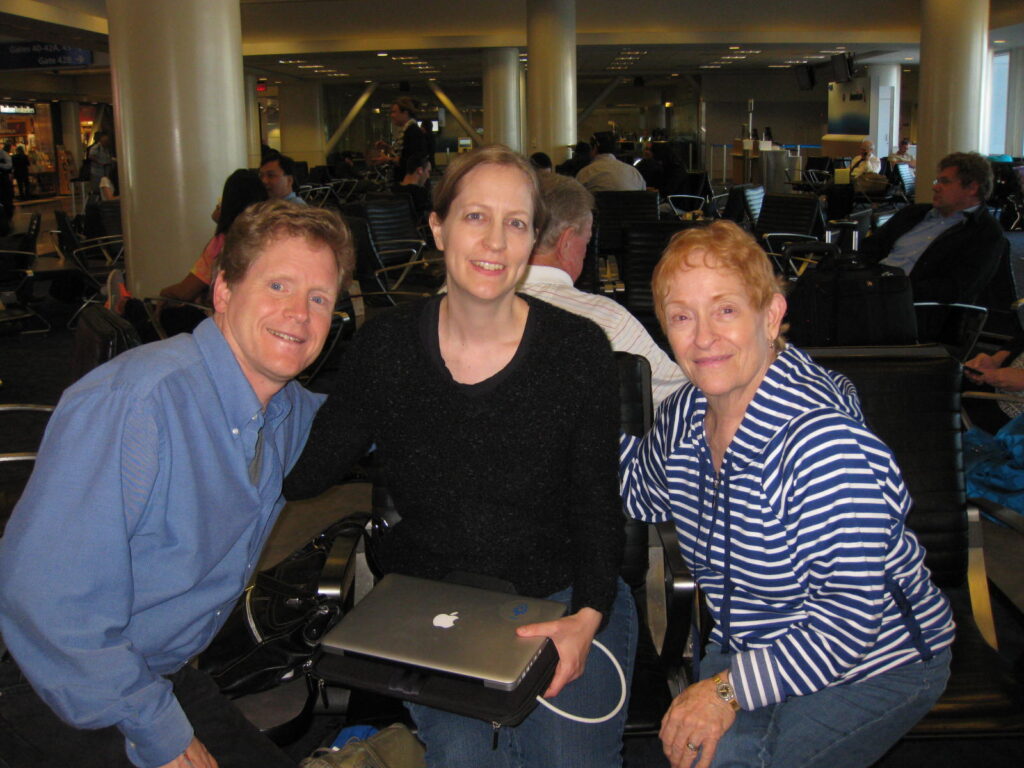 The three of us had a blast flying out to Los Angeles over a 24-hour period for this trip. The host Daniel Tosh turned out to be very gracious to my mom, Tanya and me. After we had arrived to at the TV studio to meet with staff and prep with the make team before we went air, Daniel arrived about 30 minutes later. He came into the studio yelling, "I am sick, and it is the fault of one of your kids!"
It felt hilarious, like a scene out of a movie or TV show where the big star comes in to be filmed making a big entrance, while they are feeling hung over, with a big ego, and everyone must scramble to accommodate them. I was nervous about this TV taping, but his entrance set me at ease that he did not take himself too seriously. He was clearly indicating that he there to have some fun, even if he was not feeling well.
Something that was very apparent was that his staff was very loyal to him and really liked working for him. The driver who picked us up, dropped us off at a very bland exterior office warehouse area with a sign that said, "The Tennis Channel." Honestly, until I read that sign, I had no idea that there was a Tennis Channel. Soon after we arrived, Daniel Tosh's staff explained to us that he started out his show years ago using the TV studios of the Tennis Channel because it was the least expensive studios he could find for the show. He then kept using that studio to save on costs and to pay his staff well. This went further to help me feel like I was in good hands that day.
Soon after Daniel entered, he walked up to the green screen area where he would be interviewing me. I reached out to shake his hand, but he refused saying that he did not want to get me sick with the crud he had. He then advised me to just be myself and not try to be overly funny. He cautioned me to not be a clown on TV, unless I wanted to come across that way. He indicated that he intended to be the funny one. I had zero experience appearing on TV, so I appreciated all he did to make me feel comfortable when we taped the TV interview.
Our TV segment centered around poking fun at Fox News, conservatives, FOX News TV host Sean Hannity, as well as poking fun at me. After the TV interview, Daniel and some of the writers shared with me how they all had conservative, Fox News watching, Rush Limbaugh listening, Dads like mine. Thus, it seemed like all of us were working out our "Daddy issues" with this TV comedy sketch that day.
After we wrapped up the taping, the crew invited us to join them for lunch where they had a big spread catered Cuban food. I had not seen Cuban food since I had worked in the Everglades nearly ten years earlier and I was surprised to see it in LA. Their response was "Of course you can get Cuban food here! It's LA! You can get everything here!"
As we were getting ready to leave, Daniel Tosh came over to graciously say goodbye to us. He seemed pleased how well the TV taping went with my mom and me. He did not shake hands with us since he did not want to get us sick, but he did allow us to get a picture of him and me to mark the occasion.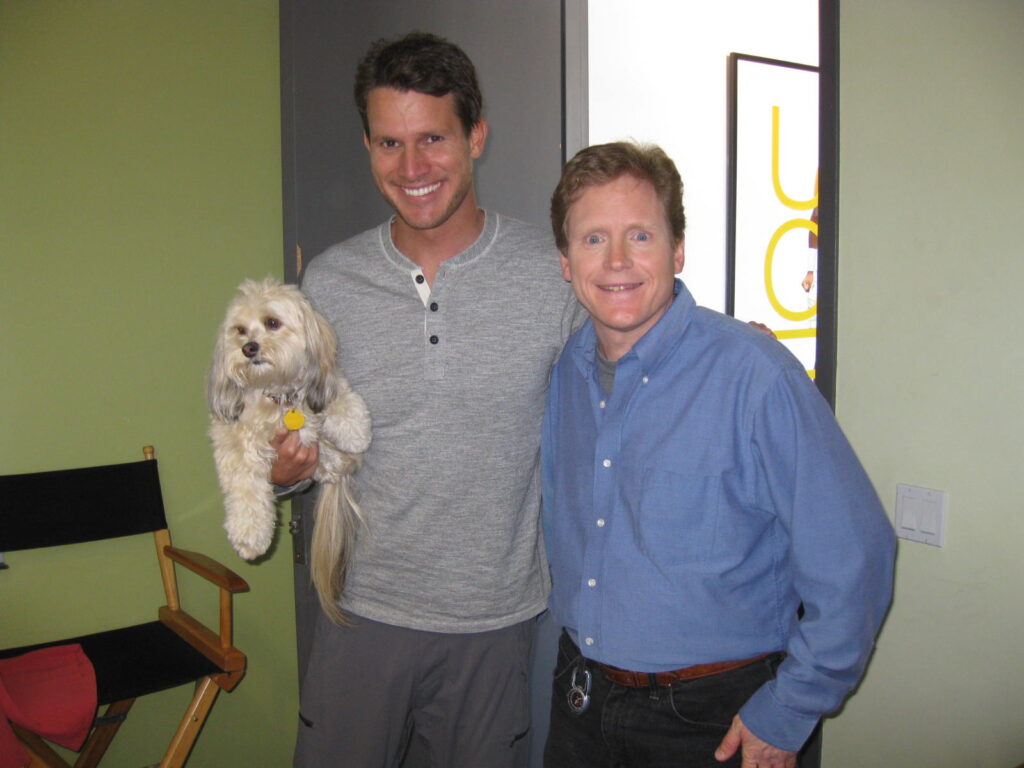 Oh, and the good news was that I did not catch any cold, flu, illness, or crud that he had at that time!
As we said goodbye, a driver came to pick us up. He offered to drop us off at the airport or anywhere we wanted in LA. The catch was that if he dropped us off anywhere other than the airport, we would then have to find our own way back to the airport. We asked to be dropped off at the house of my dad's cousin in Hawthorne, which is just minutes from LAX. During this trip, my mom was in touch with my Dad's cousin. She was thrilled to see us and to spend a couple of hours with her at her home before she drove us to the airport.
At the airport, my mom joked with some random people that she had joined Tanya and me for our honeymoon trip. All three of us thought it was funny. Tanya and I still went to Augusta, Missouri, later that week to enjoy a brief honeymoon trip. Yes, the wine was great there! There was no traffic on the streets of Augusta. Tanya and I walked down the middle of the streets in Augusta since it was so peaceful there. It was world of difference from LA!
At the studio, Tosh's staff informed us that the segment that we taped would probably air sometime in late July or early August. For months, Tanya, my mom and me were very nervous how the show could be edited in such a way that we could end up looking very bad. The show finally aired on the Comedy Channel on August 2, 2016, Climate Change Comedian – Web Redemption Tosh.o
The impact of my appearance on Comedy Central TV's Tosh.o
When the show aired, I was working at Crater Lake. For the park ranger staff, every Tuesday evening The Crater Lake Science and Learning Center scheduled a "Casual Conversations" lecture with a visiting park research scientist or Crater Lake staff researcher. These events were a great way to mingle with park staff and outside researchers, as well as learn about their findings. On that evening, I did not attend since I was nervously anxious to see how my TV appearance. Even more, I learned afterwards that hardly anyone working in the park attended because they were at home to see me on TV.
It aired at 7 pm Pacific time and 9 pm Central time, where my Mom and Tanya saw it in St. Louis. My mom and Tanya each called me to say how relieved they were that the show turned out well and how proud they were of me. We were all so excited we got to experience the taping in LA together. The humor on Tosh.o was way to raunchy and tasteless for my mom, Tanya and me. We would joke that we felt like we had cleaned up the show for a few minutes with our segment. For months afterwards, my mom would walk up to young people to ask them: "Have you ever seen Tosh.o on Comedy Central? My son and I were on that show!" The young people she encountered and older friends of my mom, including her dentist, were very surprised to see her on Tosh.o. That was amazed me because her appearance on the show was very brief.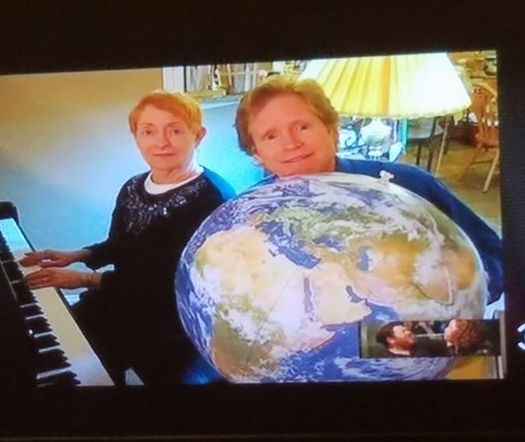 To this day, appearing on Comedy Central's Tosh.o was one of the highlights of my life. In one sense, I never dreamed when I gave myself the title "Climate Change Comedian" back in Ashland, OR in 2009 that it would lead to a TV appearance seen by millions of people. This reached an audience, especially of young high school and college age Gen Y and Z viewers, primarily male, that regularly watch Tosh.o. These are folks that might not ever attend a park ranger program on climate change or see a scientific lecture on the climate crisis.
Even more, this show episode immediately went into syndication where it was shown several times over the next few months and years on Comedy Central. I had friends that would tag me on Facebook that they had seen my episode months or even years later. My appearance on the show paid extremely well. My mom said she was able to pay to get dental work done from the check she received from the show. Years later, I continued to receive residual Screen Actors Guild checks from my appearance on Tosh.o.
My other media appearances as "The Climate Change Comedian"
As the Climate Change Comedian, I did not know how I would top that appearance on the show, nor did I have ambition to top it. That Tosh.o appearance and that title did feel like it opened some doors for me. Two years later, I was honored to appear on my friend Peterson Toscano's podcast, Citizens' Climate Radio, on the May 29, 2018, episode, "Climate Comedy." Peterson is a great comic performance artist. If you listen to the podcast, it felt we had a great rapport in this interview with our love of comedy. Near the end of our interview, Peterson loved the quote I shared from climate speaker Dan Miller in his 2014 TED talk: "Society conspires to suppress the discussion of climate change. As someone who talks about climate change a lot, I can vouch for this. For me, talking about climate change (can feel) like farting at a cocktail party."
On March 4, 2020, Puppet comedian Chad Bird interviewed me for the last 18 minutes of the Climate Pod. At that time, I was primarily lobbying as a volunteer for Renew Oregon to urge legislators to pass a state level cap and invest bill to reduce the threat of climate change. Chad Bird asked me primarily about how Oregon Democratic legislators during that 2020 session could not pass strong climate change legislation. The bill failed because of an absurd GOP walkout. As a climate organizer and wannabe comedian (I agree with my critics that I am not that funny) for over a decade, I had many highlights, such as meeting and having a conversation with former Vice President Al Gore. He's at the top of my list. After that, I would say that I really enjoyed my interaction with Chad Bird.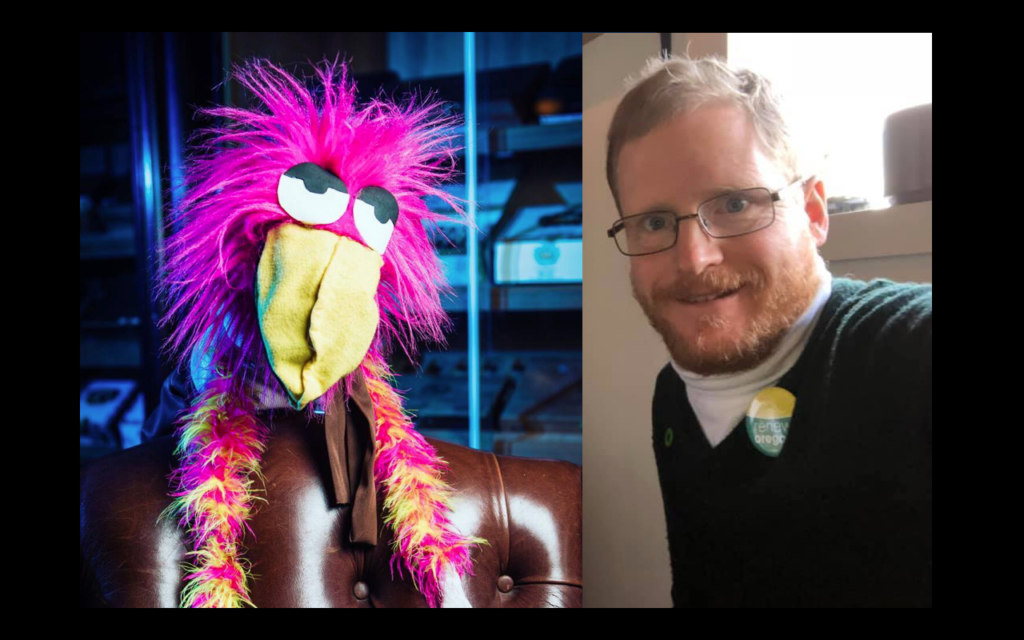 Even more, Tosh.o invited me to be back on this show on November 10, 2020. It was a fun experience to return to the show. With the COVID pandemic still raging, my appearance was on Zoom this time. It was great to interact with Daniel Tosh again. As they say in the movies, 'The sequel was not as good as the original.' Tosh was starting to wrap up his series on Comedy Central. I appeared as part of a panel of four previous guests he had on the show. With all the quick editing of the comments from each of the panelists, none of the comments I made about climate change made it into the broadcast. Thus, it felt like a bit of a letdown compared to the first appearance in 2016. At the same time, it was good to get paid, have fun on TV and brought back great memories of my first appearance where I did get to chat about climate change.
Even if my second appearance on Tosh.o did not feel as good as the original, it was one of my highlights of the pandemic. I didn't feel like laughing much when COVID was raging due to the reports of all the people dying, the economic downturn, President Donald Trump pathetic response including digesting bleach, and for all the lives it disrupted, including mine. I felt a lot of guilt and depression because I did have my health, my wife Tanya, and a safe place to live. So many people struggled with the illness and way too many families lost loved ones. I strictly adhered to the social distancing and staying at home. At the same time, the isolation took a huge psychological toll because I am a people person who loves to be around people to chat, network, organize and attend meetings for climate action.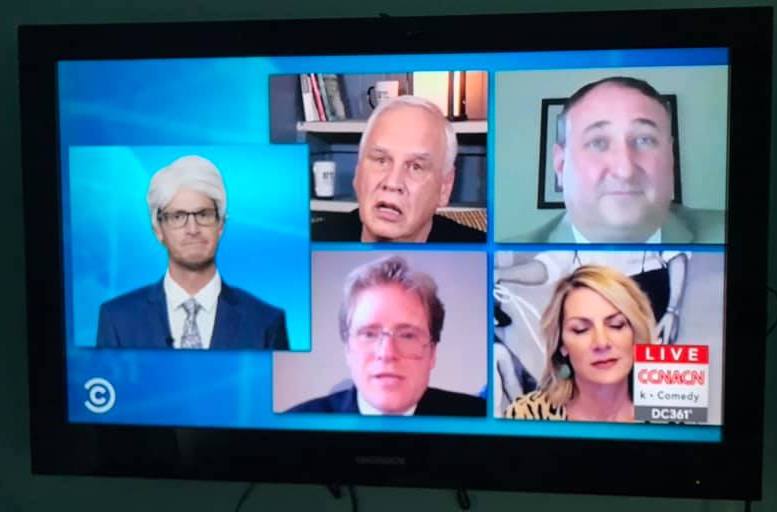 The COVID Pandemic killed my enthusiasm for Climate Change Comedy
Before the pandemic, I was always on the go attending meetings, giving climate change talks in the Portland OR area, meeting up with fellow organizers and friends, carpooling to the Oregon Capitol in Salem to lobby legislators, testifying and attending legislative committee meetings at the Capitol, flying to Washington D.C. twice a year to attend Congressional lobby meetings, participating as a mentor and speak speaker at Climate Reality Project Trainings, traveling to other states to give climate change presentations, and traveling back to St. Louis once or twice a year to see family and give climate change talks there. It was almost non-stop climate action where I was gone from home during the day or evenings often. When the pandemic happened, it all went away. I did not know what to do with myself. With the heaviness of the pandemic hanging over everything, I just did not feel motivated to write or do anything, especially climate comedy.
To find a way forward, I drew upon my experience lobbying and meeting with state legislators to urge them to pass climate legislation. During the summer of 2020, I started meeting by Zoom and phone with Oregon Legislators that I had met during my lobbying for the cap and invest bills in 2019 and 2020. As a Citizens' Climate Lobby (CCL) volunteer, I urged them to endorse the federal carbon pricing bill supported by CCL, The Energy Innovation and Carbon Dividend Act (EICDA).
September 17, 2020, I met with Rep. Tiffiny Mitchell to ask her to endorse the EICDA. In addition to her endorsement, Tiffiny asked if she could introduce a statewide resolution supporting the bill. The resolution was introduced on the Senate floor February 4, 2021, when it officially became known as Senate Joint Memorial 5 or SJM 5. One year ago in January 2022, I detailed this experience in a blog I wrote, I led the effort for Oregon Senate to pass a Climate Resolution.
One of the biggest thrills of my life happened when SJM 5 passed the Oregon Senate on April 7th by a vote of 23 to 5, with 6 Republican Senators, half of the Oregon Republican Senate caucus, joined with all the Democratic Senators present to vote to support SJM 5. When SJM 5 moved on to the Oregon House that spring, it ended up with 30 House members, including 7 Republicans, endorsing SJM 5. Sadly, SJM 5 died towards the end of the legislation session when the House Democratic Leadership decided not to bring it up for a vote.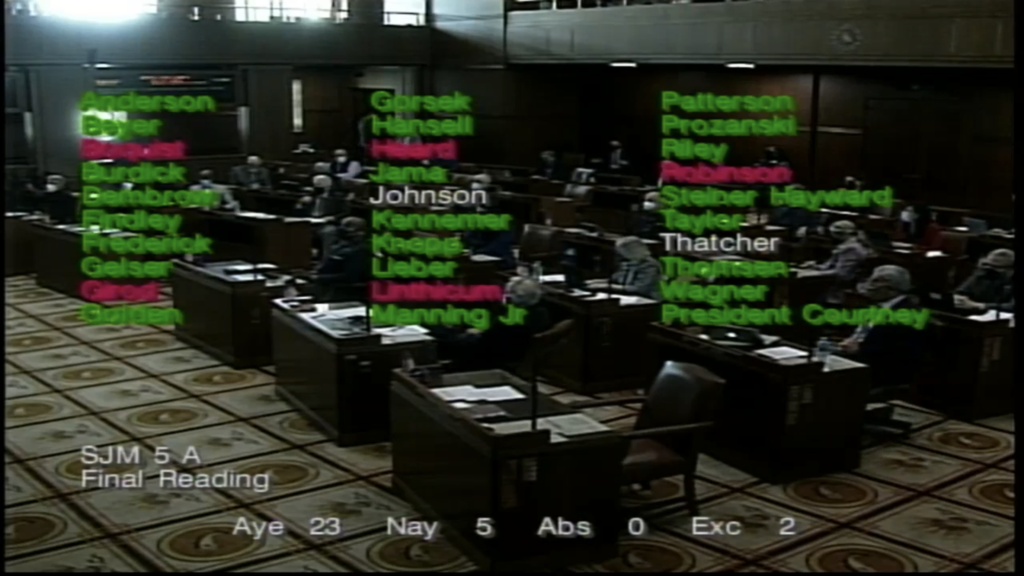 The resolution falling short was something I was prepared could happen. During the previous two legislative sessions, I had lobbied hard with Renew Oregon in their efforts to push the Oregon Legislature to pass carbon pricing legislation. In the 2019 and 2020 legislative sessions, the Democrats had the votes to pass the bills. Unfortunately, the Republicans would just flee the state to deny a quorum for a floor vote, which killed both bills. I had deep emotional scars from those experiences to know that you can never count on legislation to pass until it does.
The worst part of this experience was the bitterness by the core CCL volunteers who worked most closely we me. With the bill failing short, they directed their anger at the state legislators and me. They took actions that I felt like were burning bridges with the legislators in their last-minute attempt to pressure them to pass the resolution. I wanted no part of their actions, which damaged our relationships. This situation left me feeling burned out as a climate organizer with no energy for climate comedy.
The only joke I could muster at that time was to say: "I just want to go to grad school for organizing to learn how to 'stand down' upset fellow organizers once a bill we have worked on for many months fails."
That summer and fall, I wrote extensively about my frustration over the years as a climate organizer to see if I could possibly turn that into a book someday. In the middle of writing that story in September 2021, I got a Facebook message from my Climate Reality friend Raj, who lives in India. He wrote:
"Hey Brian, how are you? A friend is organizing an event using comedy and climate change around COP26. I mentioned you and she wanted to connect. Do leave your email if you are interested."
I did reply with my email and received an email from another climate organizer. He wrote that he was part of a group organizing actions for the United Nations COP26 climate conference in Glasgow, Scotland. They envisioned calling it "UNITED COMEDIANS FOR CLIMATE JUSTICE" / bringing laughter to science on a serious note!"
I admired their energy and enthusiasm to bring humor to that conference that held in November 2021. However, I politely declined writing, "To be honest, I have not felt that funny since then, especially with the pandemic."
They sent me a couple of emails to try to coax me to join them, but my heart was just not into it at the time. I had no energy for climate organizing in the remaining months of 2021. I had zero interest in climate change comedy at that time.
Getting my groove back as "The Climate Change Comedian"
In addition to the dreary shadow coming out of the COVID pandemic and falling short with the 2021 Oregon SJM 5 climate resolution where I was the lead organizer, watching on TV the events of the insurrection of the Capitol Building in Washington D.C. on January 6, 2021, shook me to the core. After that happened, I was determined to do all I could in 2022 to organize and work on Democratic campaigns. It felt vital for me to work for candidates that would shore up our democracy, abortion rights, and would prioritize climate legislation.
In March 2022, my Climate Reality friend Raz Mason invited me to work on her Oregon Senate campaign as "The Volunteer Coordinator." I relished this role to deliver lawn signs, recruit volunteers, organize fundraising house parties, call friends to contribute to her campaign, and knock on doors for the Senate district where Raz was running on the southeast exurbs of Portland, Oregon. I worked all spring and summer in this role until Raz became worried about her campaign funds running too low to pay me.
In September, Raz encouraged me to apply to be become a full-time paid canvasser for the East County Rising (ECR) community organization. ECR is a social justice organization that focuses on getting out the vote to elect progressive Democratic local candidates for the eastern part of the Portland metro area. I canvassed full time for ECR, knocking on thousands of doors in the final two months of the campaign, up until the November 8th election.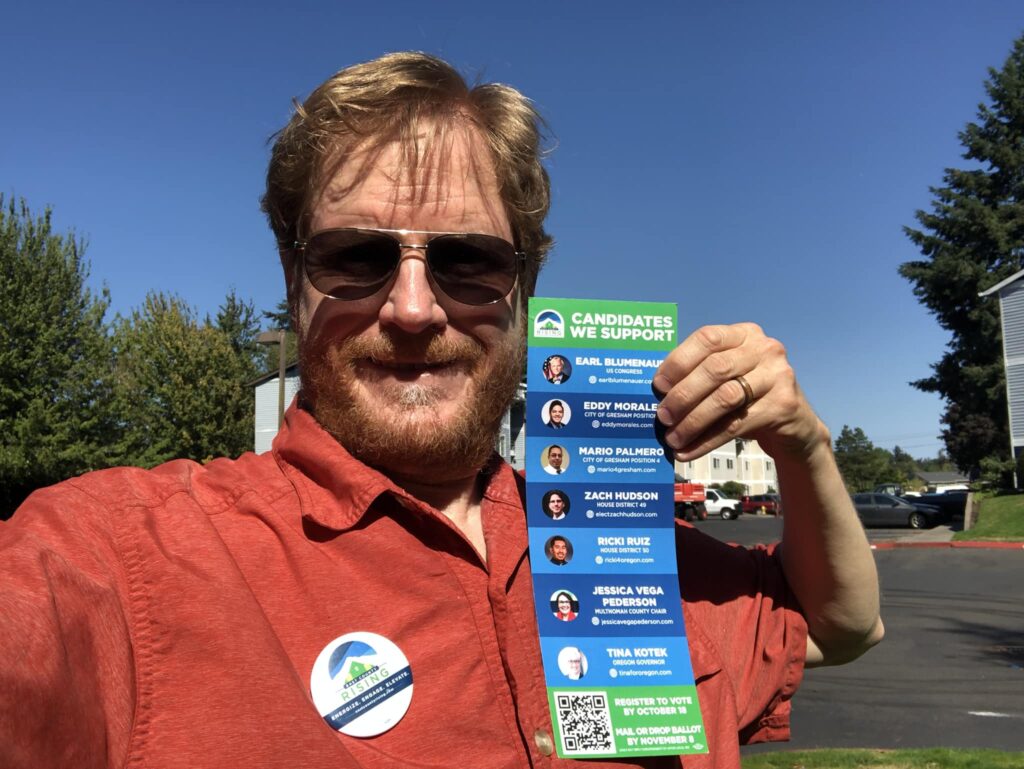 While I exclusively focused for most of 2022 on organizing for Democratic candidates who would be strong advocates for democracy, a woman's right to choose and climate action, I got an email from Robin Riddlebarger, Park Superintendent of Hanging Rock State Park, North Carolina in May 2022.
Robin wrote: "Howdy! Stumbled upon your (Climate Change Comedian) website as I was searching for inspiration about a guest for our annual conference of superintendents for North Carolina State Parks. I am organizing this year's conference with three other superintendents. We're thinking about options. We want this conference to be inspiring and refreshing instead of depressing like it usually is. I'd love to find out more about your prices for doing an in-person and virtual presentation to a bunch of crusty superintendents."
This looked like a good opportunity to jump on, so I immediately emailed Robin back. I expressed an interest to speak to her group and shared my speaking fee. I made it clear that they would have to reimburse my airline expense. This would be in addition to my speaking fee, which was not going to be cheap since they would be flying me from Portland, Oregon to North Carolina. In that email, I asked why they were interested in me as a speaker. Why me?
Robin's response: "Myself and three other superintendents are brainstorming guest speakers that will inspire us. We found that we usually leave the conference feeling more burnt out than we were when we arrived. The four of us are determined that this year will be different. We will at least learn something. Instead of listening to boring HR polices that could have been handled in an email.
Our staff has endured great suffering since the pandemic and morale is at an all time low. We even had a ranger take his life recently. The parks were the only thing open during the pandemic and have been loved to death. Are you sensing a theme here? We need to learn something meaningful and we need positive inspiration. The superintendents live for their parks. I always say I don't know if the park is my husband or my child but it's something more than a job. We care a lot. But we're dysfunctional as heck. We don't need team building. We are already an awesome team. We need something GOOD. Is this anything you would want to tackle? (I'm laughing because obviously climate change is not good, but you know what I mean)"
Robin's email really touched my heart. As a professional speaker that loved to entertain, educate and inspire audiences, this looked like a challenge I was definitely up to do. It seemed like a great fit for me. I wanted to give a presentation that could provide hopefully some healing for them while entertaining and inspiring them. I figured I was their ideal person for this.
Robin and I kept in touch over the summer and fall to work out the logistics. The North Carolina State Parks Superintendents Conference was scheduled for November 14-16. The timing was perfect. It would be two weeks after the election, when my temporary canvassing job would be completed with ECR. By late in the election season, I was feeling worn down by canvassing all summer and into the fall with the heat, rain, smoke, aggressive dogs, and rude people I would encounter daily who would slam their door in my face.
This would be a much-needed working vacation. I had only been to North Carolina one previous time. This would be a new state for me to give a climate change talk. Before the pandemic, I had given climate change talks in 11 U.S. states, plus Washington D.C. and Ottawa, Canada. I loved giving climate change talks in new states! In October, I started preparing my slides for the presentation. Since I worked in the national parks for 25 years, it felt like this was an audience where I could speak their language of loving their park job while hating the bureaucratic system that manages the parks.
The title of this presentation was "Our Parks: Places of fun, healing, and inspiration to change the world." I gave this talk at the beginning of the conference at the Haw River State Park Conference Center to about 44 North Carolina state park superintendents on November 14, 2022. This was my first in person talk in almost three years since I gave my last presentation at a public community Meeting in Portland, Oregon on March 2, 2020. The superintendents laughed at some of my jokes, but my timing was rusty since I had not performed live in years.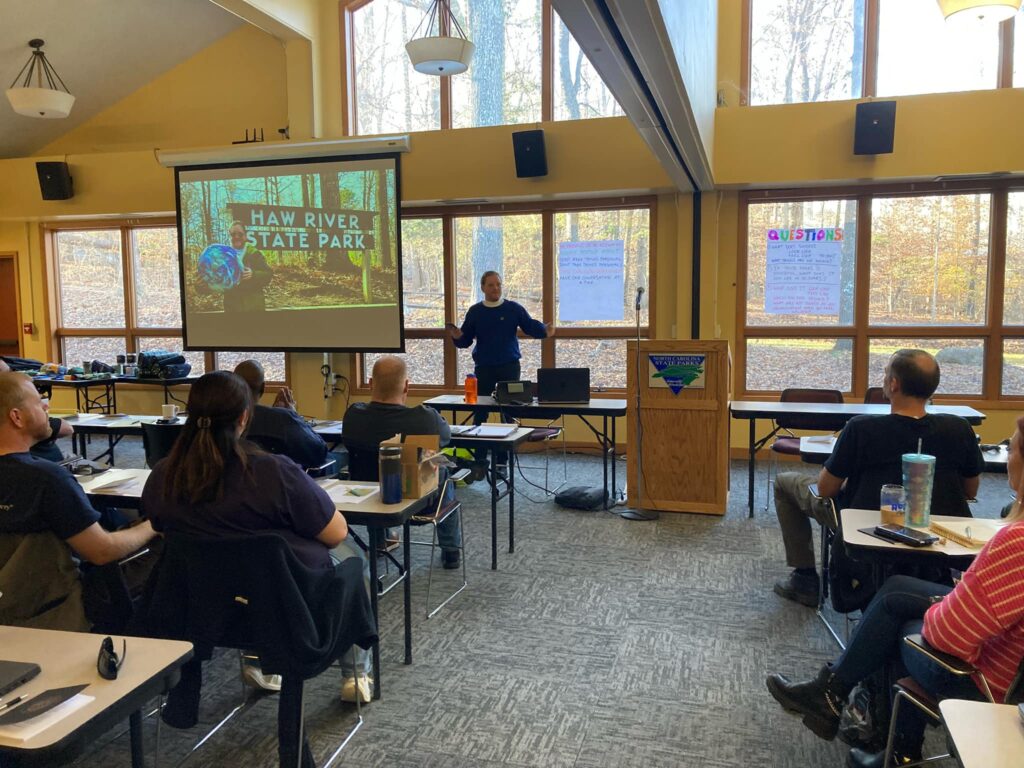 With her approval, I included Robin's email to me in my PowerPoint why she thought I would be ideal to speak at this conference, "Instead of listening to boring HR polices that could have been handled in an email."
When I practiced my talk for Tanya before leaving for North Carolina, she strongly advised me to not use that joke because it might hurt the feelings of HR staff who love their presentations about policies. However, when I shared Robin's email in my talk, the HR line received a big laugh from the audience. The organizers of this conference joked about that line afterwards and they were still making jokes about dry HR presentations the next day.
I felt like I got my groove back with this talk. I did not know when I would return to North Carolina. In October, I messaged friends that I knew for many years that lived on Ocracoke in the Outer Banks if I could stay with them. They said yes. However, they insisted that I 'sing for my supper' by giving a climate change talk to over 50 middle and high school students in Ocracoke. Thus, I ended up giving two climate change talks on this 8 day trip to North Carolina.
While I was in North Carolina, I rented a car from Raleigh to the Outer Banks. The drive from Kill Devil Hills on the northern part of the Outer Banks to Ocracoke was stunningly beautiful with the beaches, lighthouses, and impressive bridges and ferries connecting the islands on the Outer Banks. My talk for the middle and high school students in Ocracoke went well overall. Teens are generally much tougher audiences for the jokes I like to share during my presentations.
It felt like I was back to my old self before the pandemic of traveling to other states once or twice a year to give climate change talks and doing sightseeing in between those talks. I will keep my fingers crossed that I will get more invitations like this in the future since I definitely seem to be a big step up from talks on "boring HR policies."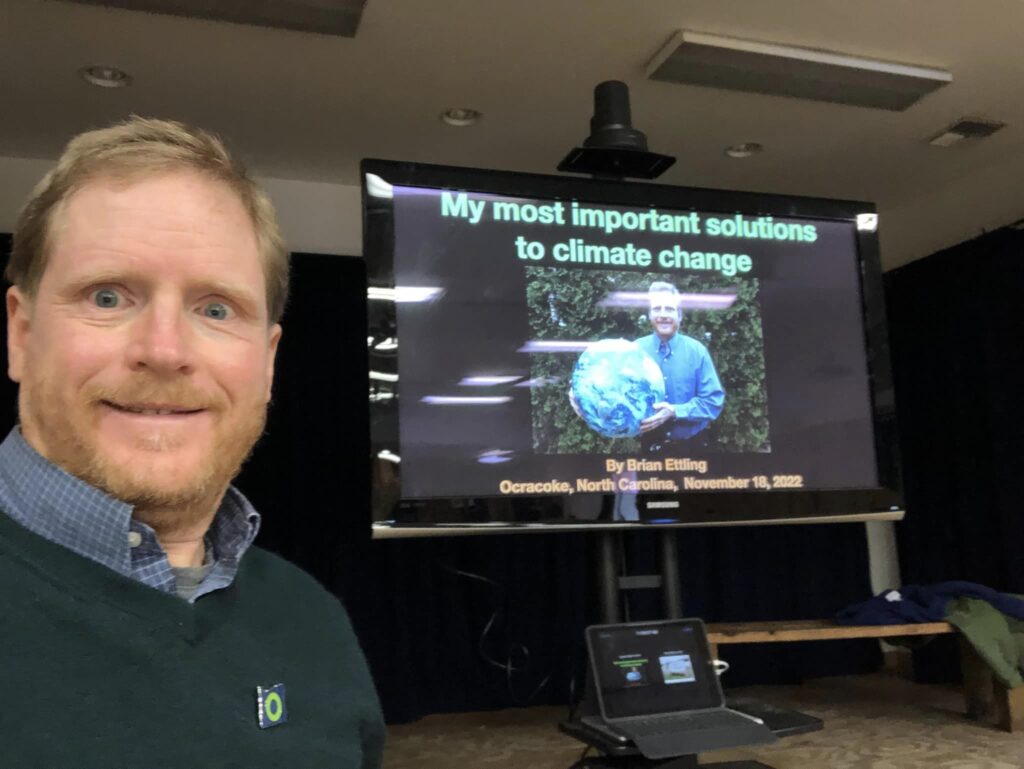 Why did I share this very long story with you?
First, I enrolled in a "Writing Your Story" continuing adult education class at my local community college that starts today.
Last week, the instructor left a voice message on my phone to welcome me to the class. She offered that I was more than welcome to bring some of my writing to read to class if it is no longer than 5 minutes.
I started writing a brief account of my story of "The Climate Change Comedian." As I began writing the story, I realized I had never written the full story. Once I start writing, I have a hard time stopping. Brevity has never been my strong point.
As French philosopher and mathematician Blaise Pascal wrote in his Lettres Provinciales,
"I would have written a shorter letter, but I did not have the time."
Bottom line: I need a really good editor!
For me, it is great to have a full account of this part of my story as I hope to turn my life story into a published book someday. Even more, if life does not give me an opportunity to write that book, I hope someone would be able to use my writings to turn it into a written biography about me.
This class starts today. This week, I decided to write much more condensed version for the class. I then broke it up into two parts since I will only have about 5 minutes to share my story. Here for my blog, it is great to have a longer and more in depth version to share.
Second, While the threat of climate change is deadly serious and potentially catastrophic, it is vital that we find a way to have fun communicating about it.
Many people think of the topic of climate change as depressing, demoralizing, and even fatalistic. 'Yeah, global warming is bad, but there's nothing I can do about it,' someone might say.
I always hope to convey that climate change is very serious, but we can't take ourselves too seriously. Climate scientists still think there are actions we can take to lessen the threat. If we have hope, we have a chance. Hope can lead to a sense of humor. A sense of humor often has a key ingredient of creativity. Creativity plus fun can provide the inspiration to take the needed actions to reduce the threat of climate change.
I hope to write a future blog with the title "For effective Climate Action, Have Fun!"
I was long overdue writing the full story how I became "The Climate Change Comedian." I hope my story will inspire you to have fun saving the planet. Even more, I hope my story will inspire you to book me as a guest speaker for your group that is entertaining, educational, and inspiring as "The Climate Change Comedian."