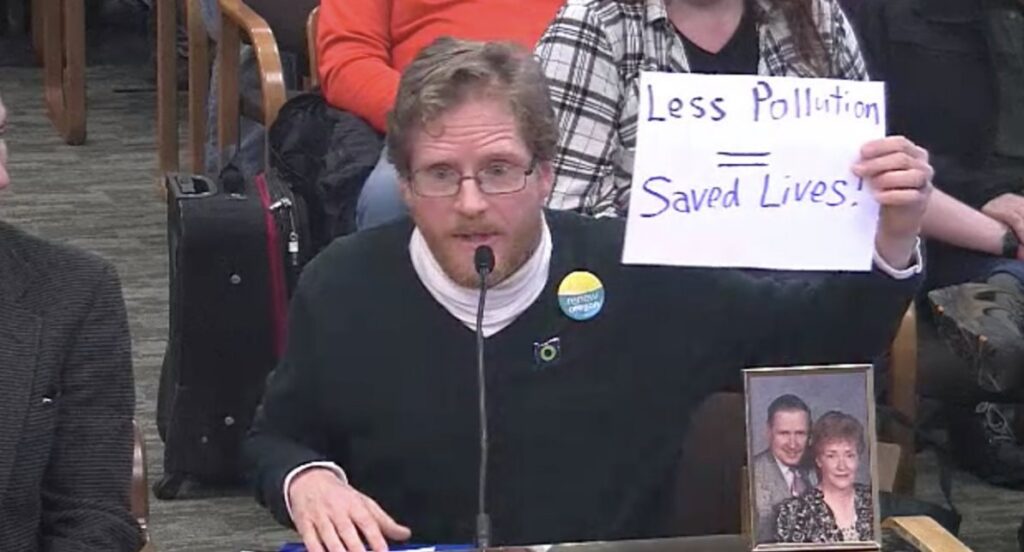 Over the past four years, I had the opportunity to give oral testimony to Oregon Legislative committees five times to urge them to support strong and effective climate legislation. In this blog, I include the text from those testimonies.
Even more, I will provide my tips for giving oral testimonies to legislative committees, such as:
Practice and prepare giving testimony for less than two minutes.

Every Oregon legislative committee that I testified required testimony of a maximum of no more than two minutes. If the time went over two minutes, the committee chair would cut of the person giving testimony even if they were in mid-sentence trying to complete their final talking points.

To avoid going over the time limit, find out in advance on the legislative committee website page how long you will be allowed to speak. If it is not spelled out on the website, assume that you will only have about two minutes to speak.

To keep your testimony under two minutes, type it out and keep the testimony to one page at 200 to 300 words at the most. Practice with a stop watch to become comfortable reading the text. If you are stumbling over the words, that will take time and possibly cause you to go over your allowed time.
If comfortable, use humor.

The oral testimony given by many private citizens tends to be very serious, factual, and finely messaged bullet points. After hearing many testimonies from professional lobbyists and private citizens, the oral testimonies can start to sound monotone and unappealing to the legislators and the audience in the hearing room.

If you feel comfortable, try to inject appropriate humor to get the legislators' attention and break the tension in the room with a good laugh. I did this by acknowledging the previous speaker or speakers and responding with what they said with a funny quip.

As you will see from my oral testimony from February 20, 2020, I brought and briefly wore my park ranger hat to try to lighten up the situation. It felt like by using some humor that it made my oral testimony more memorable to the legislators at the committee hearing.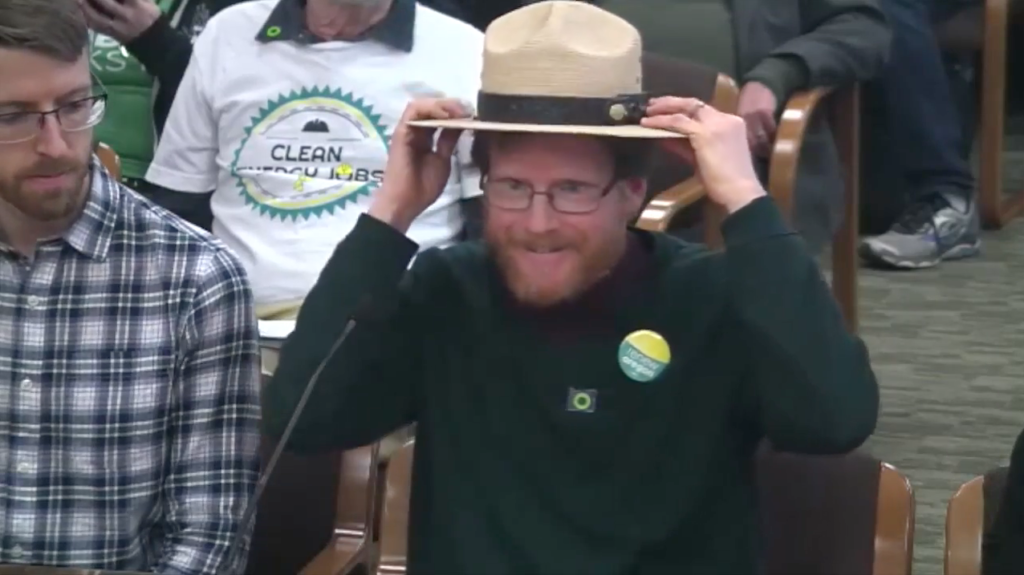 Share a compelling story about yourself.

Most of the times I testified, I shared how I was a seasonal park ranger at Crater Lake National Park for 25 years. While working there, I talked about how I witnessed climate change with a diminishing annual snowpack and more intense wildfire seasons.

At my February 6, 2020, oral testimony, I shared that my dad has stage 4 bladder cancer and currently is in hospice care. I then tied that personal information with the fact that our family lived for about 33 years a couple of miles from a coal fired power plant in St. Louis that had no modern pollution controls, increasing the risk of my dad's cancer.

I once heard climate communicator George Marshall say, "Science (or facts) is not what persuades people. It's the stories they hear from the people they trust."

Therefore, briefly share a story that will get the attention of the legislators and the citizens seated in the back of the room to make your oral testimony more memorable.
If you coordinate with a group to oppose or support a bill, use their talking points .

At the same time, put the talking points into your own words. Again, monotony causes people to tune out from oral testimony. Say the talking points in your own way of speaking to make it sound more interesting to the ears of the legislators and the audience.

In 2019 and 2020, when I testified to the OR Legislative Joint Carbon Reduction Committee, Renew Oregon asked me and others to give oral and written testimony. Often, Renew Oregon staff provided talking points for us how the cap and invest bill, known in 2019 as the Clean Energy Jobs Bill or HB 2020, would create a lot of jobs in Oregon while reducing pollution. They frequently had slips of paper with helpful facts they gave us to encourage to say in our oral testimony. However, they advised us to not sound like the repeating parrots or robots when we testified. They urged us to weave their talking point facts into our oral testimony in our own words so that we wold not sound monotonous.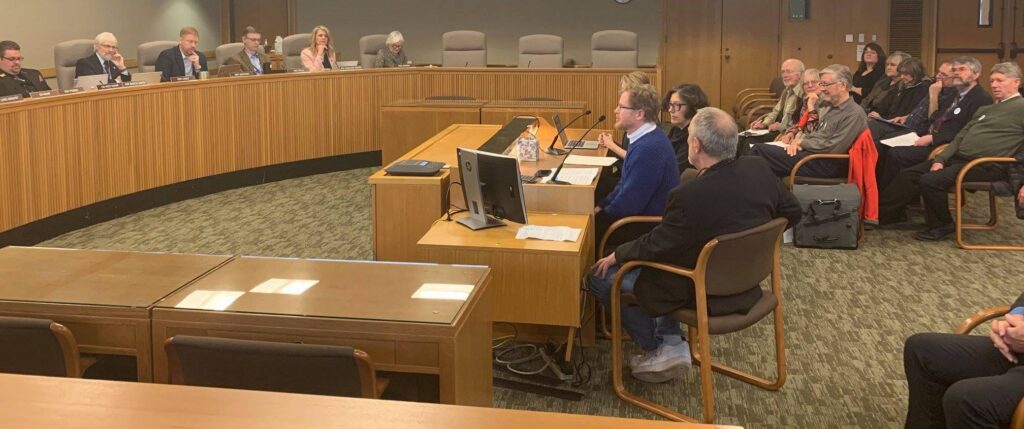 If possible, mention something you have in common with the legislators.

For two of my testimonies, I told the legislators that I used to be a conservative Republican. With my background of having some understanding of GOP principles and values, I would then share how it is in their conservative interests to support this climate bill.
Don't forget to mention the bill name and/or bill # that you support or oppose.

Sometimes you can feel nervous or rushed to get as much information as possible during the timed two-minute deadline. Thus, it is possible to forget to emphasize the bill name and bill number that you want the legislator to support or oppose. Elected officials often talk about lobby meetings they previously had with constituents who forgot to urge the lawmaker to support or oppose as specific bill or an amendment to a bill.
If your legislators are not on the committee you are testifying, let the legislator know about your testimony.

Our legislators are extremely busy. However, they want to know when constituents give oral testimonies to support or oppose a bill. If constituents show up in person or sign up on Zoom for a legislative hearing to share their thoughts on a bill, legislators appreciate when constituents want a bill on the legislator's radar to support or oppose.
Have fun!

Use humor, a compelling story, tie your testimony to a previous testimony, bring friends and family to hear you testify or try other ideas to make your time testifying fun, especially in that tight two-minute time frame. The two-minute time frame will fly away very quickly like a bird. Find a way to have fun to make the experience more memorable, for the legislators, audience members, and you.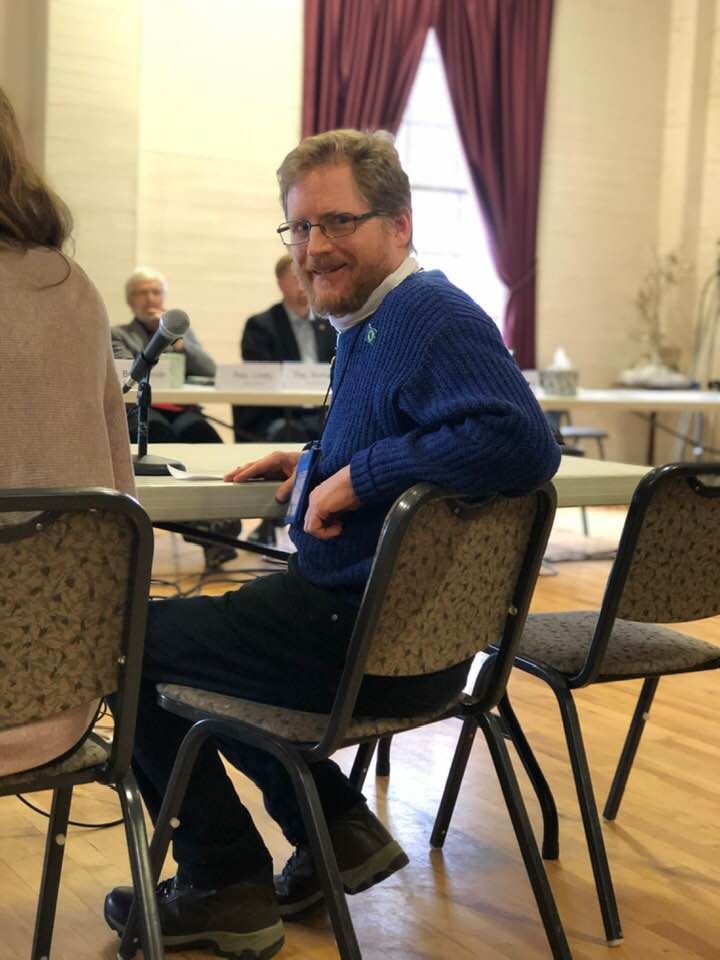 The rest of this blog with be the text from the five times I testified, plus the videos of my testimony that I downloaded from the Oregon Legislative website so you could see my testimony. I hope this will provide some inspiration and ideas if you decide to give oral testimony to a legislative committee to support or oppose a climate bill.
February 15, 2019
Co-chairs and members of the Joint Carbon Reduction Committee:
My name is Brian Ettling and that's a tough act to follow (laughter from the audience from the compelling and humorous testimony from the previous person testifying, KB Mercer)
I was a seasonal park ranger at Crater Lake National Park for 25 years from 1992 to 2017. Hopefully, everyone here has been there. It's one of the most beautiful places on the planet.
I loved my job as a park ranger interpreting the scenery for park visitors who come from around the world to visit Oregon.
Sadly, I have seen climate change while working at Crater Lake National Park. With a diminishing annual snowpack, a more intense fire season and more smoke in the summertime, to the extent now that visitors are cancelling their vacations. The Oregonian recently reported about this. Visitors are now shifting their visits to the shoulder seasons and less in the summer.
I actually worked the phones at Crater Lake helping people plan their vacations. And I saw that I had to tell people that if they had asthma or breathing difficulties that it was probably was not a good time to visit (when it was smoky). When people cancel their vacations, they don't visit Oregon. They are not staying in our hotels, and they are not visiting our restaurants. It has a bad impact on our Oregon economy.
I actually grew up as a conservative Republican. When climate change is having a bad impact on our economy, it is just not good for us. So, we should be doing so much more. I really highly encourage you to pass the strongest Clean Energy Jobs Bill possible.
I submitted written testimony yesterday. I fully support what Renew Oregon and 350PDX recommends to strengthen this bill. Please pass the strongest bill possible to protect Crater Lake National Park, our incredible scenery in Oregon for our children and for all of us.
Thank you so much.
March 1, 2019
Co-chairs and members of the Joint Carbon Reduction committee:
My name is Brian Ettling. I came here today strictly as a volunteer. I am not getting paid, but I will be glad to receive a check or a job if anyone wants to help me be active for climate change.
I was a seasonal park ranger at Crater Lake National Park for 25 years. I saw firsthand as a park ranger a diminishing snowpack and a more intense wildfire season.
My wife and I got to move to Portland Oregon two years ago. I love living in Portland, but it is a kind of a blue bubble. There are many people living there who are passionate about climate change. So, what I did in October 2017 was to travel around central, southern, and eastern Oregon to La Grande, Baker City, John Day, Burns, Redmond, Lakeview, Klamath Falls, and Grants Pass to talk to folks in rural and conservative parts of Oregon about climate change.
What I learned blew me away. There's a county, Lake County, that's been able to invest in so much solar. They are now a net exporter of clean energy. They have been able to hire teachers and hospital workers because of that.
We have 36 counties in Oregon, including Wasco (where the hearing was held that day in The Dalles, Oregon). We need to ask ourselves in each county: Do we want to be leaders on this issue or do we want to keep falling further behind.
The clean energy revolution is happening in front of us. 20% of the world's carbon emissions now has a price on carbon, according to the World Bank's (Carbon Pricing Dashboard). So, it is happening in front of us. China is putting together a price on carbon, as well as South Africa, Europe, and Mexico. So, we need to decide as Oregonians to be at the engine or caboose of this train.
I just want to say that I love the Clean Energy Jobs bill. I strongly support it. There are currently 50,000 clean energy jobs in Oregon. There are 11,000 clean energy workers in rural Oregon. 36 counties, including Wasco have clean energy workers. So this will be a big benefit to our state.
Thank you so much.
February 6, 2020
Senator Dembrow and members of the Senate Environmental & Natural Resources Committee:
My name is Brian Ettling and I live in NE Portland.
I am here today because of my dad, LeRoy Ettling, pictured here with my Mom.
My dad has stage 4 bladder cancer and currently is in hospice care.
Literally, I could get a phone call any time urging me to go back to St. Louis MO to be with him
7 years ago, my Dad had a huge tumor and kidney removed. The doctors all thought my Dad was a smoker since his cancer is consistent with a life-long smoker. My dad was always a non-smoker.
However, we lived for about 33 years a couple of miles from a coal fired power plant in St. Louis that had no modern pollution controls, increasing the risk of his cancer.
It's well known that burning diesel, oil, natural gas, and coal, which is the leading cause of air pollution, causes an estimated 100,000 U.S. deaths each year, according to a 2019 study in the Proceedings of the National Academy of Sciences.
Thus, Message to you today is "Less Pollution = Saved Lives!"
A 2019 non-partisan study by Berkeley Economic Advising and Research (BEAR) shows that reducing carbon pollution will create 50,000 Oregon jobs in construction and clean energy.
Senator Olson and Senator Findley: I grew up as a conservative Republican. I ask you to pass a strong and effective climate bill this session for my Dad, all of our families and our grandkids.
Thank you!
February 20, 2020
Members of the House Rules committee:
My name is Brian Ettling and I live in NE Portland.
This is my fourth time in the past year testifying to urge you to pass a strong and effective climate bill.
Recent events, such as record warm temperatures Antarctica, huge catastrophic fires in Australia and recent very smoky summers in Oregon tells that we are in a climate emergency. Every day we delay, we deny our kids a livable future. Enough is enough.
For 25 years, I worked as a seasonal park ranger at Crater Lake National Park. I had a dream job giving various tours of this international scenic treasure. I even brought my hat today so you could see how good I looked as a ranger.
Sadly, I saw climate change working there with a more intense wildfire season. In the summers from 2015-2017, the smoke was so bad that I saw the park become a ghost town at times. Visitors would cancel their vacations to Crater Lake not wanting to breath the smoke or worried about family members who suffer from asthma triggering negative health consequences if they visited.
When visitation would drop, I saw the bad impact it had on the rural economy surrounding Crater Lake to the mom & pop campgrounds, restaurants, hotels, and businesses dependent on the summer tourist season. Seeing the negative impacts of climate change at Crater Lake is why I have volunteered full time for the last 2 years now trying to get a climate bill passed in the Oregon legislature.
Since then, I attended probably over a hundred hearings. I applaud the legislators who did the research, working groups, studies, debate, and allowed thousands of pages of testimony to carefully craft this bill with massive public input.
To protect the beauty of Oregon, our economy, our rural residents and our children, I urge you to please pass SB 1530 and HB 4167 now.
Thank you.
My April 8, 2023
Oral Testimony to the Oregon Legislature Joint Ways and Means Committee
Members of the committee.
My name is Brian Ettling. My wife Tanya and I live in northeast Portland. While living here for the past 6 years, we experienced the extreme weather, such as heat domes in the summer, extreme smoke making it hard to breath, and even extreme cold temperatures in the winter.
Because of climate change, scientists tell us the extreme weather in Oregon is getting worse. This extreme weather adversely impacts all Oregonians, but especially seniors, children, low income, BIPOC communities, and rural communities.
Thus, I urge you to fund and support these bills help Oregonians become more energy efficient, improve our buildings resilience, and naturally drawdown the greenhouse gas pollution:
First, please support and fund SB 530, the Natural Climate Solutions Bill. It allows financial incentives for voluntarily managing Oregon's farms, forests, ranches, and natural lands for carbon sequestration.
Second, please support and fund the Building Resilience Senate Bills 868, 869, 870, and 871. These bills align energy efficiency programs and building codes with state climate goals for rapid deployment of heat pumps, weatherization, and building retrofits for Oregonians. Even more, these bills will improve energy efficiency of existing large commercial buildings and state government buildings, including schools.
I am here today asking to make sure that Oregon doesn't miss the historic opportunity of billions of dollars in federal investments for individuals, state and local government, and the private sector from the Inflation Reduction Act.
These bills fight climate change while creating local clean energy jobs that can't be exported and strengthens our economy. Now it's time to get some help from the federal government.
Thank you for your time.
And that's not all! My Most Recent Oral Testimony to the Oregon Legislature
On April 24, 2023, I attended a meeting of the Metro Climate Action Team (MCAT) Transportation Committee bi-monthly meeting. MCAT is a volunteer group that is part of the Oregon League of Conservation Voters (OLCV). The MCAT Transportation Committee Chair, Rich Peppers, and I agree to meet during the week to help him with his oral testimony to be given on Thursday, April 27 at a hearing for Oregon Legislative Joint Transportation Committee. MCAT Transportation Committee would be submitting their official testimony for their feedback for the proposed legislation replacing the I-5 bridge which connects the cities of Portland, Oregon to Vancouver, Washington.
MCAT is part of the coalition for the Just Crossing Alliance, a partnership of environmental, environmental justice and sustainable transportation organizations from across Oregon and Washington. This coalition recently organized the I-5 Bridge Right Size. Right Now campaign. The goal of this campaign to replace the outdated I-5 bridge with an earthquake-safe bridge that is "not sprawling boondoggle that will increase air pollution and drive up costs for working commuters."

The Right Size. Right Now campaign wants a new bridge that includes funding for mass transit, a separate bike & pedestrian lane while staying within the footprint of the existing I-5 bridge. I helped Rich practice his oral testimony on Wednesday, April 26th. I asked Rich if I should sign up to give oral testimony, in addition to his testimony. He encouraged me to do that. Just after midnight on April 27th, I signed up on the Oregon Legislative website to give oral testimony virtually on the Transportation Committee Hearing held that evening.
Late that night, I quickly typed up my testimony with the talking points from the Right Size. Right Now campaign email blast that was sent to me earlier that day. On the morning and early afternoon of April 27th, I practiced the script of my oral testimony to make sure I kept it under the 2 minute required limit to give oral testimony. Rich decided to testify virtually on the Joint Transportation Committee's Microsoft Teams video link, and I decided to do the same.
This would be my first time testifying virtually since I normally get rides with other climate organizers to attend hearings at the Capitol in Salem. You can definitely tell this by the image and video included below that my first time giving oral testimony virtually. Unfortunately, I did not position myself to be fully seen by my video camera on my I-pad. At the same time, I was excited to testify because the gridlock of rush hour traffic on the I-205 and I-5 bridges is my biggest pet peeve living in Portland. Vancouver and Portland needs to replace the I-5 bridge for one that includes public transit and peak congestion tolling to reduce traffic that presently comes to a near standstill during the afternoon rush hour in Portland.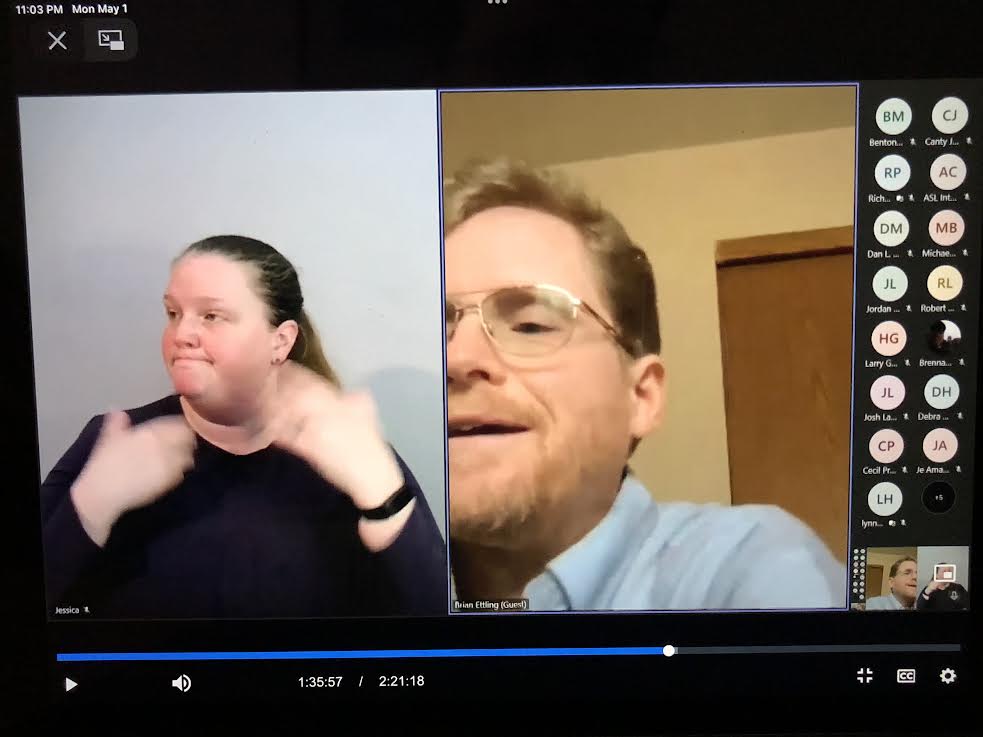 April 27, 2023
Oral Testimony to the Transportation Committee aboutthe I-5 Replacement Bridge.
Dear Co-Chairs and committee members,
My name is Brian Ettling. When my wife and I moved to northeast Portland six years ago, in February 2017, we learned two things:
The daily rush hour grid lock traffic that jams our roads leading to the I-205 and the I-5 bridges horrified us. Let's rethink how we do our traffic infrastructure in the north Portland area.
A friend told me that she drives very fast across the I-5 bridge. She is scared the bridge is structurally unsafe, especially when that big earthquake eventually happens.
Thus, I strongly support replacing the I-5 bridge, but oppose HB 2098 -2 and -4 amendments. This current bill with those amendments jeopardizes a right-sized Bridge Replacement, right now.
I support the -3 amendment that ensures this replacement bridge project moves forward smoothly with explicit pro-labor and community benefits provisions, financial guardrails, and major investments in mass transit.
o Please No Blank Check for ODOT for $1B general fund bonds. We want Phase project funding.
o We want to build our communities while building this bridge, No to Section 7: Please ensure this project invests in good local and union jobs, apprenticeships, and environmental justice, while secures community benefits for North Portland.
o No Freeway Expansions: Direct IBR to explore smaller bridge design options and choose a plan that is less polluting and more financially responsible.
o No Fiscal Free-for-all: Refresh and recommit to financial safeguards and accountability measures in existing law.
I urge the committee to please consider the -3 amendment from Representative Khanh Pham's office that addresses all these concerns.
Thank you for your consideration.
Final Thoughts
As a climate organizer, giving oral testimony to Oregon Legislative committee to urge them to support strong climate bills is one of the most empowering actions I have accomplished. It feels very impactful to speak truth to power encouraging legislators to support or even modify climate legislation.
It can feel stressful to speak publicly to these elected officials in a packed hearing room with only two minutes to make vital points. At the same time, it can be a lot of fun to try to use some humor, share compelling stories, note common ground, and give important information why they should support, oppose, or modify a high priority climate bill that is in their committee.
From numerous times giving oral testimony to a legislative committee, I can testify with full confidence that you if have an opportunity to give oral testimony to a legislative committee about a climate bill, you should do it!