It's Thanksgiving. What I am most thankful? Starting two climate change groups, one in St. Louis, Missouri and the other in southern Oregon. Even more, I am even more grateful for the leaders of these groups. Without Larry Lazar or Susan Bizeau, the truth is that I would have started ZERO climate change groups. The credit really goes to them for all their hard work. I was just extremely lucky to be at the right place and right time when they said YES.
LARRY LAZAR
Now I have blogged about Larry before in January 2012, as one of MY 12 CLIMATE CHANGE HEROES. Nothing has changed since then. To recap: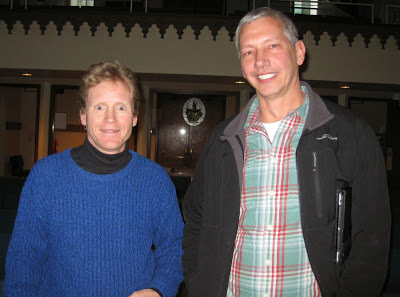 Brian Ettling and Larry Lazar
I first met Larry at a St. Louis Science Center lecture in April, 2011. We both attended a lecture by Jim Kramper, Warning Coordination Meteorologist with National Weather Service, on "Climate Change – What We Really Know." We both knew we wanted to take some kind of action on climate change as soon as we met, but we were not sure what it should be.
We immediately stayed in contact on Facebook that summer when I returned to my seasonal ranger job at Crater Lake National Park, Oregon. That October, we started meeting regularly at Starbucks for breakfast to try to brainstorm ideas. I knew Larry was active in participating in meet up groups, such as Skeptical Society and The Issues You Don't Talk About Cafe.
Climate Reality-St. Louis Meet Up
One morning at Starbucks, Larry announces to me "Brian, I am thinking about creating a climate change meet up group. Would you be interested in joining me?"
Unbeknownst to Larry, it was a huge dream of mine to establish a climate change group in St. Louis. I just had no idea how to do it. Thus, when Larry mentioned this, it was total music to my ears. I jumped at the idea. Larry immediately had me go to the www.meetup.com to get my own account and become the first member of the St. Louis Climate Reality Meet Up group. He let me get a sneak preview of the our meetup page. With climate change as my deep life passion but unsure how to create my own climate change group, Larry made me feel like a kid on Christmas morning opening up a big gift.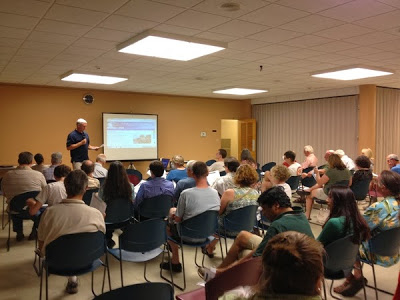 Photo by Bart Pola, July 2012 meeting of Climate Reality-St. Louis Meet Up
On the spot, Larry designated me as the "Co-Founder" of the group. This is a huge honor that I boast aboutto this day. However, I will gladly take any title Larry will give me. The truth is that I give Larry 95% of the credit for creating the title, meetup page, setting up the first meeting location, the corresponding facebook page, etc. I just happened to be at the right place at the right time.
In sense I think of Larry as the "mama" of the group and I am the "papa" of the group. Larry gave birth to the group, had to go through all the labor pains, child raising, etc. Like most men with unplanned or planned pregnancies, I just showed up at the right place and the right time. I think you get the idea.
Anyway, I have been blown away by the success of this group. Our group tries to meet once a month with a designated speaker for us to learn more about climate change. Because of my seasonal job at Crater Lake National Park, Oregon, I am gone six months of the year. Larry has done amazing job in my absence of holding the group together.
How has Larry kept the group together? He has scheduled some of the top climate scientists and communicators in America to speak to our group due to the modern miracle of Skype. As I like to joke, we can get the top speakers in the country chatting with us at home at their computer, even in their pajamas if they feel comfortable.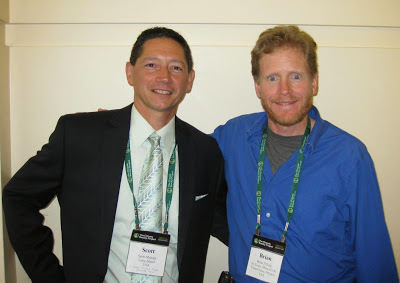 Scott Mandia, first guest speaker for the Climate Reality-St. Louis Meet Up,
with Brian Ettling
Due to Larry's persistence and great networking skills on Facebook, we have had national climate speakers such as Scott Mandia professor of physical sciences at Suffolk County Community College in New York and founder of the Climate Science Rapid Response Team, Penn State climate scientist and originator of the famous hockey stick graph Dr. Michael Mann, John Cook creator of the renowned website Skepticalscience, Peter Sinclair creator Climate Denial Crock of the Week, science comedian Brian Malow, Paul Beckwith who is an Arctic expert and climate researcher at the University of Ottawa, Ontario, etc.
On top of this, Larry and I invited local St. Louis environmental activists to speak to our group such as Climate Reality Project Leader Brian Bozak, Ed Smith Energy Director for Missouri Coalition for the Environment, Jill Miller an organizer with Renew Missouri, Arielle Klagsbrun an organizer with MORE (Missourians Organizing for Reform and Empowerment), Sara Edgar an organizer with Sierra Club's Beyond Coal Campaign, and Carol Braford the St. Louis group leader with Citizens Climate Lobby.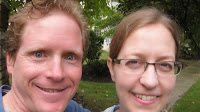 Brian Ettling & Tanya
As a side note, I met my girlfriend Tanya through our meet up as she was attending our meetings from January 2012. Hence, I also have Larry to thank for being an accidental matchmaker. Even more, my advice now for single people looking for to date: start a meet up group!
Citizens Climate Lobby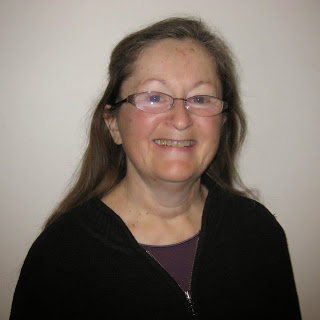 Carol Braford
Of all the organizers, Carol Braford was the most persistent with me that I should come to a monthly Citizens Climate Lobby conference call. I even blogged about Carol last January, Want to change the world? Be Persistent!
When I finally came to Carol and Tom Braford's house in April, 2012 for a Citizens Climate Lobby (CCL) monthly conference call, I was extremely impressed CCL as soon the conference call started. I love their mission to empower individuals to effectively lobby their Congress to pass a carbon fee and dividend. My first thought was 'CCL where have you been my entire life?'
All these groups from North America were calling into the conference call: Atlanta, New York, Chicago, San Diego, San Francisco, Toronto, Phoenix, Minneapolis, Albuquerque, Madison, Seattle, and new groups in Portland and Eugene, Oregon. STOP RIGHT THERE! I immediately thought: Why isn't southern Oregon represented? There are so many environmental activists in Ashland, Oregon and the surrounding Rogue Valley. At the close of the meeting, I boldly told Carol that I was going to establish a CCL group in southern Oregon.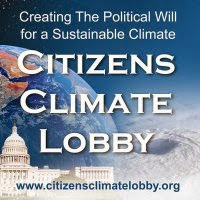 When I returned to Crater Lake National Park, Oregon, in mid May 2012, I persistently started networking to see who I could find in southern Oregon who could help me create a local CCL group. I mentioned this goal to a local friend in Ashland and she sent me a list of all her Facebook friends. I kept sending out messages on Facebook. After 50 messages, I lost track of how many I sent.
Finally, in late June, I discovered three people who seemed intrigued by Citizens Climate Lobby and they e-mailed back to me. It felt like a breakthrough when I was exchanging messages with local southern Oregon residents Jim McGinnis, Alan Journet, and Susan Bizeau.
All four of us met at Susan's house for the September Citizens Climate Lobby phone call. All of them seemed somewhat interested in starting an ongoing relationship with CCL. They wanted me to lead the group because of their hectic schedules and commitments. Unfortunately, my season was over at Crater Lake in October. I was already committed to returning to St. Louis for the winter.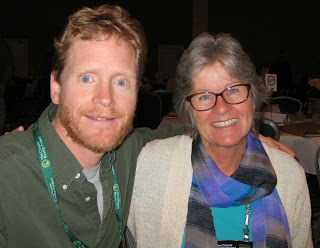 Brian Ettling with Amy Hoyt Bennett
Then, in December I received an e-mail from Amy Hoyt Bennett, Director of Operations for Citizens Climate Lobby. Amy and I met last August in San Francisco while we were attending the Climate Reality Project Training lead by Al Gore. She wrote: "I wanted you to know we are headed to a CCL group start workshop in Medford, Oregon on Jan 14 ! I am planning this with Susan Bizeau and Alan Journet. YAY! Thanks for all your help."
It was sublime to read this. It was one of the few times in my life where I felt like I had genuinely made an impact on the world. Here was a group of people meeting to possibly form a CCL group thousands of miles away from me because I was the first person to suggest this idea to them.
SUSAN BIZEAU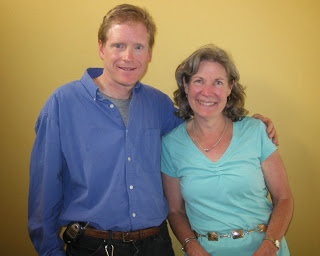 Brian Ettling with Susan Bizeau
Months later, I found out Susan Bizeau was responsible for calling up Amy to step up the group start workshop for the southern Oregon group. Somehow, Susan found out that Amy was leading a group start up in Bend, Oregon. She then asked Amy to come to southern Oregon to also lead a group start up there.
Ever since I first met Susan in August 2012 at the climate change lecture in Ashland, Oregon, I have been so impressed with her. She was speaking on the health impacts of climate change. I came up to her after the lecture, gave her my business card, and invited her to get involved with Citizens Climate Lobby. Apparently, I made quite a positive impression on her because she still talks about our introduction to this day also.
With Susan's tenacity, persistence, and great organization skills, she was able to get a Citizens Climate Lobby group up and running during the beginning months of 2013. This whole time, I could not wait to return to southern Oregon to see what was happening with my baby. Let me explain: I do not have any kids of my own, so starting climate change groups is my closest experience yet to the joy of being a parent.
When I returned to work at Crater Lake, Oregon in May 2013, I attended my first Citizens Climate Lobby meeting in Ashland, Oregon on Saturday, June 1st. It was held at the house of Brian & Paula Sohl, along with their daughter Hannah Sohl. I was blown away by the size of the group. There was 16 people at this meeting!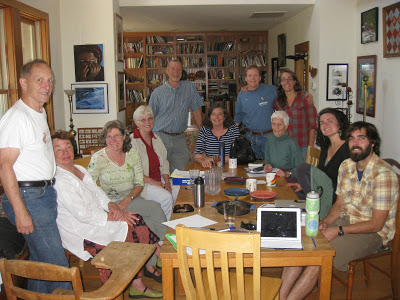 The September meeting of the Southern Oregon Citizens Climate Lobby
I was stunned beyond my wildest dreams what had occurred in my absence from Oregon. I did not expect to see a group that big. The credit goes to Susan Bizeau, Paula, Brian, & Hannah Sohl, Camila Thorndike, Dan Golden, Lorraine Cook and others I don't know to give credit.
Most of all, I was so impressed by Susan. She kept the meeting on task. She had a steel determination to keep this group going in future months. No doubt this was stressful for her because she was adjusting to life in retirement and key pillars in the group, Camila and Dan, were moving to southern California.
At the end of August, Susan amazed me by organizing meetings with our local CCL members to meet with Amy Amrhein, the Field Representative in the Medford office for US Senator from Oregon, Jeff Merkley. Five of us from the group had a wonderful meeting with Amy explaining why we wanted Senator Merkley to support a carbon fee and dividend bill.
Even more surprising, after that meeting, Susan had the audacity for all of us to walk down the street to see if we could meet with Colby Marshall, Deputy Chief of Staff for local Congressman Greg Walden.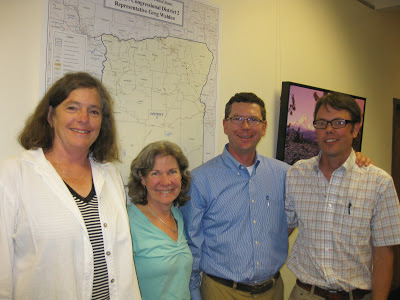 Sherrill Rinehart, Susan Bizeau, Colby Marshall, and Dr. Julian Bell
It turns out that Colby was able to meet with us at the spur of the moment. This meeting was more of a challenge since Colby is a conservative Republican. Even more, Cobly's boss, Greg Walden is one of the top Republican leaders in the House. However, our local CCL members at the meeting, Susan, Dr. Julian Bell, Sherrill Rinehart, and I enjoyed chatting with Colby. It was great to correct his misconceptions about a carbon tax and hear his point of view. We ended after 45 minutes with great pictures of the occasion.
Susan and I developed a great rapport. She really challenged me as an activist to write opinion editorials (opeds). As a result in September and October, I had six opeds published in Oregon newspapers on the impact of climate change on Crater Lake & surrounding Oregon and the need for a carbon fee & dividend. It was so exciting to share with Susan when we got news that my opeds were published in the
Medford Tribune
, Grants Pass Daily Courier,
Klamath Falls Herald & News
, Bend Bulletin,
Portland Oregonian
, and
Eugene Register Guard
. This was a big dream of mine to get opeds published, and it was a huge help to have Susan pushing and prodding me to get it done.
Final Thoughts
For those reading this wanting to make a difference organizing on climate change, here is my best advice:
1. Make good friends with people who share your passion about climate change, like I did with Larry Lazar.
2. Be there to provide full complete support if they decide they want to organize a group, just like Larry wanted to organize a meet up group in October 2011.
3. Be on the outlook for potential leaders who can help you lead a climate change group, there are more Larry Lazars and Susan Bizeaus out there, but you got to go to climate change meetings to find them.
4. Don't be afraid to invite these potential leaders to a fledgling group you are trying to create, such as what I did Susan Bizeau in August 2012.
5. Be generous with your time assisting the group leaders, like I have done with Larry and Susan, to help these groups succeed and make their responsibility as leaders a lighter load.
Thank you Larry Lazar and Susan Bizeau for being the fabulous leaders that you are and great friends!
You are making a difference inspiring others to take action on climate change, especially me.
I really do appreciate all your hard work, tenacity, vision, and enabling me to follow the wisdom of one my favorite
quotes
:
"Leaders don't create followers; they create more leaders." — Tom Peters, business-management writer.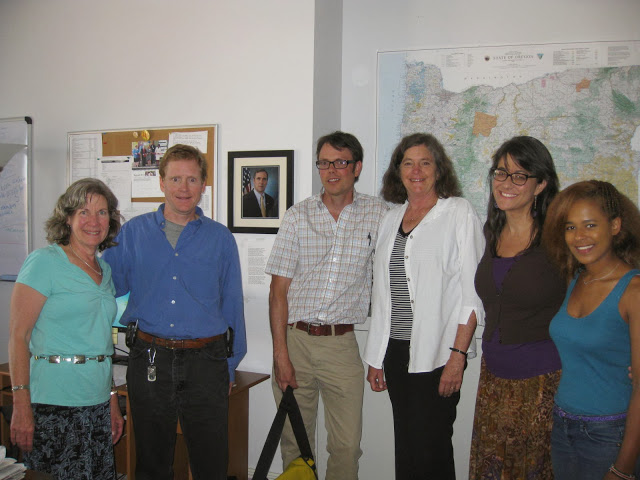 Susan Bizeau, Brian Etting, Dr. Julian Bell, Sherill Rinhart, Paula Sohl, and an exchange student from South Africa meeting in the Medford, Oregon field office of US Senator, Jeff Merkey
Additional Update: Today, as I am getting ready to publish this blog, the St. Louis Post Dispatch published an opinion editorial about Climate Change by Larry Lazar. I am so proud of Larry for writing this oped.
Something in the weather tells us climate change is real by Larry Lazar
This is definitely an additional item to be thankful for this Thanksgiving.