About Brian Ettling
(The Climate Change Comedian)
I was born in 1968 in St. Louis, Missouri. That is still my hometown to this day.
As a child, I dreamed of trying to save the world somehow, create special effects for Star Wars movies, write fantasy novels, or least be a professional pool player. When I did not have a clue how to reach for those dreams when I graduated from high school, my father encouraged me to get a practical college degree in business administration.
I attended William Jewell College in Liberty, Missouri from 1988-1992. The highlight of my college years was performing in 3 school plays. Thus, I learned my bliss was performing in front of an audience and making people laugh. To this day, I cannot think of a better high than making people laugh. I also knew upon graduation that I did not want to work inside an office cubicle my whole life, like so many people with business college degrees.
Upon college graduation in 1992, I took an Amtrak Train from Kansas City, MO to Klamath Falls, Oregon to work at the gift store at Crater Lake National Park for the summer to "find myself." When I saw Crater Lake for the first time on May 20, 1992, it was love at first sight for me. I have been returning to work in the park for the summers ever since then.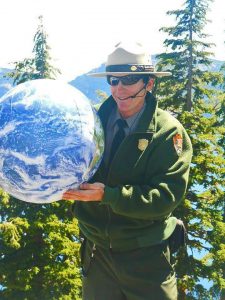 Crater Lake has always been a summer seasonal job for me. Thus, I had to find a different national park to work in the winter. I worked winters in Everglades National Park from 1992- 2008. In January 1998, I became a naturalist ranger narrating the boat tours in Flamingo, Florida, located inside of Everglades National Park.
People expect park rangers to know everything! Soon after I started giving ranger talks, visitors starting asking me about this global warming thing, which I knew nothing about. Soon afterwards, I rushed to the nearest Miami Florida bookstore and bought the book:
Laboratory Earth: The Planetary Gamble We Can't Afford to Lose by the late climate scientist Dr. Stephen Schneider of Stanford University. I soon became hooked on reading all I could about climate change.
I discovered sea level rise along our mangrove coastline in Everglades National Park. The sea level rose 8 inches in the 20th century, four times more than it had risen in previous centuries for the past three thousand years. Because of climate change, sea level is now expected to rise at least three feet in Everglades National Park by the end of the 21st century. The sea would swallow up most of the park and nearby Miami since the highest point of the park road less than three feet above sea level.
It really shocked me that crocodiles, alligators, and beautiful Flamingos I enjoyed seeing in the Everglades could all lose this ideal coastal habitat because of sea level rinse enhanced by climate change. I became so worried about climate change that I decided during the winter of 2007-08 to give up my winter position in Everglades National Park. I still worked my summer ranger job at Crater Lake Nat. Park, but I decided to spend my winters in St. Louis. I was determined speak out and educate folks in my hometown about climate change.
In the autumn of 2009, I did get to housesit for a friend for a couple of months in Ashland, Oregon. I was in between jobs and really struggling what to do with my life. I knew I wanted to do something with climate change, but I did not know what to do. I was brainstorming with my  friend, Naomi. Finally, I blurted out in desperation: "If I could do anything with my life, I would like to be The Climate Change Comedian!" 
Naomi nearly fell off her chair laughing. She responded: "When you get home, you grab that website domain immediately!"
I took Naomi's advise, grabbed that website domain, and then started setting up this website a few months later, not knowing anything much about climate change or comedy. In the early months of 2010, I then put together my first climate change powerpoint: "Let's Get Serious Having Fun About Resolving Climate Change." I showed that powerpoint to some friends throughout 2010. They did not think it was that funny, but I was very proud that I put together my very first climate change powerpoint.
In 2011, momentum started happening for me. In January 2011, I joined South County Toastmasters to become skilled as a climate change public speaker. Since then, I have given 19 Toastmaster speeches on different aspects of climate change, 7 of which I was voted as the "Best Speaker" by my fellow Toastmaster members.
February 2011, I started my blog: Be Green Now. I have written now 64 posts for that blog during the past 5 years.
March to May 2011, the St. Louis Science Center hired me to work as a guide in their temporary Climate Change exhibit to answer questions and engage visitors. It was amazing for that two month to wander around that exhibit all day, taking notes of the science of climate change on the texts of their displays. At the same time, learning and networking with folks from my hometown of St. Louis how they felt about climate change when they walked around the exhibit.
August 2011, I started giving my climate change ranger evening program at Crater Lake National Park: The Good, The Bad, and the Ugly. Since then, I have probably given than program over 50 times. I mix in science and humor to show how climate change is impacting the water temperature in Crater Lake, pikas, white bark pines, and the park's snowpack. I then focus on how the National Park Service is trying to reduce their carbon footprint at Crater Lake and I encourage the visitors to work on solutions at home.
September 2011, the National Park Service and NASA invited me to attend the 5th Earth-to-Sky Training, where NASA scientists teach park rangers climate change science and how to communicate it with the public.
October 2011, my friend, Tom Smerling, invited me to started writing soundbite posts for his website, Climatebites.org. That website is focused on providing soundbite communication tools to climate change communicators looking to be more effective in their climate change messaging. Since then, I have written 216 soundbite posts for that website.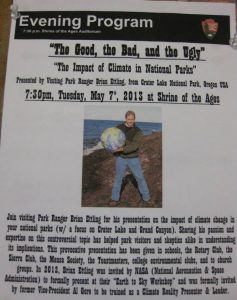 November 2011, my friend, Larry Lazar, and I co-founded the Climate Reality-St. Louis Meet Up group. This group consists of monthly presentations and group discussion on a specific climate change related topic. Other meetups will be scheduled as climate change related events or presentations come up in the local community. This group is focused on education, not advocacy, but we do encourage our members to support any of the following advocacy organizations – many of which are run by Climate Reality-STL members. We now have 236 members receiving notices of our advertised events.
(I met my wife Tanya through this meet up group in 2012. Thus, my advice for single people looking for true love: join or create a meet-up group!)
December 2011, I attended the American Geophysical Union Fall Meeting to hear lectures and meet some of the world's top climate scientists, such as Dr. James Hanson, Dr. Michael Mann, Dr. Richard Alley, Dr. Richard Somerville, Dr, Benjamin Santer, etc. I also got to meet top experts in communicating about climate change, such as John Cook of SkepticalScience, Peter Sinclair of Climate Denial Crock of the Week, Dr. Naomi Oreskes author of Merchants of Doubt, etc.
In April 2012, Yale Climate Connections published an article I wrote, Communicating Climate Change in a National Park.
In May 2012, I first became involved with the St. Louis group of Citizens' Climate Lobby (CCL). Since then, I became the co-leader of the St. Louis group for CCL. I then networked heavily in southern Oregon to establish the southern Oregon chapter in January 2013. With my involvement with Citizens' Climate Lobby, I have had 17 opinion editorials published in U.S. newspapers, 5 in the St. Louis Post-Dispatch and 12 in Oregon newspapers. In November 2015, I lobbied my members of Congress and other congressional offices in Washington D.C. as a volunteer for Citizens' Climate Lobby.
In August 2012, I became a Climate Reality Project Leader after attending the 2012 training in San Francisco, CA. Since then, I have probably given over 100 climate change talks in my different roles as a park ranger, Toastmaster, instructor St. Louis Community College and Climate Reality Project Leader. I was also fortunate to attend the 2013 Climate Reality Training in Chicago and 2015 training in Cedar Rapids, Iowa as a mentor. August 16-18, 2016, I will be a mentor at the Climate Reality Training in Houston, Texas.
Over the past 4 years, I have been on quite an adventure giving climate change talks.
In November 2012, NASA invited me to talk other park rangers about how to chat with park visitors about climate change at a Earth-to-Sky Workshop at the 2012 National Association of Interpreters (NIA) Convention in Hampton, Virginia.
In May 2013, Grand Canyon National Park invited me to be a guest speaker at their Shine of the Ages Auditorium at Grand Canyon Village. I spoke to an audience of over 200 park visitors and staff about the impacts of climate change on the national parks, such as Grand Canyon and Crater Lake National Parks. I also briefly spoke to the Grand Canyon ranger staff about how engaging park visitors about climate change can be fun and rewarding.
In October 2013, The Association National Park Rangers (ANPR) ranger invited me to speak at their 2013 rendezvous convention held in St. Louis, Missouri. I shared with an audience of over 50 career park rangers that "Rangers are my Heroes… and you can be one too speaking out about climate change."
In June 2014, Oregon Wild, a 42 year old conservation organization that works to protect Oregon's wildlands, wildlife and water, invited me to a guest speaker at their 2014 Oregon Wilderness Conference in Portland, Oregon. They asked me to speak about "Wilderness in the Age of Climate Change" to an audience of over 60 people attending their conference.
In November 2015, I married my wife Tanya (who did 95% of the work creating this website. Thank You, Tanya!). Since January 2014, Tanya and I have made 4 goofy climate change YouTube videos, starting with Climate Change Comedian and the Violinist!. We included my mom and dad in these videos. These videos then caught the attention of the Comedy Central show, Tosh.o. The producers of the show then flew my mom, Tanya, and me to Los Angeles to do a taping of the show, which is scheduled to air around August 2, 2016.
Whether it was Tosh.o, my writing, speeches, or my humorous YouTube videos, I am thrilled that my climate change communications work caught your attention to check out this website. Even more, I am happy that your curiosity led you to read this biography. Even more, I hope it inspires you to reduce your carbon footprint and join groups like Citizens' Climate Lobby, Beyond Coal, 350.org, The Climate Reality Project, etc.
I cannot think of more important work or a great bliss for me than educating, inspiring, and entertaining people to take action on climate change. I hope you join me in getting serious about the science and problem of climate change while having fun along the way!