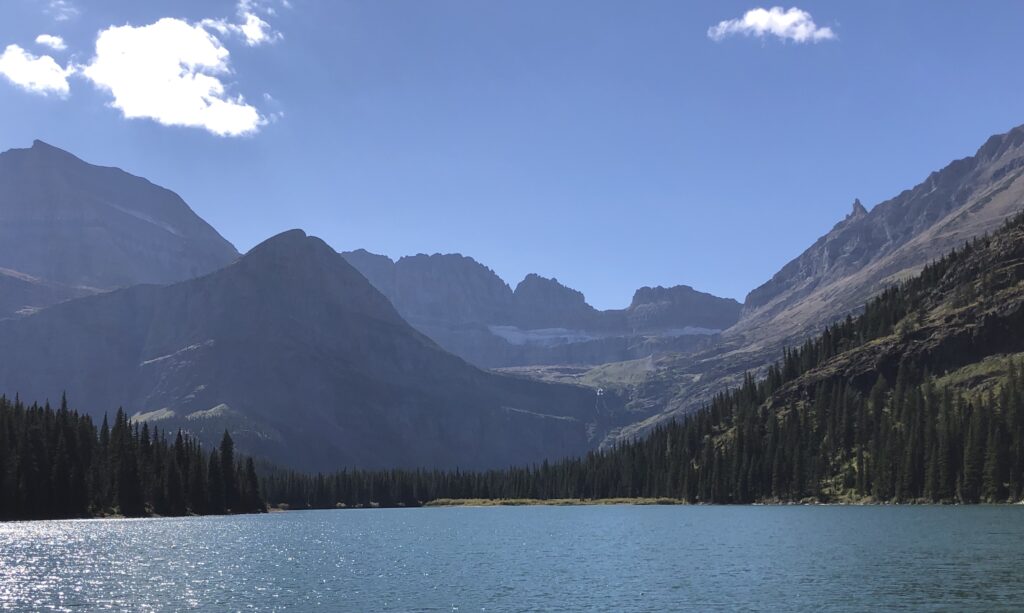 "Are there really glaciers in Glacier National Park?"
My co-worker Jennifer asked this question during a lunch break while we worked at the gift store at Crater Lake National Park, Oregon in July 1992. This was my first summer working at Crater Lake. The scenery was magnificent with the cobalt blue lake with the snow-capped mountains surrounding it.
The employees, including me, loved working, and living at this marvelous national park. It was a fun park to hike and explore. During our breaks, we chatted about our hikes we completed at Crater Lake. Working at Crater Lake for the summer sparked an interest in us to swap information about other national parks.
When Jennifer asked that question during one of our national park discussions, we busted out laughing. We thought, 'Of course there's glaciers in Glacier National Park!'
Jennifer prided herself on being ditzy and knowing as little as she could. She skirted through life on her bubbly personality and her cute attractive looks. She honestly did not know if Glacier National Park had glaciers. She knew by asking this question it would provoke a strong reaction by the deep thinkers and the worldly park enthusiasts in the break room.
I knew nothing about Glacier National Park since it was probably close to 1,000 miles away in Montana. I assumed that it had glaciers by the name of the park. A co-worker who knew much more about Glacier than me sighed and informed Jennifer that Glacier did have Glaciers.
Jennifer's question sparked an interest me to learn more about the glaciers at Glacier National Park. However, her question faded in my mind as I continued to work seasonally at Crater Lake during the summers for 25 years. Sadly, I worked long enough at Crater Lake to see climate change firsthand. With my own eyes, I could see the annual average snowpack diminishing and the summer wildfire season becoming smokier and more intense. I became so worried about climate change that I started giving my evening campfire ranger program in 2011 on the impacts of climate change on Crater Lake National Park.
At the beginning of this ranger talk, I talked about how climate change impacted other national parks such as Everglades in Florida, Kenai Fjords in Alaska, Joshua Tree in California and Glacier National Park in Montana. While researching this program, I learned climate change is erasing the glaciers at Glacier National Park. During this ranger talk, I showed images of the Shepard Glacier in Glacier. I had a park photo of what that glacier looked like in 1913, compared another photo from 2005. On top of that, I stated to the audience that the "National Park Service and NASA scientists believe the park's glaciers could no longer exist in 25 years."

Over the past 30 years, I visited nearly all of America's most scenic national parks, such as Yellowstone, Yosemite, Grand Canyon, Mt. Rainier, Olympic, Sequoia, Death Valley and others. However, Glacier alluded me because it was just too far out of the way on my cross-country trips in northwestern Montana to visit. I was just not sure if I was ever going to reach it.
This year, my wife's parents, planned a big family trip to Glacier National Park in September. My in-laws wanted Tanya and I to join them this 10-day trip. Fourteen of us total met in Seattle on September 5th and traveled to Glacier National Park on September 9th and 10th and then returning to Seattle on September 15th.
We were crammed in three large vehicles. It took us several days to drive from Seattle across eastern Washington, northern Idaho and into Montana to reach Glacier National Park.
When we reached Glacier, we had our jaws open with the beauty of the Going-to-the-Sun Road, the road that cuts through Glacier National Park. Nothing prepared us for the magnificent scenery as we climbed in elevation towards Logan Pass of the jagged mountains and deep forested valleys at Glacier.
We had a picnic lunch at the Wild Goose parking and picnic area. Most of our group, including Tanya and me, hiked 2.4 miles one way to St. Mary Falls. We walked the trail along St. Mary Lake with the towering rocky peaks of Glacier National Park dominating on either side of us.
As we hiked, something seemed odd. I noticed it the next day when we were at another area of the park, Many Glacier. None of the mountain peaks had any snow or glaciers on them. It felt eerie. Yes, all these mountains probably get a good snowpack for the winter that melts by mid to late summer. From my 25 years working at Crater Lake and visiting other national parks, I understood seasonal winter snowpack is gone by late summer. At the same time, this was Glacier National Park. Shouldn't there have been some sign of a glacier somewhere?
A sign on the Going-to-the-Sun Road near the high point of the road point to Jackson Glacier at a distant mountain, but I found it hard to see. As I spent more time in the park, it felt like we were at an excellent party where the host disappeared long ago. The party was fantastic. I would go to this party again. However, it seemed like it was nearly impossible to get a glimpse of the guest of honor.
The next day, I asked a park employee, Captain Nicole, who drove and narrated the boat tour at Many Glacier, "Are there any glaciers are left in Glacier National Park?"
She responded there are currently 25 glaciers in the park. The glaciers are predicted to disappear by 2030, if not earlier. Nicole defined a glacier as a mass of ice so big that it flows under its own weight and has a size about 25 acres. She then commented that around 1850, an estimated 150 glaciers existed within the present boundaries of the park.
Even though I knew for over a dozen years that the glaciers were disappearing in glacier national Park, it was still sad for me to hear this from a Glacier Park employee. I shared with Nicole my analogy that my visit to Glacier felt like we were at an excellent party where the host disappeared long ago. She had no pushback or objections to my observation.
Because of my concerns seeing climate change in the national parks, I stopped working as a seasonal park ranger in 2017. I organized for climate action in Portland, Oregon since then. Barely seeing any glaciers in Glacier National Park in September has inspired me to double my efforts to organize for climate action.
If I ran into Jennifer today, she still might ask: "Are there really glaciers in Glacier National Park?"
My answer would be "Yes! However, they are nearly gone due to climate change. The good news is that can we reduce our pollution that causes climate change. If we switch to 100% clean energy by 2050, we can save our civilization. We can then ensure that we will not then disappear like the glaciers that are nearly gone in Glacier National Park."