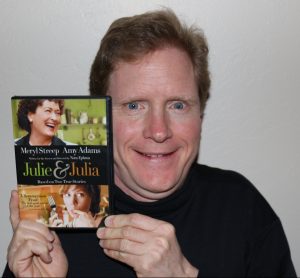 Oprah Winfrey once said, "The only courage you need in life is the courage you to follow your dreams."
Julie & Julia
The 2009 movie Julie & Julia, starting Meryl Streep and Amy Adams, just sparked me to pursue my own path as a climate change organizer, public speaker, writer, and lobbyist.
The film is based on two true life stories of Julie Powell and Julia Child.
In 2002, Julie Powell was living in Queens, New York with her husband, Eric, over a busy pizzeria. She worked at a job she found unappealing: the Lower Manhattan Development Corporation's call center,  where she answered telephone calls from victims of the September 11 attacks.
As Julie recalls in an interview for the Julie & Julia DVD Special Features:
"I was about to turn 30 and I thought it was the end of the world. I was working a series of disastrous temp jobs. All of the sudden, I literally woke up in the middle of the night and said, 'You know what I am going to do: I am going to cook my way through Julia Child's Mastering the Art of French Cooking. I am going to do it in a year and it is going to change my life.
I was talking to my husband and he said, 'That is a really good idea. What you should do is start a blog."
The challenge: all 524 recipes in 365 days.
Mixed in with Julie's story is the true story of Julia Child (Meryl Streep) moving to Paris France with her husband Paul Child, who was a diplomat on assignment from the U.S. State Department. Paul loved his job and Julia deeply loved him and living in France. However, she was unsure how to pass the time there.
Chatting with Paul one day, Julia Child asks: "What am I going to do (in France)?"
Paul: "What do you really like to do?"
Julia: "Eat!"
She enrolls Le Cordon Bleu to learn French cooking. It not always easy for her. Her teacher and fellow students were not thrilled having a boisterous American woman among them who struggles to chop onions, but Julia has the time of her life. Google reviews described Julia's trek as conquering "French cuisine with passion, fearlessness, and plenty of butter."
As she soon tells an American friend, "I am in heaven here. I have been looking for a career all of my life and I found it."
She decides to write a French cookbook in english for Americans who do not have cooks.
From this point on, there was no turning back for Julia Child. She had found her passion and her calling. It was not an easy journey to learn how to cook French and eventually get her book published.
Finding The Inspiration to Transform Your Life 
The theme of this film is becoming what you want to be. As the Producer Eric Steel informs in the Special Features, "This film is about transformation. Putting your life on a set of rails on a destination that you want to go."
When Julie Powell bemoans early in the movie that she cannot cook like Julia Child or Mario Bataii. Her husband responds, "Julia Child wasn't always Julia Child."
Brilliant statement. All of us have to make that conscious decision if we want to have that fulfilling life.
The real Julie Powell on her journey: "I would have said in the beginning (when she started her personal challenge) that is was about learning how to cook. What it was about in the end was challenging myself how to live bravely and actively." (my emphasis)
I first saw this film on a whim one night in the spring of 2015 with my wife Tanya. It was a Friday night curl up on the couch date night movie, grabbing a convenient DVD off the shelf. Now it's a fun film that refuses to let me go two years later. Now I am seeking my own path. I want to follow my own destiny, live up to my own potential. I cannot let go of their stories from mind.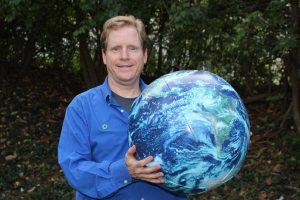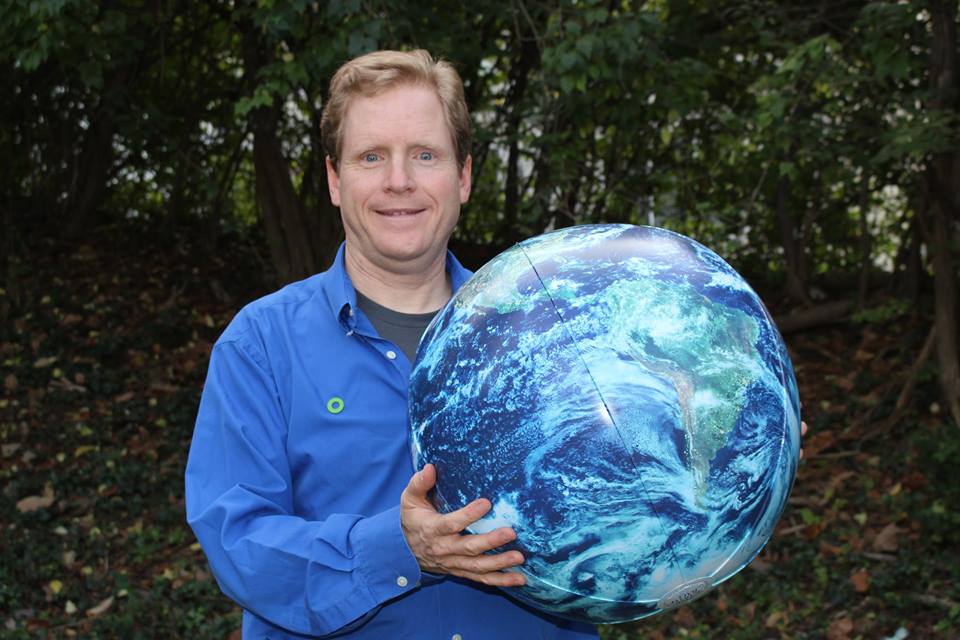 Producer Eric Steel observed, "These stories (of Julie and Julia) work so well together. Julie Powell's dedication to food really came together because of Julia Child's dedication to food. Julia Child's dedication to came from a transformation from herself. She remade herself through food."
Ironically, the film aims to inspire women, yet it is sparking me to take my life to a new level.
Producer Amy Robinson remarks:
"I hope that this story can be a fun movie and a delicious one that can make one want to go out and eat, but also something that may inspire, particularly women, to say, 'You know what: What do I really love and what can I do with that and make something of my life and try to pursue it."
My Goal: To Be a Climate Solution Lobbyist
Inspired by the true stories of Julie Powell and Julia Child, what does Brian Ettling want to do?
I want to be a full time climate change organizer, public speaker, writer and lobbyist.
I want to start my own 501c4 organization as a Climate Solution Lobbyist. Just like Julie and Eric Powell in the movie making the big jump from Brooklyn to Queens, my wife Tanya Couture and I made a big move from our hometown of St. Louis MO to Portland Oregon two months ago. We moved because Tanya found a steady job here. Just like Julia Child, figuring out what she we going to do while living in France while knowing that she loved to cook, I am trying to figure out how I am going to make it in Portland with my passion and calling for climate action.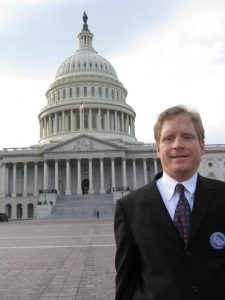 As a Climate Solution Lobbyist, these are my goals:
Help shift my Missouri member of Congress GOP Rep. Ann Wagner (MO-02) in her position on climate change.
Help Vancouver, Washington get a Citizens' Climate Lobby group established and running.
Lead a successful Oregon statewide Citizens' Climate Lobby (CCL) tour in October to create more awareness, energy and inspire potential groups for CCL.
Help Missouri establish more Citizens' Climate Lobby groups.
Be regularly speaking about climate change in the Portland & Vancouver WA area and nationally.
Present a TED Talk on humor and climate change.
Write books/get published as an author.
a. From Park Ranger to Climate Lobbyist:
My story of seeing climate change in the national parks led me to be a climate advocate
b. 10 Solutions You Can Do Today to Reduce Climate Change:
     Action for Our Planet.

Help shift GOP Rep. Greg Walden (OR-02) in his position on climate change.
Get businesses to endorse climate action.
Regular blog and writings to inspire others for climate action.
This is very scary for me to venture out of my comfort zone and follow this path. For the past 25 years, I have been a seasonal park ranger at Crater Lake National Park, Oregon. It is so easy for me to stay into the same routine and do the same ranger talks. However, that job no longer has my life's passion. I want to work full time on climate change organizing, writing, and lobbying.
I am excited to return to Crater Lake to work for one month from May 1 to June 8th to help out for the beginning of the season. However, like Julie Powell with her job at the Lower Manhattan Development Corporation's call center, I do feel like it is time for me to fully follow my passion.
Almost 20 years ago, I saw a video with American mythologist and writer Joseph Campbell advise people of all ages to "Follow Your Bliss."
In 1987 The Power of the Myth, journalist Bill Moyers asked Joseph Campbell this question:
"What happens if you don't follow your bliss?"
Campbell: "Then you will have a psychological breakup."
Like Julie Powell and Julia Powell, it it time for me to fully follow my bliss.
Similar to Julie, I now plan on blogging nearly everyday to clearly put this intention out into the world like never before.
An Important Ingredient for Success: A very supportive spouse! 
Just like Julie Powell and Julia Child, I have in common another amazing gift as they did: a very loving and supportive spouse. My wife Tanya is so enthusiastic about my climate change work.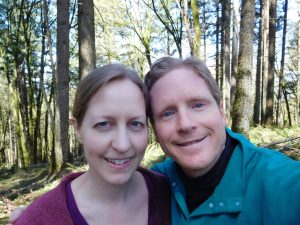 The Director of Julie & Julia, Nora Ephron, described their marriages this way:
"Both of these men that these two women were married love this thing that their wives were passionate about. They were not threatened by it. There were completely supportive. Those guys loved that they got to eat all of this great food."
Actress Amy Adams commented, "It is so rare to find men who support women so graciously."
In my case, I am so incredibly fortunate to have Tanya. She set up this website and she regularly updates it, putting much of her own time on it. She is totally encouraging me to follow my passion with climate change. She has regularly told me that she is proud of my climate work and accomplishments. She is always so positive with everything I do. Like Julie and Julia, this definitely gets me a huge boost in following my bliss. I hope Tanya knows how much I appreciate her!
It is through the love and support of our spouses that we can follow our dreams.
This is how Nora Ephron summarized Julie & Julia:
"It's about love. It's romantic. It's about marriage. It's about changing your life by writing. It's about doing things you love. Doing things you care about and finding happiness through that."
Julie Powell reached her goal and so will I! 
Towards the end of the film, Julie Powell reaches her goal of making all of 524 recipes in Julia Child's book, Mastering the Art of French Cooking. She writes on her blog that day:
"Julia Child began to learn how to cook because she loved her husband. She loved food and she did not know what else to do with herself and in the process she found joy. I did not understand this for a long time but I do now. Julia taught me that, but here is what Julia really taught me: She taught me to cook so here we are."
The movie ends with this scrolling text:
The Book Mastering the Art of French Cooking is now in its 49th printing. 
Julie Powell's book was published in 2005.
She and Eric still live in Queens, but no longer over a pizzeria. 
She is a writer. 
Ralph Waldo Emerson once said."Do not go where the path may lead. Go instead where there is no path and a trail."
Thank you Julie Powell, Julia Child and Tanya Couture for inspiring to follow my own path with climate change advocacy.
More blogs and action yet to come as I set out on my own path.
Stay tuned…