January 13 2017, my friend, Mark Deeter, saw the damage of climate change firsthand.  He was scuba diving on one of his dives in Jamaica. He had trouble making sense of what he saw.
He posted the video below on Facebook with this comment:
"One of my dives in Jamaica. What's startling is that the reef is essentially dead. There are a number of small fish but the larger fish are absent. There were not many crabs or crustaceans either. We did see some turtles and an octopus No lobster, eels or other creatures that should be found in a healthy reef. The reason: Global Warming. The warmer oceans have killed the reefs. Only about 1/4 of the existing reefs in the world are healthy. Perhaps my friend Brian Ettling can also comment (we worked National Park Service together and he is a world renown expert on Global Warming)."
Below was my response to Mark:
Mark: I wake up everyday wishing that climate change is not real. I take no joy only sadness with the increased amount of evidence for global warming that we are seeing across the world, especially with what just videoed from you recent dive in Jamacia. Having said that, the only way I know to overcome the dire evidence of climate change that I have seen working in the national parks is to act.
Joan Baez said: "Action is the antidote for dispair."
Dr. David Orr said, "Hope is a verb with its sleeves rolled up."
Mark Deeter and I worked together in Everglades National Park from 1992-93. The Mother of Everglades National Park and one of my biggest heroes, Marjory Stoneman Douglas used to say, "It's not a matter of being optimist or pessimistic when It comes to saving the Everglades (or the planet). It is something that simply has to be done."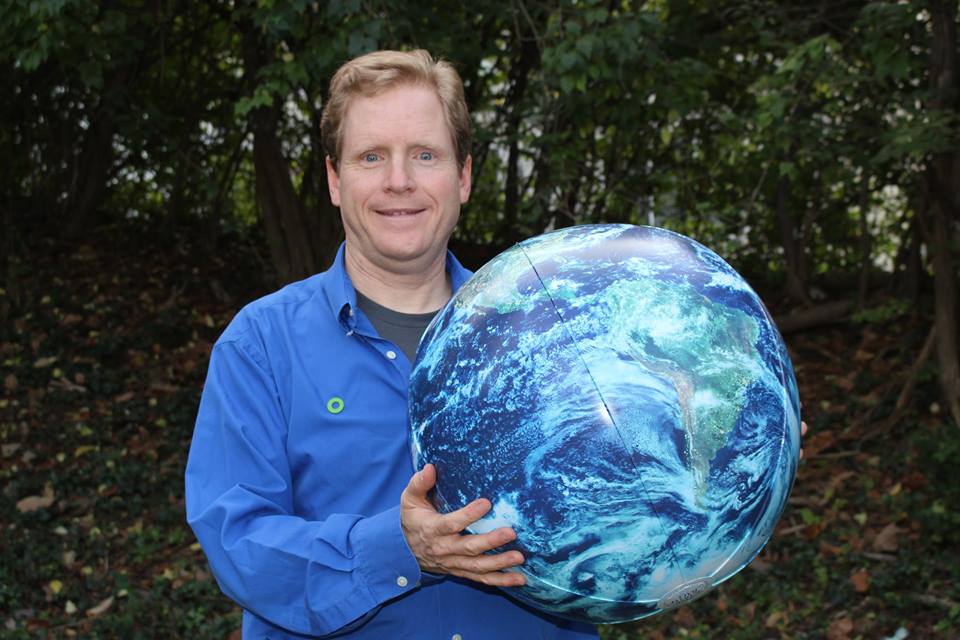 We will have negative consequences with climate change in the future and now. The question is: How bad do we want it to be?
Our decisions that we make each and everyday day does make a difference. Each and everyone of us has to decide what kind of world that we want to have.
Explorer Robert Swan, said, "The Greatest Threat to Our Planet Is the Belief That Someone Else Will Save It."
So what gives me hope? The millions of people across the world organizing to reduce the threat of climate change. Canada is getting ready to implement a nationwide carbon tax by 2018. Worldwide carbon emissions have now been nearly flat for three years in a row from years 2014-2016. China plans to invest over $361 billion dollars in renewable energy. In many areas across the world, renewable energy is now cheaper than fossil fuels. In 2015 almost 70% of new electricity installed came from renewable energy. I have not seen the final figures yet for 2016. However, Solar Made Up 64% of New Electric Generating Capacity in the US in the first quarter of 2016. 2010 was the first year where more money was invested in renewable energy than fossil fuels. The future trend shows more money being invested in renewable energy in the future while investment in fossil fuels continues to shrink.
I get my best deepest sense of hope for the future by getting involved with other climate advocates. American conservationist Ding Darling said, "It's not enough to care. We must link our arms together and act collectively."
I get hope with my involvement in the Climate Reality Project Leadership Corps since 2012. The next Climate Reality Training is in Denver, Colorado on March 2-4. I will be a mentor there. The Climate Reality Project has trained almost 11,000 people across the world over the past 10 years to give climate change talks in their communities.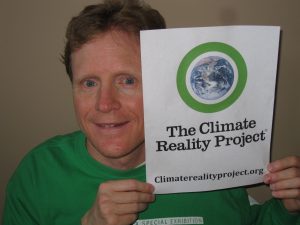 Citizens' Climate Lobby (CCL) gives me tremendous hope for the future. They have over 55,000 volunteers across the U.S and world. They have over 368 groups in the U.S alone regularly engaging their members of Congress and the media to get Congress to pass their carbon fee and dividend. With their efforts in 2016, they enabled 16 GOP members of the House of Representatives to co-sponsor the Chris Gibson Resolution H-424 calling for climate action. With the persistence of their volunteers in 2016, 9 GOP House members and 9 Democrats are now part bipartisan Climate Solutions Caucus to discuss climate change solutions.
There is hope in the world. However, we must be open to look for it and, more important, we must be willing to act.
Buckminister Fuller wrote, "If success or failure of this planet and of human beings depended on how I am and what I do… HOW WOULD I BE? WHAT WOULD I DO?"
Mark Deeter and I served together in the the Christian Ministries in the National Parks in Everglades National Park in the winter of 1992-93 and Death Valley National Park in the spring on 1994. For years afterwards, I was not active in any church. However, over the past two years, I have been speaking in different churches on climate change.
As I have been speaking in churches recently, I have been ending with this quote that I heard decades ago:
"You ask what the will of God is and this I know is true. It is the nearest thing that can be done and can be done by you."