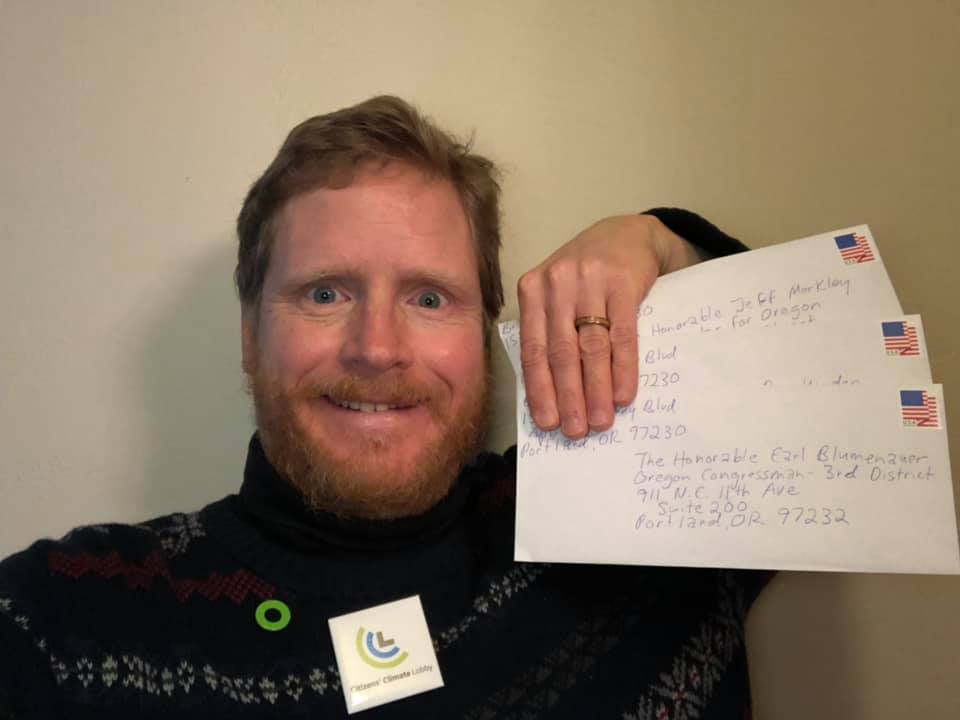 Writing a personal letter to your members of Congress is one of the easiest climate actions you can do. For several months now, I have been writing to my Representative and my U.S. Senators about once a week.

Sadly, my understanding is that very few us of us write to members of Congress on issues that we deeply care about, such as climate change. I experienced this first hand when I have met with staff of Republican members of Congress in lobby meetings at their Washington D.C. offices. Candidly, the staff has told me: 'We like you. We like what you are doing. However, we are just not hearing from our constituents on climate change.'
When of the biggest 'ah-ha' moments I had as a climate advocate was when Nathaniel Stinnett, the founder and executive director of the Environmental Voter Project, spoke on the June 2018 Citizens' Climate Lobby Monthly Conference Call. Stinnett showed a graph (pictured below) which clearly explained why members of Congress have made climate action a very low priority up to now. When American likely voters are polled about their top concerns, climate change and the environment appeared at the bottom of the list compared to top concerns such as national security & terrorism, economy & jobs, immigration, health care, crime & public safety, etc.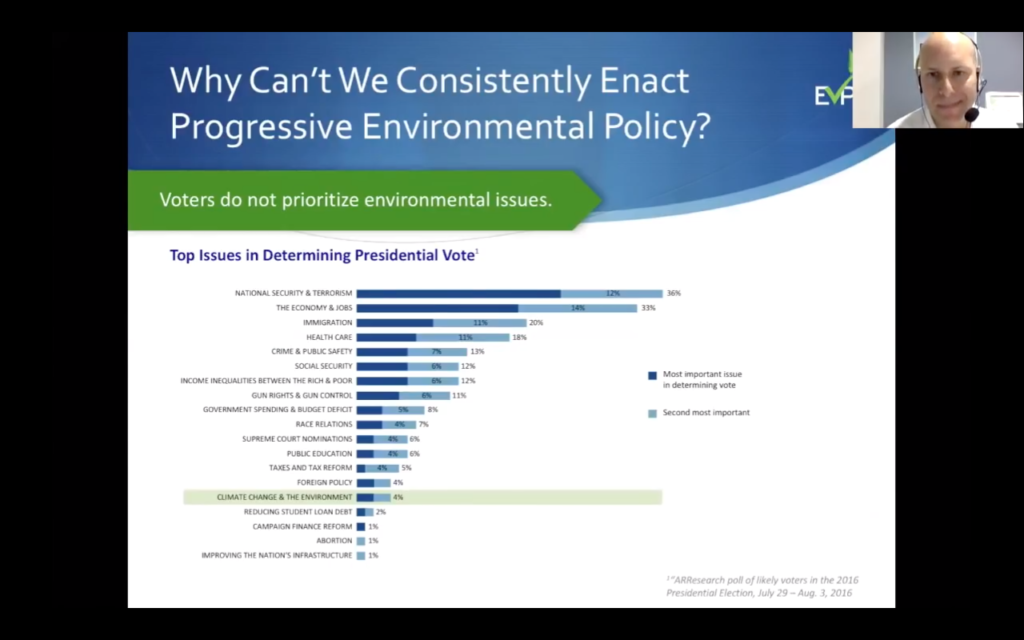 According to Stinnett: "It is really important to understand is that when so few voters prioritize climate change. It impacts policy making on all sides of the political spectrum. Democrats or Republicans are not going to pay attention to an issue that voters don't care about."
Members of Congress are trying to triage hundreds of issues tugging at them everyday. They are like cats focusing on shiny objects. Therefore, you must regularly contact them, such as writing a personal letter, to make climate change a priority. Otherwise, other constituents are going to grab their attention on other issues.
Even worse, if you are not in consistent contact with them urging climate action, your opposition is. You better believe your opponents are in contact with your elected officials insisting that climate action is a hoax and will take away their jobs. Your adversaries have no problem making this message clear when they contact to your elected officials: they will vote against them in the next election if the elected official acts on climate.

Thus, it is vital that you to regularly write and contact your members of Congress. I love this quote by activist Maggie Kuhn: "Stand before the people you fear and speak your mind–even if your voice shakes. When you least expect it, someone may actually listen to what you have to say. Well-aimed slingshots can topple giants."
I do encourage you to watch this inspiring and very helpful TED talk on how to write to your elected officials by Omar Admad, the former Mayor of San Carlos, California.
Because of the importance of writing to our elected officials, I now post on my Facebook and Twitter page whenever I write my members of Congress on climate change. I want to try to inspire others to do the same. Sadly, I get very few responses when I post this on social media. My hope though is that enough people will see my posts about my letter writing and it will plant a seed for them to do the same. On February 18th, when I posted about this, my Facebook friend Jennifer Grant responded:
"At the risk of sounding foolish… this is where I know I miss the mark on this journey. When I know what I'm sending and requesting, I always do it. I don't know where to go to understand it better (the what to send and say). That said, I have reached out a number of times and have always received a response and even met with a few. They are listening… I just want an easy resource to know when and what to send and say."
Below are my tips for Jennifer and you for writing a letter to your member of Congress:

1. If you feel comfortable and are confident that your hand writing is legible, I would write a handwritten letter. I have heard that gets the attention of the staff of members of Congress. First, it is unusual: Who writes hand written letters anymore in the age of e-mails or typing on your laptop and hitting print? It shows the staff that you really took time to write them about an issue that matters to you.
2. Find something you genuinely admire about your member of Congress. When I lived in St. Louis Missouri, my member of Congress in the House of Representatives was GOP Rep. Ann Wagner. She set a high priority for herself to get legislation passed to stop sex traffficking. Rep. Wagner & her office work their hearts out on that issue, so they always appreciated hearing gratitude on that subject when I contacted them.

Since I moved to Portland Oregon in 2017, my current members of Congress in Oregon, Rep. Earl Blumenauer, Sen. Jeff Merkley, and Sen. Ron Wyden. Lately, I have thanked them for supporting the Green New Deal to promote climate action.
3. Mention in a sentence or two how climate change has personally impacted you. I always say 'For 25 years, I was a seasonal park ranger at Crater Lake National Park, one of the most beautiful places on the planet. Sadly, I saw the negative impacts on climate change on this international treasure with a diminishing snowpack and more intense wildfire season.'
4. Ask them to support a specific solution to climate change. In my case, I ask them to support and co-sponsor Citizens' Climate Lobby's bipartisan bill in the House of Representatives, the Energy & Innovation Carbon Dividend Act (HR 763). I believe that HR 763 is an essential step towards achieving the goals of the Green New Deal.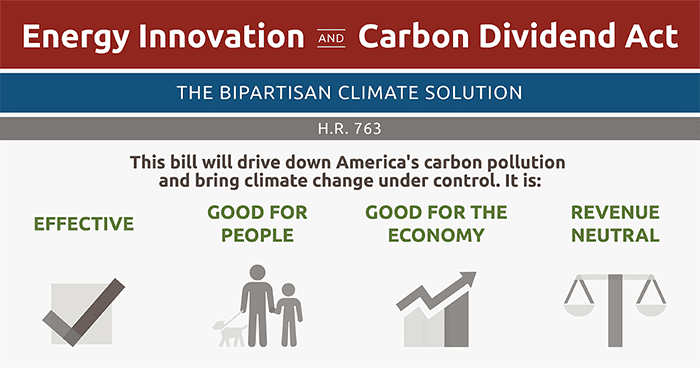 HR 763 now has 15 co-sponsors, including one GOP, Rep. Francis Rooney of Florida, with more GOP co-sponsors expected to come along soon. I then talk about how this bill is effective: reducing U.S. Greenhouse gas emissions by 40% by in 12 years. It's good for the economy: adding 2.1 million in the next 10 years, thanks to growth in the clean energy economy. It's good for people: poor air quality caused by burning fossil fuels causes an estimated 114,000 U.S deaths each year and sickens thousands more. Additionally, the carbon dividend will put money in people's pockets to spend as they see fit, helping low and middle income Americans. It's bipartisan: both Republicans and Democrats are on board. A majority of Americans support Congress taking climate action, including more than half of Republican millennial voters. Solving climate change is too important of an issue to get caught in partisan politics. Fifth, the fees collected on carbon emissions will be allocated to Americans to spend in any way that they choose. The government will not keep any of the fees collected, so the size of the government will not grow. 
5. I conclude by thanking them for listening to my concerns and I ask them to please respond to my letter.
6. I then sign off by saying "With much gratitude, Brian Ettling"
It takes me about 10 to 15 minutes to write each hand written letter, address it, and put a stamp on it. Please send your letter to the local district office of your members of Congress, not their Washington D.C. Offices. If you send it to D.C. It will take weeks before they will see it because it has to be screened for anthrax.
Let me know how it goes and if you have any more questions. Here's information on the Energy Innovation & Carbon Dividend Act (HR 763):

For more tips, also check out this article Tips for Writing Effective Letters to Congress.