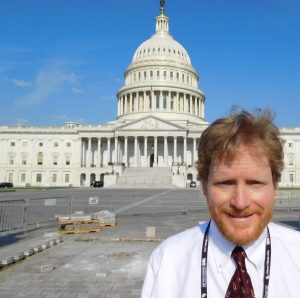 "Our deepest fear is not that we are inadequate. Our deepest fear is that we are powerful beyond measure. It is our light, not our darkness that most frightens us. We ask ourselves, Who am I to be brilliant, gorgeous, talented, fabulous? Actually, who are you not to be? You are a child of God. Your playing small does not serve the world. There is nothing enlightened about shrinking so that other people won't feel insecure around you. We are all meant to shine, as children do. We were born to make manifest the glory of God that is within us. It's not just in some of us; it's in everyone. And as we let our own light shine, we unconsciously give other people permission to do the same. As we are liberated from our own fear, our presence automatically liberates others."
– spiritual author, Marianne Williamson from A Return To Love: Reflections on the Principles of A Course in Miracles.
2017 was a big year for me to lobby members of Congress for climate action. I went to Washington D.C. twice to lobby four Congressional offices each time with Citizens' Climate Lobby (CCL) at their June International lobby day conference and their November Lobby Education Day. I was not alone. The June conference had over 1,000 volunteers and staff in attendance and the November conference over 600 volunteers and staff with CCL.
In March, I lobbied the District Office of Rep. Ann Wagner in St. Louis, MO, the District office of Sen. Claire McCaskill in St. Louis, and the district office of Sen. Roy Blunt in Columbia MO. In November, I and the District Offices of Rep. Greg Walden in Bend and Medford, Oregon. In addition, I attended a town hall meeting for Rep. Greg Walden in The Dalles, Oregon in April where I was one of the first people in the audience to ask a question to the Congressman. Of course, I asked about climate change.
Many people I encounter think I am crazy and it is a waste of time to engage Republican members of Congress on climate change. Most recently, I went to a screening of An Inconvenient Sequel: Truth to Power in Ridgefield, Washington. Over 100 people attended to see this film and audience discussion at The Old Liberty Theater in Ridgefield on the night before Thanksgiving. When the question and answer portion started, as usual since I am not shy, I was one of the first people to stand up and ask a question. This time, I did not ask a question.
I stated I was a volunteer from Citizens' Climate Lobby. I briefly explained about their carbon fee & dividend solution. I told them that the staff of members of Congress said to me that they do not hear from their constituents on climate change. The way we change that is to contact our members of Congress regularly. I then showed a clipboard of constituent comment forms I brought for them to fill out to express their concerns about climate change. I then promised I would deliver them to their local Washington member of Congress, Rep. Jamie Huerra Buetler.
Many in the audience started to boo me. I did not let it bother me. I continued to make my case that we must contact our members of Congress if we want climate action. Some in the audience did applaud me when I was finished. Amazingly, some of the people sitting around me who were most cynical ended up filling out the constituent comment forms. It was a good lesson that if you can state your case with conviction while listening to your listener's concerns, you can persuade people. I left that meeting feeling sky high that I persuaded a few people to act on climate and contact their member of Congress.
Afterwards, the booing still was a head scratcher for me. Yes, it is in the American DNA back to the American Revolution if not before to distrust political leaders. Watergate and other other political scandals over the years certainly deepened and solidified the cynicism. Yet, I feel strongly that cynicism toward politicians is a cope out for inaction. I would even say that cynicism is like eating cotton candy at a carnival. It feels great in the moment. However, your stomach feels empty and even nauseous afterwards. Their is no substance to it. It can feel good in the moment to win the argument to pull the other optimistic person down to your level of pessimism. However, that victory is very hollow, short lived, and empty.
Even more, I am convinced that the status quo and the powers that be want us to feel cynical, pessimistic, and hopeless. If we feel despair, we are less likely to act and more easily controlled.
I love this Alex Steffen quote:
With the 13 plus meetings I had with the staff of members of Congress in 2017, I thought all of them went well. I always found the staff to be very polite, friendly, and open to listen to our concerns and solutions to climate change. Citizens' Climate Lobby has the methodology that we go into every meeting with staff and members of Congress showing respect, appreciation and gratitude. Their one rule is that if we cannot sincerely express an appreciation, at the very least for their public service, that we should not lobby the office of that member of Congress.
CCL volunteers are making progress on climate action with members of Congress
I must say I do find CCL's methods really do work for having productive meetings with staff and members of Congress. It puts me and others going into the meeting that we are going to be positive and treat Congressional staff like friends. We pride ourselves on being the best listeners we can be to learn exactly what their positions are on climate change, even repeat it back to them so they know they were heard. We then try to look for sweet spots of common ground where we can try to work together on climate change.
In November 2017, CCL Legislative Director Dr. Danny Richter, prepared analysis finding Republicans in Congress are warming up to climate change advocates. He compiled a detail review of hundreds of notes from meetings held with senators, representatives and staff on Capitol Hill during June lobbying events held the past four years.
In reviewing the notes, Richter ranked the meetings with Republicans in three tiers:
Tier 1: productive meetings with offices that showed clear and genuine interest.
Tier 2: meetings were quiet but not uninterested interactions.
Tier 3: meetings were combative or totally uninterested interaction.
In 2014, the ratio of Tier 1 meetings to Tier 3 meetings – productive vs. hostile – was 3 to 1. Between then and 2017, that ratio gradually improved, with this year's ratio being 20 to 1.
Think of it this way: 20 times as many Republican offices were clearly interested in what CCL volunteers had to say as offices who were clearly hostile to CCL's message.
"What this tells us is that CCL's approach of respect and appreciation with members of Congress is paying off," said CCL Executive Director Mark Reynolds. "Our engagement with congressional offices, particularly Republicans, is helping to drive the growth of the bipartisan Climate Solutions Caucus in the House."
Yes, that has been the other success with the positive engaging relationship building with Citizens' Climate Lobby, the formation of the House of Representatives bipartisan Climate Solutions Caucus. This caucus began in February 2016 by two south-Florida representatives Rep. Carlos Curbelo (R-FL) and Rep. Ted Deutch (D-FL), who serve as co-chairs of the caucus. This caucus was the brainchild of CCL volunteer retired Pennsylvania businessman, Jay Butera. The House members join this caucus Noah's Ark style – two by two, a Republican for every Democrat, so that the caucus remains balanced and truly bipartisan. This caucus is now up to 62 members, 31 Republicans and 31 Democrats, exchanging ideas on the problem and solutions to climate change.
Want more inspiration? Watch this 4 minute YouTube video. 14 high school students from Traverse City, Michigan, traveled to Washington D.C. for the June CCL Congressional Lobby Day. They are not yet old enough to vote. Yet, they got a face to face meeting with their member of Congress, Republican Congressman Jack Bergman. They asked him directly to join the Climate Solutions Caucus and he immediately said yes.
These teenagers teach us to ever underestimate your power to change the world.
My personal progress on climate action with staff of my member of Congress
That is very encouraging on the macro level. I have also been very encouraged on my personal micro level. For the past two years, I had 4 meetings with the staff of my Missouri member of Congress. By showing respect, appreciation and gratitude, these meetings have all been very positive and productive. To maintain positive rapport with these Congressional offices, we must maintain a level of confidentiality. However I can say that each meeting has been better than the one before.
At the June meeting, the staff member told me he is very enthusiastic about everything we give him about our issue even stating, "knowledge is power." He likes everything electronic, and he keeps a CCL disk folder on his computer with everything I sent him by e-mail. He said this member of Congress is still not there on CCL's carbon fee & dividend or climate action. However, I was blown away that he takes our issue seriously enough to have a file about it on his computer.
I thought the more recent November meeting with the staff of this member of Congress was even more encouraging. He complimented me that I don't pester with my e-mails but I reach out in an appropriate manner. I showed the recent CCL data that our meetings with GOP members of Congress has gone in a matter of 4 years from a ratio of 3 to one positive vs. hostile meetings to 20 to 1 positive vs. combative. His response: 'We are happy we have these meetings with CCL volunteers, it is always a great time.'
Even though this is a very conservative member of Congress, this staff person did not give us an negative push back on climate action. He informed me that He said this staff and member of Congress does not hear very much about climate change outside of these CCL lobby meetings. He said 'CCL brings really good data and has really good meetings but we don't here about climate change outside of that.'
This staff member then gave me great advice. He told us point blank that this member of Congress needs to hear from constituents. She does pay close attention to the phone calls, letters, and e-mails when deciding upon which issues to pay attention and act. This staff person was informing us that we really to contact our members of Congress on climate change. If they don't hear from us, they don't think it is a priority for us. Therefore, we need to organize and act in numbers.
My big lesson learned for 2017: members of Congress are looking to you to Act on Climate 
This is our marching orders from staff of a conservative GOP member of Congress: Act! Call, e-mail, and write letters regularly and frequently that you want climate action. Even more, get your friends to join you. Remember those 14 high school students from Traverse City, Michigan who convinced their member of Congress, Rep. Jack Bergman, to join the Climate Solutions Caucus.
This reminds me of two of my favorite quotes:
"Hope is a verb with its sleeves rolled up." – Dr. David Orr.
"Action is the antidote for despair." – Joan Baez.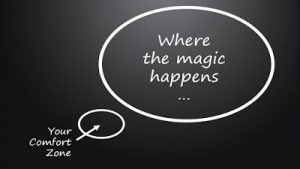 If we are truly serious about reducing the threat of climate change, then we step out of our comfort zones to act, organize, and put polite pressure on our members of Congress. If you can, use CCL's methodology of respect, appreciation and gratitude when engaging Congressional staff or members of Congress. Yes, there is a place for protesting, yelling and pounding the desk to make your point. However, it probably will not get you many dates. Yelling is mostly a turn off, especially for members of Congress. It is hard for them to hear what you are saying if you are shouting at them.
"We can not solve our problems with the same level of thinking that created them." ― Albert Einstein.
Do what you can to act. As Marianne Williamson notes, we may that discover that "we are powerful beyond measure…And as we let our own light shine, we unconsciously give other people permission to do the same. As we are liberated from our own fear, our presence automatically liberates others."
Don't be afraid or pessimistic. Be that light into the world to reduce the threat of climate change.